We've said it before and we'll say it again: We've got ourselves a winner in Miss Universe-Philippines 2018 Catriona Gray. The 24-year-old singer, host, and model is blessed with the eloquence and poise needed to handle a situation as stressful as a rapid round of Q&A. And so we snuck in a few minutes to simulate a tough beauty queen interview replete with current issues (the national political landscape, stepping on Chinese soil, and the evolution of feminism) and situations (the benefits and perils of social media, future-proofing pageantry) during her Preview digital cover shoot to see how she would fare. Not surprisingly, she came out victorious.
Related Stories from Preview.ph
Read her interview below and see what we mean.
When should a beauty queen turn to social media and when should she stay away from it?
"I like corresponding, commenting back to fans. It's my way of showing them how I appreciate all that they do on social media, whether it be sending positive comments or with the awards that were social media-based.
"Yes, social media was integral [to winning] but actually as it came closer to the pageant, I turned off social media. Just because sometimes in those high pressure moments leading up to the big event, it can add extra pressure. It's a competition and so people offer their own commentary. Sometimes it can be positive, sometimes it can be negative.
"There was a social media storm leading to the coronation and I really stepped away from social media. It's nice to clear your mind and surround yourself with people who will boost you. That's what [we], as beauty queens, need—when everything has come up to this one night, we want to feel that the people surrounding you are building you up and protecting you. They will be that foundation for you and I don't think you can find that on social media."
ADVERTISEMENT - CONTINUE READING BELOW
How do you think are your chances of winning Miss Universe affected now that the whole world seems invested in the country's political situation ever since Duterte became president?
"I would hope that in the pageant, they see us as women representing our country, that they would not take whatever political landscape a country has to base their judgment on the girl. We are applying to be spokeswomen. The ability of the girl to effectively communicate, to represent, to [do] good work for people [does not hinge on the girl's origins.] I hope it does not sway the organization or the judges' opinions on the girl's validation to be in that position."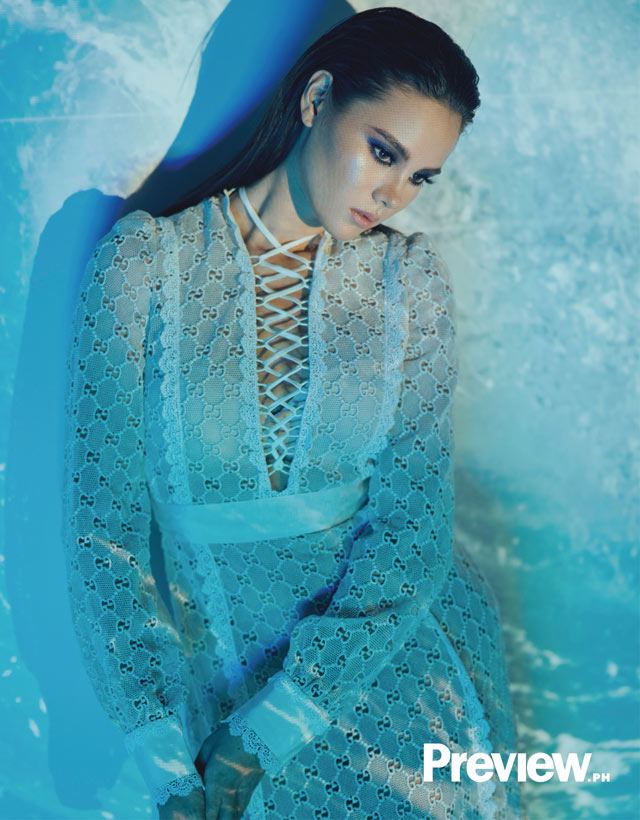 IMAGE Charisma Lico
The Philippines has ongoing territory discussions with China. What effect do you think does this have in your quest to become Miss Universe if the pageant will be staged in China towards the end of the year? And what if the pageant takes place here and you become the hometown bet?
"I don't ever like to worry about something beyond my control. Whatever will be, will be. Whatever is destiny, it will happen. If it is to happen here, that's going to be a lot of fun! If it's somewhere else, that's going to be fun, too. It will be a new experience, culture-wise."
What is your take on the connection between feminism and how beauty pageants are usually regarded as feminism's antithesis?
"A lot of people associate beauty pageants with being anti-feminist. But that is the kind of feminism that I don't believe it to be. I believe that if you are a feminist, you support a fellow woman's ambitions and dreams no matter what they are.
"If one woman wants to drop out of school and be a housewife and another woman wants to be a law student, they deserve an equal amount of respect. Sometimes, feminism will tell the girl who wants to drop out, 'No. We've worked so hard to have this opportunity. How dare you throw it away?' That's not the feminism I believe in.
"Feminism does not mean setting the bar of achievement as what men are but just having that support in whatever a woman wants to pursue. That does entail having equal opportunity and equal rights, but I don't believe in putting a woman down because she does not think that she wants to pursue a certain path."
The world is changing; technology keeps on disrupting the way things are usually done, warring countries are setting aside their differences, and sexual orientation and gender identity have redefined the standards of equality. How do beauty queens and beauty pageants fit in this new world order?
ADVERTISEMENT - CONTINUE READING BELOW
"Before, we were perceived as models who just go out and walk on stage, wave, and bask in the glamour of the show. But I feel like pageants and the women who have joined have raised the bar to a whole new level for a whole new definition of what a beauty queen is. No longer does it stop at the show.
"Before our reigns even begin, some of us are already pursuing an advocacy, some of us are already pursuing our careers, and that is what we bring to the table. We are passionate about things; we want to raise conversation about our countries. I think beauty pageants are a wonderful example of women all over the world representing different cultures and beliefs co-existing with one another and learning about each other's culture. We're advocates not only for our own causes.
"On a larger level, we can show that we can relate, we can communicate, and co-exist. We can set a good example for the younger generations. Especially with social media, they should be exposed to women who are making a good difference in their own communities, the world, the universe."
What wisdom would you share to someone who feels like quitting in the midst of a challenge or is questioning his or her journey?
"If you're going for a dream, whatever time and effort it will require in your life, it's worth it! If you're putting yourself in a position to go out there and take a risk, you have to give everything."
Hey, Preview readers! Follow us on Facebook, Instagram, YouTube, Tiktok, and Twitter to stay up to speed on all things trendy and creative. We'll curate the most stylish feed for you!