What better time to book a trip to Taipei than now that us Pinoys have been granted visa-free entry? Here's a weekend itinerary that makes the most of what the city (and its neighboring towns) has to offer—food, culture, shopping, skincare, coffee, cocktails, and nature.
DAY 1
Recharge at Real Guts Cafe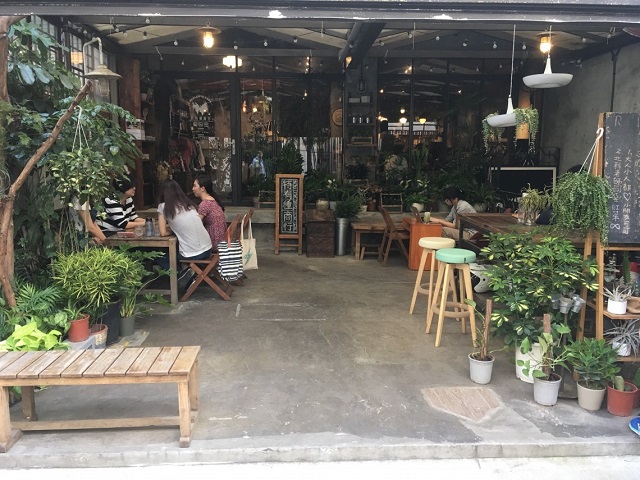 IMAGE Beanhunter
Taipei is home to many quaint cafes. Among them is Real Guts Cafe, which is owned by Taiwanese film director and screenwriter Wei Te-sheng. It serves local drinks, dishes, and snacks, and has a smattering of adorable knick-knacks for sale, too. Don't be fooled by the cute illustrations on the menu; the serving size is pretty generous.
Afternoon Tours of the City
ADVERTISEMENT - CONTINUE READING BELOW
Every major tourist city has its own version of a hop-on-hop-off bus tour, which should cover all the important spots. Try it so you can easily pick out which stops you'd want to explore or sit out, literally! Either way, you'll get a glimpse of each one from the window anyway. But if there's one national monument in the city that you shouldn't miss, it's the Chiang Kai-shek Memorial Hall with its blue-and-white architecture. Changing of honor guards happens every hour on the hour starting at 10 a.m. until 4 p.m. There are also a few galleries and a small shopping arcade below.
TIP: Avail of a 15% discount on Klook's Taipei Double Decker Bus Tour and other activities when you use the code!
Dinner in Din Tai Fung and More
This is where travel app Klook comes in handy. Usually waiting time for the famed xiaolongbao is as long as 45 minutes, but we got to skip the line with our booking. Our group was ushered into a room and served a set menu. It was death by dumplings—what a delicious way to go!
It was followed by a trip up to the viewing deck of Taipei 101 (you can head up to the open-air observatory on the 91st floor if the weather is good, but I personally prefer the daytime view), a KKB food trip at the Huaxi Night Market (a.k.a. Snake Alley) and a cultural immersion at Longshan Temple, which is a functioning Buddhist and Taoist temple.
TIP: If that sounds good to you, we can make it even better by sharing the promo code 1forTP101.
Shopping Duties
ADVERTISEMENT - CONTINUE READING BELOW
Who can ever forget pasalubong-shopping? Best to get it out of the way ASAP. Though Taiwan has become synonymous with pineapple cakes, it's undoubtedly an up-and-comer in the sheet mask department. You can find them virtually anywhere—personal care shops, supermarkets, convenience stores. Local labels range from affordable (My Beauty Diary and My Scheming) to luxe (L'Herboflore and Narüko) to medical (Dr. Wu and Neogence). Cosmed, akin to Watsons, generally closes late, so you'll have time after touring.
Craft Cocktails at a Speakeasy
Alcohol in Taipei is relatively affordable (NT$250-NT$400 for a cocktail), so you can let loose and enjoy yourself. Plus, there's a speakeasy to match any mood! Coming off a Kingsman high? Try your hand at finding Le Kief. Its exterior is a haberdashery, so you'll have to use the telephone by the door to gain access to a table. In for a surprise? Fourplay and Hanko 60 don't offer drink menus, so you'll have to tell the bartender what you're feeling and let him to customize a drink for you. (Not to worry, the servers speak English well!) Once, my drink came in a tiny bathtub with santan petals and smoking dry ice. How's that for presentation?
DAY 2
A Slow Morning with Art
Though lesser known than Huashan 1914 Creative Park, Songshan Cultural and Creative Park does give its cousin a run for its money. You'll find a personalized perfumer and an endearing eatery outside, an Eslite Spectrum mall beside, and a smattering of galleries and gift shops inside. Note that while some exhibits can be visited for free, others may charge an admission fee.
Sunset with a View
ADVERTISEMENT - CONTINUE READING BELOW
Catch the sunset view from atop a mountain. In the northeast of Taipei, Jiufen (read: tsyow-fun) is an old town that's known for that tea house decorated red lanterns, which inspired the Japanese animated film Spirited Away. If you're not into Studio Ghibli, you'd still enjoy the snacks and souvenir shops you'd pass along the way. A word of caution, be prepared for crowds and stairs.
Feast at Mala Hotpot
Mala Hotpot (NT$499-NT$599 per person, inclusive of drinks and dessert) is a chain of restaurants that has become quite popular not only because of its timed buffets but also because of its unlimited Häagen-Dazs and Mövenpick ice cream. For beauty junkies, you can assuage your guilt by ordering it with the Collagen Soup.
DAY 3
A Quick Trip to the Spa
A getaway from the city for a dip in the rejuvenating spring water at Volando Urai Spring and Spa Resort is definitely worth it. The view is breathtaking—lush green mountains and a milky turquoise river—and the food is amazing. The steak was so unbelievably tender, I already miss it from just typing that sentence. And in case you're touchy about nudity—and let's face it, who isn't?—it offers private baths for you to soak up all the goodness of spring water minus the awkwardness of unnecessary eyes. It's the perfect pre-flight energizer (or the cure to last night's transgressions)! You'll be glowing from how well-rested you'll feel.
ADVERTISEMENT - CONTINUE READING BELOW
Last Chance to Panic Buy
Taipei has tons of local boutiques that are worth a visit, especially if you're into quirky styles. If you're pressed for time but are decided on indulging in retail therapy, the area by Zhongxiao Dunhua station has all the standalones of both popular retailers and smaller, independent shops.
Chill out at Ice Monster
It's not the Ice Monster we remember. This version more closely resembles bingsu with its flavored ice and fruit purée toppings. But it's cool now! According to its website, Ice Monster is listed in the Louis Vuitton City Guide for 2017. Go with a friend and split a Fresh Mango Sensation (NT$250).
TIP: The train system is easy to navigate, especially with the help of Google Maps. Trips start at NT$20. Taxis and Uber are also available.
Klook is an in-destination services booking platform where travelers can customize their itineraries. They offer over 25,000 activities in more than 120 destinations. For more information, visit Klook.com or download the app via iTunes or Google Play!
This article originally appeared on FemaleNetwork.com. Minor edits have been made by the Preview.ph editors.
Hey, Preview readers! Follow us on Facebook, Instagram, YouTube, Tiktok, and Twitter to stay up to speed on all things trendy and creative. We'll curate the most stylish feed for you!