The best gatherings are those that combine all of our favorites: a jovial mix of well-dressed guests, a glorious selection of food, an unexpected yet delightful venue, and conversations that bring in lots of laughter. And while we at Preview have been steadfast in hosting unforgettable, Insta-worthy fetes (our 20th Anniversary party in 2015 and last year's Geek Chic event come to mind), we have also been putting together aforementioned favorite elements more intimately. Such was the case when we had the good fortune of working with Fully Booked in hosting a Preview Girls Club for Crazy Rich Asians author Kevin Kwan during his recent visit to the country in promotion of his third book, Rich People Problems.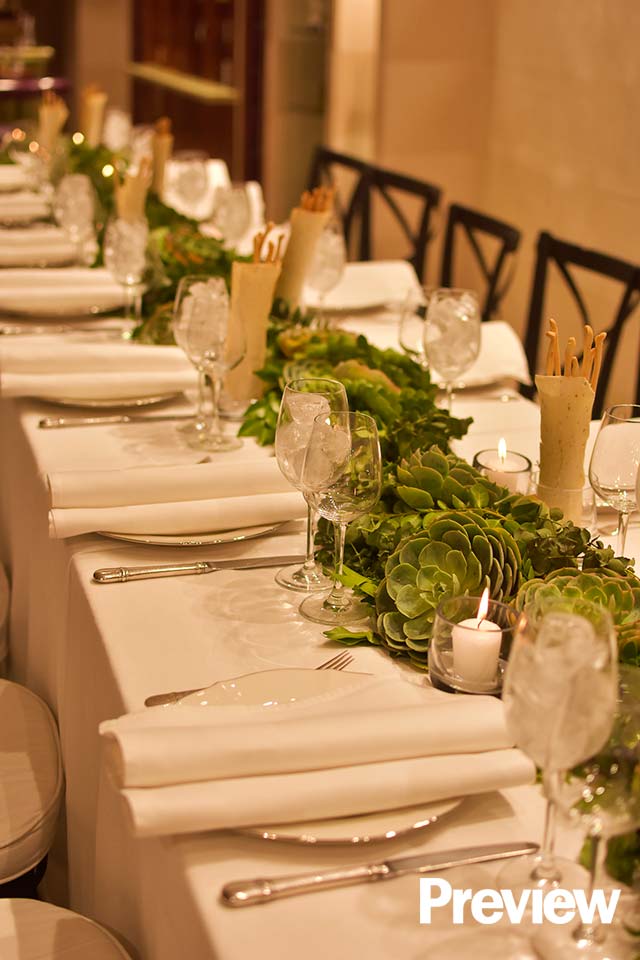 IMAGE Kitkat Pajaro
The table was set for an intimate evening of storytelling.
We found ourselves even more fortunate when Adora, arguably the most ideal luxury retail space in the country, opened their doors for the special celebration. A dinner in a hidden alcove of a luxurious department store? By all means, yes. A banquet filled with favorites from Lusso and Grace Park? You could only imagine this writer's thrill.
To veer away from the many book-related activities Kevin had to attend while he was in town, we worked with Adora in adapting a scents and stories theme: the scents, highlighting the store's extensive fragrance section, and stories, brought on by a bowl of questions to be passed around come dinner time.
Adora's Donnie Tantoco, whose contemporary style was raved upon by Creative Director Vince Uy and Features and Copy Editor Jae Pickrell, and Erica Ilacad welcomed guests to dinner, together with Preview EIC Isha Vallés and publishers Ina Arabia-Garcia and Annika Sta. Maria. First to arrive was Heart Evangelista—toting a Kelly Mini in crocodile, no less—followed by designer Rajo Laurel and character actress Iza Calzado, who was elegantly clad in a Rosetta Getty dotted dress. Rajo's playful pants that he jazzed up with flora and fauna appliqué quickly became a hot topic, and he told us "I made it using a few retasos I found in the shop."
ADVERTISEMENT - CONTINUE READING BELOW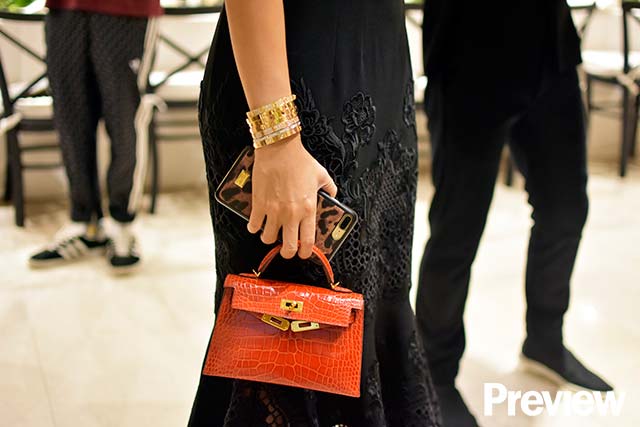 IMAGE Kitkat Pajaro
Heart's enviable Kelly Mini.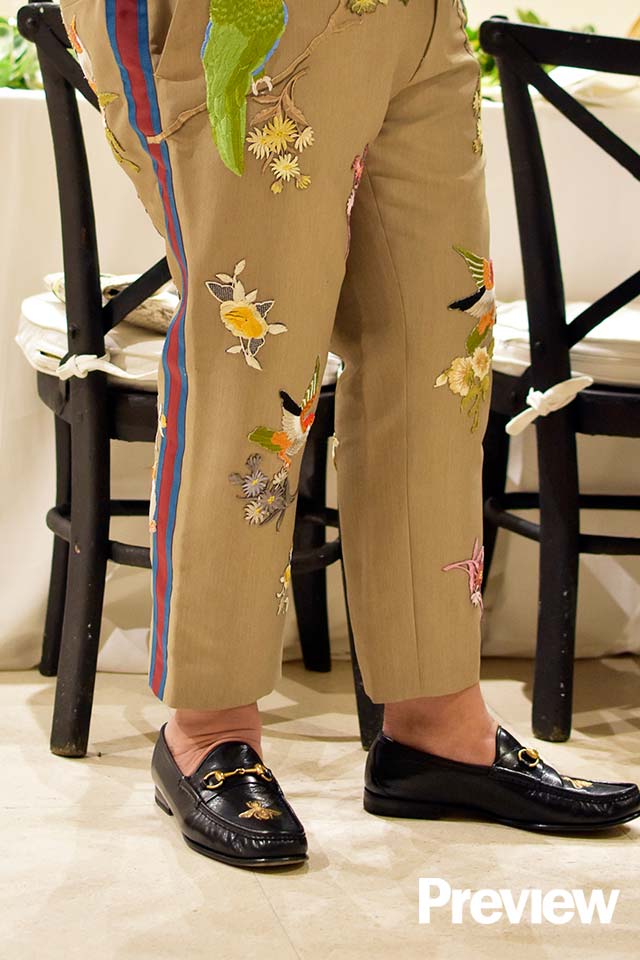 IMAGE Kitkat Pajaro
We gushed over Rajo's playful trousers.
Town & Country Philippines Fashion and Beauty Editor Carole Tagle, Tim Yap, and Dr. Aivee Teo completed the lineup of guests during that evening's celebration. Joining guest of honor Kevin Kwan were Fully Booked's Chris Yam-Daez, screenwriter Aaron Goldberg, and David Sangalli (co-creator of Kevin's next project, a TV series). While everyone was busy sipping bubbly, taking groufies, and catching up, Preview.ph editor Janey Aniban was on hand to give guests a scent quiz to fill out pre-dinner.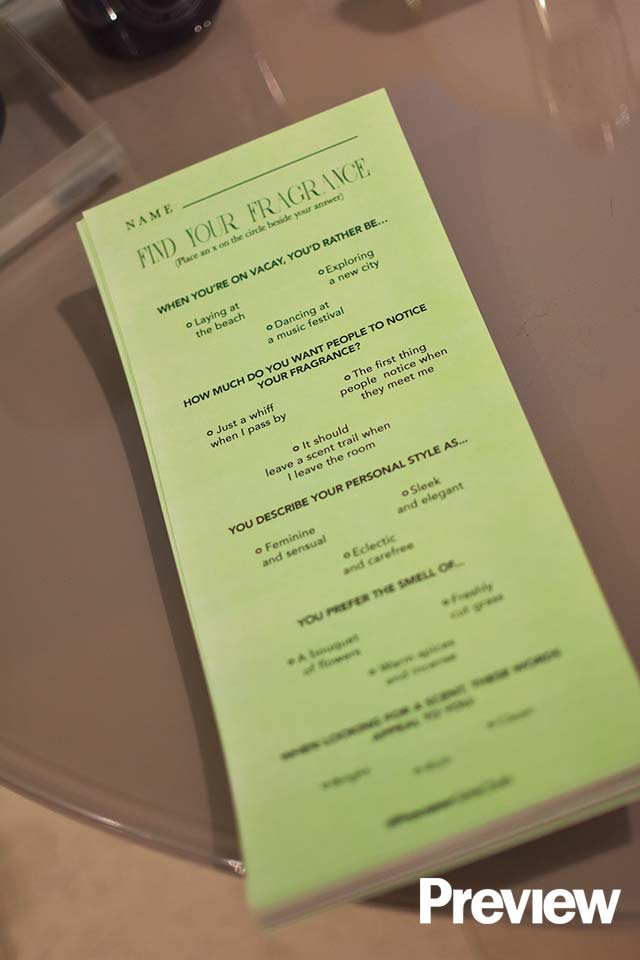 ADVERTISEMENT - CONTINUE READING BELOW
IMAGE Kitkat Pajaro
Each guest filled up a scent quiz to match their personality to a scent under Adora's roster of fragrances from Maison Francis Kurkdjian, Penhaligons, and Diptyque.
IMAGE Kitkat Pajaro
Preview EIC Isha Valles welcomed the guests to dinner.
Isha called on everyone to converge at the dinner table to formally start the event and later gave the floor to Donnie—who delivered a brief speech about the memory evoked by scents and cited our best girls Coco Chanel and Jeanne Lanvin in the process—and Chris Daez, who organized Kevin's book tour here in Manila.
ADVERTISEMENT - CONTINUE READING BELOW
But it was after the string of welcomes and thank yous that the party truly started: As everyone partook of the evening's hearty feast, each guest was asked to share "crazy" memories of their own, in reference decided to the author's body of work, naturally, based on a theme each one picked from a bowl.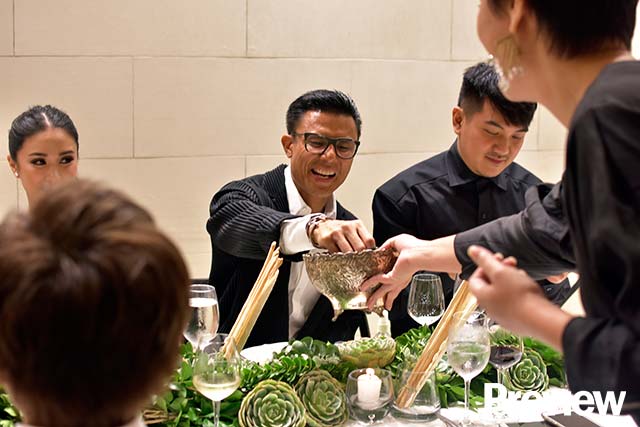 ADVERTISEMENT - CONTINUE READING BELOW
IMAGE Kitkat Pajaro
The guests were asked to pick from a bowl of "crazy" memories.
IZA ON THE CRAZIEST CONCERT/MUSIC FESTIVAL SHE ATTENDED

Iza opened up about dating a couple of rock musicians in the past. "Do you remember the movie Almost Famous? I am Penny Lane!" she confessed, alluding to a previous relationship with a heavy metal drummer and referring to her attendance to slam events and participating in mosh pits. "It was a crazy part of my life but something I remember fondly," admitting that she still listens to heavy metal on occasion.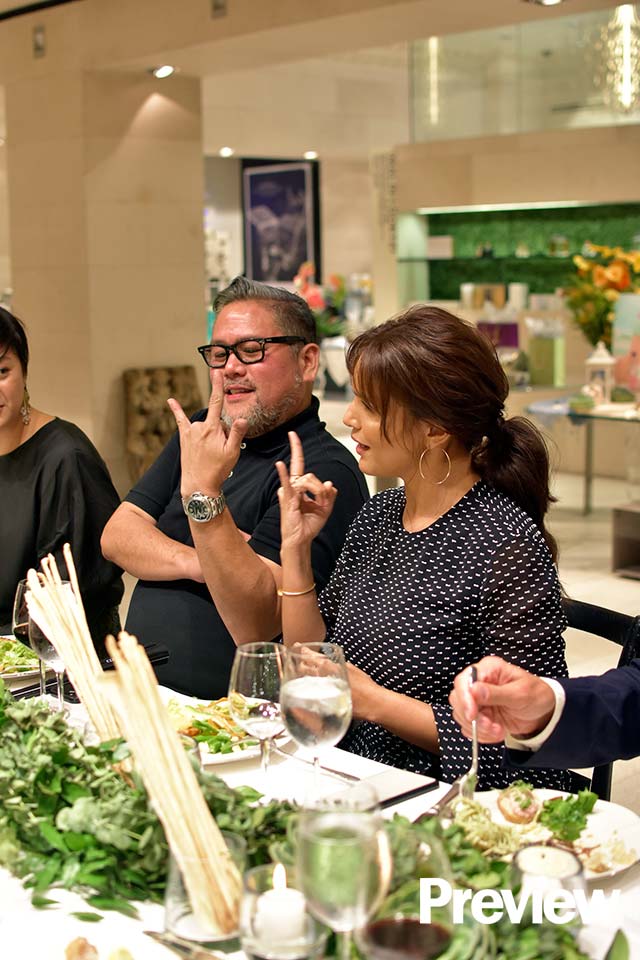 ADVERTISEMENT - CONTINUE READING BELOW
IMAGE Kitkat Pajaro
Iza Calzado told us about her heavy metal past.
RAJO ON THE CRAZIEST THING HE DID TO GET WHAT HE WANTS

Rajo waxed nostalgic about meeting Sarah Jessica Parker when she came to the Philippines. "I had to meet her," he recalls. Fortunately, he was friends with the stylist of SJP's shoot at The Peninsula Manila and so he was able to bring over a few items as options. Even more, Rajo found himself in close proximity with the Sex and the City star and that was when he began shaking. "Are you alright?" SJP asked, holding his hand. The actresses kind concern led to a conversation and eventually a round of Cosmopolitans that night. "We've been good friends since," Rajo says.
DONNIE ON THE CRAZIEST OUTFIT HE'S EVER WORN

Donnie admits to once upon a time dressing up shirtless as the King of Siam from the movie-musical The King and I, and dancing to a mash-up of Disney tunes together with '90s dance group Manoeuvres for a company Christmas party. The dance was a result of an office dare: If his team hit their sales target before the year's end, he would dance like he never had before. And that they hit the mark! Donnie's wife Cricket who just finished performing for her alma mater's alumni homecoming helped him prepare both costume and dance routine. "I trained 60 hours for a three-minute dance routine," he remembers, laughing.
ADVERTISEMENT - CONTINUE READING BELOW
AIVEE ON THE CRAZIEST PROPOSAL SHE'S EVER RECEIVED

Aivee narrated how she met husband Dr. Z Teo. "I was doing my fellowship in dermatology in Singapore and I met him on my first day at the National Skin Center. I didn't know anybody. [I was] a new person in the hospital, and suddenly Z walked into the room, sat beside me and started chatting me up," she recalls. Later in the day, Z offered Aivee at least a ride to the bus stop nearest the hospital, which was actually just a minute's walk away. (See, he had just moved back to Singapore from his studies abroad, and was not confident he would know the way to drive her home.) This was his way of "proposing" a friendship with his future wife.
HEART ON THE CRAZIEST THING SHE DID FOR LOVE

Heart's story got everyone at the table paying attention. She exclaims, "I've done many!" but chose to share the love story that got her marching down the aisle in 2015. "I have ridiculously strict parents and they are always against anyone I'm with. They had someone almost deported before—it's very crazy," she opens up. She recalls how her parents were adamant about her dating Sen. Chiz Escudero, who happens to have been previously married and much older than their daughter. "It had come to a point where I left the house and my parents cut me off my own finances so I'd go back to their fold—but it didn't work!" Homeless and without cash and a change of clothes, she decided to start from scratch, learn to handle her own money, and work for her own keep. She recalls not speaking to her parents for about three years, walking down the aisle solo, and marching to her own beat. "My parents and I are okay now, things are fine," she concludes, proving that love and family can peacefully co-exist—at the right time. Kevin, who was seated beside her, quipped, "Oh, you've just written my next novel!"
ADVERTISEMENT - CONTINUE READING BELOW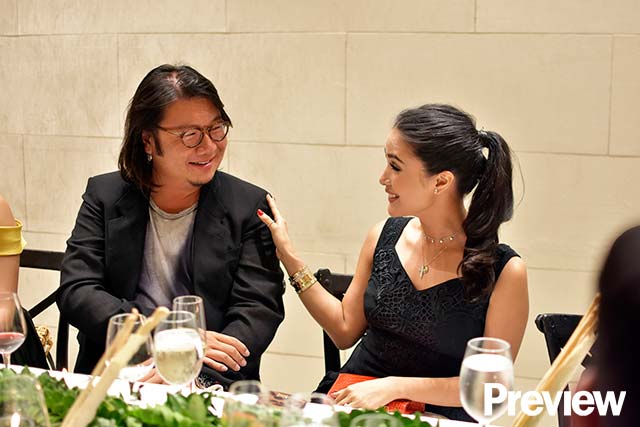 IMAGE Kitkat Pajaro
Heart Evangelista recalls the craziest thing she did for love.
KEVIN ON HIS CRAZIEST SHOPPING EXPERIENCE

"I always say I wasn't born to shop; I was conceived to shop," Kevin says, narrating how even as a young boy, he was his mom's constant companion on Marathon shopping sprees. His crazy shopping story is one that fans of his books will recognize. "A few years ago, my mother invited me to go to Shenzen, China with some of her girlfriends—this crazy gang of five girlfriends who've known each other since they were in school. Little did I know that they would shop for 16 hours non-stop! They got up at 8 a.m. and went to this place called Luohu, a gigantic train station the size of 10 football fields and eight floors of shops upon shops. The minute the cars pulled up, there were people signaling us and leading us to this abandoned building—I actually wrote about this—and when the doors opened and we're in this luxury boutique with all these super A-grade knockoffs! It was all customized room by room—the Gucci room, the Hermès room, the Goyard room. Of course, the women went crazy, shopping and hopping from one room to the next. It all ended at 1 a.m. at a place where they all got foot rubs!"
ADVERTISEMENT - CONTINUE READING BELOW
CHRIS ON HER CRAZIEST REALIZATION ABOUT RICH PEOPLE AFTER READING CRAZY RICH ASIANS
Chris was asked to share her craziest realization about rich people after reading Crazy Rich Asians. "I realized how poor I am!" she exclaimed, the whole dinner laughing. "But seriously, I just realized we're actually all the same. And sometimes, we're so busy and caught up in trying to achieve material success when what we should be focusing on is what's inside—happiness, inner peace." She goes on, "It reminded me to spend more time with people we love the most. Life is short!"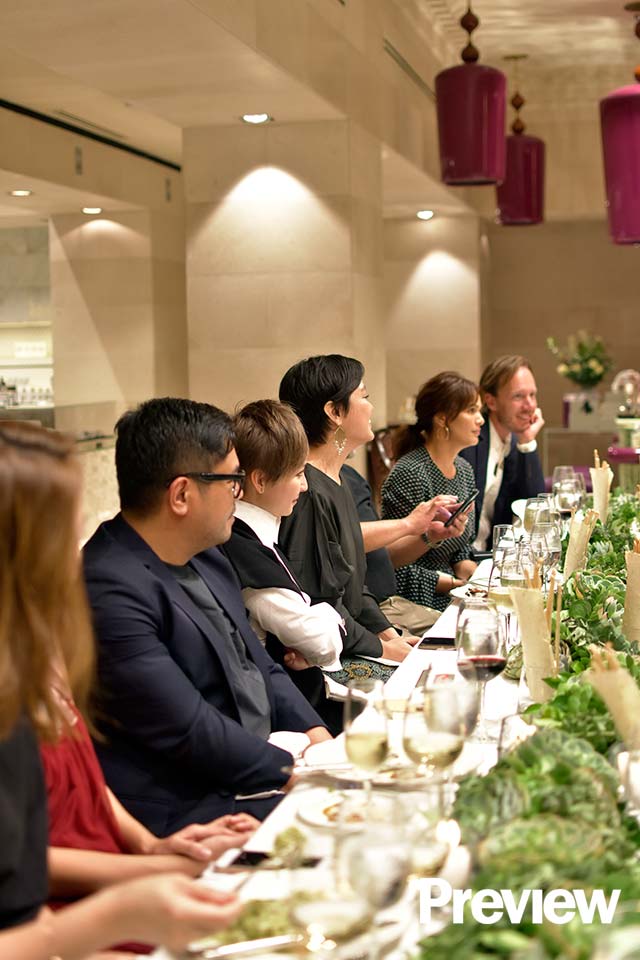 ADVERTISEMENT - CONTINUE READING BELOW
IMAGE Kitkat Pajaro
The guests listened intently to everyone's crazy stories.
CAROLE ON HER CRAZIEST PURCHASE

The question about the craziest purchase couldn't have been more suitable for Carole. "Many years ago, I used to work for Neiman Marcus in San Francisco and that's how I became best friends with actor Nicco Santos, who is part of the Crazy Rich Asians movie. I was then an assistant for a personal shopper and that meant I had access to stock rooms—pretty much everything. We were a couple of assistants—the same age, young, no money but we loved couture!" As a first-time Neiman Marcus employee, she was thrilled to hear about the additional discounts given to them every season—nearly 90-percent worth of markdowns! "I was in charge of Chanel and Nicco was in charge of Bottega Veneta and my other friend was in charge of women's couture designers. We would call each other and say, 'Hey, can you reserve me those boots in a size nine?' and we would set aside stuff for each other, and wait for the sale. Come employee sale, you would see mannequins getting undressed because what we would do is dress the mannequins with the things what we want for ourselves! The next day, you'd see all of us assistants walking down Union Square in head to toe couture! They must think we make so much money or that we're trust fund babies, strutting in head to toe Chanel!"
ADVERTISEMENT - CONTINUE READING BELOW
It was nearly closing time for Adora when the laughter in our corner of the store permeated the entire floor—for which Vince decided it was the perfect time to whip out the evening's birthday surprise. Vince announced that August turns out to be a common birth month for Isha, Chris, Iza, Aaron, Erica, and Donnie and prodded the entire party to sing, have a slice of cake, and enjoy the rest of the party.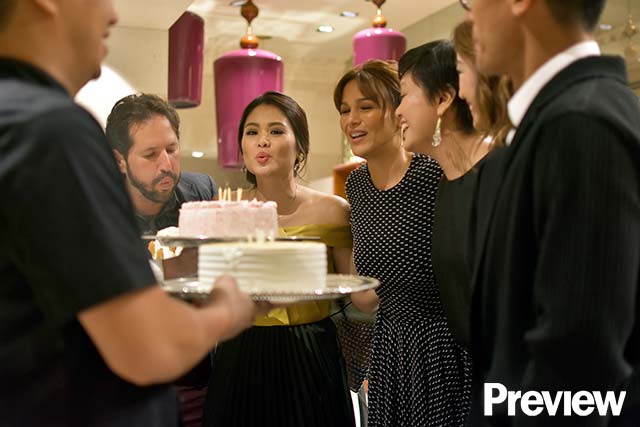 IMAGE Kitkat Pajaro
ADVERTISEMENT - CONTINUE READING BELOW
At the end of the night, the August celebrants were surprised with cakes.
But the evening's surprises were not just for the August-born. Right before dinner came to close, Adora's efficient and enthusiastic sales staff approached guests one by one, bearing the results of the scent quiz we took a couple of hours ago and offering options for what fragrance to take home. That, and an autographed copy of Kevin's latest book Rich People Problems. All in all, it was a dinner to be remembered for a while.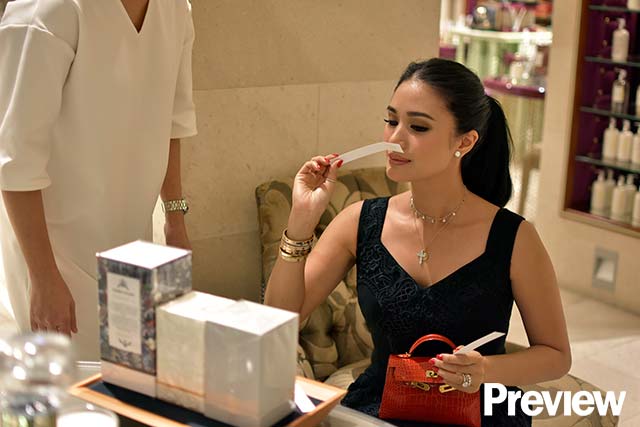 IMAGE Kitkat Pajaro
ADVERTISEMENT - CONTINUE READING BELOW
Heart, with the help of Adora's well-trained staff, picks out a scent to take home.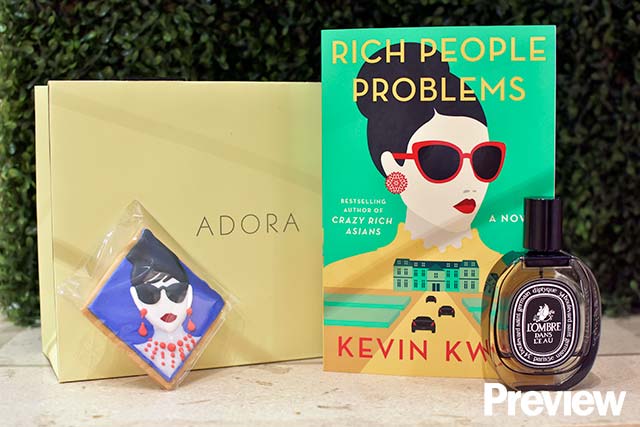 IMAGE Kitkat Pajaro
Each guest took home an autographed copy of Kevin Kwan's latest book and a perfume from Adora's scent section.
Related Stories from Preview.ph
Hey, Preview readers! Follow us on Facebook, Instagram, YouTube, Tiktok, and Twitter to stay up to speed on all things trendy and creative. We'll curate the most stylish feed for you!