Girls can talk about makeup and beauty products to no end. And during our exclusive phone interview with Swedish teen pop sensation Zara Larsson, that's exactly what happened. With 1.3 million Instagram followers and 100 million YouTube views, plus the fact that she just nabbed a campaign with Clinique, Zara is suprisingly a very normal, giddy, and youthful teen. In her interview with Preview Associate Beauty Editor Belle Rodolfo she talks about her musical inspos and style icons, and why she's very excited about being a Clinique girl.
How involved were you with the making of this campaign?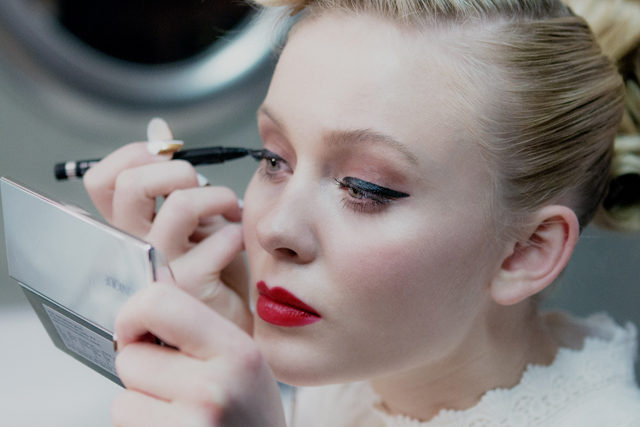 ADVERTISEMENT - CONTINUE READING BELOW
Zara tries on Clinique's Pretty Easy Liquid Eyelining Pen.
CONTINUE READING BELOW
Recommended Videos
Well actually we had quite a few talks about everything including the looks and they came up with some great ideas that I really liked, so obviously I approved everything, but I wasn't really like "I wanna do this and that" but I knew that we were doing a darker one, a country one, a pop one, and a nude one. And I was totally fine by that and really excited, so I guess you can say I was involved it wasn't like I came to the studio and didn't know anything.
Would you say the four looks project different aspects of your personality?
I'm pretty up to do anything, but the one closest to me is probably the pop one. The other looks are part of my personality but the pop one is really me.
Which one is your favorite?
ADVERTISEMENT - CONTINUE READING BELOW
I would say it's the dance hall music one, the one with the black wig, just because it's so different from how I usually look.
What kinda music did you start with?
I grew up listening to the divas, like, Etta James, Aretha Franklin, Whitney Houston. My mom, she was a fan of that type of music. But then I found out about Beyonce and I just became OBSESSED. But now I listen to RnB and hiphop – which I don't sing! You know I don't do hiphop and I'm not an RnB singer but I love to listen to that.
ADVERTISEMENT - CONTINUE READING BELOW
Do you think your (musical and personal) style is in step with this generation whose pop culture preferences are very fluid?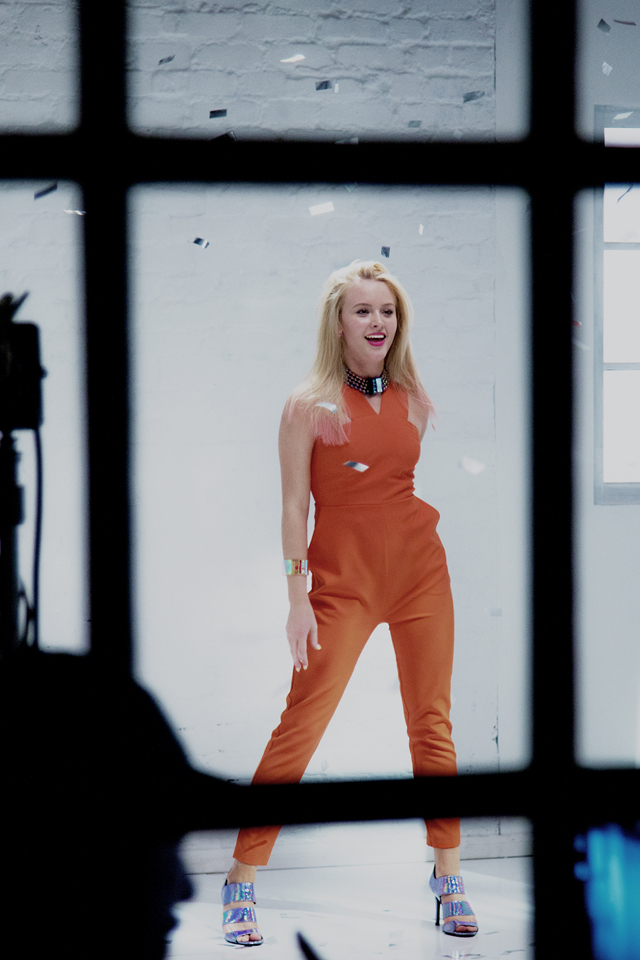 A BTS shot of her pop layout for the campaign.
I feel like pop culture has always been very fluid, I guess that's what makes it pop. It's the culture of now. Even The Weekend is pop. Beyonce is pop. Rihanna is pop. But so is Taylor Swift and Katy Perry. Pop is very broad which one of the reasons why I like it. I feel like you can basically do whatever nowadays and it still can be pop. I get what you mean – it's pretty hard to (just) say I do pop, for people to get what you're doing.
ADVERTISEMENT - CONTINUE READING BELOW
Who inspires you? In terms of music and personal style?
Definitely Beyonce. I don't know, I guess it's about the way she carries herself onstage, how she sings her songs, she's so present, she really works hard, and she seems like a really great person. When it comes to style it's actually Rihanna. I think she's got a great sense of fashion.
A lot of the comments on your Youtube comments say you sound like Rihanna..
Ha! I know right? Which I don't think I do? Maybe we just have the same tone? And that's something you really can't change and I don't think you can. I don't know if you can practice it but it's just how I sing. It's a great compliment for me! I love her, I love her voice. I actually love her new album, and it's a great compliment. I don't agree – but it's all good.
ADVERTISEMENT - CONTINUE READING BELOW
Read our feature on Zara Larsson in our June issue here.
Hey, Preview readers! Follow us on Facebook, Instagram, YouTube, Tiktok, and Twitter to stay up to speed on all things trendy and creative. We'll curate the most stylish feed for you!