Sour by Olivia Rodrigo, Happier Than Ever by Billie Eilish, and Gaucho by Steely Dan are quite the mixed bag of records. The latter sticks out as a more vintage title compared to the two 2021 releases, but these are what came to 22-year-old Gab Saulog's mind when prompted to name three albums off the top of his head.
Like many of his Gen Z peers, not a day goes by without him pinning his ears to his favorite tunes. Though, he prefers to do so without putting on earphones or opening Spotify. Instead, he sets up his turntable, chooses a title from his vast collection, and with the touch of the needle to the revolving disc, allows the vibrations from the machine to engulf him in glee.
ADVERTISEMENT - CONTINUE READING BELOW
How This Gen Z Established His Own Online Vinyl Record Store
Ever since he picked up his first 12x12 disc back in his high school days, Gab has been in love with listening to his favorite tracks on the turntable—and it's something he doesn't hesitate to rave about. You ask him one question about vinyl, and he goes on a tangent about the history, science, and culture behind it, only halting once he realizes he's been rambling.
In today's world where music is usually played by tapping on a screen, the 22-year-old music enthusiast is a staunch advocate for making vinyl records a part of his generation's musical experiences. This is manifested through his online independent record store, Acetate Music.
CONTINUE READING BELOW
Recommended Videos
From Fascination to Dedication
At a time when music streaming apps were beginning to dominate, Gab was handed his grandfather's record player and vintage collection of titles. Holding up his first 12x12 disc made the pre-adolescent's eyes glisten with fascination. "When you set it up and play it, it's so interesting to see how it works," Gab wistfully exclaims. "There's a lot of science behind how the music is actually pressed into the discs as well," he tells Preview in an exclusive interview. This old school way of listening to music may not strike other 14-year-olds' fancies, but it was something he immediately adored.
ADVERTISEMENT - CONTINUE READING BELOW
Eager to add more titles to his inherited stack, the internet was young Gab's best friend in learning more about the ins and outs of records. As his collection started to grow, he noticed that there was a scarcity of local record stores that sold more contemporary titles. "Whenever I'd buy records here in Manila, there were super few stores that carried selections that were inviting to younger people. They had good selections of really vintage stuff, but if I was looking for a new The Weeknd or J. Cole record, not every store would have them," he recalls. Since then, Gab was keen on finding ways to make record-listening more alluring to himself and his peers. This was an undertaking that would extend to something much larger six or so years later.
ADVERTISEMENT - CONTINUE READING BELOW
Gab toyed around with the idea of bringing his love for records to a wider and younger audience in March of 2020. "I asked myself, why don't I try selling selections of records I like to people here, to see if they also like collecting. I wanted to bring it to people of my generation," he shares. After months of planning logistics and determining what titles would appeal to people his age, Acetate Music was born in late July of that year. Acetate gets its name from one of the original materials records were pressed unto before vinyl became prominent. This is an illustration of how the brand aims to honor the retro way of listening to music, while championing both old and new titles.
ADVERTISEMENT - CONTINUE READING BELOW
When things kicked off, Gab didn't expect his first drop to be received as well as it did. "I was surprised that everything sold out in less than an hour," he says, "I was very shocked. I didn't think a lot of people we're into this!" With the store launching with albums from queens such as Ariana Grande, Taylor Swift and Lana Del Rey, you really couldn't blame his first customers for getting into a frenzy. This success would only be replicated in the succeeding months, with Acetate gradually gaining more and more traction. "As the months went by, I started bringing in different titles from different genres. The brand developed a loyal set of customers [composed of] people who looked forward to drops and liked my posts," the newbie entrepreneur shares. It was made evident early on that Instagram start-up Acetate Music was going to be in it for the long run.
ADVERTISEMENT - CONTINUE READING BELOW
What Keeps His Records Spinning
Starting a business in your 20s is one thing, but sustaining one during a pandemic all by yourself is another. From merchandising to distributing, Gab is a one-man team. Once he receives albums from his supplier, Gab does some DIY-ing and takes photos of each record. "I wanted to market them in a different way, and not just post a photo of the album cover [that] I could easily get from the internet," he states. He believes that each cover is a piece of art, and deserves to be showcased as such.
ADVERTISEMENT - CONTINUE READING BELOW
Afterwhich, Gab goes on a doozy of a soundtrip, listening to the albums track by track in order to come up with each one's product description. He admits to how painstakingly long the process takes, but he believes that having a personal insight to his captions would serve the record and his customers better. From there, Gab teases his followers with his upcoming drops and awaits messages from them once the records are up for grabs. Once order forms and logistics are set, he ships out the orders, including a handwritten note with each one.
ADVERTISEMENT - CONTINUE READING BELOW
The entire ordeal is undoubtedly exhausting, but the warm reception from his buyers keeps him going. "I really appreciate it when customers post their records on their [Instagram] stories and tag me because I get to see that they're enjoying themselves. It makes me feel happy, it's fulfilling that I get to be a part of that experience of theirs," he remarks. It's in this regard that the business proves to be anything about the money for him. He emphasizes this, stating, "one of my goals is not just to sell everything out and make so much money, it's more on trying to introduce new music as well." Gab tries his best to place Acetate's records at the lowest price possible, with the intention of making them more accessible and inviting for anyone who wants to try them out.
ADVERTISEMENT - CONTINUE READING BELOW
The biggest payback Gab reaps is when customers of his become good friends he can share music recommendations with. "I'm very amazed by how in the past year, there has become an audience for vinyl records here in the Philippines," he shares, "it's not just people who've been collecting ever since, a lot of people who are new to it [have also become a] part [of it]."
Keeping Vinyl Alive
With digital music streaming being prevalent nowadays, Gab makes a case for patronizing physical records. Aside from hearing how crisp tracks can sound like when played from a turntable, supporting vinyl also supports the artists behind the tunes pressed into them. According to Gab, profits from vinyl purchases would go directly to the musicians themselves, and not the app or platform their songs are found on. He highlights that this is especially beneficial for smaller artists trying to make a living through their work.
ADVERTISEMENT - CONTINUE READING BELOW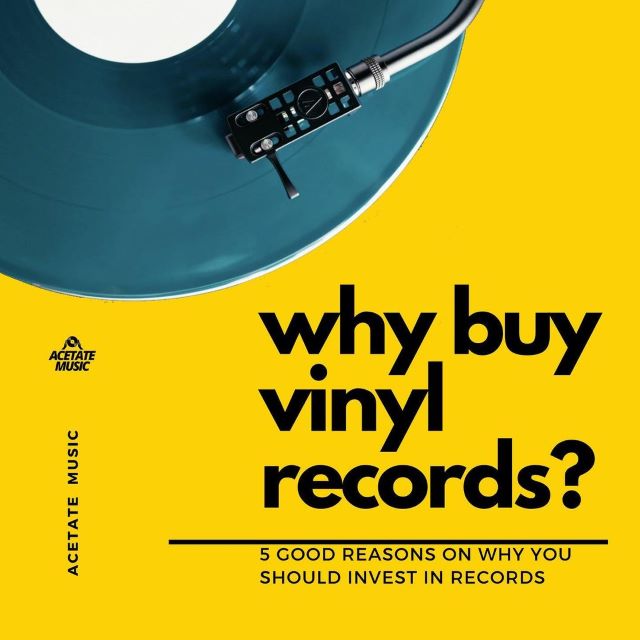 Acknowledging that vinyl are indeed an investment, the music junkie also mentions that owning a record also means "owning" a piece of that music. Think about it like books from the library; Gab says downloading an album would be like borrowing one, whereas buying a record equates to buying the book and getting to keep it. "Having that record lets you cherish it for the years to come," he adds.
ADVERTISEMENT - CONTINUE READING BELOW
This hobby also falls under Gen Z's apparent affinity to all things retro, and it's something Gab's taken notice of too. Whether it's through fashion, film photography, or the way we listen to music, he thinks that this adoration for the vintage lifestyle is a way by which the youth slows down in this fast-paced world. "We developed a major appreciation for products of the past," he explains, "it's a nice way to honor the culture established back then, [whilst incorporating] a distinct style or twist that makes it our own."
ADVERTISEMENT - CONTINUE READING BELOW
Only a year since their establishment, Acetate Music has made the time-honored practice of record-listening timeless in the eyes (and through the ears) of its contemporary audience. Looking ahead, Gab hopes this passion project of his can someday become a platform that can uplift all kinds of local music.
"I hope in the future, it can serve as an avenue where we can appreciate OPM talents of all genres, from the Regine Velasquez [crowd] to the indie scene," he tells Preview. "With the recent popularity of records, a lot of OPM titles have become available in the vinyl format. People get to appreciate the classics alongside new titles now. It's changing the OPM scene and I hope to see more of that."
Go put your records on and hit up Acetate Music on their Instagram or Facebook page.
*Answers have been edited for clarity
Preview is now on Quento! Click here to download the app for iOS and Android and enjoy more articles and videos from Preview and your favorite websites!
ADVERTISEMENT - CONTINUE READING BELOW
Related Stories from Preview.ph
Hey, Preview readers! Follow us on Facebook, Instagram, YouTube, Tiktok, and Twitter to stay up to speed on all things trendy and creative. We'll curate the most stylish feed for you!