Due to the pandemic, weddings worldwide have taken a serious hit: Grandiose fairytale-level celebrations have been postponed indefinitely, pushing couples to come up with creative, resourceful ways to reshape their special day into something more suitable for the times.
Stylist Camille Alicando and digital content creator Ben Gendrano, (professionally known as Emic Works), are a Dubai-based couple who, in light of safety protocols, had no choice but to cancel their 40-guest hotel reception. Instead, they tied the knot in a civil ceremony, and took the festivities home— literally! Camille and Emic's friends transformed their living room into a rustic, bohemian picnic area, complete with throw cushions, potted plants, and fairy lights.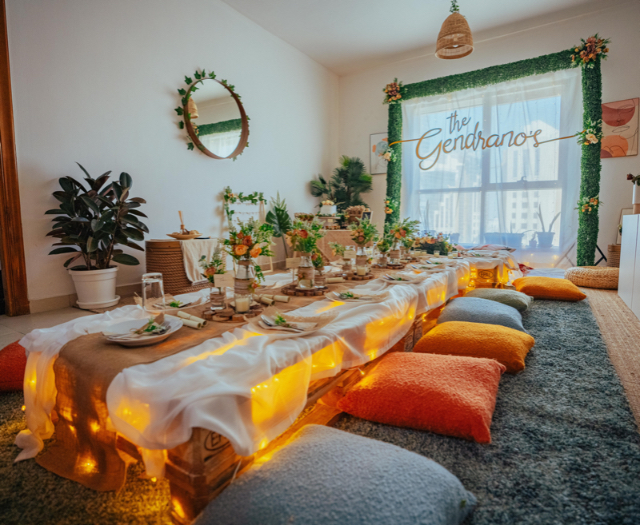 ADVERTISEMENT - CONTINUE READING BELOW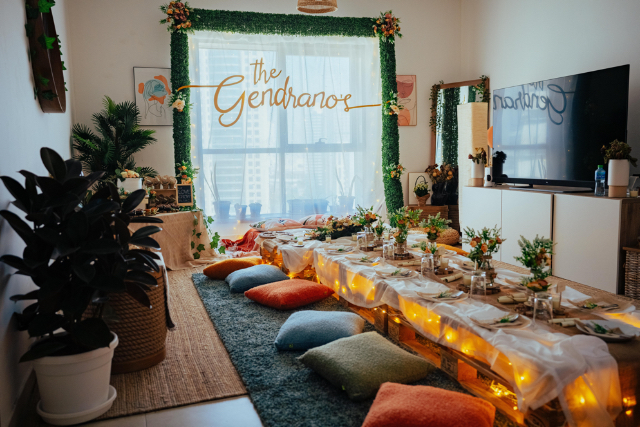 According to Camille, they had left the planning and decor entirely up to their friends, and had no idea what to expect.
"None of [our friends] are working in events nor in weddings. They are normal people with very creative minds. It was the day before the wedding when they asked me and my husband to book a hotel room for the day so they could decorate the house without us seeing the process and the final look," Camille told Preview. "When we saw our house, we were both astounded by the beauty and I nearly cried."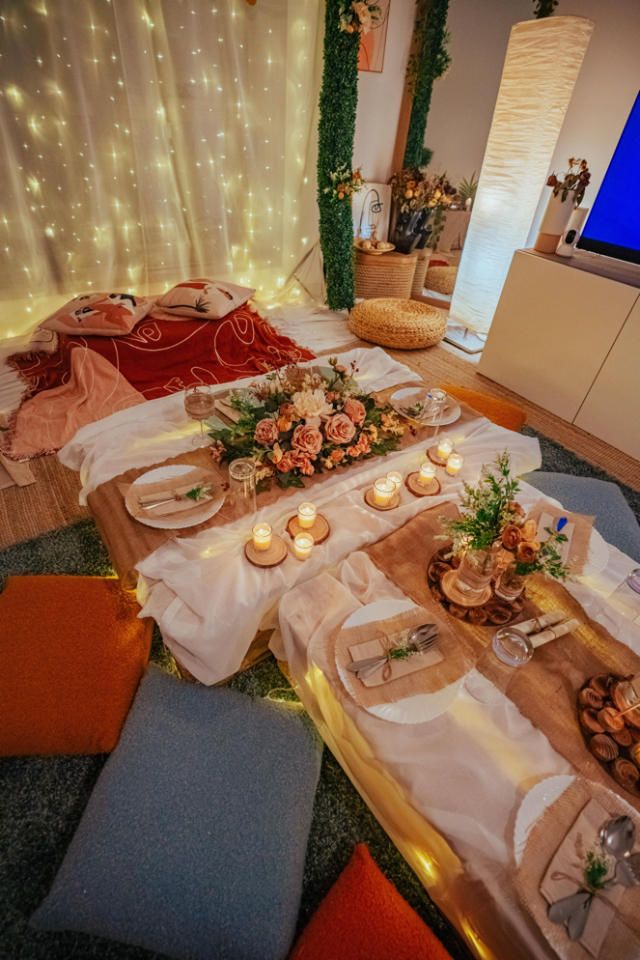 We guess The Beatles were right— we really do get by with a little help from our friends!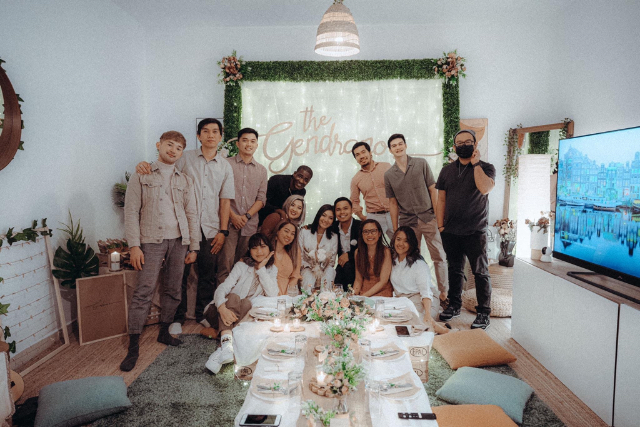 ADVERTISEMENT - CONTINUE READING BELOW
In addition to the uniqueness of their setup, Camille opted to wear a crisp white suit from Zara for her special day, paired with minimalist accessories and subtle makeup. Later in the day, she changed into a ruffled burnt-orange top and dark trousers.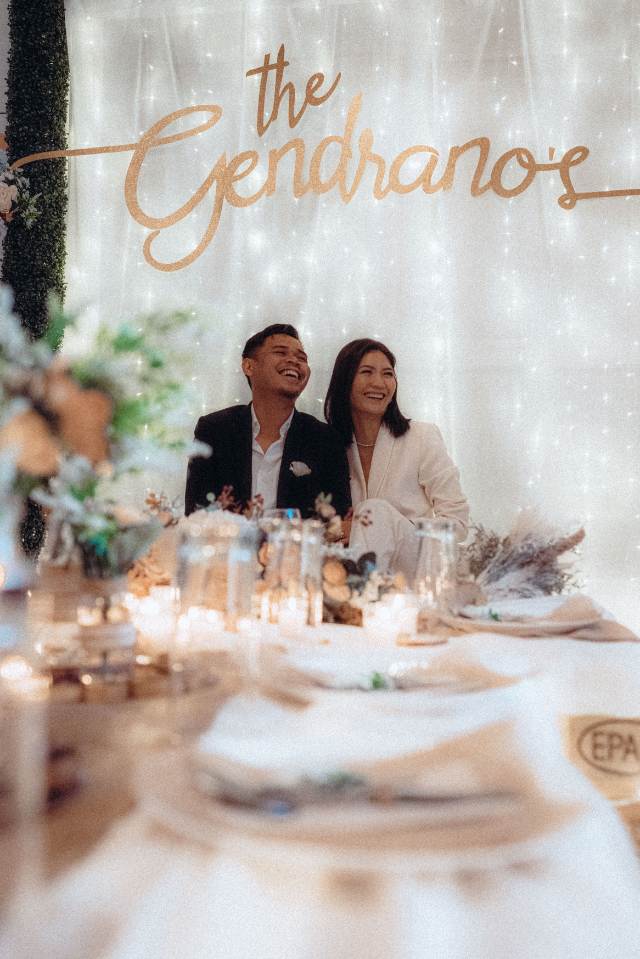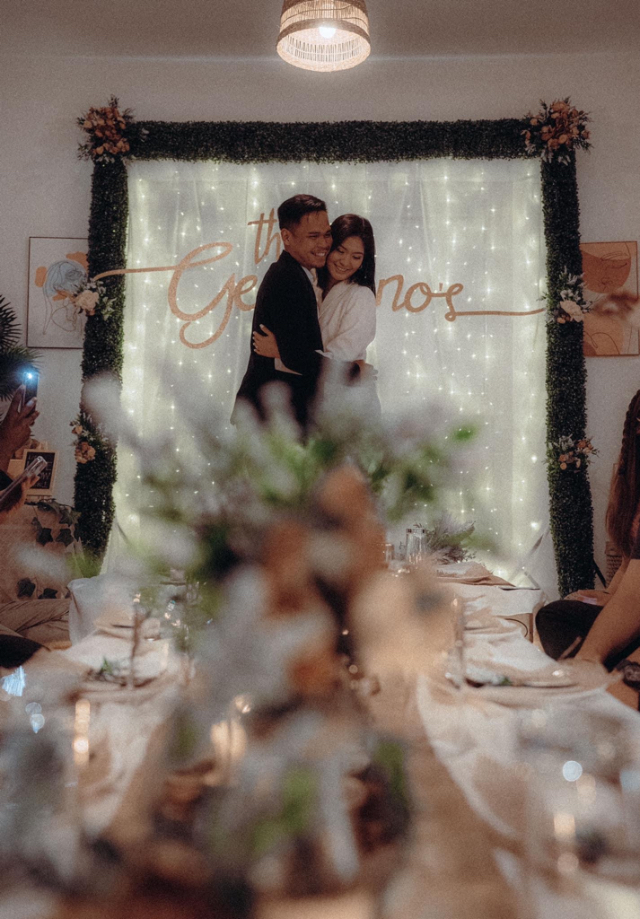 ADVERTISEMENT - CONTINUE READING BELOW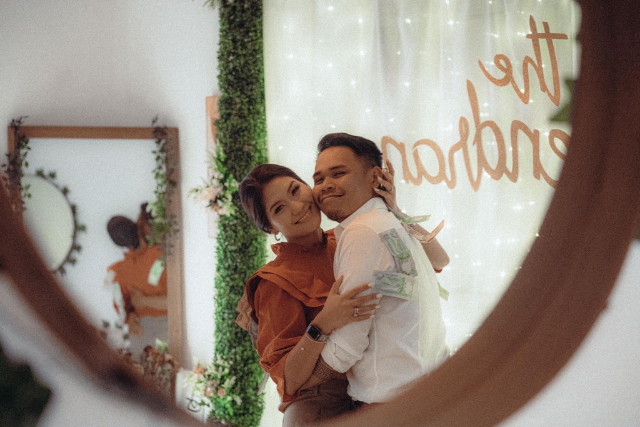 Want to find out more on how they brought their wedding to life? Read our interview with Camille below!
How would you describe the theme of your DIY wedding?
As we visualized the wedding, we wanted it to represent us as a couple. We wanted it to be simple! For us, it was not the decor that brought this theme to life, but the people behind it who brought our imagination into reality. It was them who [did] their best to make our wedding warm and beautiful. They were the ones who arranged the materials. It was all DIY—from the souvenirs to the table set up. Everything!
ADVERTISEMENT - CONTINUE READING BELOW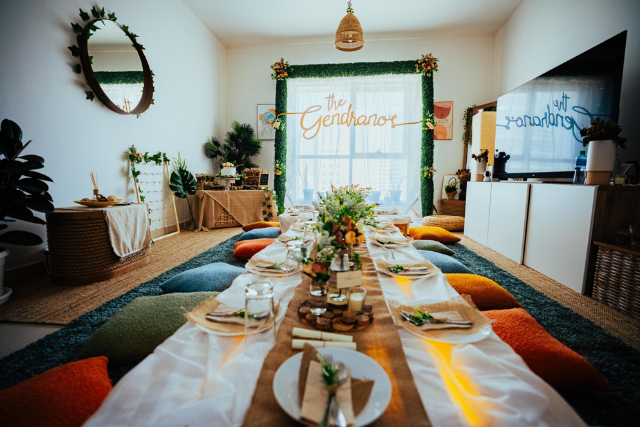 Do you mind sharing the budget you spent for the entire event? What were the challenges in working with this amount?
I guess the total budgets was 3,000 dirhams or P40,000 including food and souvenirs. I think the only challenge we had was searching for where to buy the props at a good price. The funny part was, Filipinos like to bargain a lot so we saved more.
ADVERTISEMENT - CONTINUE READING BELOW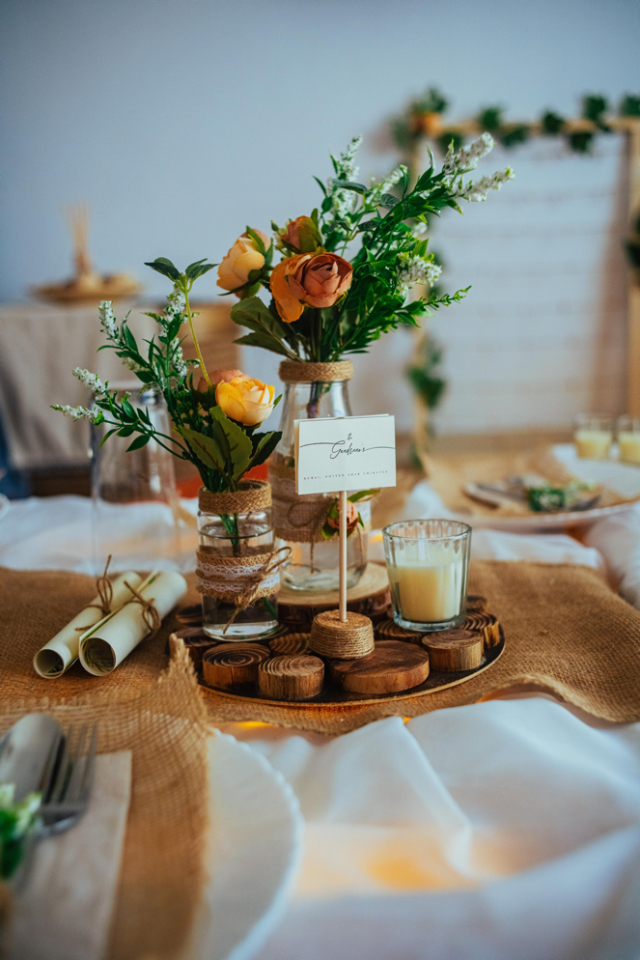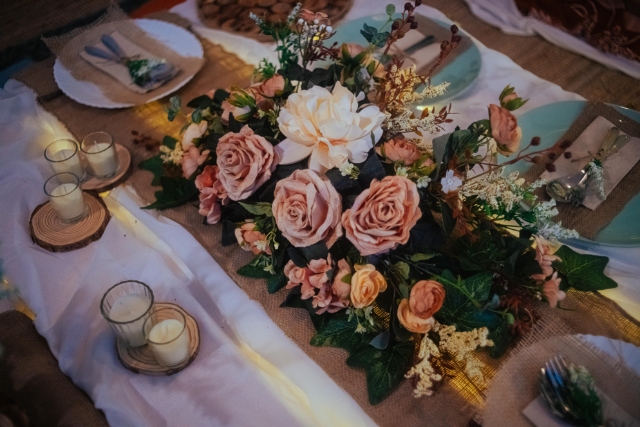 ADVERTISEMENT - CONTINUE READING BELOW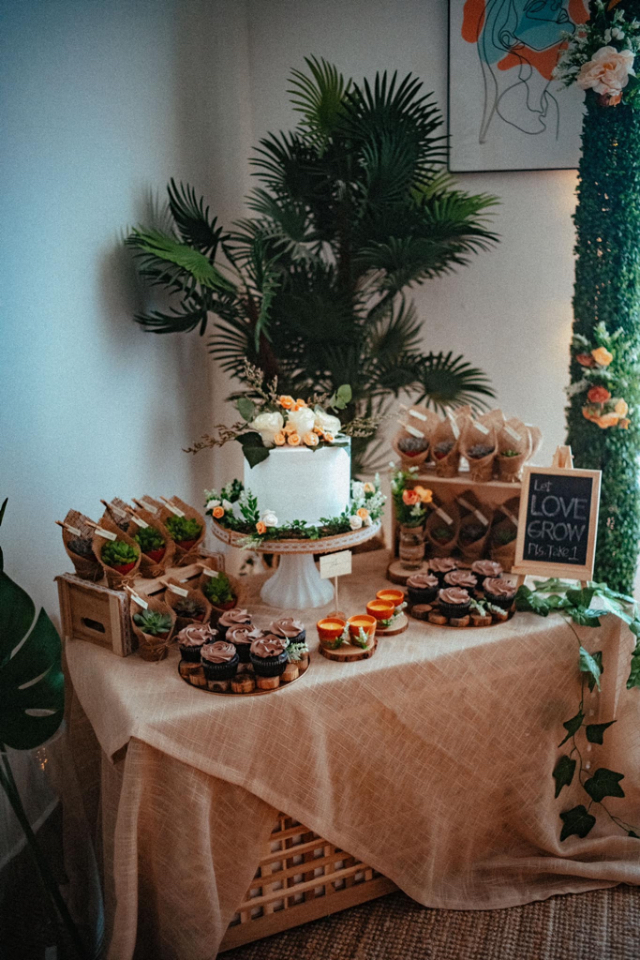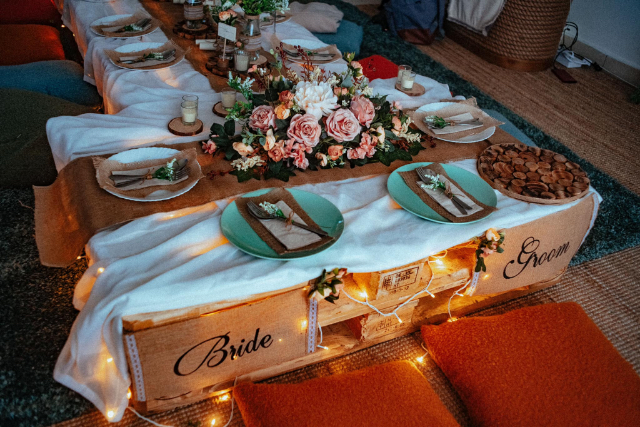 ADVERTISEMENT - CONTINUE READING BELOW
What was your north star or guiding principle while planning?
As they say, a wedding happens once in a lifetime so give it your all, but for us, it was practicality! That was our main goal while planning this wedding. Especially at this crucial time where most of us are struggling because of COVID, we thought the best way to celebrate was to make it simple. Spend less, save more! Me and my husband had the same vision— in mindset and "pocket-set"—so it was a mutual decision.
What advice would you give to someone who wants to have a DIY wedding but doesn't know where to begin? Could you share five tips?
1. Know your vision. Although "aesthetic" means pleasing to the eyes, it doesn't necessarily mean expensive; you can have both [aesthetic and practicality] for as long as you have the [vision] in you.
Make sure you and your fiancé have the same vision! How you picture your wedding is one of the important keys when beginning the process of a DIY wedding. Can't visualize? The Internet world will help you with that. During our process, Pinterest was my best friend. You [will] see loads of references there, and with that, you will get an idea of how you want your wedding to look.
ADVERTISEMENT - CONTINUE READING BELOW
2. Know your budget. From there, it [will] be easier for the couple to decide where and how they want to celebrate the wedding.
3. Always go for practicality. Don't just spend, think first if you need to buy something: like, will you be able to use those things in the long run? If not, and it's not that important or necessary, don't buy it!
4. Be resourceful.
Although it is simple, having a DIY wedding will really challenge your shopping skills and your eye for looking at the potential beauty of items. Of course, if you have anything in your house that you can use as props, use it!
5. Celebrate with your loved ones. Nothing compares to celebrating your special day with your intimate family (if possible), [and] having their presence and witnessing you accomplishing another milestone in your life, and being supportive and happy [about] it.
Are you still planning to have a bigger wedding once it's safe to do so?
Definitely YES! Once the world recovers from this pandemic, we still want to celebrate our wedding with our loved ones in the Phillippines. There is no better feeling than to have your parents walk you down the aisle.
ADVERTISEMENT - CONTINUE READING BELOW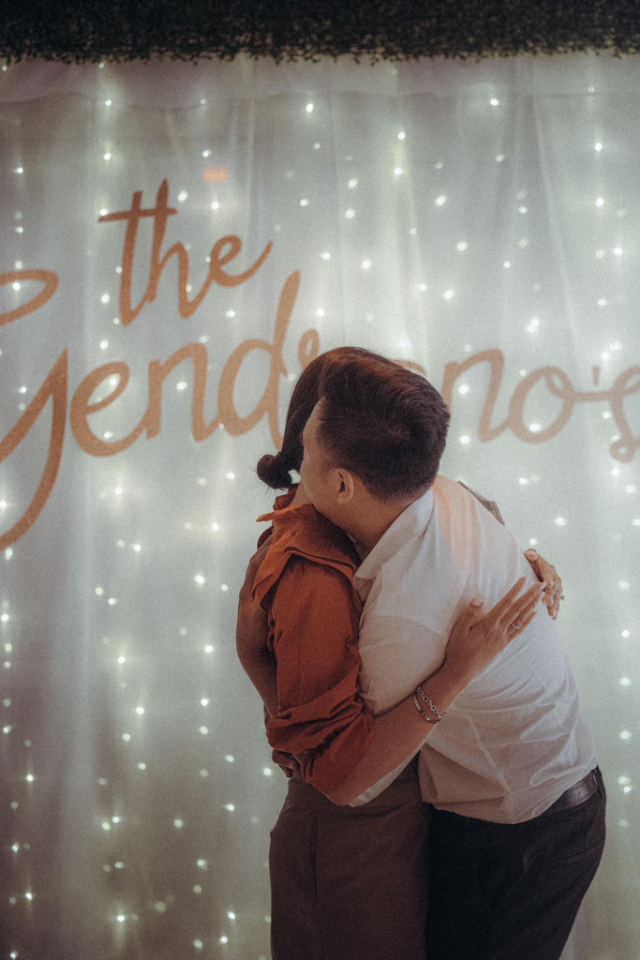 Related Stories from Preview.ph
Hey, Preview readers! Follow us on Facebook, Instagram, YouTube, Tiktok, and Twitter to stay up to speed on all things trendy and creative. We'll curate the most stylish feed for you!