Twitter's always been the go-to social media platform for anyone looking to air out their innermost thoughts to no one in particular. With millions of users active on the site, tweeting almost feels like yelling into an empty void, which is why the last thing to cross your mind, when you press that blue button, is for your tweet to get blown up into a billboard and be advertised right in the middle of a New York subway.
Except, as it turns out, anything's possible. Take it from 24-year-old Tiffany Candelaria, who's now apparently famous among NYC subway commuters after finding that her viral "Instagram versus Twitter" post was turned into a billboard by the blue bird app itself. "What's happening?! Sino nasa states? Someone track down my billboard," Tiffany wrote, after being notified of the news.
According to Tiffany, the billboard—which can currently be spotted on 5th Avenue/53 Street station in NYC—is just one of many put up around the city as part of an ongoing Twitter campaign.
ADVERTISEMENT - CONTINUE READING BELOW
While amused by the whole thing, upon posting about it, Tiffany says concerned friends and strangers immediately rightfully questioned if Twitter even asked for permission to use and blow up her tweet for the whole of New York to see. "They did notify me first via @TwitterNotify account telling me that they loved my tweet and wanted to use it for their promotional materials. But then I ignored it because I thought it was spam," Tiffany tells Preview. "But then when I woke up yesterday and I saw a DM request notification from @Twitter (the verified account), they just sent me a photo of the billboard."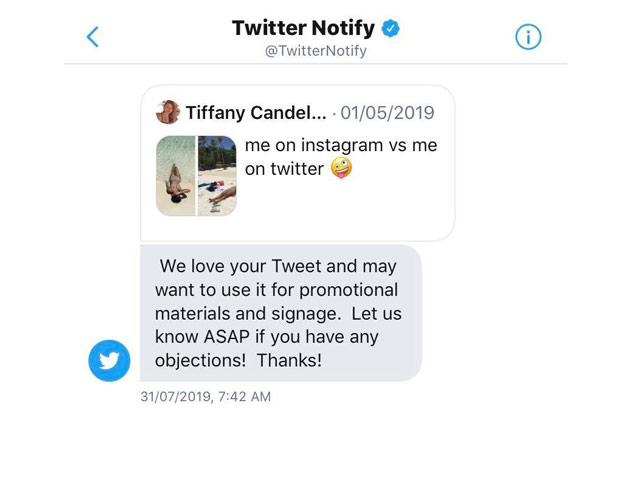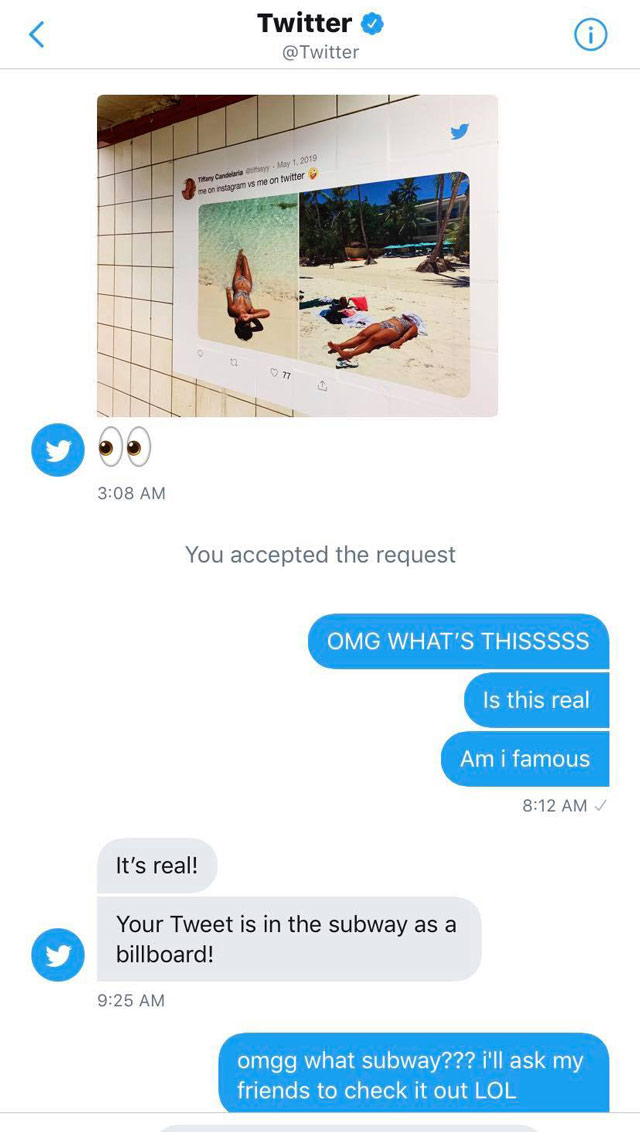 When asked about how she feels about her tweet being used, technically without her explicit permission, she had this to say: "I have mixed feelings, to be honest, because a lot of my friends are asking about the consent/privacy stuff. But I told them I was really notified at first and it was my fault for not clearing it with them too. But for real, I'm shocked until now 'cause I can't believe my tweet made it to NYC! [Laughs.]" She continues, "But then I actually told Twitter via DM that, because of the campaign, a lot of random people started following and messaging me via DMs. So they suggested I just close my DMs to people who follow me for privacy matters."
As someone who's used the platform for years as a safe space to"rant about anything and everything," Tiffany has since then closed off her private messages from random strangers easily finding her because of the ad.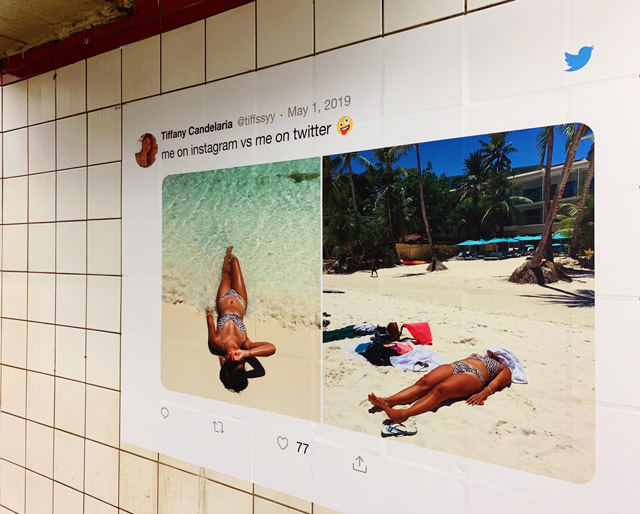 ADVERTISEMENT - CONTINUE READING BELOW
As for questions on the legality of it all? We've given Twitter's Terms and Conditions a quick read and apparently it's completely okay for the platform to use your tweet in whatever way they want without your prior consent.
"By submitting, posting or displaying Content on or through the Services, you grant us a worldwide, non-exclusive, royalty-free license (with the right to sublicense) to use, copy, reproduce, process, adapt, modify, publish, transmit, display and distribute such Content in any and all media or distribution methods (now known or later developed). This license authorizes us to make your Content available to the rest of the world and to let others do the same."
That means all thoughts, photos, and videos posted on your public Twitter falls into public domain and can legally be used by just about anyone without having to ask for your permission, similar to FaceApp's free reign over all your photos and private data. It's a clause most of us probably aren't privy to seeing as we can't be bothered to skim over a site's terms and conditions. That being said, while the billboard issue at hand may seem harmless as of now, failing to arm ourselves with knowledge of a social media platform's domain over our information and data could hurt us in the future.
The underlying lesson here? While we rarely give the online terms and conditions section a quick once-over before we check that "I agree" box, maybe it's high time we start doing so. After all, taking 15 minutes of your time to thoroughly read a binding online agreement can't hurt, especially since it could very well protect you, your personal data, and your privacy in the long run.
Related Stories from Preview.ph
Hey, Preview readers! Follow us on Facebook, Instagram, YouTube, Tiktok, and Twitter to stay up to speed on all things trendy and creative. We'll curate the most stylish feed for you!