Harry Potter's world continues to grow with the second installment to its prequel, but what's all this fantasy without the perfect clothes to accompany the magic? Straight from her Best Costume Design Oscar win for the first Fantastic Beasts film, renowned costume designer Colleen Atwood returns once more for Fantastic Beasts: The Crimes of Grindelwald. "This world was made for Colleen," David Yates, the film's director, says. "She is a true artist, and it's a wonderful canvas for her."
Colleen's vision for the film takes root from its setting in 1920s Paris where Newt, Tina, Queenie, and Jacob venture off in search of a wanted Grindelwald. "I was excited about the prospect of exploring fashion in Paris in the late '20s," Colleen says. "I pushed it into the early '30s because Paris is always ahead of the fashion curve; it's [a] city known for its elegance and style and that was a great period for design."
ADVERTISEMENT - CONTINUE READING BELOW
Below, Colleen tells us more about her design process for the film, the style evolution of the original characters' wardrobes, and more!
Can you take us through your creative process for designing the costumes?
"The first part of the process was meeting with the director and reading the script where you get the idea of what the story is. The next step is meeting with the production designer so you see the world that he's creating. This particular movie is set in Paris and a little bit of New York. I start and go do my own research, and look for inspiration from that time period in Paris, which was a very rich and amazing time for design where so much was going on.
CONTINUE READING BELOW
Recommended Videos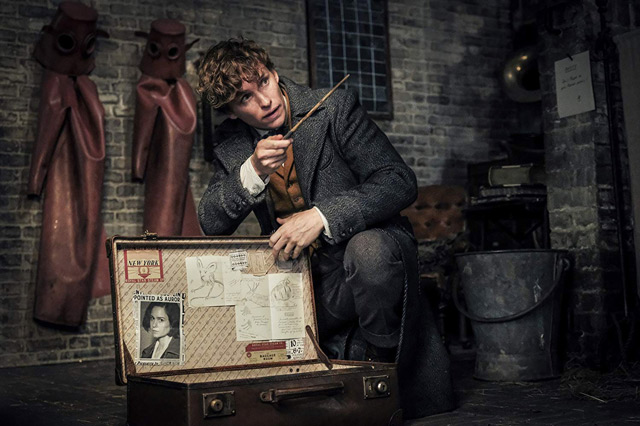 ADVERTISEMENT - CONTINUE READING BELOW
"Newt still has his beasts, but his shell is a little slicker. We put Eddie in clothes that are close to the same silhouette, just a bit better fit."
"I took all the layers from the art world, to the carnivals, to Moulin Rouge, all the things in Paris that make it such a spectacular city, back into with the different levels of humanity that I'm creating for the film, for the real world, and for the wizarding world. [The wizards] are living not seperately from the muggle world, they have a double life. So they live amongst the regular folks but they have a little flare so I had fun with them with different shaped hats, and different things that were subtle so you could kind of tell it was them when they were mixed with the muggle world. But then when you separate them, I pushed reality a little bit more. They're more strange looking, with different kinds of color and things like that. In this case, because I know the main four from the previous film, I take each character and think about how they evolve and how they've grown from moving through a couple of years into their lives and breaking that down with each of them."
ADVERTISEMENT - CONTINUE READING BELOW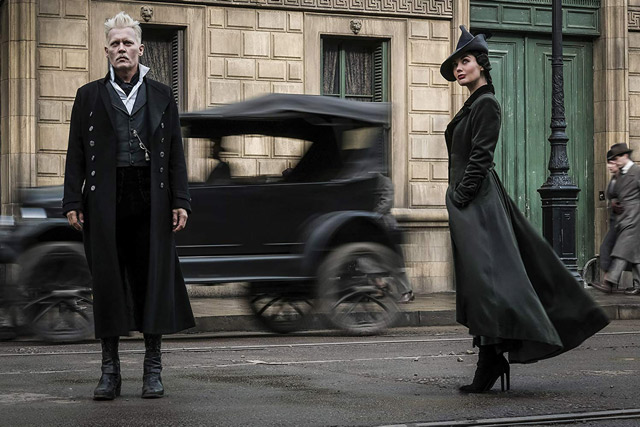 "[For Grindelwald] The name begged for an Alpine twist, and I've always loved Bavarian clothing. We made the lederhosen a little bit longer, coupled it with a tall boot, and ended up with a kind of Bavarian meets the New Romantic."
How would you describe the evolution of the costumes from the first movie to the second one?
"Since they went from America to Paris, they have a more European flavor in general. The principal characters are more sophisticated, they've evolved. Katherine Waterston's character Tina has moved back to her old vision as a higher up. Queenie has evolved and become a more grown up, less flippant character. She's in darker colors and a more grown up look. Slightly pushed into the '30s. For Eddie Redmayne's character, it was sort of similar in silhouette and shape as his previous costume, but with a more urban flavor, a more sophisticated fabric, and [with colors that are] a little less bright."
ADVERTISEMENT - CONTINUE READING BELOW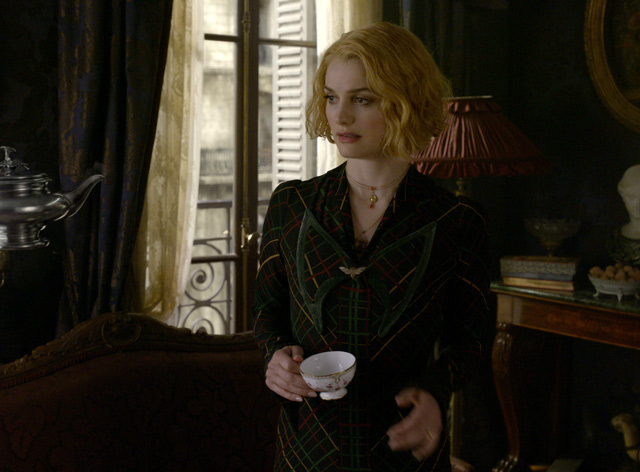 "[For Queenie,] it's a bit more grown up and has a slightly darker edge than her dress in the last film, but at the same time, it's feminine and has the whimsy of that big bow in the front. "
How would you describe your designs for the movie?
"In general, I think my designs defnitely have a flavor of movement and color, and a sort of trajectory into the '30s that was different from the first film. I think they're quite sexy in a quiet way, not in an obvious way. I have some amazing beautiful characters like Claudia Kim who is Nagini. She has a very amazing dress that transforms into other things so I had a really magical times with the costumes."
ADVERTISEMENT - CONTINUE READING BELOW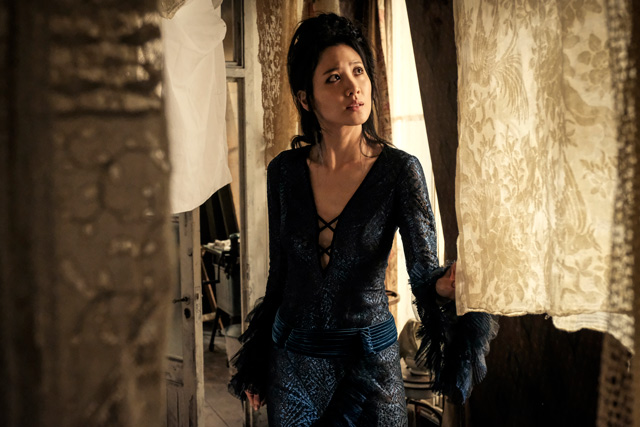 [For Nagini] "Throughout the film, she is wearing her performance costume from the magical circus, so I wanted to amplify the fantasy aspect. For the material, I took lace and screened over it with metallic foil to give the look of snakeskin, and then added ruffles around the bottom and the sleeves to suggest the coils of the snake."
ADVERTISEMENT - CONTINUE READING BELOW
Did you face any difficulties in designing the costumes?
"I think for a movie like that, the most difficult part is just the time you have to create a lot of ornate cotumes. Getting them ready and getting them aged and looking interesting takes just about enough time to get it done. For instance, Queenie's dress is a beautiful piece of fabric I found in Germany from the '30s, but in order to make it work for her costume, I needed enough to make 12 costumes. In order to do that sometimes I take the inspiration of that fabric and print it myself so I create the fabric for the characters before I make the costume in order to have the feeling of the period and the kind of fabric I want for that particular character. In doing that, everybody's costumes shouldn't look like it just came from a store, it should have a lived in quality. So the same people that do the printing and stuff make things look dirty, if there's a fight they tear it, they do dyeing of fabrics for making different colors and all kinds of things. It's a huge creative department painting, taking the leather coats—when I first get them they look very stiff— and breaking down things so they look like they're comfortably lived in."
ADVERTISEMENT - CONTINUE READING BELOW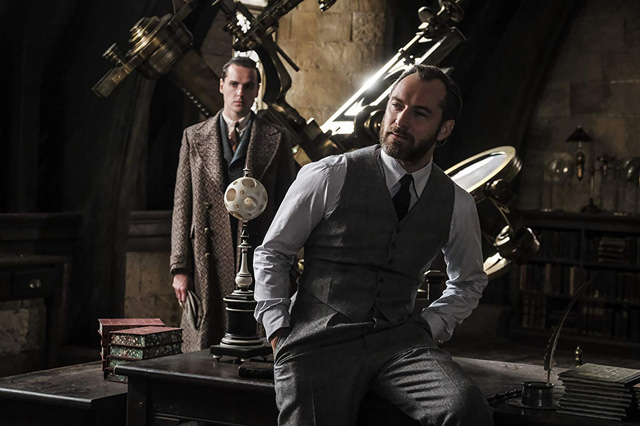 "David Yates and I wanted Dumbledore to be the professor the kids all love, their go-to guy. He needed to look professorial but at the same time approachable, so I used softer fabrics and textures in tones like heathery grays, which add to the approachability of the character. I also love corduroy, so I made a wide-wale corduroy coat for him and Jude just loved it."
ADVERTISEMENT - CONTINUE READING BELOW
Would you say each character's costume says something about their personality?
"I think that each character's costume is part of their character, so for instance, the idea of Tina's leather coat gives immediate authority with its silhouette. I would consider how each character looks not only close up, but how they look far away, standing in a doorway or something like that. They don't have a lot of changes, but they have a look, and I think that's part of the design of the character that's the most important thing to find."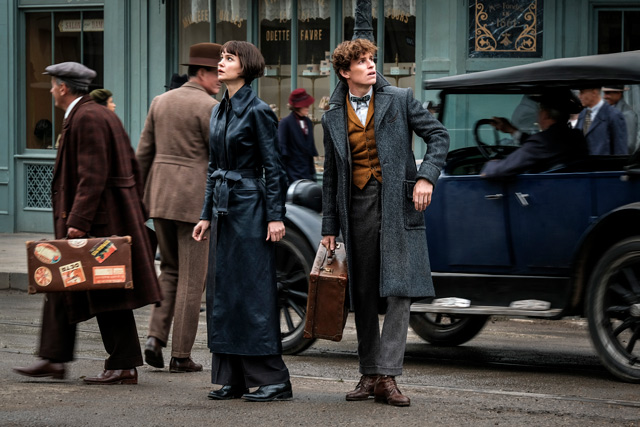 ADVERTISEMENT - CONTINUE READING BELOW
"Tina has more self-assurance since her reinstatement as an Auror. She looks like a true detective in a great blue leather coat. We were fond of everything about it…except how much it weighs."
Did you have a favorite character to design for?
"That's a hard question! Not really, it was fun working with Zoe Kravitz on the film because she's so sylish and it's great to design things that are chic like that and more sophisticated.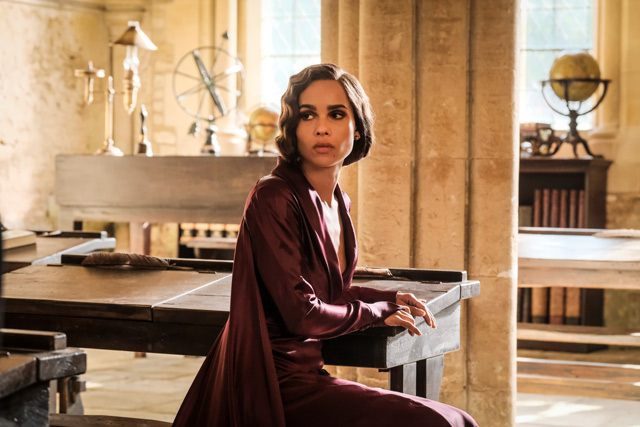 ADVERTISEMENT - CONTINUE READING BELOW
"Leta is from the manor born, so her clothes are all very elegant and rich in color. Zoë looks fantastic in anything, so it was fun to dress her for the period."
Top Articles from Preview.ph



>>