When the basketball star Doug Kramer and his wife, model, actress, and host Chesca Garcia-Kramer, started sharing photos and videos of their day-to-day life with children Kendra, Scarlett, and Gavin, they had no idea that these posts would turn out to be so popular. Much to their surprise, many people were inspired and entertained by their picture-perfect family.
Now, if you love #TeamKramer as much as we do, then you should check out their three-storey house on a 300sqm lot.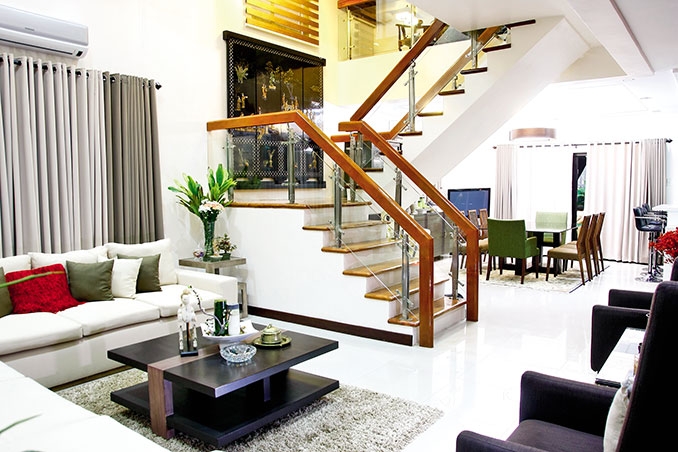 Since Chesca was pregnant with Gavin while this family home was being built, she left Doug in charge of the construction process. However, she still helped choose furniture and decor that would complement the high ceilings and the open layout of the their new three-storey house.
The living area is furnished with an L-shaped sectional sofa and a wooden coffee table on a gray shag rug.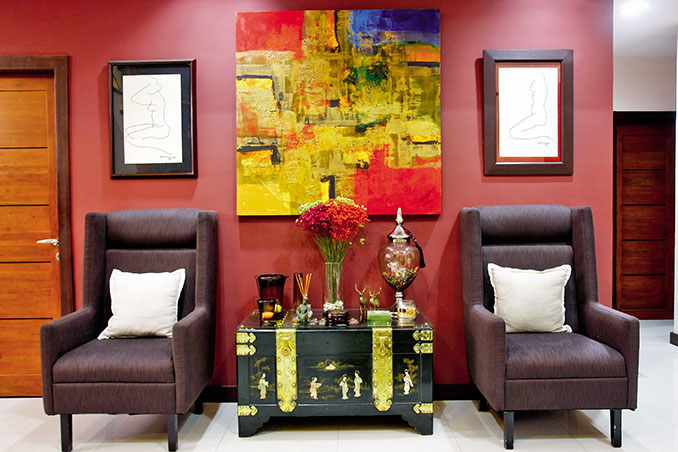 This living area wall is adorned with an abstract painting of Ivan Acuna paired by framed sketches of Hernando R. Ocampo, National Artist for Visual Arts.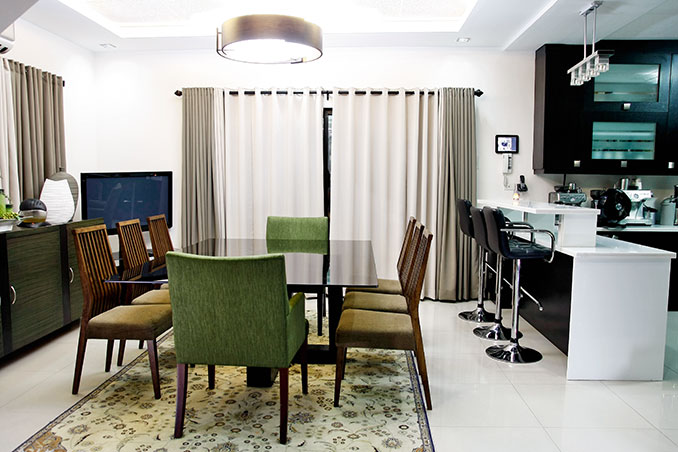 The dining area is furnished with a customized dining table with a separate glass top and a wooden base. For an interesting effect, the dining table has green chairs on both ends and six wooden chairs on both sides.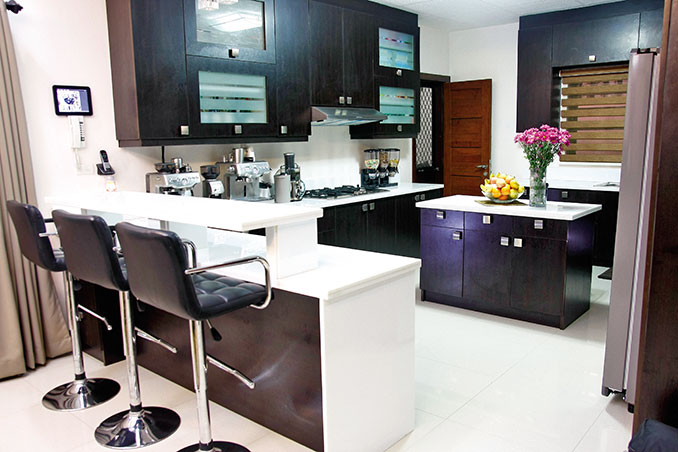 Although Chesca knows how to cook, Doug is the one who really enjoys preparing meals for their family. He can make steak and his other specialties in this spacious black-and-white kitchen.
Just like many modern kitchens, this particular area has a kitchen island in the middle of the space. This provides more counter space for slicing, chopping, and other prep work.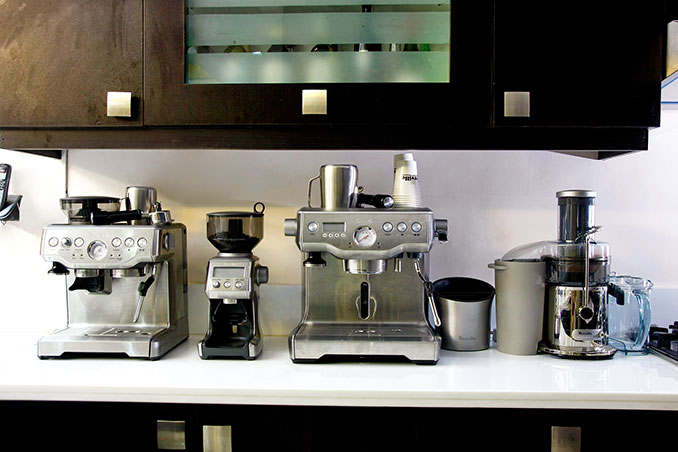 Apart from being the resident cook, Doug is also a proudly self-taught barista! He watched videos on the Internet to learn how to make different kinds of coffee using his coffee grinder and two coffee machines from Breville.
ADVERTISEMENT - CONTINUE READING BELOW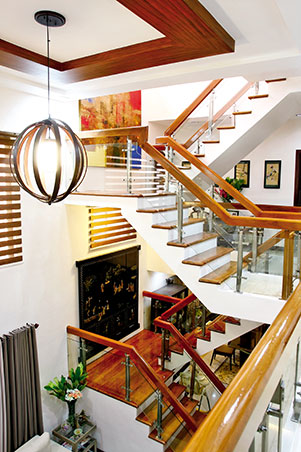 Since Kendra, Scarlett, and Gavin frequently run around the home, the couple opted for a staircase made with tempered glass — a kind of glass meant to withstand strong pressure! Just in case it breaks, it actually shatters into granular pieces instead of jagged shards.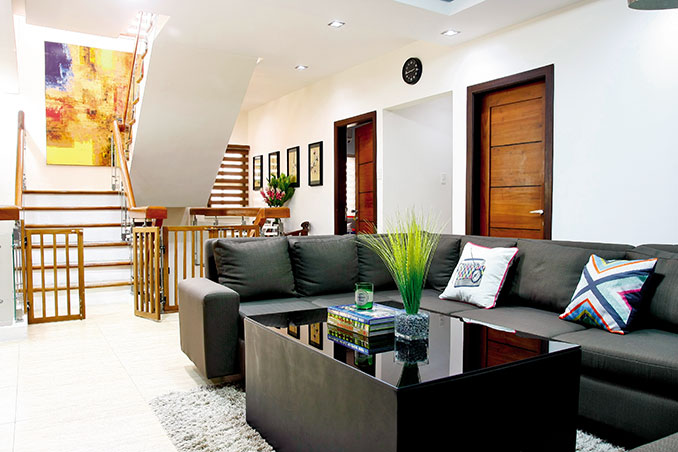 The family room can be found on the second floor of the three-storey house. It is furnished with an L-shaped sectional sofa and a rectangular coffee table.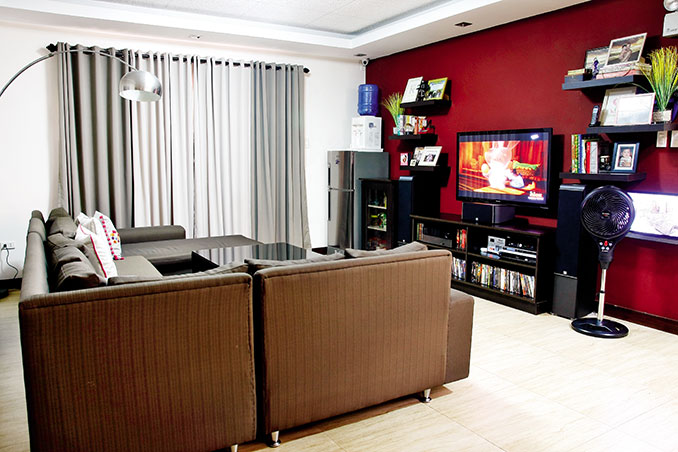 To make the family room more visually stimulating, the couple chose a bright red accent wall. Leaning against the wall is a flat-screen TV, shelves, and even a two-door refrigerator for storing snacks and drinks!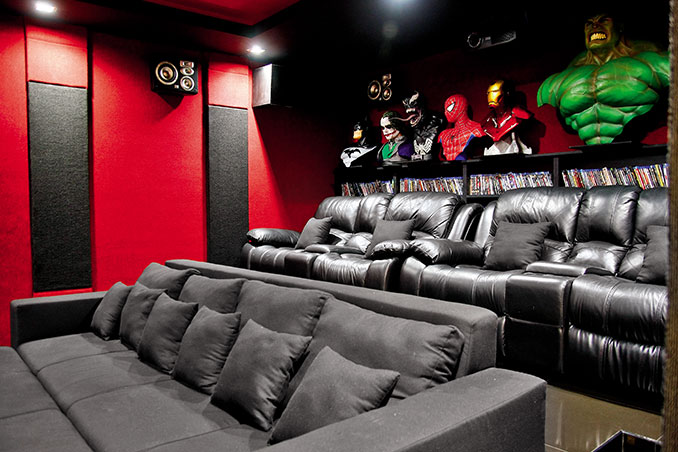 The home theater is furnished with comfortable seats, a black shelf filled with DVDs, and a row of hero and villian figures.
Among all of the rooms in this three-storey house, Doug is proudest of the home theater. He likes this space because it is completed with state-of-the-art audio-visual equipment for a great cinematic experience.
To make the master bedroom feel elegant and luxurious, the space is completed with an oversized and fully upholstered headboard. Leaning against it is a king-size bed resting on a built-in bed frame with a dark finish.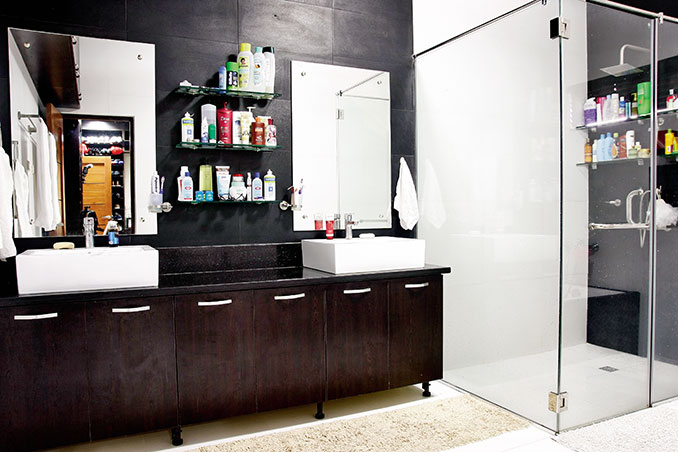 If you are building or renovating your own home with your partner, you may want to consider his-and-hers sinks. These will provide the both of you with more space to comfortably get ready in the morning or at night.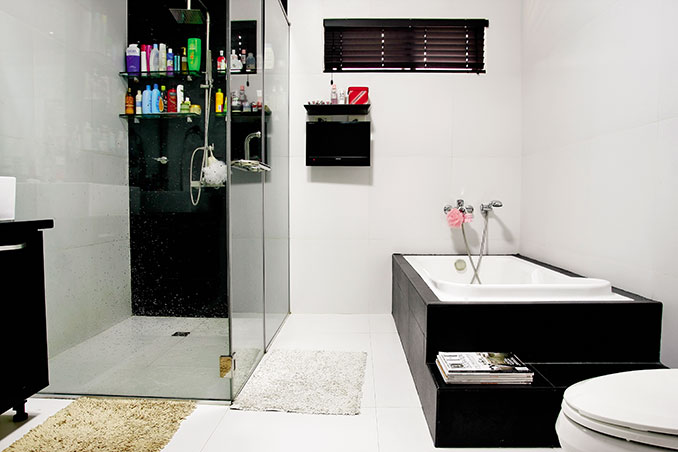 Found close to the double sinks is a glass-enclosed shower area, a modest bath tub, and a white water closet.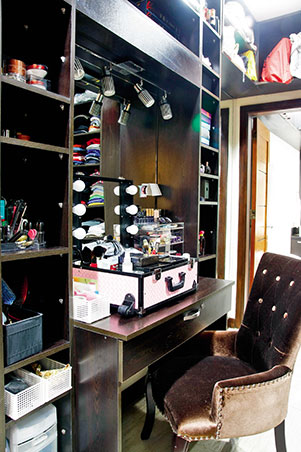 The walk-in closet is completed with a dressing table that Chesca can use when putting on makeup.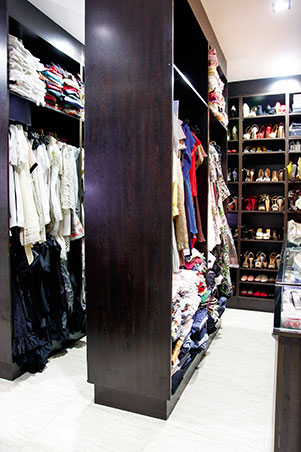 The walk-in closet also has open cabinets for storing Chesca's clothes, shoes, and accessories. The clothes are separated according to their purpose.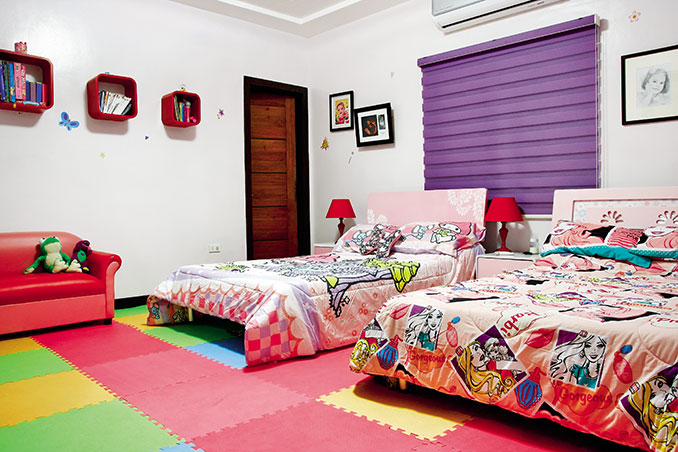 The girls' bedroom is furnished with a pair of matching beds and night stands. The floor is covered with colorful rubber mats.
ADVERTISEMENT - CONTINUE READING BELOW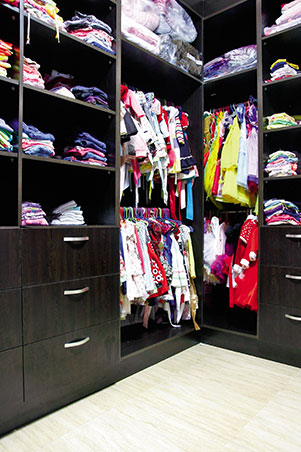 Just like their mom, Kendra and Scarlett have their own walk-in closet. This corner is used to store their clothes for everyday use and for special occasions.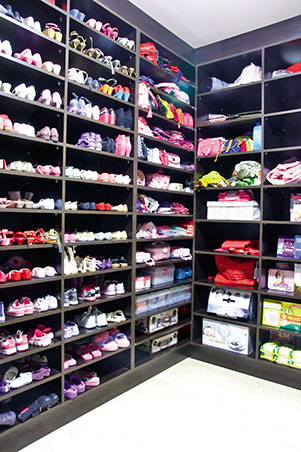 On the other hand, this area is used for keeping the girls' different shoes. There are flats, rubber shoes, and even high heels!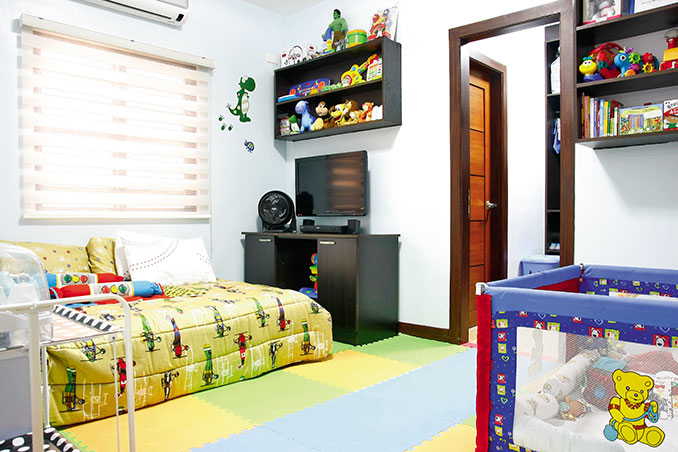 Gavin, the youngest member of Team Kramer, shares this bedroom with his yaya. The space is completed with a bed and a playpen.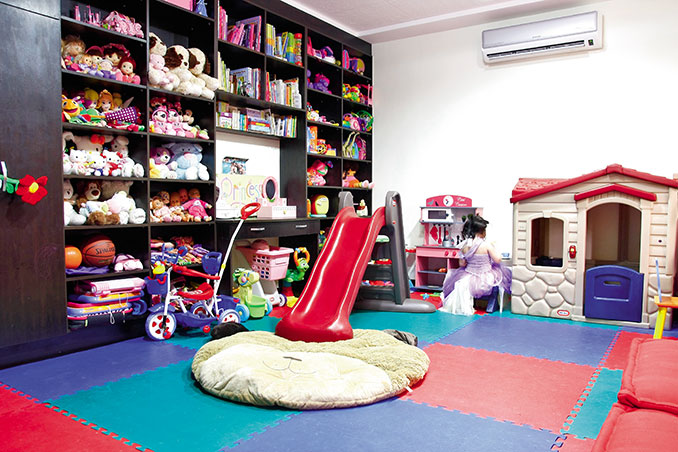 The play room has floor-to-ceiling wooden shelves that can be used to store books and toys. There is also a plastic slide and a plastic play house.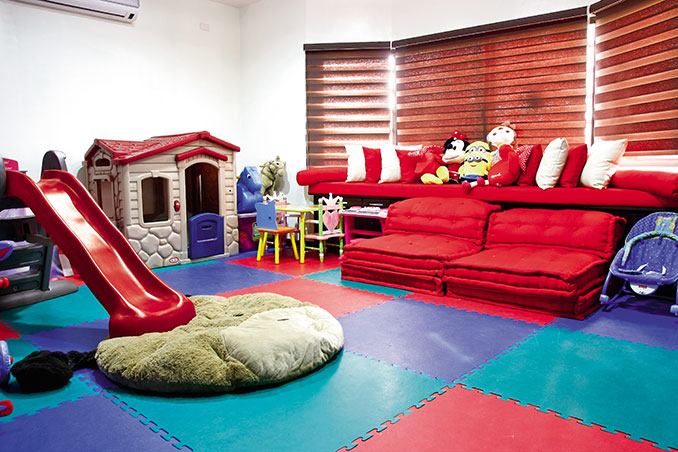 The window has a built-in seat with a red cushion and pillows. It seems like a cozy and comfortable spot for reading and playing.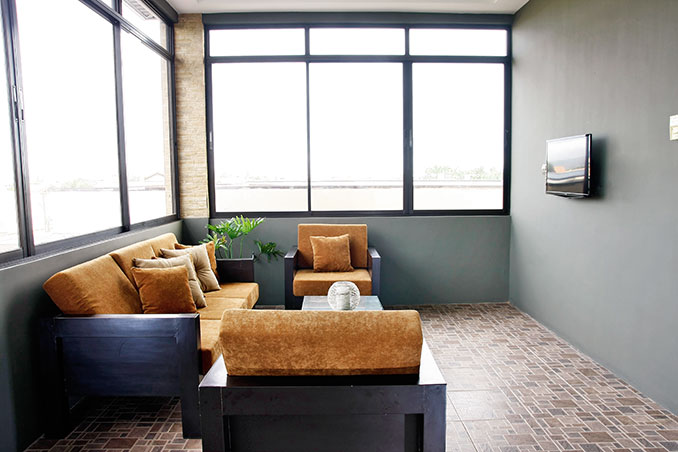 On the third floor is a living area that can also be used to entertain family and friends. The space is furnished with a pair of armchairs and a three-seater sofa.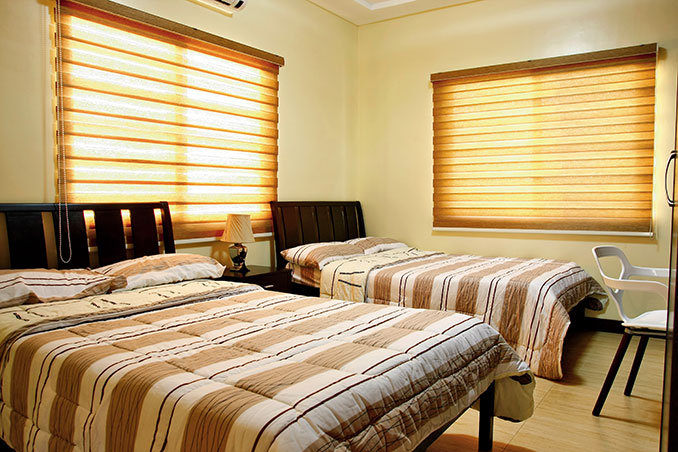 There are also two guest bedrooms on the third floor. This particular space has two beds and a bedside table.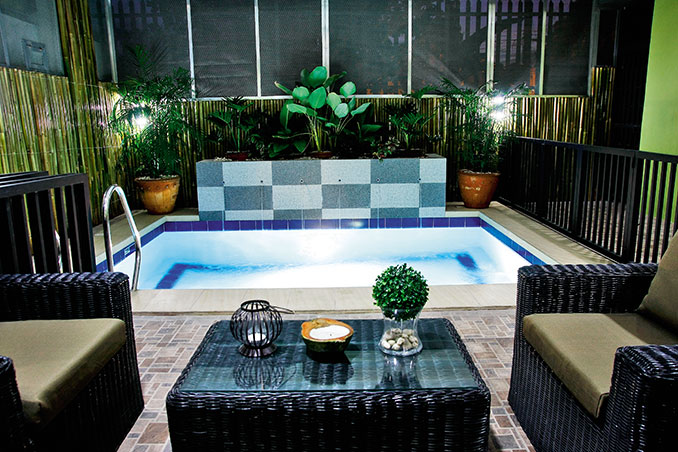 At the back of the three-storey house is a small pool that the couple can enjoy with their three children. To make sure that the kids will never enter the pool without adult supervision, the space features a retractable gate.
*This story appeared on RealLiving.com.ph. Minor edits have been made by the Stylebible.ph editors.
*Published in YES! Magazine.