It's difficult for any piece of media to depict life during the COVID-19 pandemic, for the very reason that it's agonizingly on-going. Dito at Doon attempted to do just that, through the most earnest and relatable storytelling. Now that the film is finally on Netflix, here's why it's worth streaming (legally.)
Occurring during the onset of the pandemic, the story follows Len (Janine Gutierrez) and Caloy (JC Santos) forming an unlikely bond exclusively through the screens of their devices. The film holds up a mirror to an audience that knows exactly what the pair is going through, possibly as lovers, but more so as common folk affected by the health crisis. Amidst nuanced social commentary and accurate depictions of quarantine life, the film revolves around an online romance that persists to exist offline.
Is Dito At Doon the next addition to your Netflix queue? Read up on our spoiler-filled review and decide for yourself!
ADVERTISEMENT - CONTINUE READING BELOW
What I Liked
Janine Gutierrez gave a multi-layered performance as Len.
The first frame of the movie introduces us to Janine Gutierrez as Len, an assertive young lady with nothing but her plants and social media to amuse her. As an only child, her everyday life in quarantine ranges from finishing a Master's degree online, to worrying about her overly dedicated healthcare worker mom. She manages to overtly but sincerely portray the hodgepodge of emotions life in lockdown continually puts us through.
One minute she's cheerful while cooking sinigang, the next she's spewing out insulting remarks without biting her tongue. Len's tendency to let her rage get the best of her in certain situations is a straightforward illustration of how this pandemic's circumstances have put a lot of us on edge, almost unable to cling unto rational thought. Viewers can appreciate, and can most probably identify with the restlessness she experiences throughout the film.
ADVERTISEMENT - CONTINUE READING BELOW
Recommended Videos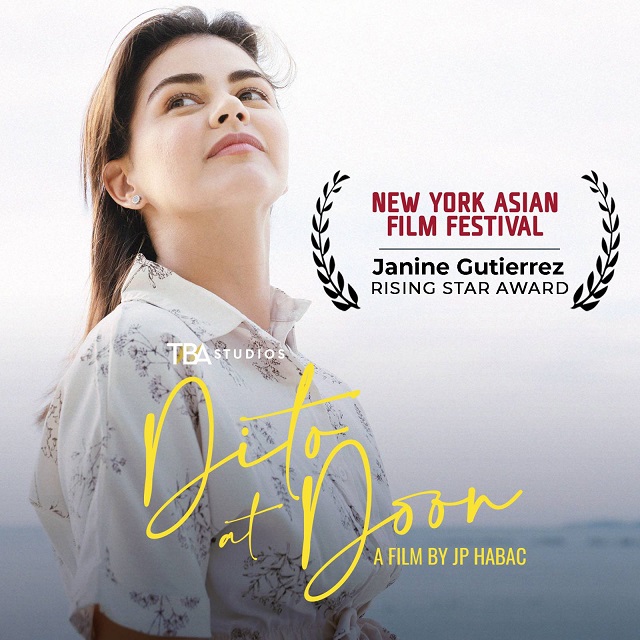 An e-numan with her friends Jo (Yesh Bruce) and Mark (Victor Anastacio) unexpectedly leads her to Caloy, whom she butted heads with over a Facenook post. An unlikely but natural chemistry between the two unfolds from then on.
Janine's partnership with JC throughout the one hour and forty minutes of the film effectively displays romance in the context of the new normal, one that has to make do with less than ideal circumstances. The pair exhibits a seamless back-and-forth that is only testament to how skilled and charming the two are as thespians. With each crisp delivery of her lines, Janine draws us in and makes us hope that Len's quaranfling with Caloy becomes more than just that.
ADVERTISEMENT - CONTINUE READING BELOW
What the actress accomplishes with this role is a level of relatability that strikes a chord with everyday people going through the motions of a seemingly endless quarantine. Her Rising Star Award at the New York Asian Film Festival is only a tangible manifestation of how beautifully she breathed life into Len.
It stayed true to the JP Habac formula of rom-coms.
If there's one thing we can expect from a romantic comedy directed by JP Habac, it's that it will leave us wistful for what could've been.
The filmmaker knows a thing or two about how to portray the inherent fragility of young love. The strangers to lovers archetype is implemented into a very pandemic-forward setting, taking into account how specific realities affect how the central couple interacts with one another. The anxiety brought about by the virus, the limited perception of things through social media and the sheer loneliness of being cooped up at home all came into play.
ADVERTISEMENT - CONTINUE READING BELOW
In the end, as much as they tried, Len and Caloy's bond remained stuck in the realm of sweet words and affectionate gestures, never breaking out of the digital boundary. Serendipity wasn't on their side, as the movie concludes with them never seeing each other face to face.
ADVERTISEMENT - CONTINUE READING BELOW
It's quite vague if Len and Caloy will continue to have a relationship, online or not. This is the same question one ponders on when it comes to Dio and Carson of I'm Drunk, I Love You, Laya and Pol of Sakaling Maging Tayo, and even Karl and Vlad of Gaya Sa Pelikula.
Unique to Dito At Doon, the rather abrupt separation of the central characters is heavily influenced by the contemporary setting they're situated in. Caloy's choice to fly back home despite his yearning to meet with Len can be viewed as a way his character has chosen to finally put himself first, after years of prioritizing other people at the expense of his own wants.
As we all know too well, the pandemic has pushed us to shift our priorities. Caloy had to choose between his juvenile longing to be with Len, or his long standing desire to reunite with his family. As Len stares at her computer screen, wondering if she will unfriend Caloy, she begins to ruminate as well if she's been putting the wrong things first; or more likely, if she's been prioritizing the wrong feelings at the wrong times.
ADVERTISEMENT - CONTINUE READING BELOW
It doesn't hesitate to show how lonely quarantine can get.
One of the aces Dito At Doon has is how inventively it depicted the character's conversations, which visualizes how they would interact sans the physical barriers. Whenever Len would turn on her phone to talk to Caloy or their friends, they would suddenly appear right beside her on screen.
ADVERTISEMENT - CONTINUE READING BELOW
As the main character of the story, Len is quite literally left to her own devices, being by herself for most of the film. Jo and Mark playfully tease her about singlehood, yet it's something she shrugs off as something non-essential (considering the pandemic and all). When she carelessly lambasts Caloy during a fit of panic for her mom's condition, Caloy doesn't "appear" beside her anymore, which exacerbates her loneliness.
As viewers who know that her peers aren't actually by her side when they converse, her situation becomes all the more poignant. As endearing as this depiction can be, it also is a stark representation of how difficult it is to avoid the desolation that comes with isolation.
Towards the end of the film, a tearful Len sinks into her mom's arms in relief. It's in this scene that we see her be vulnerable enough to exhibit her yearning to be around someone she cares about. Her innocent interactions with Caloy, albeit digitally, have played a big part in softening her tough demeanor. In a time when physical interactions are scarce, Len's story goes to show that the last thing one should choose to be is alone.
ADVERTISEMENT - CONTINUE READING BELOW
What I Didn't Like
Quite candidly, there's nothing in particular that the film can do without. It has all the heart-wrenching quotes and swoon-worthy scenes one looks for in a Filipino rom-com, contextualized to today's COVID-19 ridden world.
While the budding of Len and Caloy's relationship may seem to take up too many scenes, this could as well be representative of how long it takes to form meaningful connections strictly through calls. If anything, the duration of some sequences, no matter how arbitrary they appear to be, only goes to show how even the most mundane moments in quarantine contribute to the most significant of experiences.
So should you see it?
Len and Caloy's chronicle proves to be more than just another love story. The way the film portrays the everyday Filipino in quarantine is relatable and endearing, while at the same time, novel and reflective.
ADVERTISEMENT - CONTINUE READING BELOW
It's a narrative that resonates with each of us at different touchpoints, which all converge at the sentiment that in these trying times, we all need someone—romantically or not. With cinema gradually picturing this era of facemasks and uncertainty, what Dito At Doon does make certain is that life (and love) goes on.
ADVERTISEMENT - CONTINUE READING BELOW
Dito At Doon is available for streaming on Netflix.
Preview is now on Quento! Click here to download the app for iOS and Android and enjoy more articles and videos from Preview and your favorite websites!
Related Stories from Preview.ph



Hey, Preview readers! Follow us on Facebook, Instagram, YouTube, Tiktok, and Twitter to stay up to speed on all things trendy and creative. We'll curate the most stylish feed for you!