Admit it: you've once dreamt of walking down the aisle in a fancy church. Although there are many different kinds of weddings, the most classic and traditional way to do it is in achapel or cathedral. There's something so elegant and solemn about reciting your vows in a church that's appealing to the hopeless romantics and the old-fashioned!
Even if you don't adhere to tradition all that much, there are beautiful church venues for your ceremony that can still cater to your personality. Quezon City is a large city—the largest city in Metro Manila, in fact—with dozens of chapels and cathedrals to your liking! Whether it's a grand old cathedral, a parish designed in contemporary aesthetics or a beautiful rustic chapel, take your pick as you plan your stylish wedding in Metro Manila.
Blessed John Paul II Parish
The Blessed John Paul II Parish in Eastwood may not seem like much on the outside, but its intimate setting, convenience and interiors that are a mix of old and new that allure soon-to-weds and churchgoers to its charm. The parish's design has since been updated to feature more ornate decor and Filipino-inspired aesthetics. It's the perfect venue for any cosmopolitan bride who likes a combination of urban landscapes and greenery.
ADVERTISEMENT - CONTINUE READING BELOW
Location: Orchard Road, Eastwood City Cyberpark , Quezon City, Metro Manila
Santo Domingo Church
Santo Domingo Church in Quezon City deserves a spot on this list, on account of being not only the biggest church in Metro Manila, but one of the biggest in Asia. With renovations over the years, it's managed to retain some of its old splendor and grandeur, and is the ideal church for the bride who wants to make a grand entrance, sweeping veil and all. The Santo Domingo Church is now considered a National Cultural Treasure, making this church all the more memorable and special.
Location: 537 Quezon Ave, Santa Mesa Heights, Quezon City
St Ignatius de Loyola Cathedral
Elegant and magnificent, the St Ignatius de Loyola Cathedral inside Camp Aguinaldo is the quintessential cathedral for any classic, romantic wedding. The exteriors are a polished mix of slate bricks, concrete and stained glass, traditional but not too antique-looking. Inside is even more magnificent with an open floor plan and several archways marking every corner of the church.
Location: Camp General Emilio Aguinaldo, Cubao, Quezon City
Parish of the Hearts of Jesus and Mary
Charming and rustic, this church has an endearing appeal for couples on the quirkier side. Gray stone bricks, pointed triangular roofs, and old stained glass windows create a lived-in yet special feel to this church, as opposed to other ostentatious and palatial cathedrals. Located in West Triangle in Quezon City, this chapel feels more suited in a suburban area just outside of the city like Tagaytay or Rizal rather than being in the heart of the city, and it's nice to have that brief change in environment!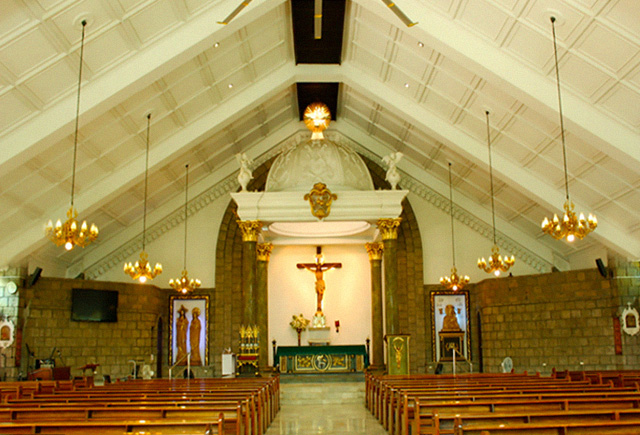 ADVERTISEMENT - CONTINUE READING BELOW
Location: Daily Mirror St. cor. Bulletin St., West Triangle, Quezon City
Our Lady of Consolation Parish
One of the more modern and uniquely designed churches on this list, what will first grab your attention about Our Lady of Consolation Parish is its towering structure, with three tall stained glass windows at the entrance. Because the structure already commands so much presence, the understated design on the outside looks even better as opposed to the more traditional-looking parishes. What you see inside is a whole other thing, with a solid purple wall facing the altar, as well as wooden panels on the ceiling. Overall, it's a charming church that breaks away from tradition.
Location: 81 Alondras Street Mira-Nila Homes, Tandang Sora , Quezon City
Our Lady of Remedies Chapel
This adorable chapel in Don Enrique Heights in Commonwealth is absolutely stunning for any design-oriented bride. The mixture of red brick and white in its exteriors and its circular window at the center give off the vibe of an idyllic village church, while the interiors are just exquisitely designed. You will immediately be drawn to the beautiful ceiling panels, while everything else around blends in perfect harmony. The church is also surrounded by beautiful gardens for post-ceremony photos!
Location: Don Enrique Heights, Commonwealth, Quezon City
Holy Trinity Parish
There's another church in Commonwealth that's just absolutely endearing! The Holy Trinity Parish in Don Jose Heights have three roofs stacked against each other, with a beautiful bonsai garden that's just right in front of it. Inside is another tastefully designed chapel, with stunning wooden ceilings and an open plan floor space that makes for a breezy venue.
ADVERTISEMENT - CONTINUE READING BELOW
Location: Candelaria Street, Don Jose Heights, Commonwealth , Quezon City
Parish of the Holy Sacrifice
There's no doubt about it: the University of the Philippines is one of the most photogenic spots around the city and it's no wonder that many couples, UP graduates or otherwise, choose to hold their engagement shoots here amidst the many trees and fields! But did you know that UP is also home to a beautifully designed church? The Parish of the Holy Sacrifice was designed by National Artist Leandro Locsin and became the first circular chapel in the country. The altar is also at the middle of the church which makes for quite a unique layout!
Apacible St., University of the Philippines Diliman, Quezon City
Christ the King Parish Church
Ask any bride-to-be about their top wedding venues in the city and the Christ the King Parish Church in Greenmeadows will always belong to the top of that list. An idyllic environment, a desirable address and elegant interiors allow Christ the King to be one of the most coveted dream churches for any wedding. A landmark feature of the church is its ceiling that's sloped upwards.
Location: Greenmeadows Avenue, Quezon City
Santuario de San Vicente de Paul
Here's another venue in the city that's perfect for the stylish bride. Surrounded by lush greenery, the Santuario de San Vicente de Paul has a rustic and idyllic exterior that combines red brick and cream, but what's especially interesting about its facade is its curved roof that almost resembles a turtle shell. Inside is the most unexpected minimalist interiors of blush and off-white, asymmetrical walls, and modern pews that can be arranged in a curved manner.
ADVERTISEMENT - CONTINUE READING BELOW
Location: St. Vincent Seminary Complex, Tandang Sora Ave., Quezon City
Saint Peter Parish: Shrine of Leaders
If it's a grand church wedding that you want, then this venue is magnificent in every sense of the word. Reminiscent of the resplendent, Baroque-style buildings in Rome, the Saint Peter Parish along Commonwealth has become an iconic structure in the area. Everything about the church is stately, from its massive columns and curved ceilings to its facade. The altar is even shaped into a dome!
Location: Commonwealth Avenue, Quezon City
EDSA Shrine
Who wouldn't pass up the opportunity to get married in such an iconic location? The EDSA Shrine is historic because of how it figured in recent local history, but even so, the statue of the Shrine of Mary alone is enough to make it monumental. With relatively simple interiors inside, all eyes are on the altar thanks to a stained glass mosaic on the ceiling and the cross in front.
Location: EDSA, corner Ortigas Ave, Quezon City
Divine Savior Parish
This church is absolutely perfect for the modern bride! If brick and stone aren't your thing, this church will check off all the boxes on your list. The facade alone is Instagram-worthy, a mixture of slate, concrete and glass with no conspicuous cross or symbols atop its roof. Apart from figures, you won't find any ornate fixtures inside either, with high ceilings in geometric patterns.
ADVERTISEMENT - CONTINUE READING BELOW
Location: Archer Street North Fairview, Quezon City
St. Francis of Assisi Chapel, Fernwood Gardens
Fernwood Gardens may be a popular reception venue in Quezon City on its own, but the St. Francis of Assisi Chapel inside their grounds is just too beautiful for words, it's yet another reason not to leave the area! The chapel is a stunning venue in white enclosed in a glass dome, with white tapestries dangling from the ceiling and tropical foliage all around, making for the dreamiest and most romantic of weddings. Instead of pews, guests sit on tiffany chairs. You can design the church any way you want and it would still turn out to be a memorable setting!
Location: 69 Cenacle Drive, Sanville Subdivision, Quezon City
National Shrine of Our Lady of Mt. Carmel
This iconic church along Broadway Avenue in New Manila is one of the most popular wedding venues in the area due to its prestige as a Minor Basilica, along with its traditional elegance. High ceilings, tall stained glass windows and a dome at the altar, all decked out in beautiful marble suggest nothing but the grandest of affairs. Also, you can do your reception at the church's Father Mark Horan Hall, if you want a worry-free wedding package!
Location: Doña Juana Rodriguez Avenue, Broadway, New Manila, Quezon City
Related Stories from Preview.ph



Hey, Preview readers! Follow us on Facebook, Instagram, YouTube, Tiktok, and Twitter to stay up to speed on all things trendy and creative. We'll curate the most stylish feed for you!