"It will be something different," Celeste Cortesi tells reporters weeks before she flew to New Orleans for Miss Universe 2022. She was asked about her national costume for the pageant, which Filipinos, as fervent beauty contest fans, have been eager to see.
Over the past couple of years, we've seen our delegates glide down the runway in ensembles referencing different aspects of our national identity and history. We had the likes of Pia Wurtzbach and MJ Lastimosa wearing their own renditions of Maria Clara, and there were those like Gazini Ganados and Bea Gomez donning garments fashioned after mythical folklore.
Pageantologists and TikTokers were quick to prop up a drawing board to decipher what this "something different" Celeste talked about could be. Come January 12, the audiences in both in New Orleans and at their homes were blinded with a shimmers of red and gold as Miss Philippines was called. In what some are calling a "dream come true," the 25-year-old's national costume was her very own take on Darna.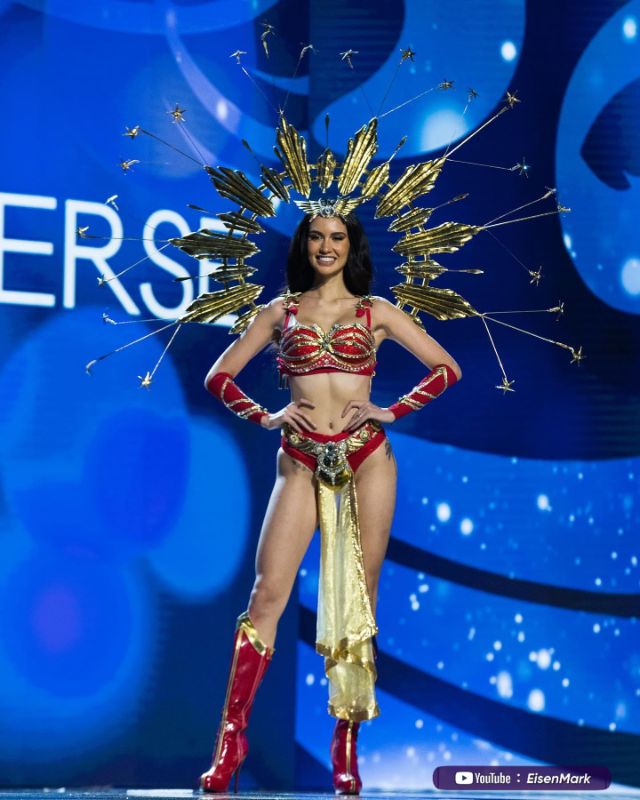 ADVERTISEMENT - CONTINUE READING BELOW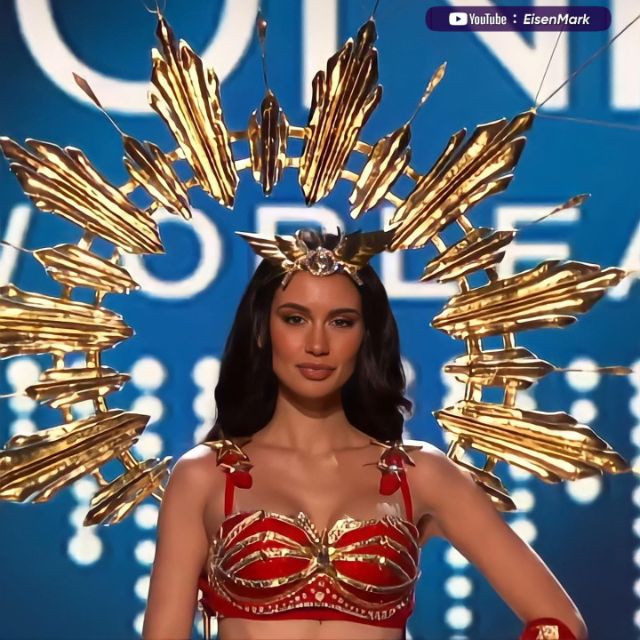 Crafted by Filipino designers Oliver Tolentino and Jerome Navarro, Celeste's look was almost an exact replica of the superhero's iconic ensemble. From the tip of her winged headdress, to the bottom of her knee-high boots, and even to the rays of the sun behind her, the Filipino-Italian beauty looked like she was ready to take flight. For many folks, this was a moment of immense Pinoy pride.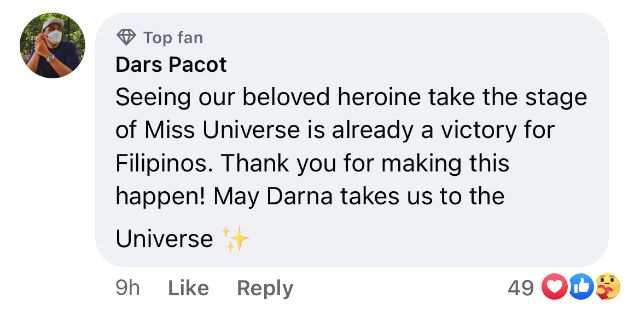 Several netizens wax about the sentimental value seeing someone introduce Darna to the world—or the universe, rather. Some cite the cultural signifiance the character has had in Philippine media. Cherish Aileen Aguilar Brillon, a professor from UP Diliman's College of Mass Communication, states that: "Darna has always been held up as an empowering figure in Filipino popular culture. Her longevity is tied to how she embodies the demands and expectations of a particular period in our society."
ADVERTISEMENT - CONTINUE READING BELOW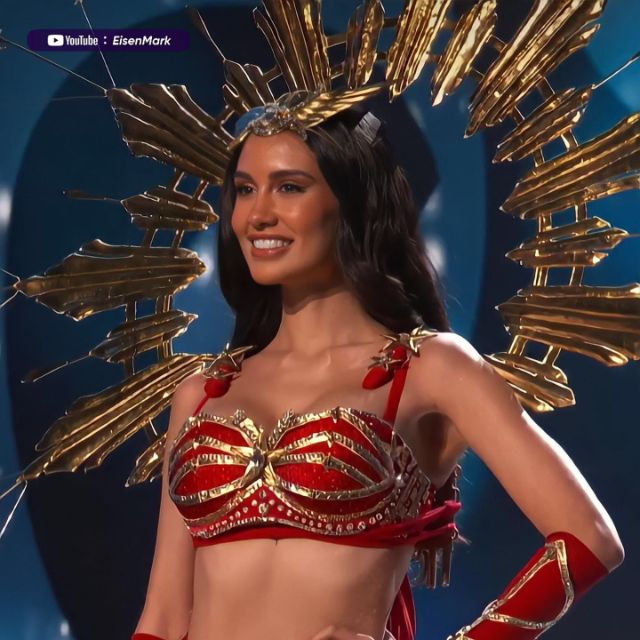 Like other fictional heroes, Darna is a reflection of the times, particularly the events society needs "saving from." Professor Brilon illustrates this point by contextualizing the Darna's of past generations.
The first-ever woman to strap on the costume, Rosa del Rosario took flight when the Philippines was still recovering from World War II. 1973's iteration, starred in by none other than Vilma Santos, was believed to be an allegory of how the country was on a chokehold by dictator Ferdinand Marcos' regime. The succeeding reincarnations of the fantastical lass were always produced with the idea of portraying our hardships somehow. More than that though, it also aimed to inspire the Filipinos of that era to rise up and fight back.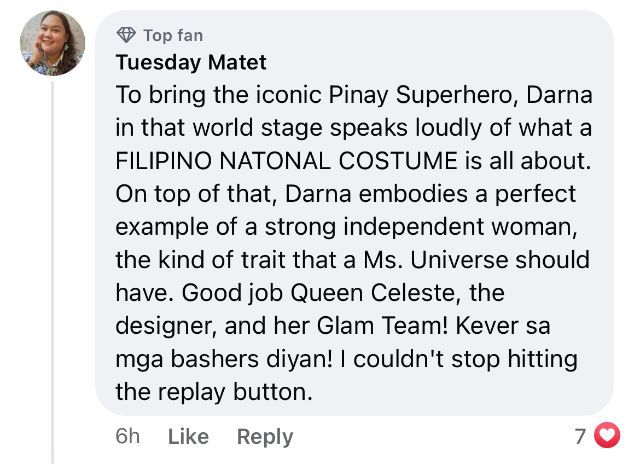 Having said that though, there are still those who believe Celeste's entry borders on the pedestrian side of things. Some stated that it took the "costume" part too literally, and disregarded the "national" aspect of it.


ADVERTISEMENT - CONTINUE READING BELOW

While people are certainly entitled to their own opinions, there is a discussion to be had whether or not a fictional character is a firm and appropriate representation of a country. But then again, what constitutes this "representation" anyway, and who's to say that Darna can't fulfill those requirements for the Philippines?
The Miss Universe Organization isn't the most clear or transparent with the guidelines on the national costume segment, with no official document expressing how much weight it carries in a candidate's chances of winning. What is made evident though, is the common understanding every participant has that what they wear has to speak about their culture and heritage somehow. Back in 2018, for example, Miss Japan dressed up as anime character Sailor Moon for the national costume round, which is pretty much what Celeste is doing now with our own superheroine.
In the same account she wrote for another publication, Professor Brilon states, "Other superheroes have nothing on Darna if we are talking about how she has penetrated and saturated every aspect of our popular culture."

It was only less than four years ago when the entire country was up in arms about who should play the next generation's Darna. ABS-CBN, which bought the rights to the Mars Ravelo tale, then decided to hold an open audition for the part, and it eventually went to newcomer Jane De Leon.
Jane's spin on the superhero is a breadwinner-slash-relief operations volunteer when she's in mortal mode. This contemporary spin is what makes the character relevant to viewers today, nevermind the fact that her origin story is seven decades old and counting.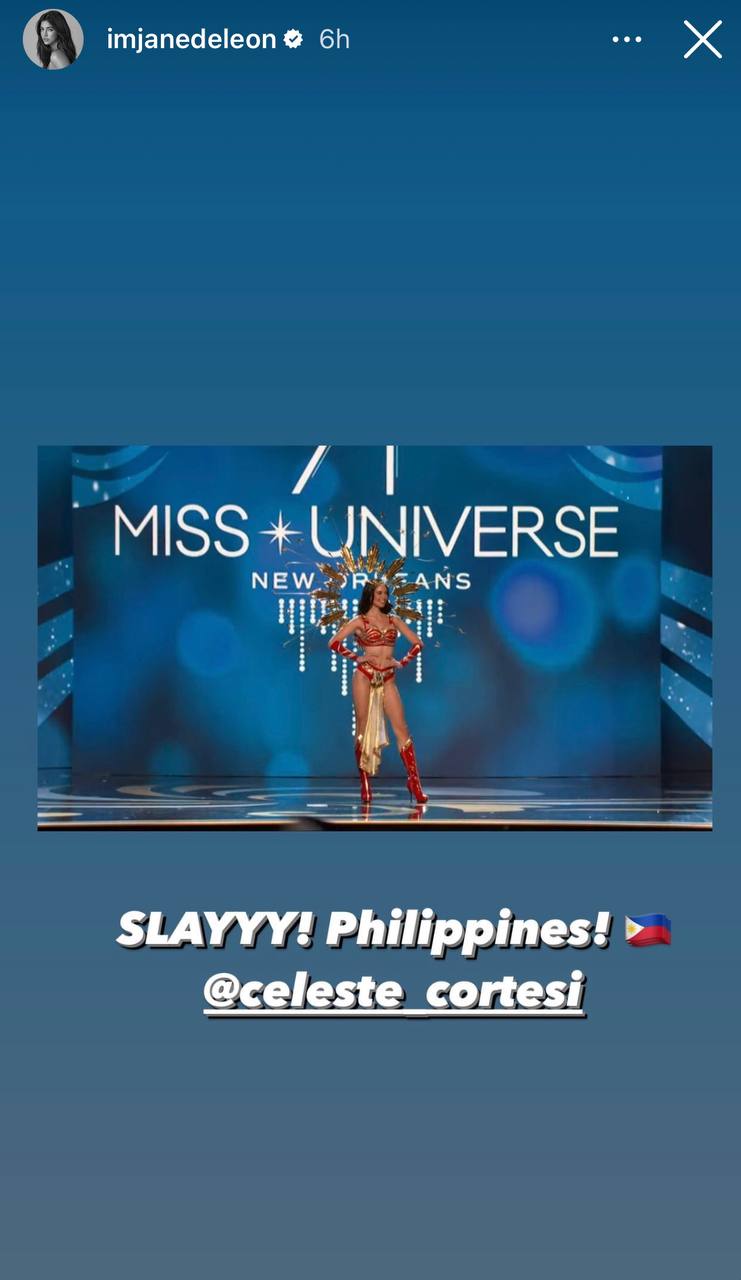 ADVERTISEMENT - CONTINUE READING BELOW
In some way, this proves that Darna is more than just a made-up character that can fly and has super strength. The very thesis of Ravelo's obra maestra is that she's a Filipino, who adapts to her current contexts and utilizes her traits to combat the evil forces within and outside her circles.
The Ravelo family, who gave their stamp of approval for Celeste to wear the iconic costume, sums it up in their official statement of support: "We hope that, like our beloved Filipino superheroine, Celeste will continue to serve as a source of inspiration and empowerment for women all around the world."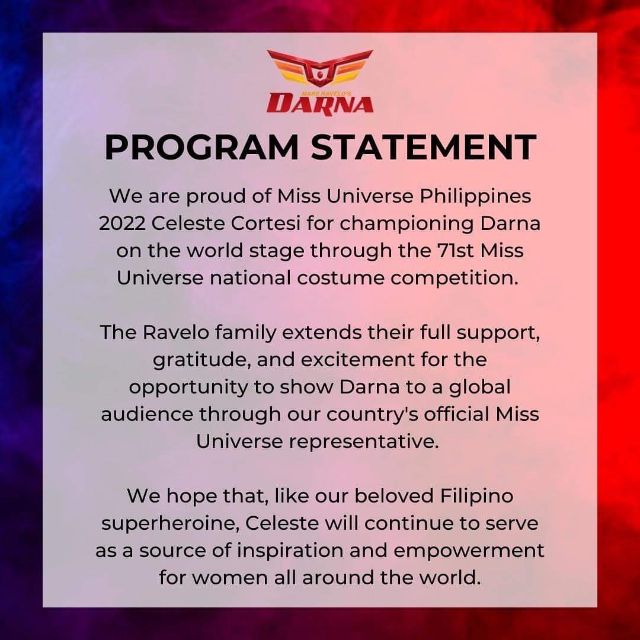 Celeste bringing Darna to a stage as big as Miss Universe is as good of a representation as we can ask for. Sure, there are tons of narratives and tidbits of history that she could've been inspired by, too. But the character of Darna itself is another gateway into the Pinoy DNA that is often limited to various interpretations of butterfly-sleeved gowns and over-the-top headpieces. (Mind you, there's nothing wrong with those types of costumes, too!) And by this virtue, Darna not only represents Filipino pop culture, but also the Filipino itself.
This year's competition was the appropriate time to suit up—because just like in the movies, we need Darna to show up. Now more than ever, we need our very own Pinay superheroine and everything that she represents.
The Darna that we Filipinos know by heart is determined, empathetic, strong-willed, and kind—and if you ask us, those are things every Miss Universe should be. Heck, it's what every human being should be.
Related Stories from Preview.ph
Hey, Preview readers! Follow us on Facebook, Instagram, YouTube, Tiktok, and Twitter to stay up to speed on all things trendy and creative. We'll curate the most stylish feed for you!