People receive unwarranted comments about their bodies all the time, be it from family members, friends, or even distant relatives. Celebrities are no different. In fact, being in the public eye means they're inevitably exposed to negative remarks from strangers as well. Comforted by the veil of anonimity that a private or faceless social media account provides, the comments they receive on the daily are abundant. Unfortunately, no one is exempt from this kind of bullying.
That said, being a public figure doesn't mean that someone should just take constant body shaming as the price of stardom. Everyone has the right to defend themselves against this kind of negativity, no matter the follower count. So here, we list down celebrities who have stood their ground and responded to body shamers in their own ways:
Angel Locsin
Since her comeback to primetime television, Angel has received negative comments on social media regarding her weight. The actress addressed the situation in an interview, where she was asked if the crticism still affects her. Angel simply responded that she doesn't engage with the negativity. She chooses to look at it another way, telling host Boy Abunda, "Kung iisipin mo, maaawa ka doon sa tao, kasi anong klaseng person ka para magawa mo 'yon? Perfect ka? Hindi mo na lang papatulan."
She adds that if someone is comfortable with body shaming other people, then she doesn't want to deal with them. "Kasi ako, wala akong problema. Bakit ikaw ang dami mong issue? Ako nga, walang issue, eh. Katawan ko 'to, ako 'to, sarili ko 'to. Ikaw, okay ka ba?"
Related Stories from Preview.ph
Moira dela Torre
A few days before Moira's wedding, a netizen body-shamed her on Instagram, to which she had the best response. The commenter wrote, "Pag kinasal ka na, wag kang mag-pony tale [sic] kasi baka madismaya sa'yo groom mo sa sobrang laki ng feslak [face] mo." Instead of resorting to blocking the user, the singer calmly replied to the comment.
ADVERTISEMENT - CONTINUE READING BELOW
She said, "Hindi kita ibblock. Para pag nagtali ako ng buhok at hindi siya madismaya, makita mo na may pagmamahal na hindi lang nakadepende sa kung gano ka kapayat o kataba o kung ano man ayos ng buhok mo. (I won't block you so you can see, after I've put my hair up and he's remained unfazed, the kind of love that is not based on your body size or the way your hair is styled.)"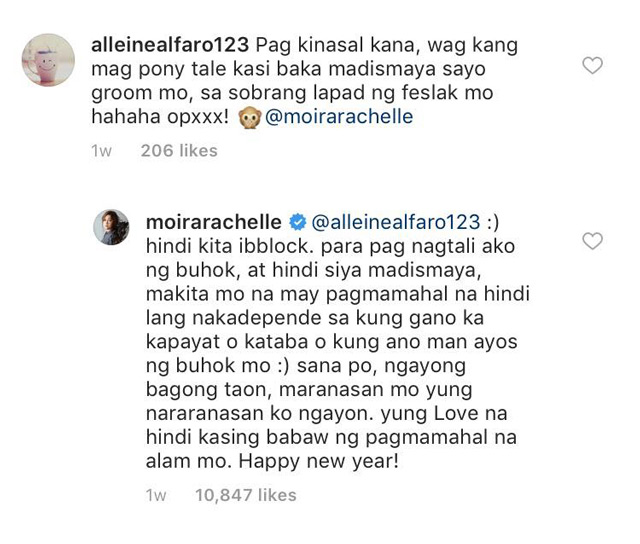 Jasmine Curtis-Smith
Jasmine's weight loss after a lifestyle change did not go unnoticed on social media. At one point, she was repeatedly accused of having an eating disorder because she looked "too thin."
Shutting down the rumor, she replied to a comment on a swimsuit photo on her Instagram:
ADVERTISEMENT - CONTINUE READING BELOW
"FYI sa lahat ng nagsasabi na mukha akong anorexic or 'too skinny' or 'mukha kang may sakit' or 'magpacheck up ka na' dito: This pic was shot months back and same time when I posted a pic w my pugs in this bikini (its still in my timeline), and I never got any of such judgmental comments. Dami talagang mema lang hahaha!"
ADVERTISEMENT - CONTINUE READING BELOW
The netizens defended themselves in response, saying they're only concerned, but Jasmine was having none of it. "By you saying 'stay healthy and beautiful just like before' means you have assumed I am currently unhealthy. Judged about my health already because I look slimmer than 'before'? You see the logic? Thanks for the concern though. I already addressed that unnecessary concern in a pic a few weeks ago," she writes.
ADVERTISEMENT - CONTINUE READING BELOW
Gabbi Garcia
Posting photos of herself in a swimsuit, Gabbi Garcia faced comments targeting her slim body type. Instead of keeping mum, however, she posted another bikini picture with a caption that fired back at them.
"Whenever I post swimsuit photos, people would always bully me for my body," she wrote. "Yes, I have no boobs, I'm flat chested, [and] I have my own fair share of stretch marks. And I don't see anything wrong with it. If your definition of being 'sexy' doesn't fit with my body type, well then sorry, but I LOVE MY BODY." Ending the post on a positive note, Gabbi said, "And nobody deserves to be bullied just because of your body. We are all beautiful in our own way!"
ADVERTISEMENT - CONTINUE READING BELOW
Bela Padilla
Bela Padilla turned her encounter with body-shamers as an opportunity to spread a body positive message. After calling out commenters who were pointing out her belly on a picture at the beach, she tweeted:
"Shocked by the number of comments on my IG post, pointing out that I have a belly. Yes I do. It holds in my organs that I need to live. It has a layer of muscles that I worked hard for in the gym and a layer of fat from the food I enjoy to eat. Deal with it. PLUS I'm seated."
ADVERTISEMENT - CONTINUE READING BELOW
She also stood by posting the photo as is, pointing out how harmful editing it could've been. "Would it have made you more comfortable if I edited my photo to perfection? Because I could have easily done that. But what message does it send to the younger ones? That our photos are only likeable when we're perfect in photos? Not from me. NEVER," she wrote.
ADVERTISEMENT - CONTINUE READING BELOW
ADVERTISEMENT - CONTINUE READING BELOW
Jessy Mendiola
Sometimes, the best way to reply to hate is to beat the hater at their own game, and that's exactly what Jessy Mendiola did when someone attempted to shame her in an Instagram post. "Parang malaki hita niya," wrote the user. Jessy's response? "Hindi naman parang, malaki talaga sila. Ikaw naman. *kissing emoji*" What a trooper!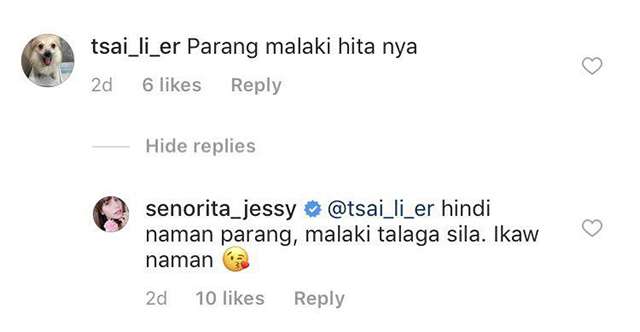 ADVERTISEMENT - CONTINUE READING BELOW
Dominique Cojuangco
Last year, Dominique Cojuangco took on a #PreviewChallenge where she had to complete various food tasks without ruining her makeup or nails. It was loads of fun, until people decided they should leave unsolicited remarks about her body in the comments—ones that Dominique saw.
"I head over to the video to find comments like 'chubby' and 'diet lang'. For a second, I thought that it was fine. I was raised in a loving environment that allows me to not be bothered by unsolicited remarks," she wrote in an Instagram post. She continues by saying no one should tolerate body shaming of any sort and hopes for things to change.
ADVERTISEMENT - CONTINUE READING BELOW
Ending the caption on a lighter note, she said, "I hope that today and every day we can be the type of people that lift each other's spirits...Whether you're less than a size 0 or over a size 12."
Heart Evangelista
Like Jessy, Heart has also responded to negative messages directly yet gracefully. On this photo of her in a Dior crop top, someone left a comment that questioned where her abs were. Replying to the user, the actress quipped: "Hahahaha! I never made it a goal! Haha :)"
ADVERTISEMENT - CONTINUE READING BELOW
She also calmly responded to a malicious comment about her appearance. Heart wrote, "I love my skin tone and I love my body :) we don't need your negativity here…:)"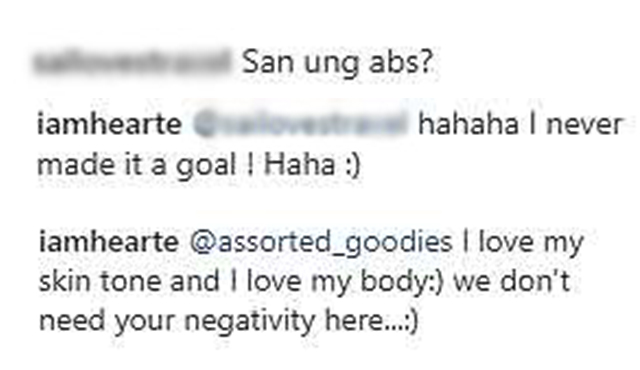 ADVERTISEMENT - CONTINUE READING BELOW
Saab Magalona-Bacarro
Saab's encounter with a body-shamer actually happened in real life, but she shared the disheartening encounter on her Instagram to educate her followers on the topic. While she was pregnant last year, the Cheats singer said that someone told her, "Ay, naging chubby ka na!"
"It took so much for me not to snap at her," Saab admitted in the post. After calming herself down, she responded, "I told her, 'You know, you really shouldn't tell people—especially pregnant women—that they've gotten fat. It's very mean.' I explained to her that we have no choice but to gain weight (recommended 35-45lbs for twin moms like me) for the safety of our babies and we're already feeling self-conscious about it." Saab mentioned that the woman apologized to her later, even thanking her for calling her out.
ADVERTISEMENT - CONTINUE READING BELOW
Sarah Lahbati
While she was well into her second pregnancy, Sarah Lahbati opened up on social media that she was being criticized for gaining weight. In her now-deleted tweet, she said, "I'm six months pregnant and getting body shamed. 'Ang taba mo,' 'ang laki mo,' 'loshang' etc. DID YOU FORGET I AM CARRYING A CHILD. I am growing a baby inside of me and you are shaming me. This doesn't just happen to me."
Sending a message to her haters, she continued, "Respect pregnant women and think before you judge or open your mouth. If you're here to do that and be disrespectful, unfollow me and get out of my page. I deserve respect and will not allow anyone to step on me for being pregnant."
Sarah also sent a reminder to pregnant women to stay unfazed by this kind of negativity. She continued, "This goes out to all pregnant women: We all deserve to be happy and focus on our growing baby. Let's stay positive, happy, and mind our own business, everyone!"
ADVERTISEMENT - CONTINUE READING BELOW
Isabel Oli
Pregnant women are often the center of body-shaming remarks masked as concern, such as the ones Isabel Oli received last November when her husband John Prats shared a photo of a pregnant Isabel in a swimsuit. People promptly began discussing her appearance in the comment section, which John then disabled. Isabel eventually explained why on her own account.
ADVERTISEMENT - CONTINUE READING BELOW
"My husband posted a preggy photo of mine 'cause he was happy and he can't contain his excitement for the arrival of our prince @freedomprats. Little did he know that he would receive such rude, negative, and uncalled-for comments about my pregnancy," the caption read. She continues, "But to be honest, I didn't get mad. It just made me sad how some can get so critical and judgmental even if they don't have the slightest idea about the actual situation."
Choosing to be positive, she then assured her followers that her pregnancy was going well despite her belly's size. "And oh, every woman is different and every pregnancy is different so pls stop comparing me to other hot mommas," she adds. She also sent a message to those who body-shamed her: "To my bashers, spread LOVE not hate. I guess the world will truly be a better place, if we all learn to be kind and truly love one another."
ADVERTISEMENT - CONTINUE READING BELOW
Kylie Padilla
First-time mom Kylie Padilla also had an ordeal with body-shamers back in 2017. On Instagram, she addressed the comments she began receiving about her weight.
"I really didn't want to make this a big deal because, honestly, it isn't, but I wanted to have my say before I go 'lose this baby weight and be society's definition of sexy' again," she started. "I recently experienced some body shaming on my last post at the gym and I didn't really get my feelings hurt but I had this thought, 'People know I just gave birth, right?' Still, comments kept coming in about how fat I was."
ADVERTISEMENT - CONTINUE READING BELOW
She wraps up the note with a body positive message: "And guess what: Yes, I am fat. I am overweight. Whatever these things people tell me that is supposed to make me feel guilty or bad. Fine, but the thing is I have never felt so confident, so happy, and so in love with my body. Stretch marks and all."
ADVERTISEMENT - CONTINUE READING BELOW
Hey, Preview readers! Follow us on Facebook, Instagram, YouTube, Tiktok, and Twitter to stay up to speed on all things trendy and creative. We'll curate the most stylish feed for you!