The internet was abuzz over the weekend when a local gossip blogger posted a side-by-side photo of Gigi Hadid's maternity shoot and that of Coleen Garcia's, which was shot by BJ Pascual for Preview.ph's September cover. The caption reads, "Who wore it better?"
This comparison immediately caught the attention of BJ, who commented on the post, saying, "We shot Coleen's cover August 1 (posted proof on my stories), while Gigi's (undeniably stunning) photos were posted August 26. There was no way we could have copied Gigi's photos. Coleen's photos were actually inspired by a combination of 'The Birth of Venus' by Boticelli and 'The Swing' (and partially 'The Meeting') by Jean Honore Fragonard."
ADVERTISEMENT - CONTINUE READING BELOW
CONTINUE READING BELOW
Recommended Videos
The comments section instantly flooded with mixed reactions. Others praised the photoshoot and were in awe of Coleen's pregnancy glow, while others presumed that Coleen's photoshoot "copied" Gigi's.
Gigi Hadid, as mentioned by BJ Pascual, released her pics from her maternity photoshoot last August 26. She sported a number of flowy outfits that flaunted her baby bump. She even wore an outfit that comprised of a sports bra and jeans. Most of these photos were rendered in black and white, with Gigi donning different hairstyles to match the mood of each outfit.
ADVERTISEMENT - CONTINUE READING BELOW
BJ responded to those who presumed that the concept was a ripoff by posting a screenshot of his photo's details as proof that the shoot took place on August 1, before Gigi's photos were released on August 26. "Dahil maraming haters. Eto na po ang proof of purchase," he writes.
ADVERTISEMENT - CONTINUE READING BELOW
To further defend his concept, BJ posted on Instagram stories again, telling the blogger to "please be respectful naman of Filipino creatives. Some of us actually work hard on conceptualizing shoots to create these images," he writes.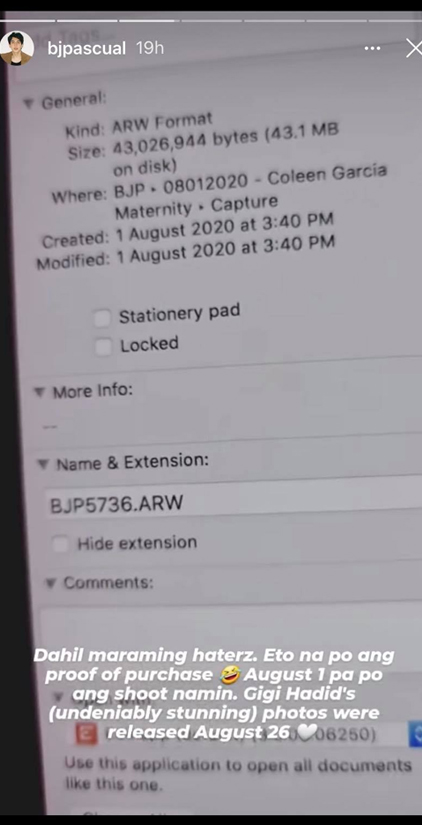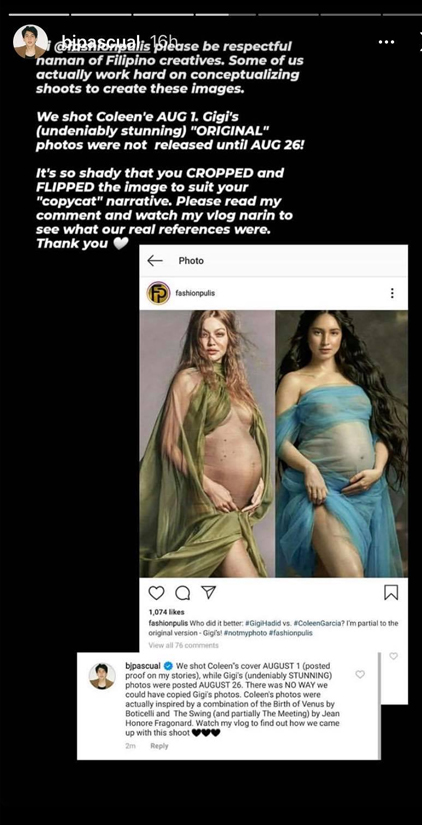 ADVERTISEMENT - CONTINUE READING BELOW
His sentiments on championing Filipino originality were echoed by New York City-based creative director Audie Umali, who commented on the aforementioned Instagram post: "So has anyone here even looked at the ENTIRE Gigi pregnancy shoot shot by Luigi and Iango? I think people are wrongfully accusing @bjpascual of ripping the story off based on just one look, and one pose (that was flipped [by the way] to force the viewer into believing that it was copied)," Audie writes.
"If you look at the entire Gigi shoot, it was shot on gray seamless, and she was wearing [different] types of looks—from flowy dresses, to jeans, and a tank top. BJ's shoot has a very specific concept and environment that bear no resemblance to Gigi's shoot if you look at both stories side by side. So before stirring the pot, I suggest you look at the totality of both stories. They are nothing alike except for the fact that the subject is pregnant."
ADVERTISEMENT - CONTINUE READING BELOW
BJ recently posted a vlog on his YouTube channel that explained the concept behind Coleen's photoshoot, which he put a lot of thought into. In an interview with Preview.ph, BJ explains how Coleen's and Gigi's photos were pure coincidence: "So much thought and research went into conceptualizing this photoshoot. The facts are that even if Gigi's shoot was shot in July, it was only released for the world to see on August 26! And we shot Coleen's August 1! So there's absolutely no way we could have predicted she would be in a similar sheer dress and pose," he said.
In the said interview, BJ also elaborated on the thought process behind the concept.
"Renz initially came up with the idea of 'Venus' because he wanted to do extra long wavy hair on Coleen. The first image that came to mind of course was 'The Birth of Venus' by Boticelli. But I didn't want it to be just a straight-up homage to Boticelli—if you watch my other vlogs you'll see I usually combine different references to create something fresh," he says.
ADVERTISEMENT - CONTINUE READING BELOW
"So I decided to mix it with Rococo references, specifically two paintings by Fragonard, which were 'The Swing' and 'The Meeting' with the heavy foliage in the background and pastel-colored outfits, but I didn't want the outfits to look too extravagant or costumey. In my mind, I wanted her just wrapped in sheer fabric, and it just so happened that I found other renditions of 'Venus' by other artists like Eduard Steinbruck and Robert Fowler, which had sheer fabric floating around Venus. So these became the styling references that Adrianne so expertly executed," he continues.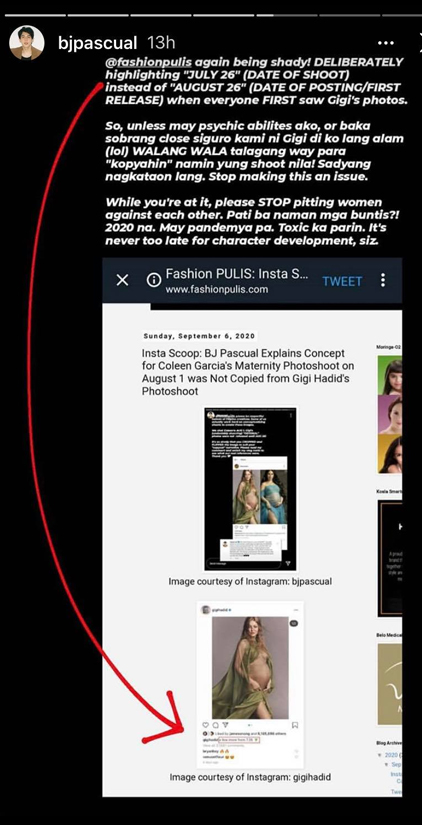 ADVERTISEMENT - CONTINUE READING BELOW
Aside from addressing copycat callouts, BJ made a case against comparing women based on their looks. "While you're at it please stop pitting women against each other. Pati ba naman mga buntis?! 2020 na," he writes in his stories that address further claims of the blogger that his photos took cues from Gigi's.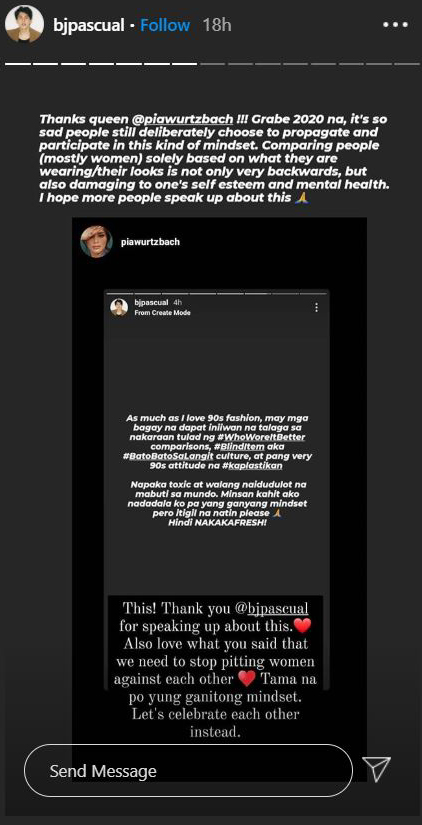 ADVERTISEMENT - CONTINUE READING BELOW
Hours ago, BJ's sentiments were echoed by Pia Wurtzbach, who shared his IG story, saying, "Thank you @bjpascual for speaking up about this. Also love what you said that we need to stop pitting women against each other.
"Tama na po yung ganitong mindset. Let's celebrate each other instead," she said.
Related Stories from Preview.ph