ICYMI, Billy Crawford just pulled the most epic prank on James Reid—and we still can't get over it!
TOP STORY: 10 TV Shows and Movies to Watch on Netflix After "Emily in Paris"
The Prank Call
So here's what happened: Yesterday, November 5, in an episode of TV5's Lunch Out Loud (LOL), Billy announced on air that he will try to phone his good friend James and try to borrow a huge amount of money from him as a prank—a whopping five million pesos, to be exact.
"I'm a bit stressed out and I'm in need of help. Since the whole pandemic thing started, we're all trying to move on and do our thing. But the problem is, for the longest time, six, seven months, I haven't made any money whatsoever, right? So, obviously, you know where this is going, bro. I'm about to lose my house," says the noontime show host when he started the call with James. "Like, I'm given a few months to actually pay for it. So, I need you, bro. Are you good if I can like, borrow, let's say, in advance of five million?"
ADVERTISEMENT - CONTINUE READING BELOW
In response, a shocked yet clueless James said most of his money is in Australia and even proceeded to reveal exactly how much money he has in his bank account, which was naturally bleeped out during the show for privacy purposes. The actor said, "Okay, right now, my situation is most of my money is in Australia so I have about *** here with me."
James, who was currently at work when the call took place, also added, "I'm willing to help. No problem. I'll get back to you. I just can't leave where I'm at right now."
Billy, dedicated to his prank, even mentioned that his wife Coleen Garcia has no idea of his current financial troubles and that he had to sell his car in order to earn some much-needed cash. Upping the stakes, he then asked James if he could borrow his car and sell it as well.
CONTINUE READING BELOW
Recommended Videos
"I'm not telling my wife everything because she just gave birth. I have a new kid and it's just really messed up," Billy said. "Please don't tell anybody this, but I sold my car two days ago because I really need funds. You mind, like I got work tomorrow, you mind if you can lend me a car? You think I can like... I can take your car and then I can probably sell it?"
James, convinced that his friend is really in desperate need, answered, "Okay, let me transfer you how much I have in my bank right now. Most of my money is in Australia, but I'm planning on bringing a lot of it back anyway, because of the way things are going here. So I'll let you know, I'll get back to you within the day."
When asked if he was pissed, the actor was quick to reply: "No, not at all. I completely understand you. You have a kid…Yeah, I understand, man. I know that's not easy. But I'm here for you, bro. I completely understand."
ADVERTISEMENT - CONTINUE READING BELOW
The conversation went on for a minute or two more—at one point, James even asked him how he can send him the money, LOL!—before Billy finally revealed to him that everything was just a prank. Needless to say, it's totally hilarious! Watch how the whole thing went down, including James' priceless reaction, in the video clip below:
Shortly after, Billy took to his Instagram story to appreciate James for going the extra mile to help out a friend in need. "It's not about you willing to lend money. It was about the real concern of a true friend. That, I respect and admire! You're blessed for a reason, my brother. Love you my dawgs," he captioned his post, tagging James.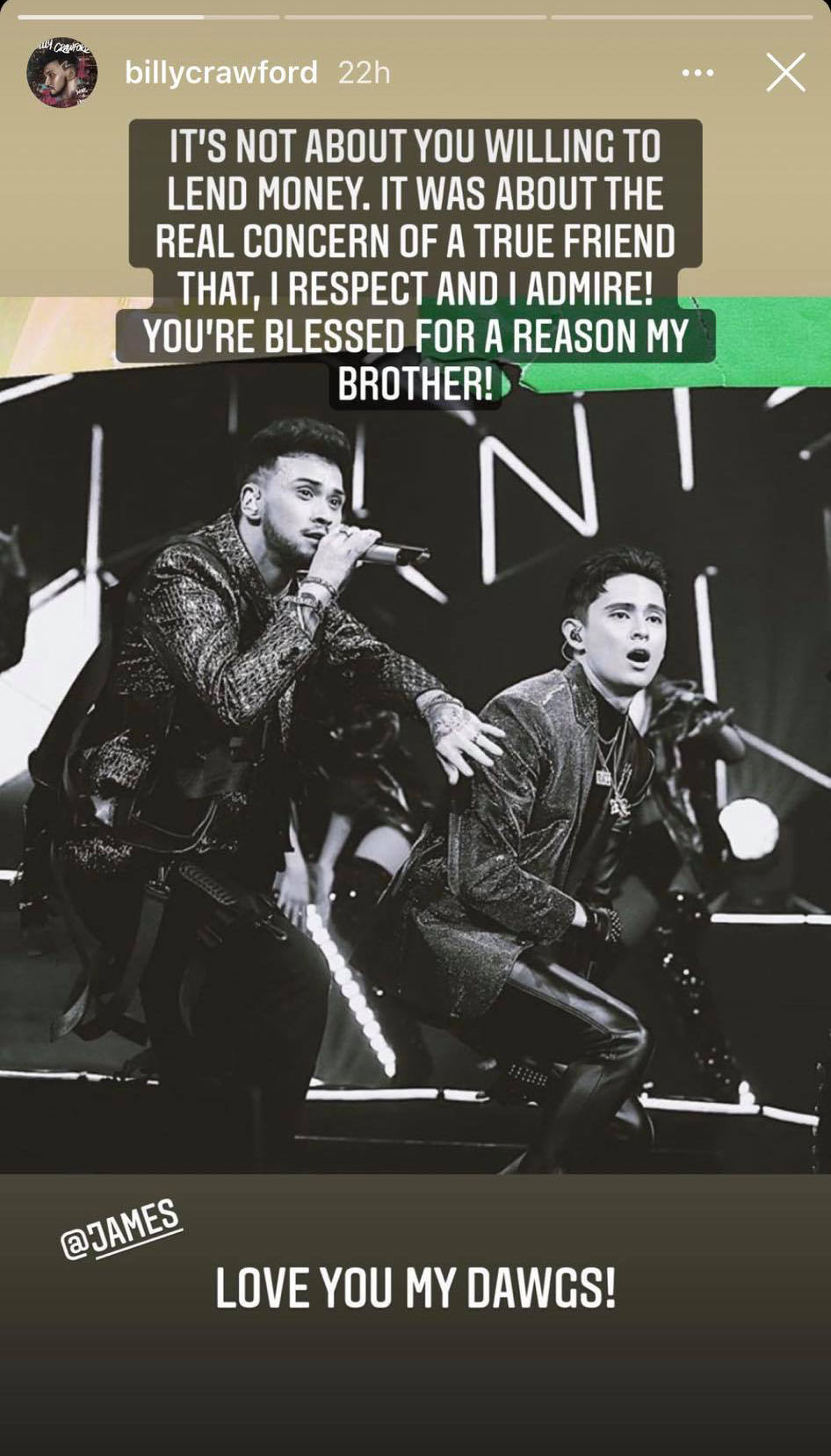 ADVERTISEMENT - CONTINUE READING BELOW
Of course, James—now fully aware of the prank his friend just pulled on him—reposted Billy's IG story and hilariously replied: "Legit you scared the s*** outta me!"
Aww, we love this bromance!
Internet Reactions
Of course, something as epic as this couldn't have possibly escaped the internet's attention. "James Reid" soared to the top trending topics on Twitter last night with amused netizens reacting to that hilarious prank call, many of them wishing they also have a true friend like James.
ADVERTISEMENT - CONTINUE READING BELOW
Here are some of the best tweets we spotted online:
ADVERTISEMENT - CONTINUE READING BELOW
ADVERTISEMENT - CONTINUE READING BELOW
Naturally, there were also those who jokingly tweeted about wanting to borrow money from James as well.
ADVERTISEMENT - CONTINUE READING BELOW
LOL! Nice one, Billy!
Related Stories from Preview.ph
Hey, Preview readers! Follow us on Facebook, Instagram, YouTube, Tiktok, and Twitter to stay up to speed on all things trendy and creative. We'll curate the most stylish feed for you!