If you're on TikTok, you might be familiar with on-the-street interviews, where content creators inquire the jobs and salaries of random passersby. That happens to be the go-to format of TikTok user Shan Rizwan, and in one of his most recent videos, he just happened to feature none other than the Philippines' resident "it girl" Anne Curtis.
LOOK: Anne Curtis Gets Interviewed by Tiktok Content Creator in a New York City Street
In the video captioned "Guessing Jobs in New York City," Shan asks Anne who she is and where she's from, to which she casually and happily replied, "Anne, the Philippines."
That was then followed up with him asking her if she liked her job. Anne gave a forthright agreement, even calling it her "dream job." But when the subject turned to her income, the actress had some reservations and decided not to reveal it, saying, "It's pretty personal."
ADVERTISEMENT - CONTINUE READING BELOW
Shan then inquired about her education history, and proceeded to ask if Anne's job required her to frequently travel. In the end, instead of saying she was an actress or a TV host (as we know she is), Anne shared that she was a business owner of the beloved makeup brand BLK Cosmetics.
As of writing, Shan's video with Anne has over 3 million likes and 20.5 million views. It currently has the highest interaction out of all of his content, ranking higher than his video with Ed Sheeran.
Netizens React to a TikTok Content Creator Unknowingly Interviewing Anne Curtis in New York City
Netizens left a barrage of comments in all caps under the video. Many expressed their excitement and disbelief that Shan just casually bumped into one of the Philippines' most loved celebrities.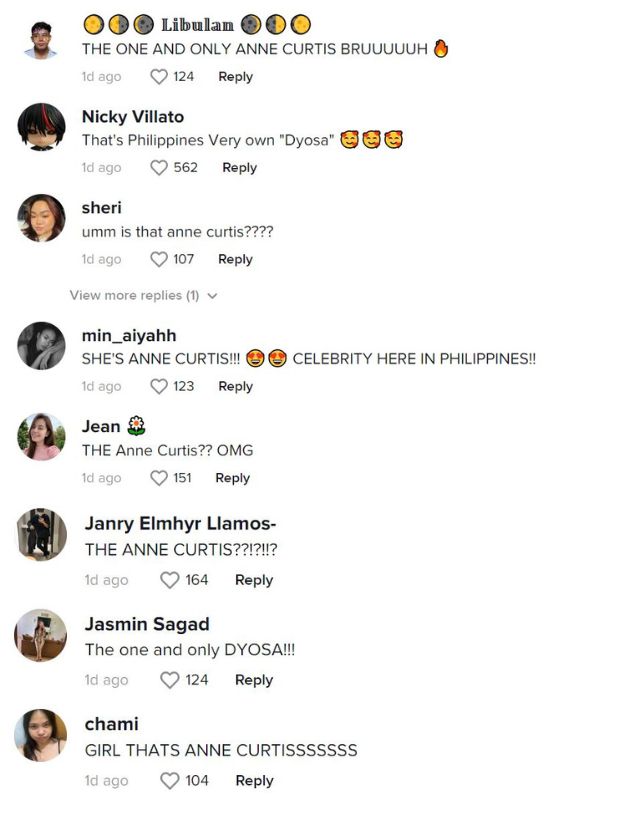 Some netizens even praised Anne for her humility, calling her a "humble queen" because of her polite demeanor.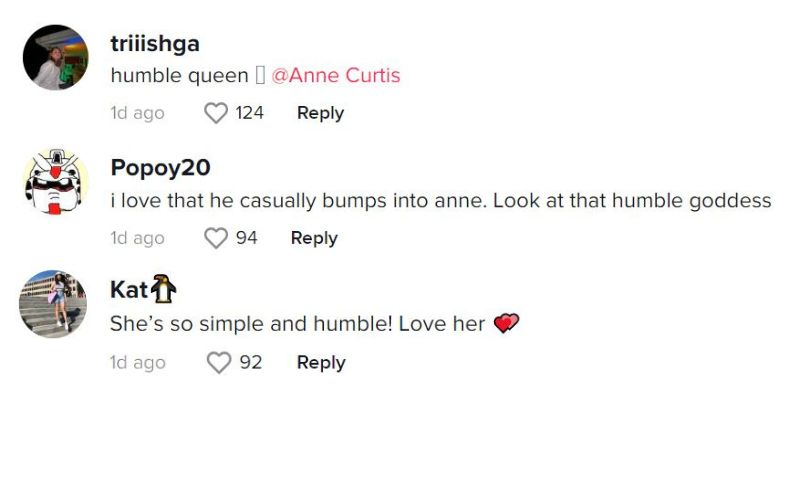 ADVERTISEMENT - CONTINUE READING BELOW
Not too long ago, Anne was previously seen on a trip to Hong Kong and South Korea, where she attended the Gucci Cruise 2024 collection fashion show. You may also recall her visiting New York for the grand reopening of Tiffany and Co's flagship store The Landmark in April, which, judging from the Tiffany Blue bag in the clip, might've been the same time when Shan bumped into Anne. How cool!
READ: TikTok User Shan Rizwan Denies That His Interview with Anne Curtis Was Staged
For those wondering whether or not this interaction was staged, Shan uploaded a follow-up video claiming that he really had no idea who Anne was.
"So I coincidentally and obliviously ran into the most followed woman in the Philippines, Anne Curtis," he said. He continued on to explain that he was in fact half Filipino and that his mom was from Iloilo, but despite that he really had no clue that he was interviewing the "Pambansang Diyosa," as fans like to call Anne.
ADVERTISEMENT - CONTINUE READING BELOW
"I literally went up to Anne Curtis, not knowing who she was and she was down to do an interview and what you saw is exactly what happened," Shan said. He then went on to thank the supporters who watched the video and Anne as well for taking the time to do the interview.
"She was super humble for all the things that she did. [She] just gave a super down-to-earth vibe and she could've easily just blown me off, as I get blown off a lot as a street interviewer in New York City, but she gave me a few minutes of her day and was super authentic and genuine," said Shan.
He even uploaded the extended version of his interview with Anne. Watch it below:
*Editor's note: This article was updated June 14, 2023 following recent developments.
Related Stories from Preview.ph
Hey, Preview readers! Follow us on Facebook, Instagram, YouTube, Tiktok, and Twitter to stay up to speed on all things trendy and creative. We'll curate the most stylish feed for you!