Japan has always awed me in the efficiency and independency ingrained in their culture. It's as if they have made their own world you can't help but be intrigued and fascinated by it. It is with this curiosity that I was drawn to visit the said country and experience first-hand the wonders of Japan. In my one-week stay in the Land of the Rising Sun, I finally understood why many have fallen in love with it. And obviously, it involves a bowl of ramen.
Apart from the fresh sashimi, hot off the pan okonomiyaki and takoyaki, the sweet sticky rice cakes, and the delicious matcha, I have traveled miles to get a sip of the world-famous Ichiran Ramen. But what I did not expect were the realizations I would have as I reached the bottom of my bowl.
Exposed to the numerous films and TV series where being (and eating) alone is considered a sad and pitied thing, I get conscious sitting by myself in restaurants. Thankfully, my bowl of Ichiran ramen had changed my perspective about it.
ADVERTISEMENT - CONTINUE READING BELOW
As I found the hidden staircase descending to the cozy branch of Ichiran in Tokyo (it's a three-minute walk from the Shibuya Station, taking the Hachiko Exit), I was already greeted by a line of a hungry mix of foreigners and locals alike. I was only greeted with "Irasshaimase" and was then ushered into a systematic line towards a machine. I thought someone was going to take my order but, lo and behold, a ticketing machine took care of that.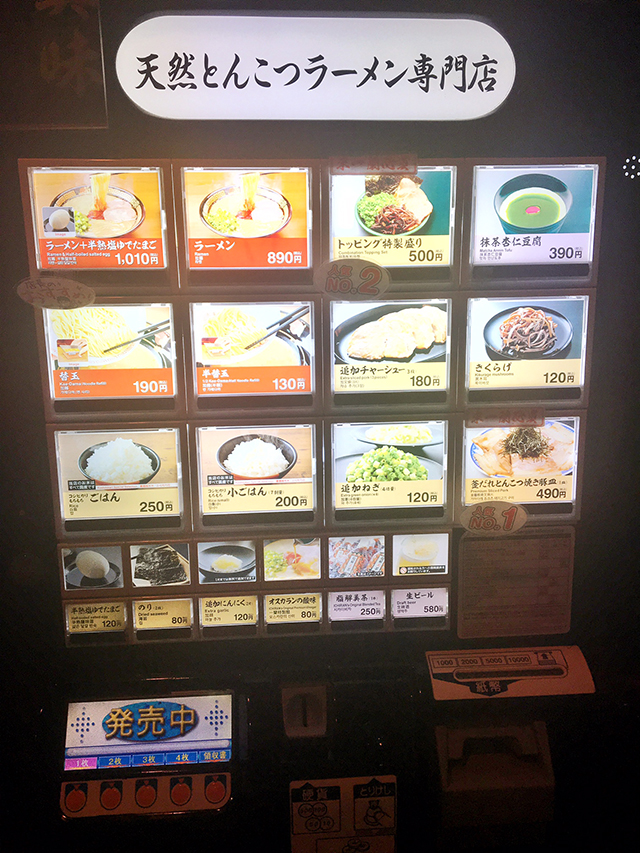 CONTINUE READING BELOW
Recommended Videos
IMAGE Steph Sison
I got my order stub, and the staff handed me a clipboard for my ramen preferences. And as it turned out, this was going to be the last face-to-face human interaction I would be dealing with through my entire meal.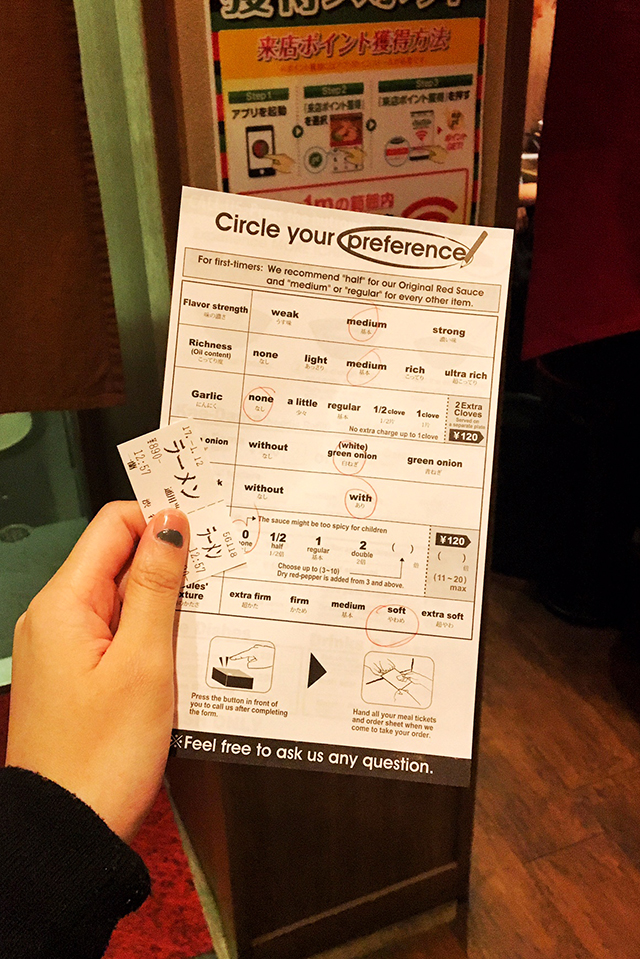 IMAGE Steph Sison
I waited further as I watched the LED boards light up to indicate that there was already an available table for me. When I finally got my turn, I sat at a single booth sandwiched by strangers on both sides. But instead of feeling conscious or uncomfortable that I was dining on my own, I felt oddly confident. It may be because of the dividers or the lack of prying eyes on me, or perhaps the knowledge that we were all isolated that gave me solace, but nonetheless, I was able to focus on the task at hand: eating my bowl of ramen.
ADVERTISEMENT - CONTINUE READING BELOW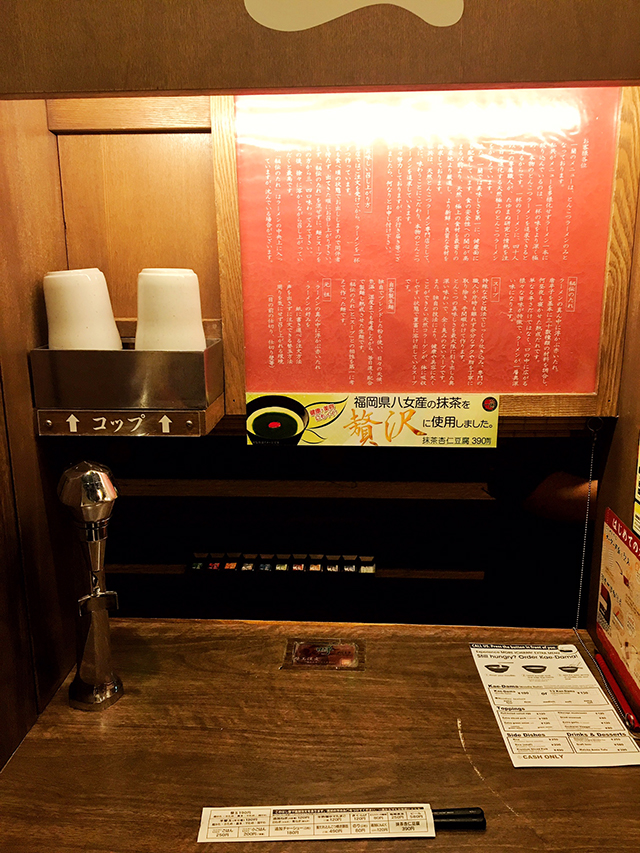 IMAGE Steph Sison
Finally, the blinds went up and I was served the best Tonkotsu ramen in the world. And with everything I needed within my reach, there was nothing else to do but eat. I sipped and slurped in satisfaction without worrying about being judged. I was able to enjoy eating on my own.
ADVERTISEMENT - CONTINUE READING BELOW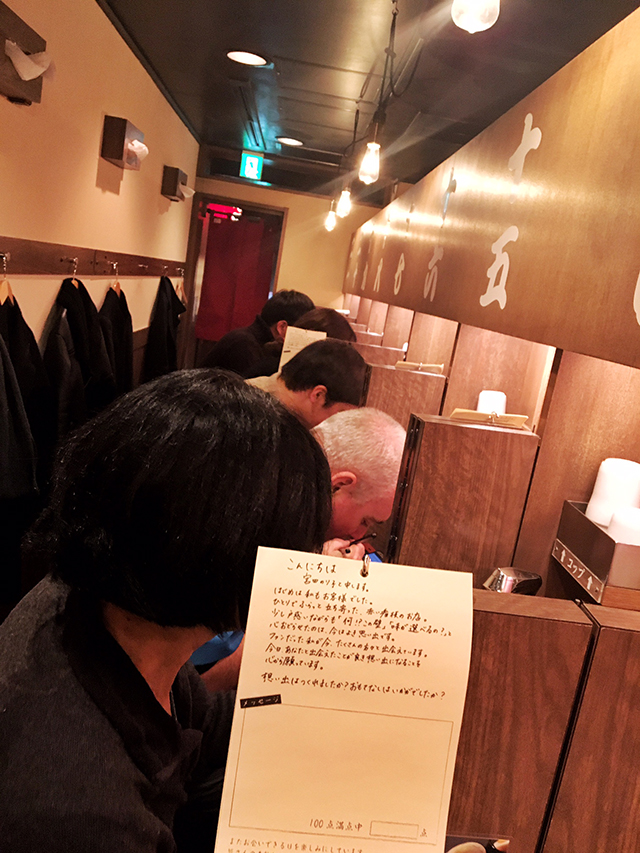 IMAGE Steph Sison
On one level, I felt how empowering it is to be able to do this simple task. A mundane activity, which, in our culture, is best done with loved ones to share life updates or the latest gossip, but in Japan, there is little to no room for it. And this empowerment leads to the feeling of independence. The social aspect of eating, therefore, is actually optional.
ADVERTISEMENT - CONTINUE READING BELOW
I learned that eating alone meant having a serene moment on your own. And that silence doesn't have to be awkward. I realized that no one probably is judging me should I dine alone; it's all in my head. Additionally, I was able to grasp the luxury of having a quiet moment. In the fast-paced world of Japan, it's a treat to be able to drown the noises and worry about nothing else other than your bowl of ramen (or whether or not you should order a second serving).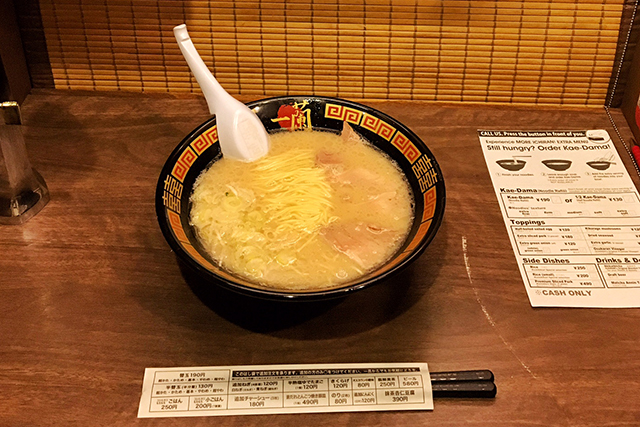 ADVERTISEMENT - CONTINUE READING BELOW
IMAGE Steph Sison
And so, I go full circle with my impression of Japan. The efficiency of their system is enviable as it clearly works for them. Applicable to any life situation, all that you need now is the required discipline to keep going. And the independency of doing things on your own is something to be proud of. Without distractions, you're able to focus on the task at hand. And sometimes, setting your priorities straight is all you need to find what you're looking for. It can be as simple as focusing on finishing your ramen sans the noises. That way, you get to enjoy the smoothness of the soup, the soft noodles and tasty meat, and eventually find happiness at the bottom of the bowl.
Now, aren't you glad you did that all on your own?
Related Stories from Preview.ph
Hey, Preview readers! Follow us on Facebook, Instagram, YouTube, Tiktok, and Twitter to stay up to speed on all things trendy and creative. We'll curate the most stylish feed for you!