If you're an avid music lover, chances are you use the Spotify app every single day. While you probably already have the basics down, it's definitely a big help to familiarize yourself with the app's extra functions. Get the most out of the music site and learn eight new Spotify tips and tricks below.
Note: Most of the tips work best through the Spotify app on your desktop or laptop.
1. Use Spotify's extensive search guide
This feature works best if you're in the mood to listen to music from a certain genre or year. Spotify let's you narrow down you searches using specific search tags including "year, genre, and label." You even have the option to exlude search terms by adding "AND, OR, and NOT" in between your searches if you're feeling extra meticulous.
Check out the examples below.
ADVERTISEMENT - CONTINUE READING BELOW
Learn more about Spotify's smart search here.
2. Organize playlists into folders
If you're enthusiastic about creating playlists to the the point where there's just too much of them to sift through, try organzing them into folders instead. Open the Spotify app on your desktop or laptop. Click the File tab on top and choose "New Playlist Folder". Alternatively, you can also scroll down to your playlists on the sidebar, right click on one of them and choose "Create Folder." To add your chosen playlists, drag and drop them into the new folder.
3. Recover deleted playlists
You'll need to open your web browser for this one. To recover a playlist, log on to your account on Spotify web. Once there, scroll down the black side bar and click on "Recover playlists." Choose the playlist that you want and simply choose Restore.
4. Listen to Non-Spotify music on the app
Spotify might be a treasure trove for music but you have to admit that it doesn't have everything. If there's a particular song that you want to listen to without having to leave the platform, open the Spotify app, proceed to settings, and scroll down until you find "Local Files." Tick it green and you'll quickly find the mp3 files saved on your computer or phone on the new Local Files tab on your sidebar.
5. Create a playlist with your friends
Want to exchange music with your friends? Collaborate on a playlist together by right-clicking on the playlist you've made and choose the "Collaborative Playlist" option. Once you've done so, a circle will appear beside your playlist's name, signalling that anyone who has access to it can add or remove their own preferred tracks.
ADVERTISEMENT - CONTINUE READING BELOW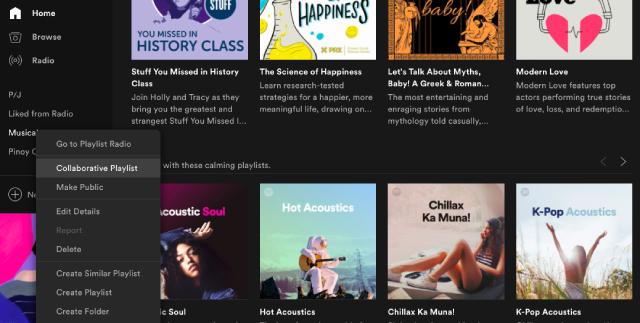 6. Stream your music privately
By default, anyone who follows your Spotify account can see what you're currently listening to. If you occasionally jam to a few guilty pleasure tracks that you'd rather not publicize, you can always listen to your music in private. Simply click on your username on the top right corner and choose "Private Session." Keep in mind that this only lasts for six hours so don't forget to activate it again once the session expires.
7. Activate crossfades between songs
If you want your music to transition seamlessly just like they do on the radio, activate your Spotify's crossfade option. You can find this on your app's preferences window. Scroll to the very end and choose "Show advance settings." Go to the "Playback" header and tick on the "Crossfade songs" option. Adjust the counter according to your liking.
8. Use the sleep timer
Have a habit of falling asleep to your music? Us too! But this also means that you might forget to turn off your Spotify for the whole night and end up draining your phone's battery. To avoid doing so, on your phone app, choose the song or playlist that you want to dose off to. Click the three dots on the the top-right corner and scroll down to find the "Sleep Timer."
ADVERTISEMENT - CONTINUE READING BELOW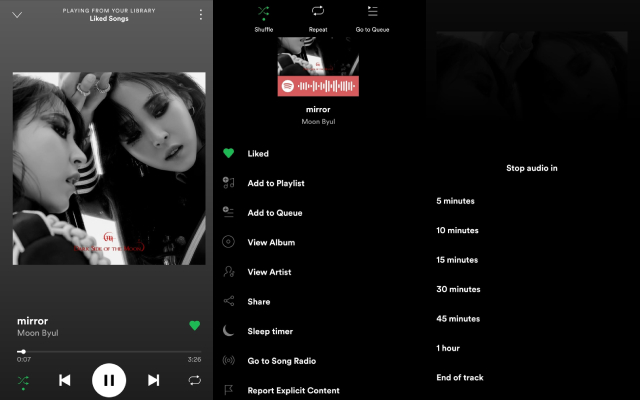 Hey, Preview readers! Follow us on Facebook, Instagram, YouTube, Tiktok, and Twitter to stay up to speed on all things trendy and creative. We'll curate the most stylish feed for you!