Whether you are craving for some semblance of solitude in a busy metro or crying for squad time, channel your inner wanderlust and spontaneously fly away with just a full tank of fuel and a bucket bag brimming with stories to these escape destinations:
CLASSIC ROMANCE: The Boutique Bed & Breakfast (Tagaytay City, Cavite)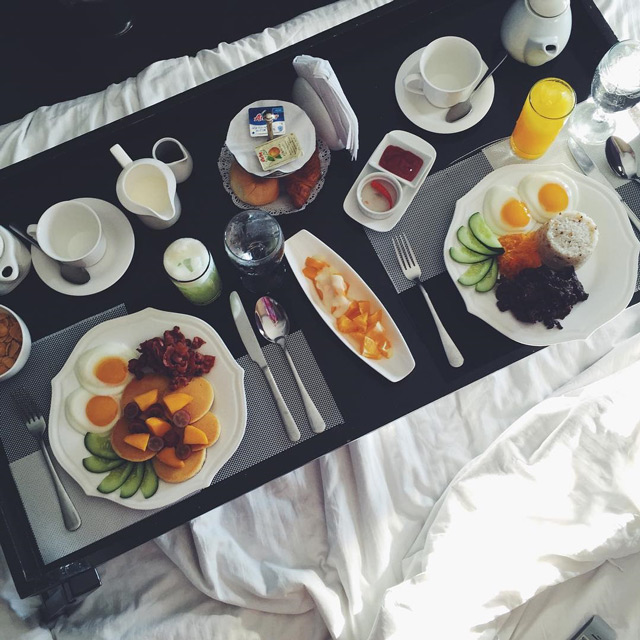 First on the list is a cozy hideout with a breathtaking view of the Taal Lake and service that spoils even the queen diva of the bunch. Since it opened in 2006, The Boutique has raised the bar in offering quiet extravagance in a city that has exponentially grown in commerce. Its white geometric exterior is a comfort to tired eyes and is hard to miss along the busy Aguinaldo Highway. Its plush interior mutes the rest of world and envelopes the guest in comforting smells and hushed lighting in an effort to assure that the guest has entered into a safe place of privacy.
While The Boutique is commonly marketed as solace for sweethearts, with spacious rooms and tailor-fit accommodations (guests can choose room scents and types of pillows!), it remains a perfect place for a sole traveler looking to rekindle his/her inner fire through a weekend of pampering.
The Boutique Bed & Breakfast
45 Aguinaldo Highway Silang Crossing East, Tagaytay City
+63 46 4131798, +63 927 3632660, +63 917 5984480, +63 933 1988534
Get there by car: Drive through the South Luzon Expressway and take the Sta. Rosa Exit. Drive straight all the way to Tagaytay Public Market and turn right to the city proper of Tagaytay. At the roundabout, turn left. The Boutique is located on the left after Pamana Restaurant.
Prepare to spend: Basic charges for rooms range from PhP5,591.26 to PhP8,574.09 from Sundays to Thursday, and from PhP6,935.38 to PhP11,029.09 Fridays to Saturdays (inclusive of value-added tax, service charge and local government tax). Packages are available for special occasions and family trips.
ADVERTISEMENT - CONTINUE READING BELOW
POETIC SOUL: St. Moritz Swiss Inn + Vieux Chalet Swiss Restaurant + Pinto Art Museum (Antipolo City, Rizal)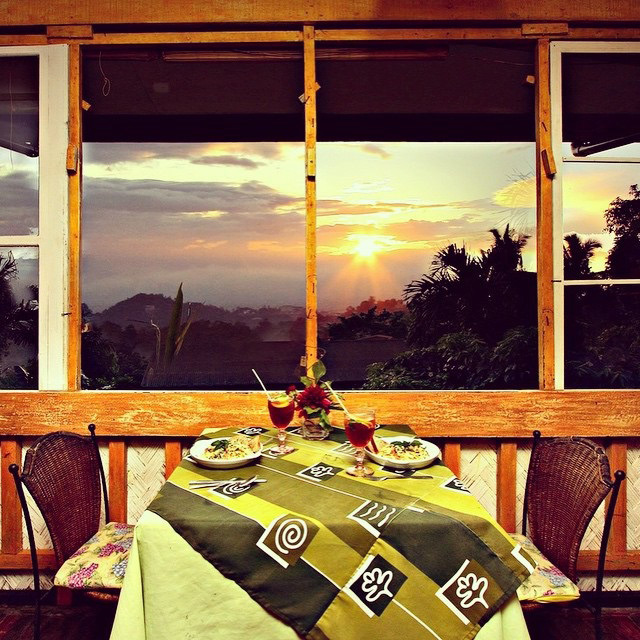 Right in the middle of the hustle and bustle of the budding cities bounding the Rizal Province is a winding road going all the way to the top of Antipolo City, where the charming home of the Hassig Family has opened its doors to welcome yearning hearts and starving tummies.
Vieux Chalet Swiss Restaurant has earned a reputation among culture buffs as a quaint open air restaurant with an extensive menu spanning healthy salad and appetizer choices, fresh pasta and pizza, indulgent meat and fish entrées, and delightful Swiss specialty dishes such as cheese fondue with homemade bread and organic vegetables, assorted sausages with homemade sauerkraut, prime cut beef tenderloin with an array of dips and sauces, and a meat platter with seared bacon slab, smoked pork chop, European sausages and osso buco. As a welcome close to comfort food, the restaurant also offers indulgent desserts with an overload of Swiss chocolate and rustic ricotta cheese.
After a generous meal, bonus points that the renowned Pinto Art Museum is a short drive away to give dancing taste buds a chance to rest while other senses are wowed with contemporary art in a picturesque outdoor setting. Upon entering the gates of the Pinto Art Museum, it is easy to get lost and forget that the stressful city is just an hour's drive away, with its avenues of sculptures, byways of paintings and a hidden treasure of installation art. No wonder the Pinto Art Museum has been a popular choice for wedding sites and photo shoots.
To cap the day off, either enjoy a bottle of wine by the Pinto Art Museum or drive back to Vieux Chalet Swiss Restaurant to wind down at the St. Moritz Swiss Inn. The cottage offers a choice menu from that of the Vieux Chalet Swiss Restaurant and amenities to recharge – from hot tub to sauna room to beautiful scenery overlooking the lights of everyday life below, perfect to be enjoyed with champagne.
ADVERTISEMENT - CONTINUE READING BELOW
St. Moritz Swiss Inn + Vieux Chalet Swiss Restaurant
456 Taktak Road, Sitio Sampaguita Barangay Sta. Cruz, Antipolo City
+63 2 6970396, +63 928 2888584
Get there by car: From Marcos Highway, go straight to the direction of Masinag Market. Turn right to Sumulong Highway and to the winding road up the mountain to the direction of Assumption Antipolo. Make a right before the Antipolo Cathedral to the direction of Taktak Falls and turn right to Sitio Sampaguita. Enter the gate and go straight past Bretsch and Barrie and Courtyard Inn. Upon reaching Cristina Villas, turn left. St. Moritz Swiss Inn and Vieux Chalet Swiss Restaurant is located on the left.
Prepare to spend: Overnight accommodations for one with a choice of (a) complimentary Swiss brunch, massage and tarot card reading or (b) complimentary massage and three vegetarian meals is priced at PhP6,900. Packages are available for couples, special occasions and group gatherings. For Vieux Chalet Swiss Restaurant, a meal with hors d'oeuvres, meat entrée and Swiss chocolate cake a la mode is priced at around PhP1,500. For the Pinto Art Museum, entrance fee is priced at PhP180, PhP100 for students with school IDs and PhP150 for senior citizens.
CAMPER'S PARADISE: Matukad Island (Caramoan, Camarines Sur)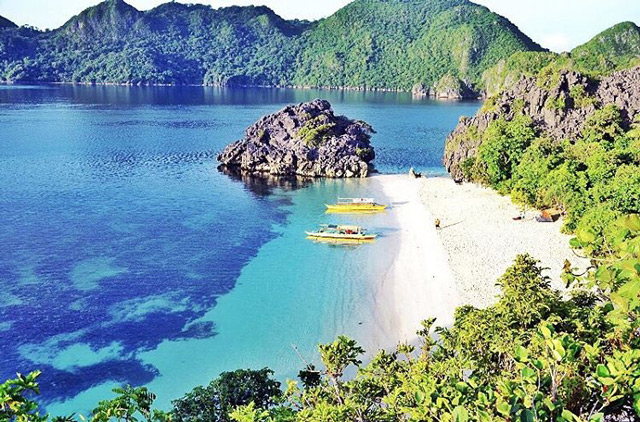 The irony of getting lost in order to be found; there is nothing more grounding than waking up to the song of the sea with lush greens cradling the morning sunshine as white sand tickles your toes. While summer is the logical season to rush to the Islands of Caramoan, which was made famous by the saga of a series that is Survivor, island hopping during the cooler months brings a different charm to the area – not to mention a whole new level of thrill.
There are a lot of islands to choose from in Caramoan, and it is not unheard of to hire slim (read: death-defying) boats to go from one island to another and spend nights camping in different locations. Gota Island is the popular choice and became the site for Survivor, but equally enchanting is the Matukad Island. With three beautiful beaches, awe-inspiring cliffs and a small lagoon, Matukad Island is a hidden gem that would surely captivate hearts…even of those difficult to please.
ADVERTISEMENT - CONTINUE READING BELOW
Kaddlagan Outdoor Adventure Tour offers a package tour to Matukad Island and other islands of Caramoan at affordable rates and with exciting activities.
Kaddlagan Outdoor Adventure Tour
SM City Naga Central Business District II, Barangay Triangulo, Naga City, Camarines Sur
+63 919 8006299
Get there by bus: To take full advantage of the weekend, take a bus bound for Naga City, Camarines Sur on a Friday night (departure schedules range from 8:00-9:00 p.m.). Reliable bus lines are Penafrancia Travel and Tours and Isarog Bus Lines. Arrive at the Naga City Central Bus Terminal at around 6:00 a.m. Saturday. Walk to the nearby Naga Van Terminal and take a passenger van to Sabang Port, San Jose (travel time: 1 hour). At the Sabang Port, charter a boat going to Guijalo Port, Caramoan (travel time: about 2 hours). At the Guijalo Port, take a tricycle to the town proper of Caramoan. At the town proper, charter a boat going to Matukad Island.
Prepare to spend: Air-conditioned bus ride fare from the bus terminal in Araneta Center, Cubao, Quezon City to the Naga City Central Bus Terminal ranges from PhP750.00 to PhP1,100 (one-way trip). Total fare for passenger van, tricycle and boat rides ranges from PhP2,500-PhP3,500 (one-way trip).
CULTURE VULTURE: Hotel Luna (Vigan City, Ilocos Sur)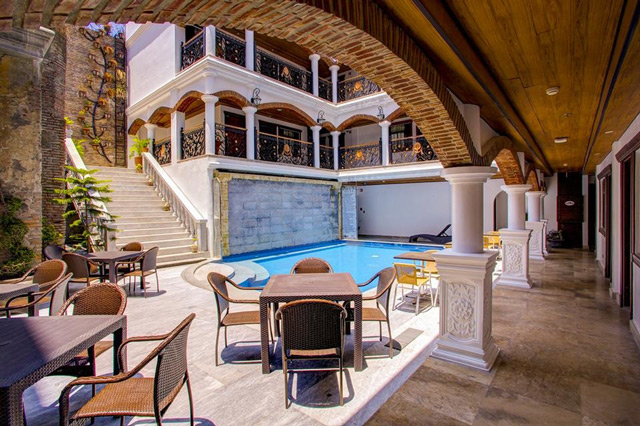 With the crowds converging in Baguio City, a trip to Ilocos Sur may sound daunting but surprisingly easy and fulfilling. For one, bus ride via Partas Bus Linescan be arranged in a breeze via online booking. Second, the Vigan City website is refreshingly informative. Finally, Vigan City is an homage to history that pictures hardly do any justice.
Hotel Luna is the first and only museum hotel in the Philippines and is located in the Heritage Village celebrated for the beautifully preserved remnants of a Spanish colonial town dating back to the 16th century. Listed as a World Heritage Site by the United Nations Educational, Scientific and Cultural Organization (UNESCO), the Heritage Village shows the classic checkerboard street plan of the Spanish eramixed with more modern marvels such as the contemporary cobblestones of Calle Crisologo and the dancing fountains of Plaza Salcedo. With the majestic St. Paul Cathedral and the Provincial Capitol standing guard, a serene walk along Plaza Burgos munching on local empanadas is particularly calming.
ADVERTISEMENT - CONTINUE READING BELOW
Previously a Spanish colonial home, Hotel Luna now displays historic artworks by Juan Luna, Fernando Amorsolo and other National Artists, as well as contemporary art. From ceiling to staircase, the hotel is a paradise of Philippine art, with works of Vicente Manansala and BenCab alongside those of Napoleon Abueva and Federico Alcuaz. With rooms that define lush accommodations and Filipino comfort food at one's beck and call, Hotel Luna is a beautiful getaway that tickles one's imagination to a trip through time long lost but with mystery that lingers.
If by some stroke of luck that craving for culture and history is still nagging for attention, the museum home Casa Caridad (locally known as The White House) is only a few steps away.
Hotel Luna
Luna Street Vigan City, Ilocos Sur
+63 2 5844945, +63 77 6322222, +63 917 5640727
Get there by bus: To take full advantage of the weekend, book a Friday night bus ride through Partas Bus Lines (departure schedules range from 7:00 p.m. to 11:00 p.m.). Arrive in the morning (around 7 hours later) at the Partas Vigan City Bus Station. From the Partas Vigan City Bus Station, walk to Calle Crisologo or take a tricycle to the city proper.
Prepare to spend: Air-conditioned bus ride fare from the Partas Bus Terminal at 816 Aurora Boulevard, Cubao, Quezon City to Partas Vigan City Bus Station ranges from PhP625 to PhP805 (one-way trip). Tricycle ride fare from the Vigan City Bus Terminal to the city proper ranges from PhP10 to PhP50. Basic charges for accommodations for one person at Hotel Luna range from PhP3,500 to PhP10,000.
Photos from @vieuxchaletphilippines, @jroreto, @thefancydelight on Instagram, giphy.com, and Hotel Luna on Facebook.