The majority of women with breast cancer will be diagnosed over the age of 50. Statistics show that only five percent of all cases occur in women under 40. Generally, it is very rare to be diagnosed in your 20s unless you carry the genetic mutation or if you have a mother or sister who has been diagnosed—factors that increase the chances of developing breast cancer. In my case, I didn't carry the gene, nor did I have a family history of breast cancer. But I got it when I was 26. And I had just gotten married.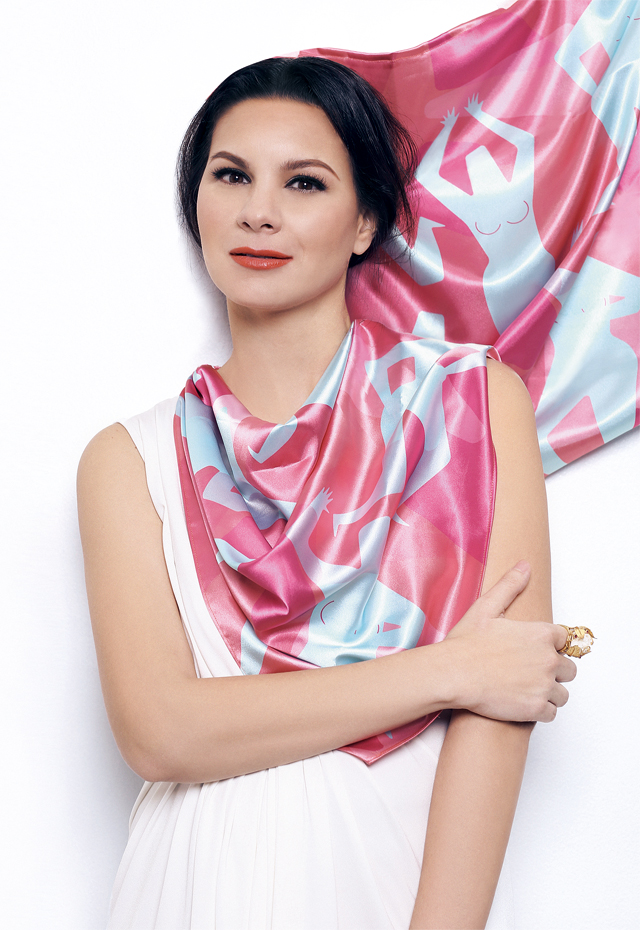 ADVERTISEMENT - CONTINUE READING BELOW
IMAGE Roy Macam
Crisann wearing our special designed scarf in collaboration with retail brand Apple & Eve and advertising agency TBWA/SMP.
By chance, the first OB-gynecologist I saw happened to be an oncologist. During a routine breast exam, she immediately felt a lump; it was very palpable. I was told that at my age, the odds were rare, but I did a biopsy, all the while still assuming it was nothing. But the doctor knew immediately when she saw the lump.
Within a span of three days we got the news and decided to get a mastectomy. It was already at stage 3, a big tumor, and it had spread to my lymph nodes. Cancer is more aggressive when you're young. I did radiation, chemo and five years of hormonal treatment. People expect you to be gaunt and thin when you're undergoing treatment, but you're puffy and gray. You look worse and you feel worse. When my hair fell off, my husband shaved his head for me.
CONTINUE READING BELOW
Recommended Videos
Almost immediately after my mastectomy, I started the ICanServe Foundation with Kara Magsanoc-Alikpala and two other women. It was something I needed to do. I had to be proactive, that was my way of dealing. I also read a lot of books and spent hours on the Internet. I met with survivors and met others online, too. It helped to connect with those that understood and who had gone through what I was going through. They gave great tips on how to deal post-surgery and especially during chemotherapy. I felt a lot of books focused too much on "battling cancer" and "winning the war" and I wasn't very comfortable with the idea—it just wasn't me. I came across this book called Living with Breast Cancer Without Going to War.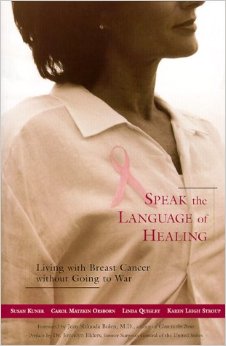 ADVERTISEMENT - CONTINUE READING BELOW
It helped me change my entire perspective of living with cancer. Instead of fighting and resenting cancer, I learned to live with it, make the most out of it. To this day, cancer is my gift and frenemy.
After treatment, I let my body clear itself of the toxins for around six months before we considered trying for a baby. We sought the opinion of three different doctors, who all gave the go signal. Incidentally, I had lost one ovary three years into my cancer diagnosis because the medication I was taking made me produce cysts. Despite the odds, I got pregnant—with twins. Because of the elevated levels of hormones in my body, my doctor advised me to breastfeed for only six months, then I had to return to my mammograms and start thinking about my own body again. I've been clear ever since. So this current pregnancy comes around completely unplanned, 10 years later!
ADVERTISEMENT - CONTINUE READING BELOW
After 16 years, ICanServe has evolved into something very different. At first, it was about getting people to know more about the disease. We would hear stories of women going through chemo who don't even tell their husbands. It was a shameful thing to some people. In our first meetings, we fit around a coffee table; now, there are more than 300 members. There are more cases, but they're also getting diagnosed earlier, and when you catch it at stage 0 or stage 1, it's very treatable.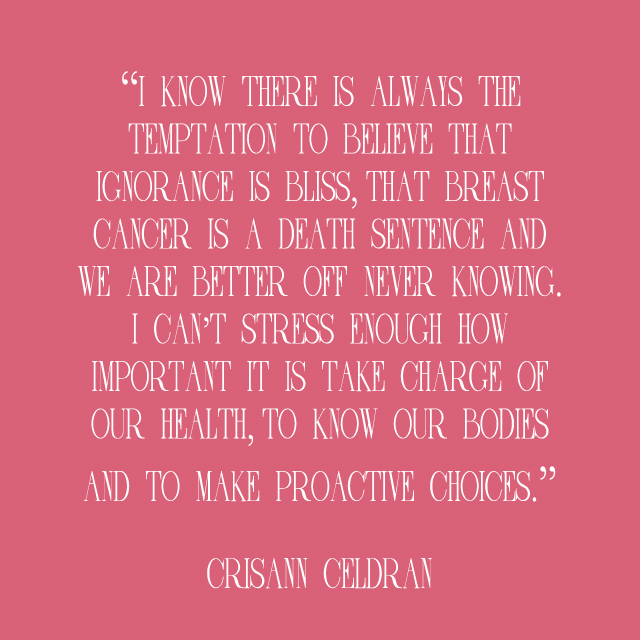 ADVERTISEMENT - CONTINUE READING BELOW
There's a certain personality type, I think, that is prone to getting cancer. When you see all the women in the foundation trying to work together, it's crazy. Too many bosses, type As! It's the stress. We don't know how to step back. I've had to learn to not get stressed about the little things that I can't help anyway.
I know there is always the temptation to believe that ignorance is bliss, that breast cancer is a death sentence and we are better off never knowing. I can't stress enough how important it is take charge of our health, to know our bodies and to make proactive choices. If caught in its early stage, breast cancer is treatable and the survival rates are extremely high. Early detection saves lives.
This story originally appeared in Preview's October 2015 issue.
Hey, Preview readers! Follow us on Facebook, Instagram, YouTube, Tiktok, and Twitter to stay up to speed on all things trendy and creative. We'll curate the most stylish feed for you!