Most of you might remember Thalia as the Mexican star who gave us Rosalina, Maria Mercedes, and Marimar. Another thing she's known for is her itty bitty waist line which was rumored to have been caused by the removal of her lower ribs. Just recently, Kris Aquino brought up the topic during her and Boy Abunda's talk show.
Boy and Kris talk about rib removal being a beauty trend on their talk show.
To everyone's surprise, Thalia responds by posting a video on her Instagram account showing off her "Famous Ribs."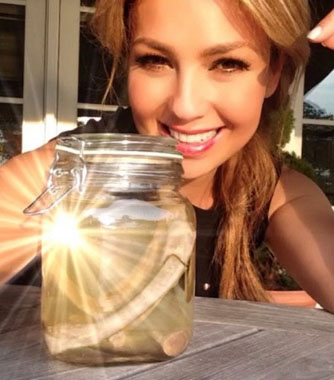 ADVERTISEMENT - CONTINUE READING BELOW
Thalia shows off the ribs that she's "kept all these years."
After the local news reports her "confirmation" of the rumor, she then takes it all back and saying it was all just a prank with a series of posts.
Thalia takes it all back saying it was just a prank. She then posts this photo of a plate of spicy ribs. Setting the record straight, she admits to pranking her Filipino fans by showing off her favorite spicy ribs.
Taunting as some might think, we still find it hilarious that she actually took time to even pull one on the Philippine media. But as Kris mentioned, it still is something a number of girls consider doing all for the sake of having that tiny waist.