My usual skin condition is dry, especially on my forehead and at the corners of my mouth. I also experience a little resness, especially around my cheeks, nostrils and temples. My dry skin gets worse if I don't moisturize after washing my face. My go-to solution is exfoliating three times a week to slough off the flaky, dry skin and dead skin cells and then following it up with a hydrating moisturizer.
MONDAY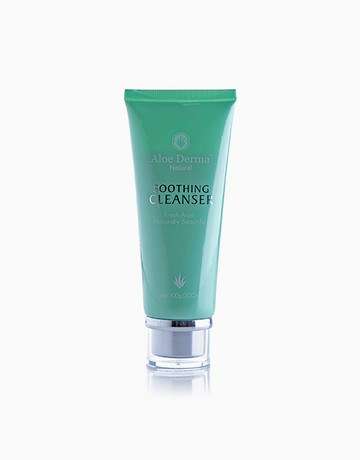 ADVERTISEMENT - CONTINUE READING BELOW
IMAGE Aloe Derma
Aloe Derma's Soothing Cleanser, P450, beautymnl
I woke up excited—it's high time I let my skin rest and breathe. After my usual morning routine of washing my face with Aloe Derma's Soothing Cleanser (P450, beautymnl) I noticed my skin looking dry, dull and a little flaky in my forehead, which is a huge headache for me, pun intended. I proceeded to moisturize my face and slather on sunblock—God forbid I break out into more freckles than I already have across my cheeks—before I walked to a nearby coffee shop.
TUESDAY
I worked from home today. In the morning I had some redness on my cheeks, around my nostrils and my temple. Towards the end of the day, I noticed the same sheen on the bridge of my nose and my temple. I'm starting to think it's because of the humid air. Day two and I'm already learning how my skin reacts to the weather, something I definitely never noticed before. I ended the night with a layer of V&M Naturals' Muru Muru Butter (P1130, vnmnaturals.com), which I apply three times a week right before bedtime.
WEDNESDAY
I went to brunch with my mother and she greeted me with, "You look so fresh!" When I examined my face in the mirror, I had to agree! My skin, albeit still a little dry, no longer looked like a desert. The sheen that took center stage on my face the past few days was practically nonexistent. I'd say I even had a bit of a natural glow. At this point, I really like the idea of skin detoxing.
THURSDAY
ADVERTISEMENT - CONTINUE READING BELOW
IMAGE Nivea
Nivea Creme, P127, drug stores
I'm impressed because I've actually developed the willpower not to put on makeup before heading out the door. This is turning out to be more enlightening than I thought. My face no longer looks dull, but alive. The fine lines under my eyes are also less obvious. I exfoliated last night then moisturized with Nivea Creme (P127, drug stores)—and sayonara, flaky skin! I also managed to work out today and after much sweating, no sheen developed on my T-zone, just a natural flush across my cheeks. I almost wished I had somewhere to go!
FRIDAY
I had a long list of errands to run today. I walked around printing documents at my grandpa's office and fixing my taxes (adulting!). An office employee saw me and said I looked different, but in a good way. Although I wasn't wearing any makeup, I received a compliment from one of the employees at BIR, too. You could say my self-esteem skyrocketed. I used to be so uncomfortable walking out of the house with just my naked face, but that ended today.
ADVERTISEMENT - CONTINUE READING BELOW
SATURDAY
I woke up feeling really good. I grabbed my hair iron and spend some time fixing my hair before proceeding to a nail salon and the grocery. I know what you're thinking, "You got all made up for that?" Well, if you're walking out the door without an ounce of makeup, you want to at least look presentable in the way you dress and style your hair. As Coco Chanel said, "It's only polite."
SUNDAY
I spent a nice morning at the Legazpi Sunday Market with my mom and boyfriend. I was allowed a cheat day with only one makeup product, so I put on some mascara to really open up my eyes. My skin has started to look more alive the past few days anyway, so I decided I didn't want to bother with it anymore. My boyfriend also randomly told me I looked beautiful today (cue the natural flush across my cheeks.)
ADVERTISEMENT - CONTINUE READING BELOW
THE RESULT
At the end of my skin detox, the most noticable difference was my skin going from dull and dry to more youthful and smoother-looking. I plan to do this at least once a month now!
This article originally appeared in Preview Magazine June 2015 issue.
Related Stories from Preview.ph
Hey, Preview readers! Follow us on Facebook, Instagram, YouTube, Tiktok, and Twitter to stay up to speed on all things trendy and creative. We'll curate the most stylish feed for you!