No, you don't only get double chin when you gain weight. Here are other reasons why even the skinniest people get that extra layer of fat under their chin.
CAUSES
Genetics
If one of your parents has a double chin, chances are, you can have one, too. The reason for this is genetics. You get a double chin because there are more fat cells locatecd under the area of your chin. Imagine the fat cells as houses or balloons where the fat can enter, because there are a lot of houses or balloons under your chin, there is a tendency for fat to accumulate in these houses or balloons when you eat. Thus, you create another layer of fat under your chin.
Positional
These days, there are a lot more cases of double chin as people get addicted to their gadgets. I call this condition the "Tech Neck" and it happens when people fold their chin while they read their phone or while on the computer. Because the chin area is always folded, there is a tendency for the skin to get a bit lax and then starts to sag, resulting in a combination of fat and skin under your chin.
ADVERTISEMENT - CONTINUE READING BELOW
Related Stories from Preview.ph
Lack of Bone
Some people just don't really have enough chin because there's no bone. Most Filipinos have a shortened chin and don't have strong jaw lines like Caucasians do, resulting in a receded chin line. To remedy this, you need to stretch out the skin in order to not have it hanging down. Sometimes, because there's no bone and the skin can't be stretched, it looks like a double chin.
Eating Too Much
This is the most common cause of double chin. Even if your family doesn't have the tendency to develop a double chin, if you are overweight the fat will have no other place to go. It will fill up all the fat cells all over your body and the fat cells underneath the chin.
PREVENTION
If you're one of the lucky ones who isn't suffering from a double chin, here are some tips on how to avoid it:
CONTINUE READING BELOW
Recommended Videos
Take Care of Your Skin
The first thing you should do to prevent having a double chin is to take care of your skin. You have to make sure that the elastic fibers, which are the rubber bands of your skin, do not get broken because that will cause the loss of elasticity and will make your skin sag.
Avoid rubbing your chin and try to avoid looking down when you use your gadgets. You should at least try to use your phone at eye level so the chin won't always be folded. This will also be good for your shoulders, back, and neck muscles.
Keep Off the Weight
Of course, you shouldn't gain too much weight. Keeping the weight off reduces the chance of the fat cells under your chin to be filled up with fat, preventing you from getting a double chin.
CURE
If you already have a double chin, don't lose hope. We offer a variety of treatments to reduce the appearance, if not remove the double chin. Since there are different causes of double chin, these treatments address each case differently upon assessment. In this way, patients are assured that what they're getting is the most effective treatment for their needs.
ADVERTISEMENT - CONTINUE READING BELOW
V-Contour
One of the most popular treatments for a double chin is the V-Contour. It's a nonsurgical way to melt the fat in the chin area without having to do liposuction. It involves relatively painless injections that you inject into the fat—it uses only flower extracts and these break down the fat cells and are secreted through your lymphatic system."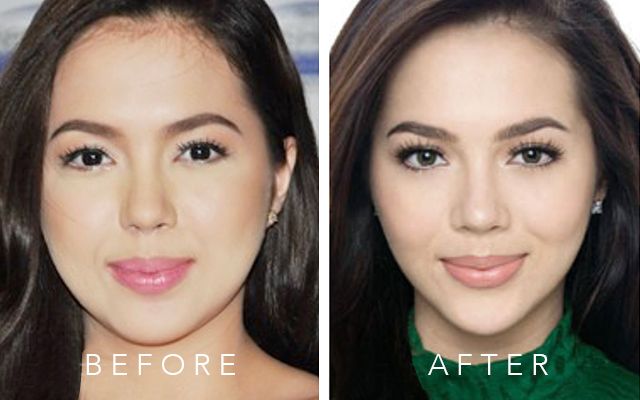 ADVERTISEMENT - CONTINUE READING BELOW
IMAGE Courtesy of Belo Medical Group
Before and after shots of the V-Contour treatment
Fillers
If you're lacking of bone or you have a shortened chin, you can try chin augmentation by putting fillers. This will create an extended chin so it won't look like your skin is sagging in that area. This will give your chin a lifted and more contoured look.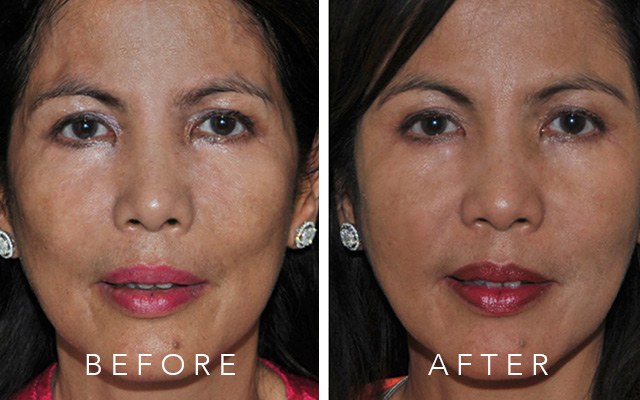 ADVERTISEMENT - CONTINUE READING BELOW
IMAGE Courtesy of Belo Medical Group
Before and after shots after filler injections
Fat-Melting and Skin Tightening Machines
The Ulthera and Thermage treatments are among the top favorites of my patients because of how effective it is in removing fat and creating a nice jaw line. After doing these treatments, I suggest trying the Skin Reboot for skin tightening. This will address any loose or sagging skin around the chin area and will reduce the appearance of a double chin.
ADVERTISEMENT - CONTINUE READING BELOW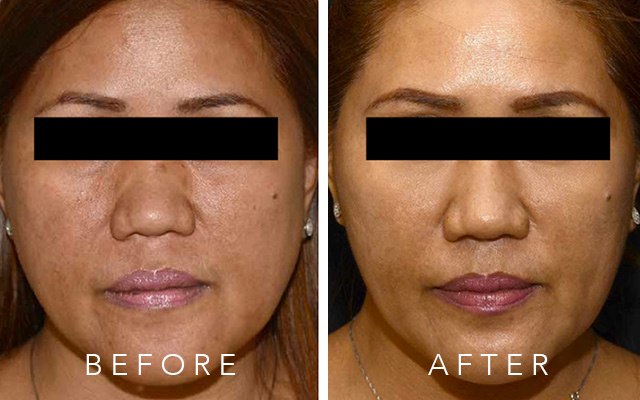 IMAGE Courtesy of Belo Medical Group
Before and after shots of an embedded protein thread treatment with Ulthera
Dermatologist to the stars Dr. Vicki Belo is Preview.ph's guest editor for the month of June. As the Founder and CEO of the Belo Medical Group she was the first to introduce laser treatments and the newest beauty technology to the Philippine beauty industry. At present, she has 13 clinics nationwide and continues to be the leading expert in anything related to beauty.
ADVERTISEMENT - CONTINUE READING BELOW
For any questions regarding the Belo treatments mentioned here, you may call the Belo Medical Group at 819-2356 or email them at info@belomed.com.
Related Stories from Preview.ph
Hey, Preview readers! Follow us on Facebook, Instagram, YouTube, Tiktok, and Twitter to stay up to speed on all things trendy and creative. We'll curate the most stylish feed for you!