Umbrellas aren't just a rainy day essential. We have to admit, they come in handy when it's sunny out, too, shielding us from the UV rays and light better than just wearing sunnies. But then again, does it?
We hate to burst everyone's bubble (including ours), but according to Dr. Gaile Robredo-Vitas of BeautiqueMD, regular umbrellas don't protect us from the sun as much as we think it does. This is because the fabric used on these umbrellas are only meant for the rain and aren't capable of blocking light and heat. On the bright side, there are umbrellas that do. In fact, some were designed to be able to block UV rays almost completely. Introducing, UV umbrellas.
What are UV umbrellas?
Dr. Gaile says UV umbrellas are made with special fabric to protect us from UV radiation and, to some extent, infared and visible light. Compared to regular umbrellas, these are made with a thicker material or coated with a special UV protectant. These used to only be available overseas, but now, the brand Della Solare is bringing this technology to the Philippines.
ADVERTISEMENT - CONTINUE READING BELOW
How do UV umbrellas work?
In the case of Della Solare, their umbrellas are made up of textile with physico-molecular properties that have been designed to screen out harmful light and radiation. "[It can] protect from and screen out not only ultraviolet radiation, but also visible light and infrared radiation," explains the derm. "Other than that, the body of the umbrellas are made of strong materials—synergy of steel, aluminum, and fiberglass and the handles are made of real leather."
ADVERTISEMENT - CONTINUE READING BELOW
Recommended Videos
Della Solare claims to have the first dermatological umbrellas that specifically made to protect the skin from aging, cancer, and disease. Their umbrellas comes in two kinds: a traditional long umbrella called the Impara and a foldable one called the Abrera.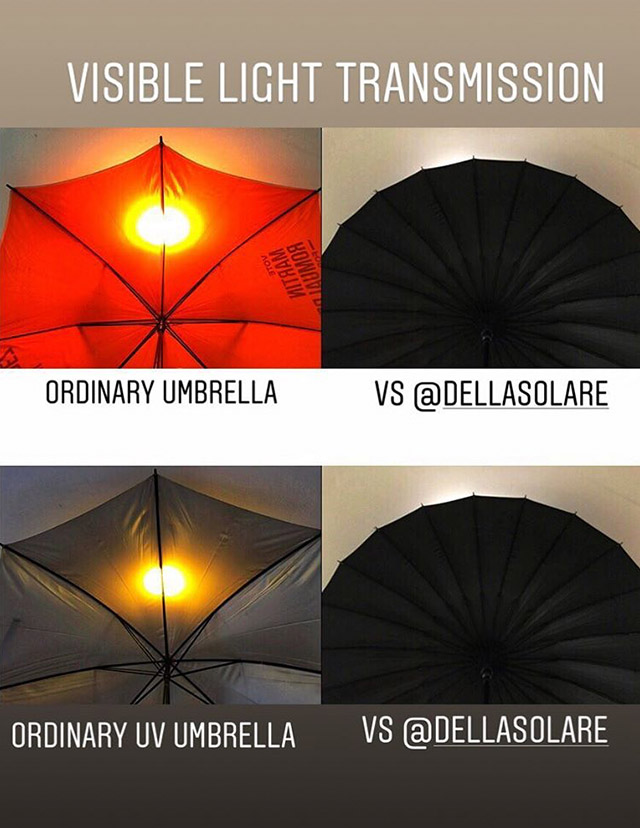 Here's a graph of a test done by scientists of the National Institute of Physics Photonics Department that shows how much light, ultraviolet, and infared rays goes through a Della Solare Impara compared to other commercial UV umbrellas:
ADVERTISEMENT - CONTINUE READING BELOW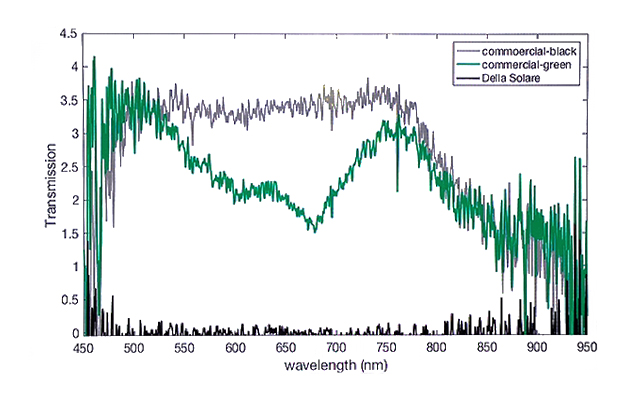 How do UV umbrellas compare to using sunscreen?
Now before you decide to skip sunscreen because you already have an umbrella, the derm doesn't advise it. You would still need the UV protection from sunscreen—after all, UV rays can still hit you indoors. The only difference is, you need to reapply sunscreen to stay protected (every two hours with at least SPF 30). That said, both can protect your from the sun, provided that you wear enough of the latter.
ADVERTISEMENT - CONTINUE READING BELOW
Do dermatologists recommend using UV umbrellas?
"It is very important to protect ourselves from UV radiation not only because it causes premature aging (wrinkles, pigmentation) but also because it can lead to skin cancers," explains Dr. Gaile. "Furthermore, prolonged and extensive exposure to visible light and infrared radiation can cause skin damage. UV umbrellas provide excellent and consistent protection from these dangerous lights."
ADVERTISEMENT - CONTINUE READING BELOW
The short answer? Definitely, especially if you're the type to forget to wear sunscreen before stepping out!
Where can you get UV umbrellas?
Della Solare is actually a local brand, and their UV umbrellas are available online and in their partner clinics!
DELLA SOLARE UV Umbrella, P2998 (long); P3688 (foldable), dellasolare.com, DermHQ, and select partner clinics and stores
ADVERTISEMENT - CONTINUE READING BELOW
Related Stories from Preview.ph
Hey, Preview readers! Follow us on Facebook, Instagram, YouTube, Tiktok, and Twitter to stay up to speed on all things trendy and creative. We'll curate the most stylish feed for you!