What: Aivee Drip, P6000-12,000, The Aivee Clinic
The clinic describes it as, "The solution in a 'solution'." It's a carefully mixed beautifying concoction that is taken intravenously. The Aivee Clinic offers six types of drips: Revive, P8000 (which blends Magnesium, B12, B Complex 21, and Vitamin C for fatigue); Platinum, P10,000 (a potent anti-aging mix of Vitamin C, Glutathione, Coenzyme Q10, Placenta and Selenium); Frosty White, P6000-12,000 (a whitening drip that consists of Plain NSS with Vitamin C and Glutathione); Powerboost, P10,000 (a hangover cure that energizes with Magnesium, B12, B Complex 21 and Vitamin C); Reshape, P6000 (a fat-burning mix of MIC + B12, L-Carnitine and Vitamin C); and Aivee Light, P10,000 (which isn't actually a drip, but injectable light that helps the body heal itself).
Current Condition:
With my wedding coming up, I wanted to look my best. Plus, with my goal to wear the least amount of makeup as possible looming in the distance, getting beautiful skin from a 45-minute IV session was a tempting solution.
ADVERTISEMENT - CONTINUE READING BELOW
To be honest, my skin wasn't bad to begin with. I had been really good about moisturizing and cleansing, so I wasn't expecting a drastic change after the first session. But I did want a few things addressed. Externally, I wanted my crazy tan lines to soften. I am a beach person through and through but my sessions surfing under the sun had imparted stubborn tan lines and freckles. But what I was really curious about were the internal effects and how my body would feel right after each treatment.
Procedure:
I was ushered into the Drip Lounge at their Fort branch and chose to try the Platinum drip. I was asked a series of questions by my attendant: Have you eaten? Have you had caffeine? Are you tired? Are you puyat? "These are precautionary questions that we ask to prevent uneasy feelings while having the procedure," Dr. Aivee Teo says. "It is important for patients to be well-rested and have had ample hours of sleep so that the body is relaxed and tension-free. We also advise that patients eat before the procedure to prevent possible dizziness caused by the high potency of the vitamin solution."
CONTINUE READING BELOW
Recommended Videos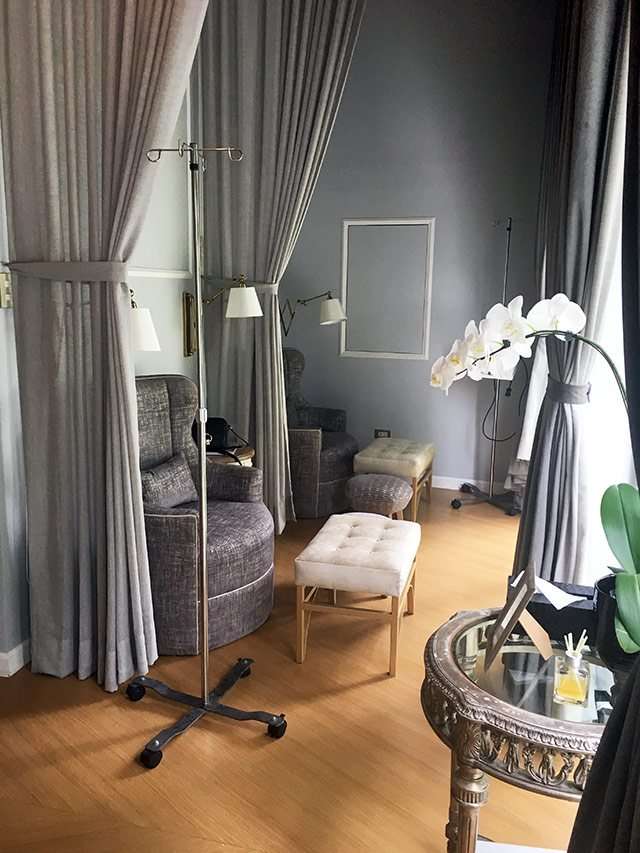 IMAGE Janey Aniban Rivera
The relaxing location and plush surroundings is the perfect setting for beautifying!
After the questions, I was ready to start my drip. The nurse numbed my right arm with a frozen water balloon and proceeded to insert the IV. The pain was tolerable, and her deft hands helped, too. Then I was hooked up to a bag of fluid that contained the supposed fountain of youth.
ADVERTISEMENT - CONTINUE READING BELOW
Ten minutes into the treatment, the nurse came back to me with two syringes containing Placenta and Coenzyme Q10. She injected them one by one into the IV's injection site (this didn't hurt one bit!) and left me alone to finish my treatment.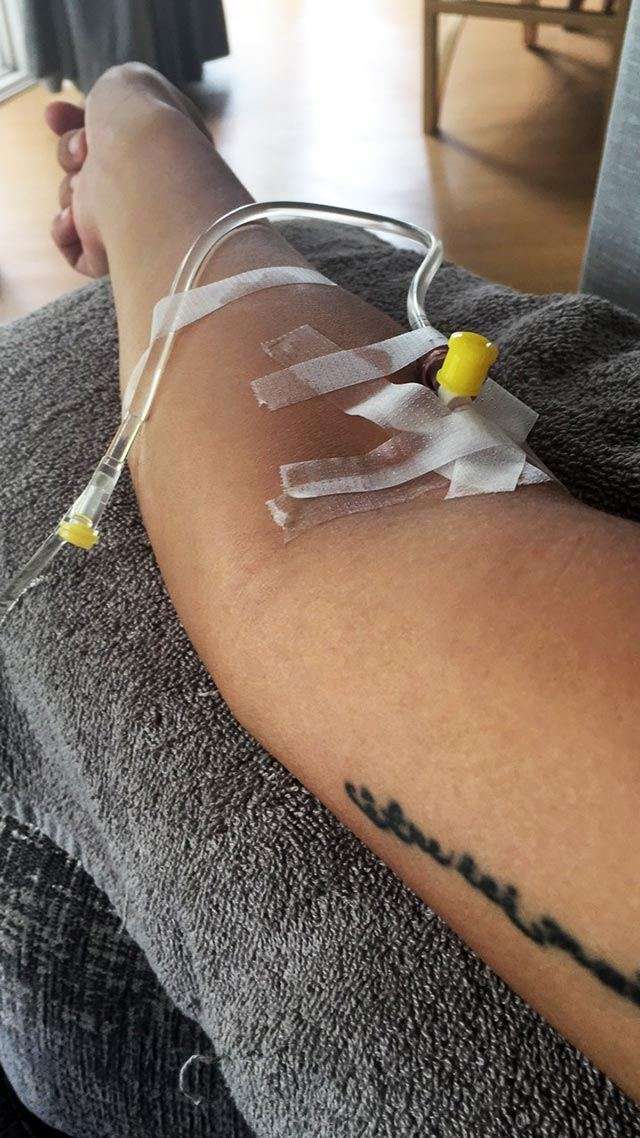 IMAGE Janey Aniban Rivera
Trust me, this looks more painful than it actually is
ADVERTISEMENT - CONTINUE READING BELOW
After 30 minutes, I started to feel light headed and felt like I had too much caffeine. By the time the treatment was over, I was feeling a little dizzy. I looked at the time and was surprised to see that my last meal was over four hours ago! (No wonder they asked me so many questions!) The feeling quickly dispersed when I sat down and had a full meal. (For my second and succeeding sessions, I came prepared. I ate a heavy lunch before my treatment and had no ill feelings whatsoever! Lesson learned: No beauty drips on an empty stomach!)
Conclusion:
After the dizziness had subsided I inspected my face in the mirror, eager to see the results. What I saw surprised me. Not only did the darkness under my eyes seem much less noticeable, the sunken area also seemed fuller, giving a less tired appearance. Some of the scars on my pimple-dappled chin had lightened as well.
ADVERTISEMENT - CONTINUE READING BELOW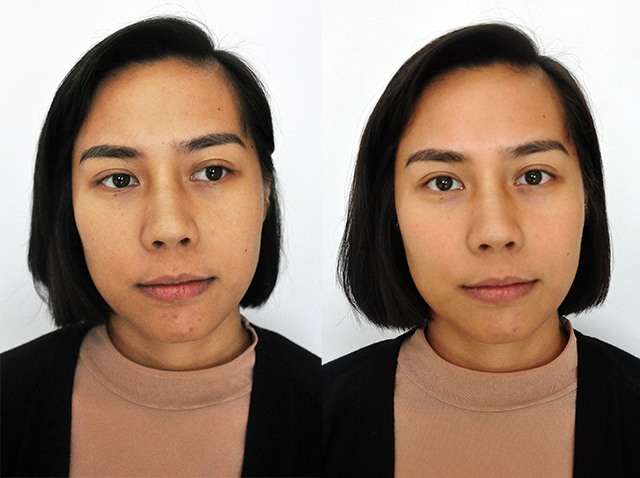 IMAGE Gab Gutierrez
My face before the treatment (left) and after (right)
In the evening, my dad even complimented me on my glow. After another mirror check, I noticed that the texture of my skin had changed, too. It looked full and plump, like I had just downed a gallon of water and slathered on the best moisturizer in my arsenal. The morning after yielded even better findings: My lips seemed slightly fuller, my cheeks were lifted, and my developing smile lines had been reduced significantly!
ADVERTISEMENT - CONTINUE READING BELOW
The only con I would have to report about this treatment is that two days after I did it for the first time, my right arm, the arm they used for the IV, was bruised. It wasn't painful or bothersome, but it looked a little alarming. I phoned the clinic and they asked me to come back, offering an LED light treatment to lessen the inflammation and bruising. I asked Dr. Aivee about the possible cause of the bruise and she said that it was normal to have bruising after the treatment (after all, a needle was inserted directly into a vein). "Another common cause of bruising is when the patient has menstruation or when the vein is hard to see and reach." For the next treatments I used my left hand and didn't experience any bruising whatsoever.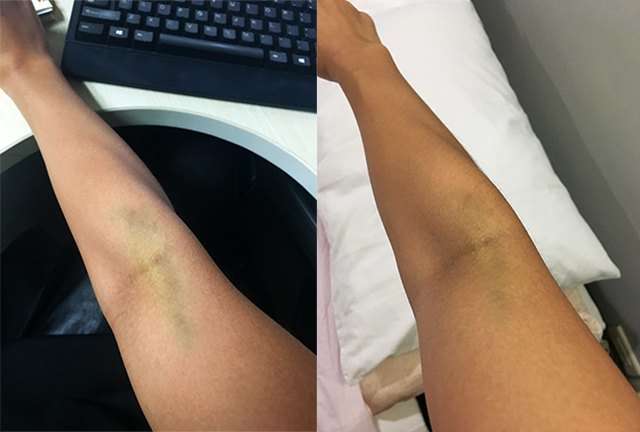 ADVERTISEMENT - CONTINUE READING BELOW
IMAGE Janey Aniban Rivera
My bruise before the LED treatment (left) and after (right)
Otherwise, the positive effects outweigh the negative. They said to come back and have the drip done every two weeks, but after the first session I kept my healthy glow (and filled-in wrinkles!) for around a month. It felt good not having to fuss with my skin too much. Instead of my usual seven-step nightly skin care routine, I cut it down to four because I felt like the drip did everything my other serums and creams did, except much, much better.
Recommendation:
But who exactly can try this treatment? According to Dr. Aivee, absolutely anyone! "IV Drips aim for total wellness by detoxifying the body, making it more immune to free radicals. It's an effective way for the body to receive vitamins and deliver medication and supplements because it is injected intravenously, provided that the IV process is conducted by professionals," she says. "Safety is assured with the proper process coupled with our well-balanced vitamin solution."
ADVERTISEMENT - CONTINUE READING BELOW
Would I do it again for better skin? Definitely. But never again on an empty stomach!
The Aivee Clinics are located at 2/F Forbes Town Center, Burgos Circle, Bonifacio Global City, Taguig; 2/F Commercenter, Commerce Ave. cor. Filinvest Ave., Filinvest Corporate City, Alabang, Muntinlupa City; 5/F SM Megamall Fashion Hall, Ortigas Center, Mandaluyong City. You can call them at (0917) 728 3838 or 573 1420.
Related Stories from Preview.ph
Hey, Preview readers! Follow us on Facebook, Instagram, YouTube, Tiktok, and Twitter to stay up to speed on all things trendy and creative. We'll curate the most stylish feed for you!