Not gravitating toward strong outlines and dark shadings? A delicate watercolor tattoo may just be your perfect match! The ink's bright colors and light gradients create a natural fade, mimicking the strokes of actual watercolor paintings. From flowers and butterflies to minimal lines and specks of colors, there are an array of designs to choose from. You can even be creative with it and personalize your ink according to your favorite colors and other elements. Basically, they're works of art that will have you convinced to get inked in no time!
What you should know before getting a watercolor tattoo
As much as watercolor tatts look good, it also has its own fair share of cons. All tattoos fade over time, but since the watercolor design includes soft colors and fluid outlines, it's prone to dulling faster. Not to mention, touch-ups can be challenging for this ink since most of its design lacks defined lines and shapes. It may sound daunting, but there's actually a trick to make watercolor inks stand the test of time. Simply keeping it away from direct sunlight and applying sunscreen on your tatt can extend its longevity and help maintain the richness of its color!
ADVERTISEMENT - CONTINUE READING BELOW
Now that we've given the 101 on watercolor tattoos, let's get to business! If you're a fan of dainty inks, we curated a list of 12 designs for your next (or first) tattoo appointment. Scroll down below!
Watercolor Tattoo Design Ideas
1. Flower stamp
A dreamy flower stamp? Sign us up! Its combination of pastel colors looks heavenly combined with the precise outline of the sketch. It's an eye-catching ink that you won't regret getting.
2. Sunflower
Sunflowers are a popular tattoo of choice for a reason. The design is often associated with following happiness in life, like how the flower follows the sun wherever it goes. Its striking yellow hue is infectious for feeling a sense of joy and warmth, too!
ADVERTISEMENT - CONTINUE READING BELOW
3. Minimalist flower
Here's a minimalist spin to flower tatts. Each abstract outline and geometric shape represents a flower from four different countries. The semi-circle embodies the Korean rose, and the tiny dots symbolize cherry blossoms. While the white circle and leaves are for the Stephanotis flower, and the yellow sphere and delicate line for the Laburnums. Its detail-work is quite impressive!
ADVERTISEMENT - CONTINUE READING BELOW
4. Butterfly
If you still haven't recovered from the Nevertheless fever, here's a cute Na-Bi or butterfly tattoo for you! The periwinkle waves and twinkles make a flattering accent to the blush pink butterfly at the center. Butterflies aren't only beautiful in terms of design, but they are also meaningful as they symbolize transformation, freedom, and beauty.
ADVERTISEMENT - CONTINUE READING BELOW
5. "Love yourself"
Here's to all the ARMYs out there! Live out the Love Yourself matra with this pastel BTS album cover on your wrist. This would serve you as a constant reminder that "Loving oneself is where true love begins."
6. Wave
This intricate ink is an incredible work of art. The wave's color shading and the multi-colored accents at its side compliment each other well without looking too overwhelming. If you want an easily visible tattoo, then the shoulder area would be your best bet!
ADVERTISEMENT - CONTINUE READING BELOW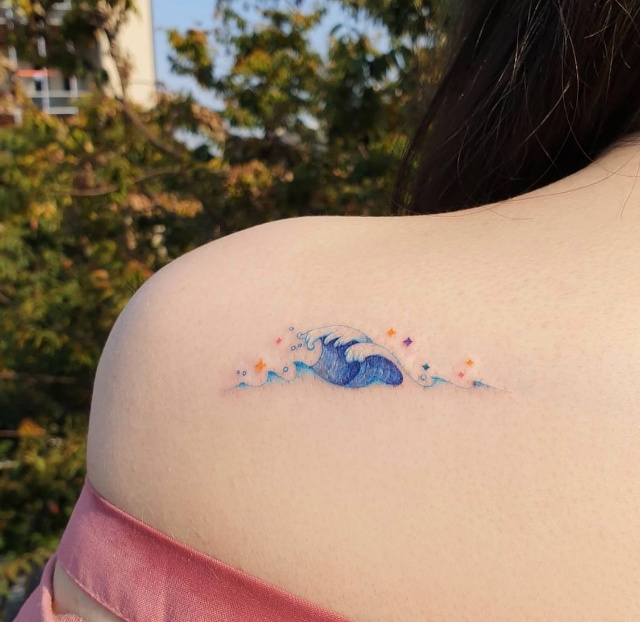 7. Peach
This delicious peach takes a creative twist by incorporating glitters and a whimsical arrow going through the fruit. Fun fact: peaches are actually symbols of long life, prosperity, and happiness.
ADVERTISEMENT - CONTINUE READING BELOW
8. Flower vine
This tattoo looks straight out of a cottagecore realm! We're in love with the flower-filled vine and the hovering butterflies. So enchanting!
9. Lavender
Want a discreet tatt? Getting inked in the rib area is the way to go! It's one of the more painful areas for getting inked, but it can be totally worth it! You can easily cover it up under your shirt or flaunt it while wearing a bikini on your next beach getaway. If you're looking for a design inspo, here's a beautiful lavender flower!
ADVERTISEMENT - CONTINUE READING BELOW
10. Yin Yang
Yin Yang and Koi fishes create an undeniably harmonious combo. The tatt's seamless outline and shading give a delicate yet realistic touch to the design.
ADVERTISEMENT - CONTINUE READING BELOW
11. Gems
Want to get bedazzled by your ink? Try these glitzy gemstones for size! You can even tweak its color according to your birthstone for a more personal touch.
12. Sunset
The colorful splatter of colors and gradients compliment the picturesque scenery of the sunset and ocean. It's perfect for all beach lovers who prefer tattoos that look calming and therapeutic!
ADVERTISEMENT - CONTINUE READING BELOW
Related Stories from Preview.ph
Hey, Preview readers! Follow us on Facebook, Instagram, YouTube, Tiktok, and Twitter to stay up to speed on all things trendy and creative. We'll curate the most stylish feed for you!