What: V&M Naturals' three-step hair care line. Consisting of shampoo, conditioner, and a hair mask, this sulfate-free line promises to care for both your hair and scalp with the use of natural ingredients.
The product line claims to:
- be safe for colored hair
- combat odor
- tame frizz for silky smooth hair
- relieve scalp irritation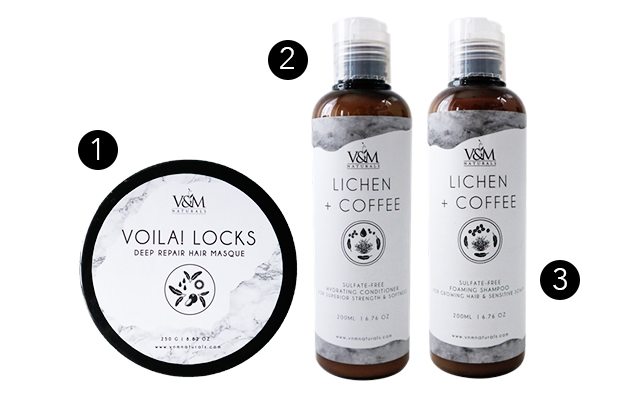 ADVERTISEMENT - CONTINUE READING BELOW
IMAGE V&M Naturals
1. Voila! Locks Deep Repair Hair Masque (P580) combines the moisturizing power of emu, coconut, sunflower, and argan oil for a powerful hair repair mask.
2. Lichen + Coffee Sulfate-free Hydrating Conditioner (P850) makes use of yogurt to moisturize your hair and gently cleanse it. It also has coffee seed extract to help detoxify the hair and stimulate collagen production.
3. Lichen + Coffee Sulfate-free Foaming Shampoo (P750) uses a combination of lichen (a moss with antibacterial properties) to fight odor causing bacteria and hydrolized silk proteins to give the hair a smooth protective layer.
Current Condition:
I was born with thin, slick straight locks that can't do much aside from lying flat against my scalp. Though I don't really have a problem with frizz or dryness because I don't color nor heat style my hair, my oily scalp makes up for it.
I don't like shampooing my hair every day. I usually go two to three (sometimes four) days without washing my hair to give it a break from chemicals. Because of my washing schedule, I play with my hairstyle accordingly: On the day I wash my hair I wear it down, then the day after I sweep my bangs to the side. On the third day my strands are obviously greasy so I usually do something sleek to hide it (like slicked back wet hair or a low pony with a really neat side part).
CONTINUE READING BELOW
Recommended Videos
My schedule has a few drawbacks with my type of hair. Since my scalp greases up really fast, it also has a tendency to absorb whatever odors linger around me and my environment (including that weird food smell you pick up from canteens or that oily smell when you're on third-day hair). But when I heard about the hair care line's ability to keep odors at bay, I was instantly interested!
How I Used It:
During the launch, we were invited to try the product out at Benibana Beauty Hub. My hair was shampooed, had the mask applied to it, and conditioned. Once it was blowdried, I immediately noticed how my hair smelled. The products left a soft, pleasant scent that I was sure would disappear the minute my scalp turned oily tomorrow.
I didn't wash my hair the next day and something surprising did indeed happen: My hair didn't have its usual oily smell when I awoke that morning. I dismissed it as too good to be true because my hair was washed during the late afternoon and didn't have enough time to accumulate oil. But during a particularly grueling workout that day, I noticed that despite my profuse sweating, I would randomly get a whiff of my fresh-smelling hair even as I was exercising. I realized that the more I sweat, the stronger my hair smelled of the shampoo!
ADVERTISEMENT - CONTINUE READING BELOW
The next day the exact same thing happened. I woke up, looked in the mirror to check my hair, and my jaw dropped at how un-oily the strands close to my scalp were. And the smell? Though it wasn't at its full power, the smell the hair care line imparted was still very much there. Again, I couldn't believe I had actually found a product that could control my oily scalp and the awkward smell that came with the condition.
After two days, I decided it was time to wash my hair. I used the products again, this time at home so I could get a feel of how it was to actually use them.
Right after I rinsed off the shampoo, I didn't have that crunchy, hard feeling your strands usually have when you shampoo with a natural product. I also loved how easily everything rinsed out and how I didn't need to use a ton of water to feel like my hair was product-free.
ADVERTISEMENT - CONTINUE READING BELOW
I don't like using a lot of conditioner because I don't like the slippery, too smooth feeling my hair gets when I use it. But with this hair care line, even if I used a hydrating mask, I never felt that my hair was too slippery or too soft like it does with my usual shampoo and conditioner. It still felt really light and clean, but still very soft and smooth with minimal frizz.
Conclusion:
After continued use my hair is less frizzy and falls straighter than it normally does, but the best thing about the products is that they really did help make my scalp less oily. Apart from getting rid of the excess oil, I also noticed a significant reduction of flaking and itching on my scalp.
Overall, my experience with these hair products has been a pleasant one. After using the products for a month, I don't think I can ever go back to using my old routine with the way my scalp has improved with my current one!
ADVERTISEMENT - CONTINUE READING BELOW
You can purchase the hair care set on V&M's website here.
Related Stories from Preview.ph



Hey, Preview readers! Follow us on Facebook, Instagram, YouTube, Tiktok, and Twitter to stay up to speed on all things trendy and creative. We'll curate the most stylish feed for you!