Dark elbows and knees are two of the most common beauty concerns that many Filipinos have. Weighing in on the effectiveness of using a loofa to scrub and lighten elbows and knees, last August 31 at the Cosmopolitan Beauty Con 2019, Dr. Vicki Belo explained that it's completely normal for one's knees and elbows to be darker than the rest of the body as these areas are prone to stretching, bending, and rubbing. Hence, all that "friction" naturally darken these parts. "Also, if you would notice, the skin on your elbows and knees are more makapal. It's not as [thin] as your skin on the rest of your thigh. And if you look at it microscopically, patong-patong 'yong balat [kaya] minsan nagkakaraon ng kalyo," says Vicki. "You need to exfoliate."
Many would normally rub calamansi on their elbows or scrub off the rough spots on their skin with a loofa, but Vicki warns that these classic exfoliating methods can further darken the skin. "[Scrubbing] can ruin your skin," the beauty expert explained. "The loofa, [in particular], is the worst because you leave it in the shower and after a while, there's a lot of bacteria that grows from there. The plastic one is okay but it's also very abrasive. This is why I don't believe in physical scrubbing. I only believe in soaps that naturally exfoliate [the skin.]"
ADVERTISEMENT - CONTINUE READING BELOW
CONTINUE READING BELOW
Recommended Videos
Her recommendation? "A cheap way to brighten your dark areas is to use a papaya kojic soap... The best way to exfoliate, in my opinion, is to use fruit acids."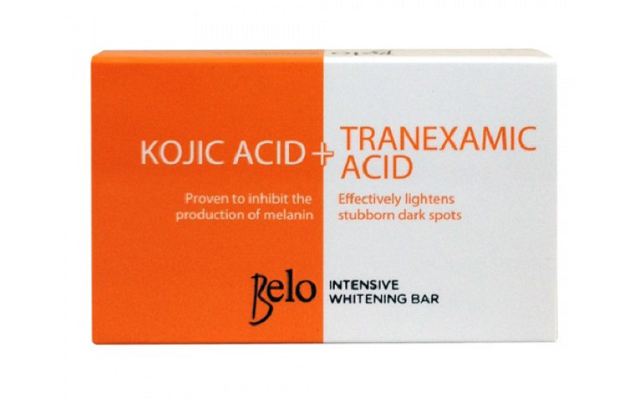 ADVERTISEMENT - CONTINUE READING BELOW
Kojic Acid and Tranexamic Acid Classic, P60, BELO, Watsons, SM Megamall
Unlike physical exfoliation, acids don't require scrubbing. The chemical exfoliants work to lift off dead cells on their own, naturally revealing a lighter skin. So while the word "acid" may sound harsh, they're arguably gentler.

When using kojic acid soaps, Vicki suggests waiting for two minutes before washing them off of your body. Otherwise, "there's not enough time for the soap's active ingredients to penetrate and remove that dead skin." She adds, "You can exfoliate your knees every day with soap but if you insist using a scrub or a loofa, just do it twice a week. Maximum na 'yun."
*This story originally appeared on FemaleNetwork.com. Minor edits have been made by the Preview.ph editors.