What:
Fit Food Manila is a diet delivery service that offers calorie-counted meals. A few months ago, it launched a ketogenic diet program where it offers a daily menu with the following specification: 70% fat, 25% protein, and 5% carbohydrates. Each meal has absolutely no grain, sugar, honey, rice, bread, or pasta.
"The 5% carbohydrate content [is composed of] net carbs, meaning they do not include fiber," reveals founder Ryan Serrano.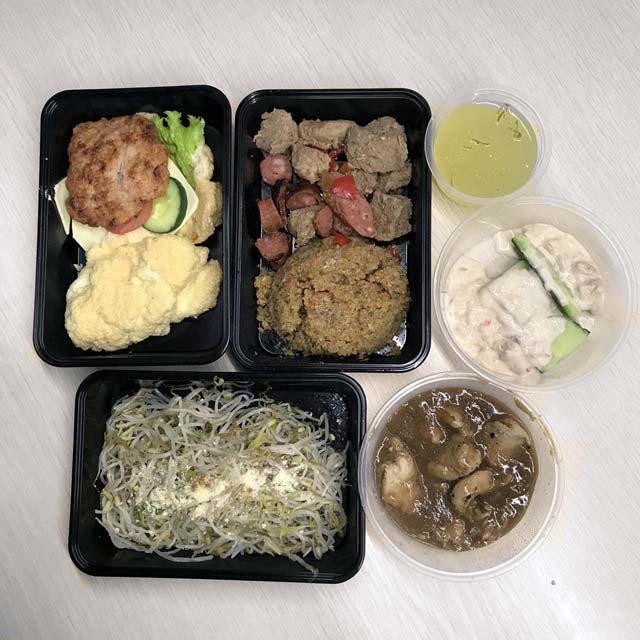 ADVERTISEMENT - CONTINUE READING BELOW
IMAGE Nikki Santiago-Rivera
Breakfast: Carb Free Hot and Spicy Chicken Burger | Snack: Cucumber Boat with Tuna Filling | Lunch: Thai Style Bagoong Cauli Rice with Extra Chorizo | Snack: Keto Lime Jello | Dinner: Chicken Adobo on Keto Pasta
"Simply put, the Ketogenic diet is a high fat, very low carb diet that forces the body to enter ketosis. The idea is to deprive the body of carbohydrates, forcing it to enter the ketosis stage where it converts body fats to ketones, which in turn serve as alternative fuel. In this state, your body will have easier access to stored fats, and fat burning is optimized," he adds.
Fit Food Manila's Ketogenic Program includes breakfast, lunch, dinner, and two snacks; and comes in regular and large sizes. The meals are prepared on the same day of delivery to guarantee freshness.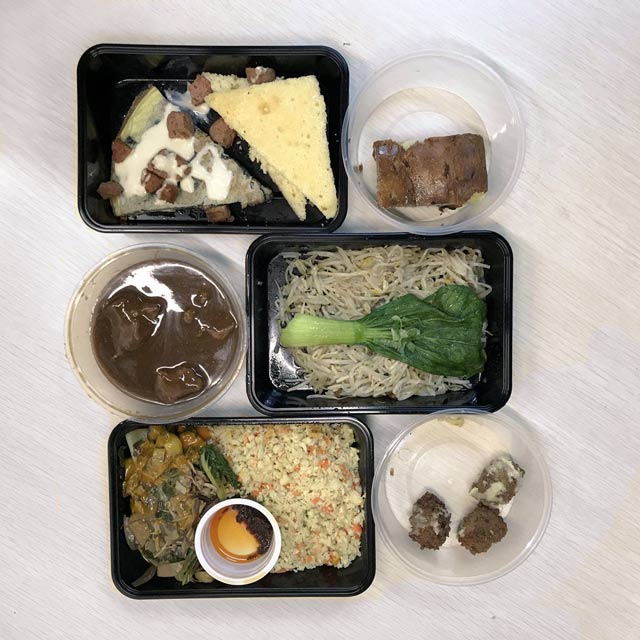 IMAGE Nikki Santiago-Rivera
Breakfast: Spinach, Goat Cheese, and Saudage Frittata with Cloud Bread | Snack: Cheese Meatballs | Lunch: Hong Kong Style Dry Beef Noodles on Mungbean Sprouts | Snack: Keto Zucchini Bread | Dinner: Vegetable Kare-Kare with Garlic Buttered Cauli Rice
Current condition:
I had packed on a few holiday pounds and had been feeling bloated and sluggish as I went back to work. To be completely honest, I didn't find the need to subscribe to any diet programs as I am more an eat-and-exercise kind of person. But I did have a strong interest in the ketogenic diet because a lot of my family and friends fell into the fad and I wanted to see for myself. For the most part, I was curious what kind of meals could be prepared given the limitations and how they would taste.
How I used it:
Before signing up for Fit Food Manila's Ketogenic Program, I had consulted with my doctor to make sure it would not pose any serious threat to my health. After all, the keto diet is still a hot topic with several debates surrounding it including its effect on the kidney. According to WebMD, "when your body burns its stores of fat, it can be hard on your kidneys."
ADVERTISEMENT - CONTINUE READING BELOW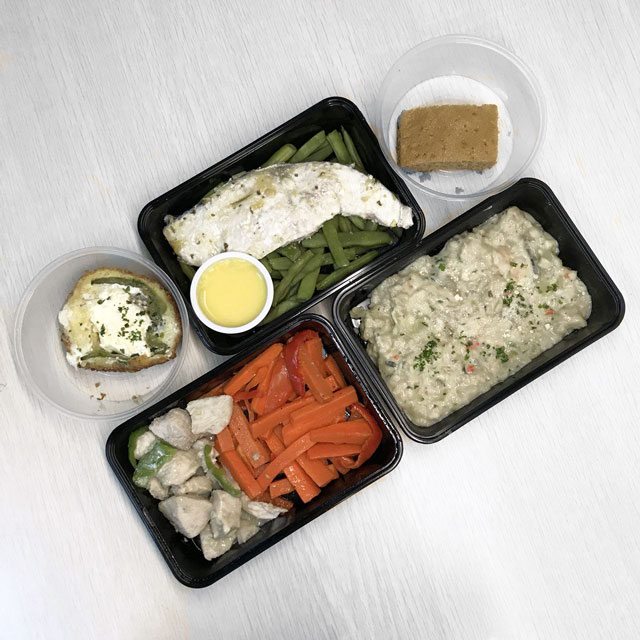 IMAGE Nikki Santiago-Rivera
Breakfast: Creamy Seafood and Pesto Cauliflower Casserole | Snack: Jalapeño Poppers | Lunch: Grilled Tanigue with Lemon Butter Sauce and Buttery Green Beans | Snack: Keto Coffee Cake | Dinner: Thai Green Chicken Curry with Extra Coconut Sauce on Stir Fry Carrots and Bell Pepper
I tried the program for one week, starting on a Monday. The meals were delivered the night before and stored in the fridge. I simply popped them in the microwave oven right before each meal time. The menu consisted mostly of various meats, vegetables, and cauli-rice (cauliflower!), all cooked differently.
ADVERTISEMENT - CONTINUE READING BELOW
Conclusion:
The first two days were challenging for me—day one especially, day two was less frustrating. I felt hungry and weak, and, well, cranky. I felt my body was raising the red flag for subjecting it to too many food restrictions—both on portion and options (a.k.a rice cravings). Apparently, as stated on the Perfectketo.com, it helps "to fast a few days before starting a ketogenic diet," which I failed to do as I enjoyed a feast over a series of family get-togethers that weekend.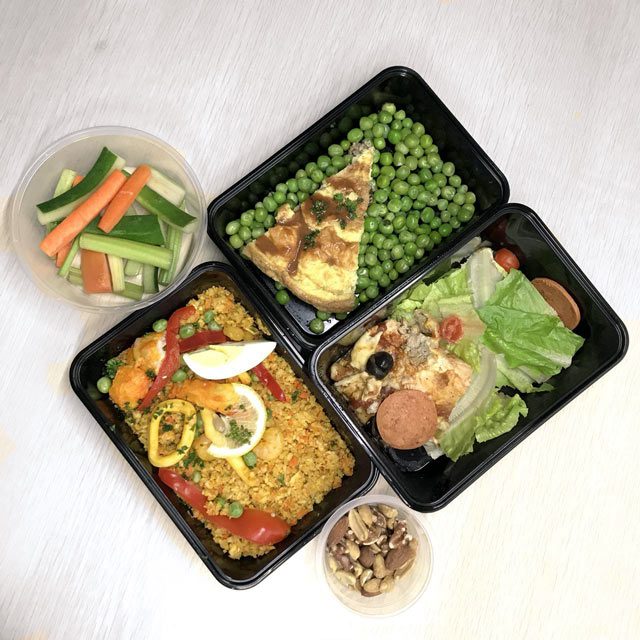 ADVERTISEMENT - CONTINUE READING BELOW
IMAGE Nikki Santiago-Rivera
Breakfast: Barbecue Pork Omelet | Snack: Mixed Nuts | Lunch: Chicken Pepperoni Melt with Extra Pepperoni on Mixed Greens | Snack: Vegetable Sticks with Dip | Dinner: Keto Seafood Paella
The third day, however, became a lot more pleasant overall—I felt full and more energetic after every meal. Same goes for the rest of the week. I noticed, as well, that I was going to the bathroom to pee more frequently from days four to seven.
At the end on the week-long diet program, I was certainly less bloated and lighter by one pound. Water weight off, perhaps? Also worth noting was how my skin has cleared up even without changing my regimen, which I think can be attributed to the no-sugar and very low-carbs stipulation.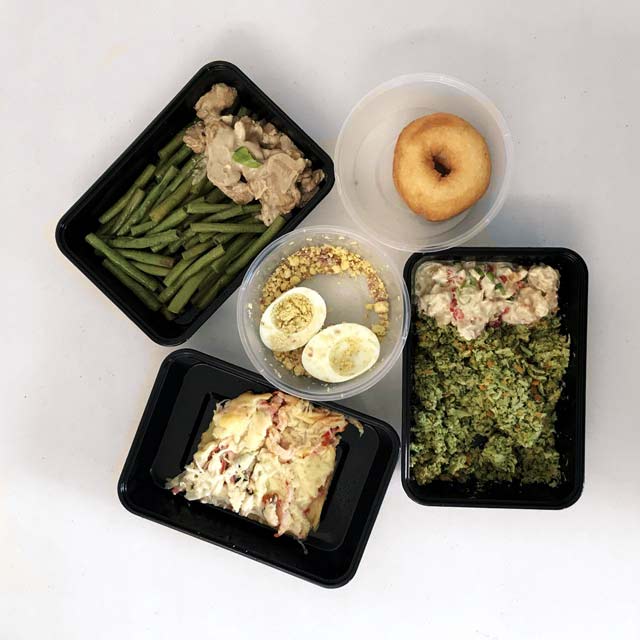 ADVERTISEMENT - CONTINUE READING BELOW
IMAGE Nikki Santiago-Rivera
Breakfast: Keto Crabstick and Nori Pizza | Snack: Spiced Bacon Devilled Egg | Lunch: Chicken Adobo with Coconut Milk on Garlic Stringbeans | Snack: Low Carb Keto Bagel | Dinner: Chicken Sisig with Garlic Buttered Broccoli Rice
Contrary to my initial assumption that most diet food is tasteless, Fit Food Manila's menu did not disappoint. The cauli-rice was a big revelation to me—I didn't know how versatile it could be! Though I still wouldn't trade my rice for it, I would love to prepare it myself and serve to my family once in a while. Other favorites include the Jalapeño Poppers, Barbecue Pork Omelet, and Seafood Paella.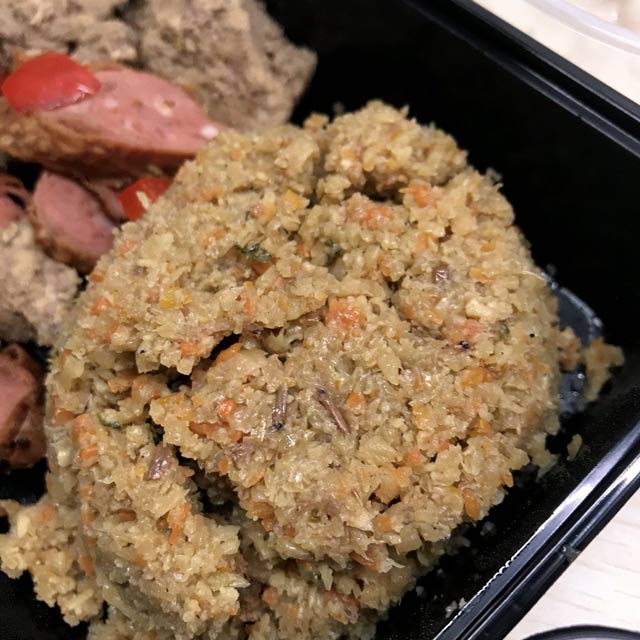 ADVERTISEMENT - CONTINUE READING BELOW
IMAGE Nikki Santiago-Rivera
I loved this Thai Style Bagoong Cauli Rice!
Another bonus of having every meal of the day delivered right at your doorstep was the freedom from having to think about what food (and when) to prepare or where to buy. Although, of course, it comes with a price: Each day will set you back from P645 to P745 plus delivery fee, which is about P50 to P80 per day depending on your location.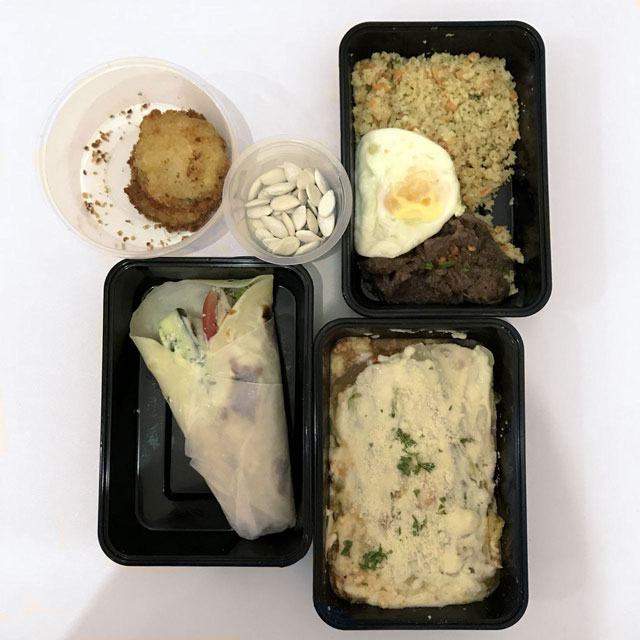 ADVERTISEMENT - CONTINUE READING BELOW
IMAGE Nikki Santiago-Rivera
Breakfast: Garlic Buttered Cauli Rice Tapsilog | Snack: Zucchini Chips | Lunch: Keto Cabbage Lasagna | Snack: Toasted Pumpkin Seeds | Dinner: Keto Grilled Pesto Chicken Wrap
While the weight loss effects of keto diet on most of its followers have been apparent and lauded, I recommend consulting with your doctor or a registered nutritionist first and having some lab blood work done before getting into the program (and not merely jumping into it just to get with the program.)
To know more about Fit Food Manila, including their upcoming menus, you can follow @fitfoodmanila on Instagram and like Facebook.com/fitfoodmanila. You may also send a message to 0917-724-0222 or an e-mail to fitfoodmnl@gmail.com.
Related Stories from Preview.ph
Hey, Preview readers! Follow us on Facebook, Instagram, YouTube, Tiktok, and Twitter to stay up to speed on all things trendy and creative. We'll curate the most stylish feed for you!