Placements are considered as your tattoos' permanent residence. It can also influence the design's scalability, visibility, and even longevity. That said, choosing the best spot for your next ink is one key factor you shouldn't overlook. There are a lot of popular options like your arm or ankle, but if you want to explore new tatt placements, a thigh tattoo is your best bet.
The thigh area might be known for providing a good canvas for larger designs, but it's also an ideal placement for dainty and minimal inks. It's intimate and personal, the perfect location for anyone who wants to keep a discreet tattoo. And since it's only meant for certain eyes to see, it possesses a unique allure.
To help you get started, we asked tattoo artist Bjan Bernabe (@bjanbernabe) of Habitat 570 to everything you should know about getting a thigh tattoo:
How painful are thigh tattoos?
The pain scale usually varies depending on the part of the thigh where you decided you get your ink on. "In the middle part would be 5 then going towards the knees, hips, and groin area, the pain goes up around 7 or 8," Bjan explains. He ten adds that the area near the ditch and behind the knees is not for the faint of heart.
ADVERTISEMENT - CONTINUE READING BELOW
How do you take care of a thigh tattoo?
"The thighs heal the same as with other parts of the body," Bjan says. The tattoo artist also reminds his clients to gently wash the dirt off once or twice a day to avoid infection. He also recommends applying a thin amount of lotion (no whitening and scented lotions), aloe vera, coconut oil, shea butter, or any tattoo aftercare ointments to deal with any itching.
"No jogging and leg days while it's swollen! Remember to clean up after exercise once swelling subsides. Also no beach and swimming pools. Fresh tattoos hate the sun, sea, and salt. Swimming can also get you skin infection," he adds.
What are the most popular compositions and designs for thigh tattoos?
For Bjan , a popular tattoo composition for women would be something that covers the thighs and extends to the hips: "Another nice project would be a thigh band. Small tattoos work also but should be near or along the joints."
CONTINUE READING BELOW
Recommended Videos
10 Thigh Tattoo Designs You Should Consider Getting
Now that we're done with our crash course on thigh tattoos, here are some dainty tattoo designs for women that will inspire you to get inked:
1. Watercolor Flower Tattoo
For many, floral tattoos became the symbol of love, hope and new beginnings. If this resonates with you, why not consider getting a watercolor one inked? Its combination of color shading and detailing creates a dainty, feminine look. Plus, this design would look elegant with an upper thigh placement.
ADVERTISEMENT - CONTINUE READING BELOW
2. Flower Outline
Another way to dress up your floral tattoo is by playing with thin outlines and intricate detailing. This particular design comprises a series of lining and shading techniques to create a realistic look without losing the minimalistic feel. To give yours a more personal touch, you can play with the size or placement.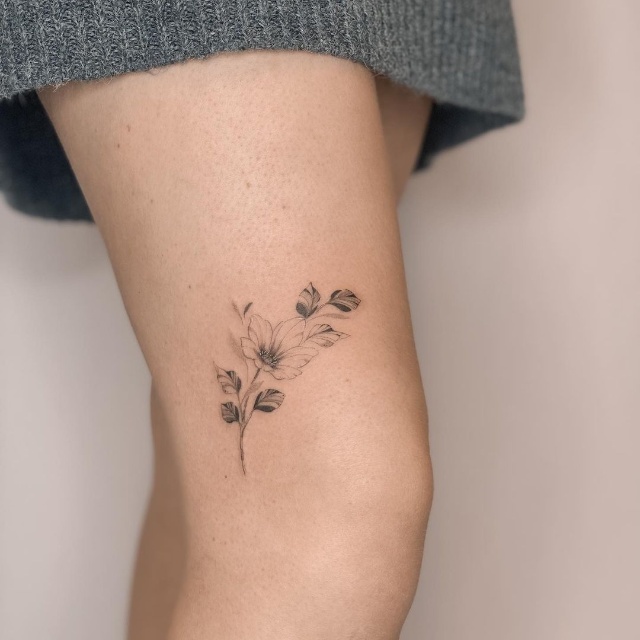 ADVERTISEMENT - CONTINUE READING BELOW
3. Bee
Looking for an ink to match your playful personality? Consider getting this adorable bee design. It has a more whimsical and hand-drawn look that simply makes the cutest accent on the skin. If you're feeling creative, you can add more elements that compliments the design or even go for a full-colored one!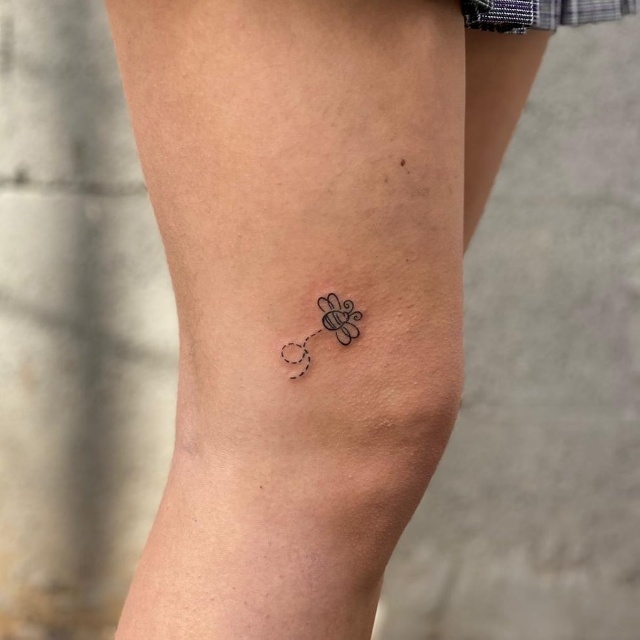 ADVERTISEMENT - CONTINUE READING BELOW
4. Butterfly
Butterflies are a popular design choice for a good reason. It represents freedom, beauty and transformation. It is also a great way to commemorate a new chapter of your life. This specific ink would look good at any placement, but if you want it to be more discreet, your inner thigh makes a great spot.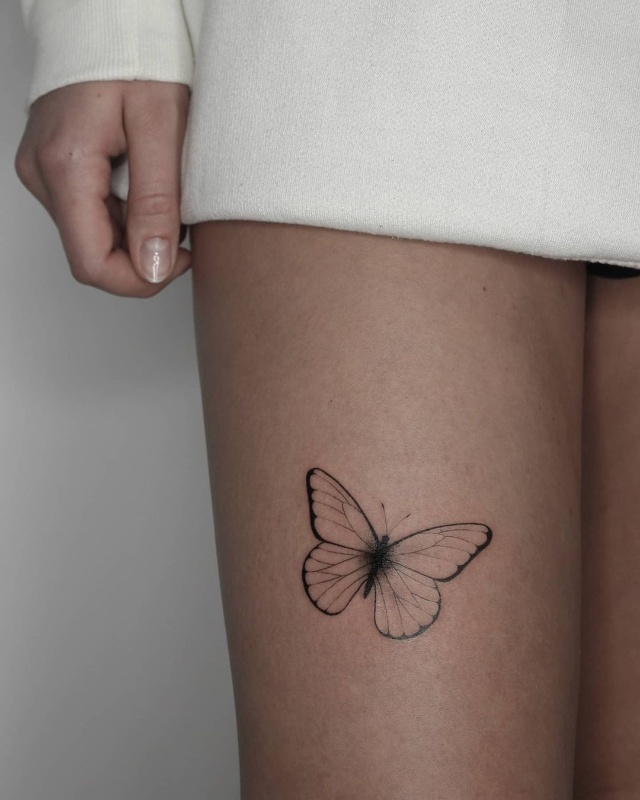 ADVERTISEMENT - CONTINUE READING BELOW
5. Ornament Tattoo
Nothing can ever be as dreamy and ethereal as this celestial-themed band tattoo. This particular example has thin, delicate lines and dainty elements that set beautifully on the skin. It's one eye-catching ink that would stand out when you wear a swimsuit or a skirt!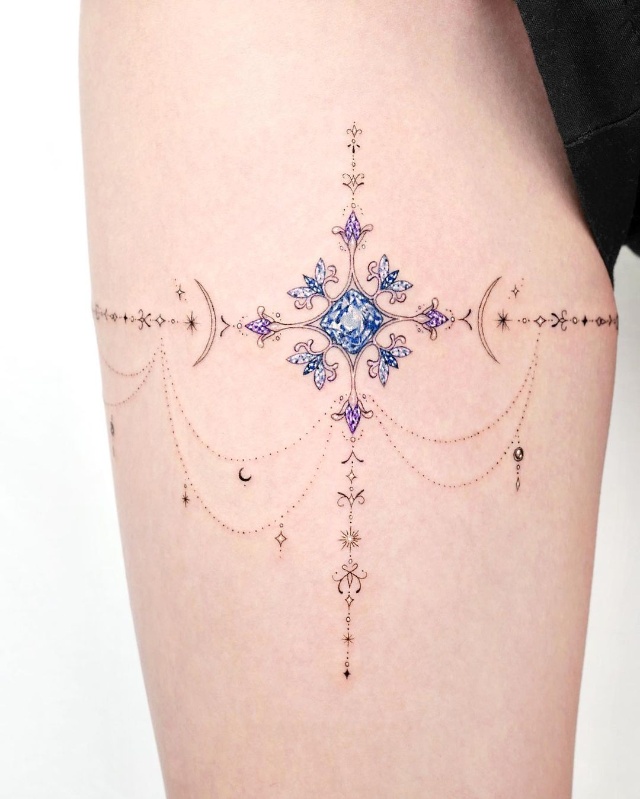 ADVERTISEMENT - CONTINUE READING BELOW
6. Fish
Fishes are a great representation of perseverance, determination and success. It's also an ideal design choice for anyone who wants to manifest luck and prosperity in their life. Ask your artist to go for a combination of colored detailing and shading to achieve this inspo below! You can also make it more personal by opting for your favorite hue.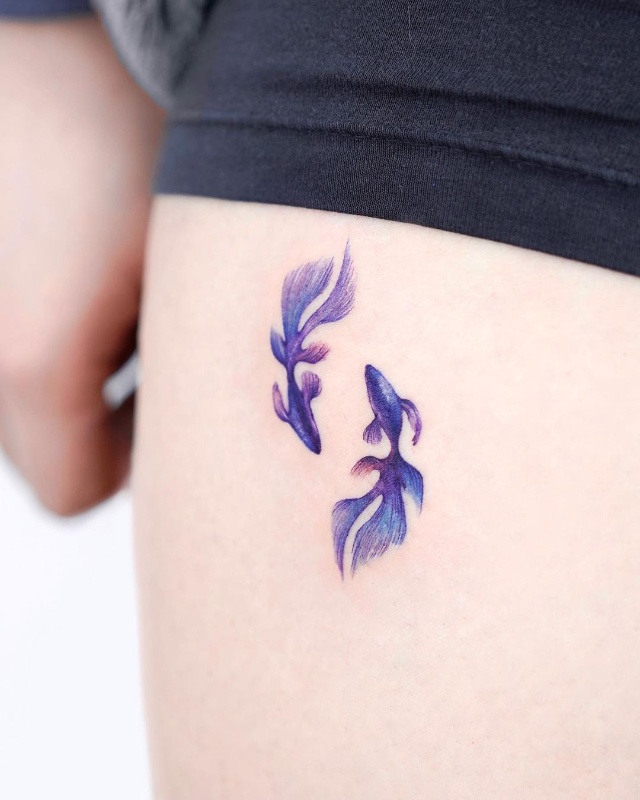 ADVERTISEMENT - CONTINUE READING BELOW
7. Floral Band
A dainty, minimal floral band tattoo makes a big impact by itself. This ink, for example, is done with seamless outlines and gradient shading that creates a painterly vibe. Placing it on your thigh area will make you feel like you're wearing a piece of art wherever you go. Also, it's a great pick for your very first leg band!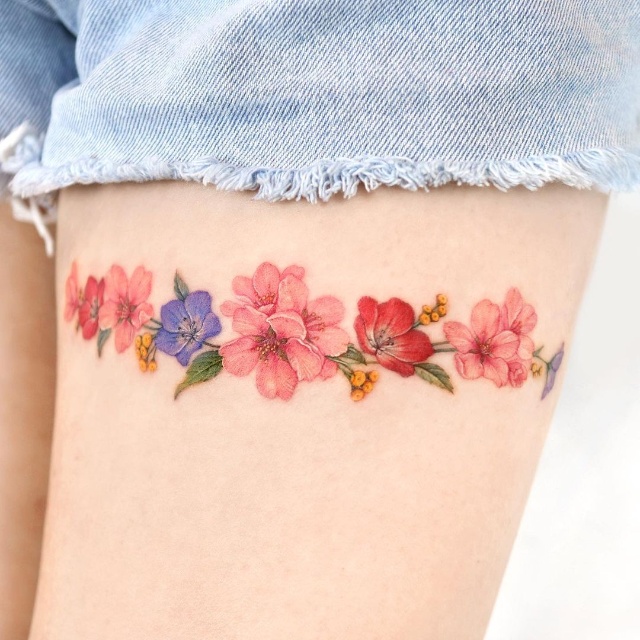 ADVERTISEMENT - CONTINUE READING BELOW
8. Moon
Celebrate your love for astrology by having this cool moon tatt inked on the skin. For many, the moon is associated with growth, change and manifestation. For yours, take cues from the design below and its delicate shading that makes it look more light and minimal. Try to keep it simple by opting for black ink as it emphasizes intricate details.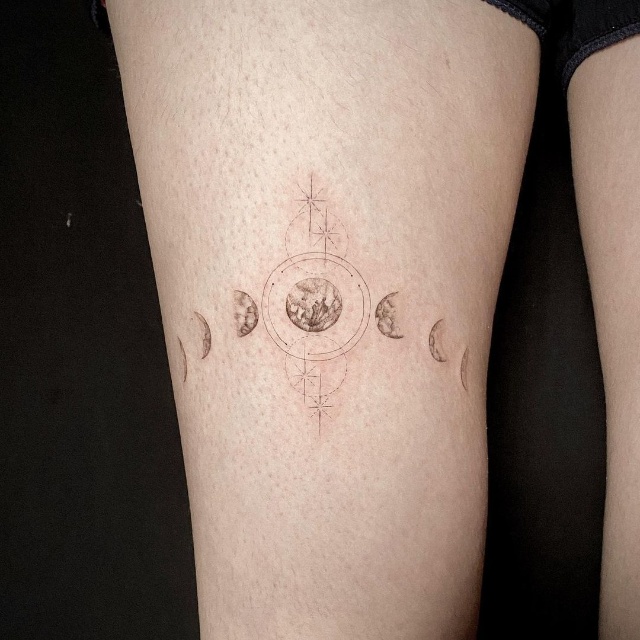 ADVERTISEMENT - CONTINUE READING BELOW
9. Cartoon Character
An ink version of your favorite character makes an adorable, quirky choice. Aside from leaving a cute stamp on the skin, it can also be a compliment magnet. This example plays around with clean, basic outlines to recreate the image of Totoro. You can also customize it by adding color and elements (like from a specific scene) to complement the design.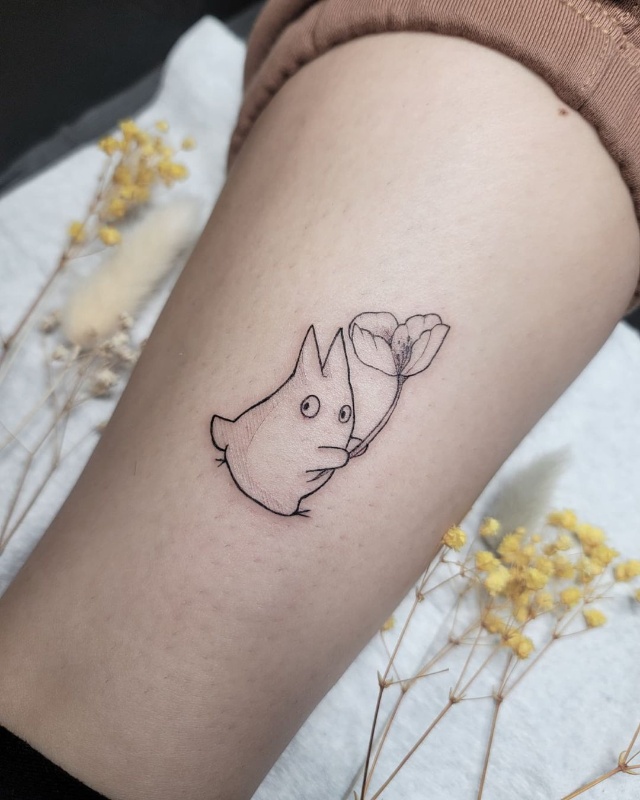 ADVERTISEMENT - CONTINUE READING BELOW
10. Brush Stroke
A brush stroke tattoo is ideal for anyone who is enthralled by the world of art. Here, the artist combines overlapping elements, line detailing, and a full color shading to keep it clean and minimal. Stamp it on the largest part of your thigh and it can be one of the prettiest hidden tatts you have.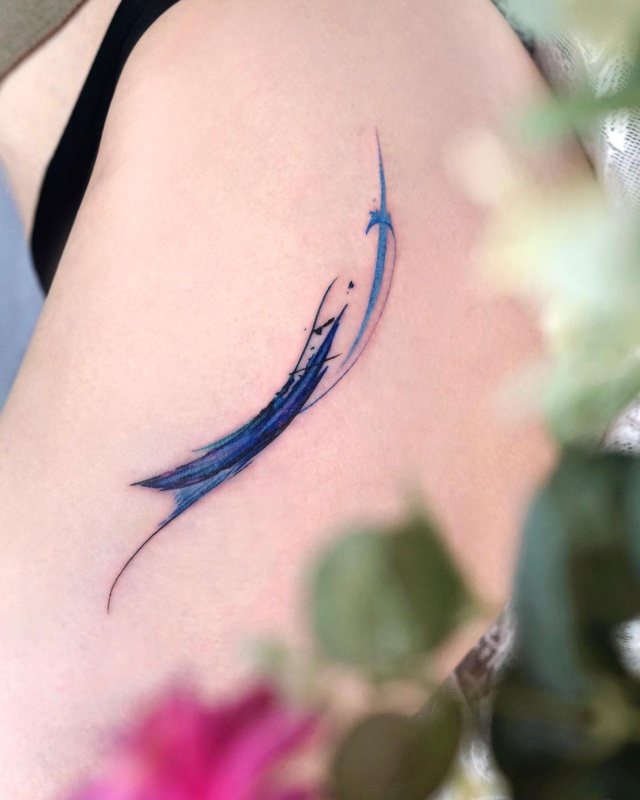 ADVERTISEMENT - CONTINUE READING BELOW
Preview is now on Quento! Click here to download the app for iOS and Android and enjoy more articles and videos from Preview and your favorite websites!
Related Stories from Preview.ph
Hey, Preview readers! Follow us on Facebook, Instagram, YouTube, Tiktok, and Twitter to stay up to speed on all things trendy and creative. We'll curate the most stylish feed for you!