If there's a scent that evokes all the adored feminine qualities of a woman, it would have to be floral. As one of the most popular notes in perfumery, floral scents are worn by women across the board: fun and flirty, confident and assertive, bold and mysterious. What's not to love about being a woman anyway?
What's more, nothing can make a woman feel more confident than wearing her favorite floral fragrance. As a smell that's feminine, flirty, and versatile, here are some of the occasions to wear a floral scent.
Dinner Date
A sit-down dinner shouldn't smell and feel too formal. Lighten up the mood with a floral scent that'll keep you feeling chirpy and chatty all evening. It's the ideal scent even if you're not too keen on wearing a cocktail dress and prefer a more casual look.
Night Out
Nights out that include heading to bars and clubs are usually associated with sensual and musky scents. But how about something that's light on your skin and less overwhelming for a change? A floral scent can keep you smelling fresh even when you're the last person on the dance floor.
Garden Wedding
Nothing suits a garden wedding more than a perfume that smells like a fresh bouquet of flowers. Whether you're the bride or simply a guest, wear a fragrance that'll make you seem (or smell) approachable. You'll be dressed to the nines and rubbing shoulders all day long; leaving a lasting impression by wearing a fragrance with sweet and romantic notes.
Sunset at the Beach
Yes, it's perfectly appropriate to wear your fragrance at the beach. Floral scents are usually less strong and heady compared to woody and fruity notes, which means you'll give off a fresh and carefree vibe as you watch the sunset on the horizon. Spritz on your floral scent and complete the look with your natural beach waves and some lip and cheek tint!
Work
Floral fragrances are typically light and casual enough to be worn almost daily. It's also a great pick-me-up midday spritz when you're drowning in deadlines and need a quick boost of motivation to get some work done. You may be stressed, but at least you won't smell like it.
If you haven't found that go-to floral scent yet, the COACH Floral Eau de Parfum might just tickle your fancy. Inspired by the signature tea roses that originally appeared on COACH leather bags and accessories, this dreamy fragrance opens with a burst of citrus coeur, pineapple sorbet, and pink peppercorn before the scent of jasmine sambac, gardenia, and rose tea emerges and dries down to base notes of delicate crystal musk, creamy wood, and patchouli essence.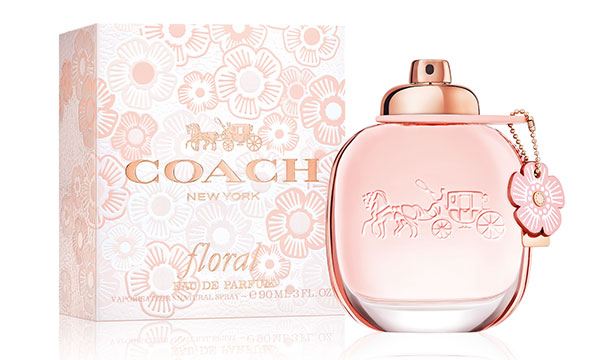 COACH Floral is available in all leading department stores and Zalora.com. Purchase any COACH fragrance this August at SM Aura or SM Mall of Asia and present the code COACHTHEFRAGRANCE-DDF to the fragrance advisor to receive a special gift!