Who doesn't want bragging rights to having flawless skin? No one, because we're pretty sure all types of ladies across all ages would want nothing more than perfect skin that requires no makeup or a dozen trips to the dermatologist to achieve. Healthy eating, exercise, sleep, and lots of water are all compulsory to attain this beauty feat. But we all know it's not that easy, because when school and work join the equation, the essentials are often compromised.
We live in a country where majority of the female population is all about brightening and whitening products, but today we want to put the spotlight on the hottest beauty invention we encountered so far. And if you ask us, it deserves all the rave that it's getting. Scroll down for 5 reasons why you need to give it a chance.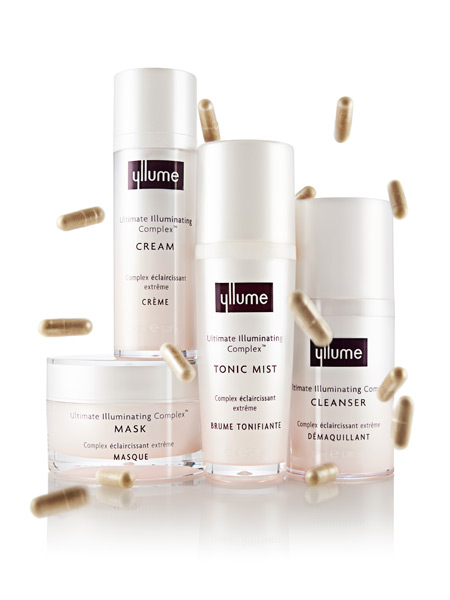 The complete Yllume Ultimate Illuminating Complex range.
After a decade's worth of research and partnership with leading laboratories in Germany, UK, and Japan, Yllume launched the latest in skin lightening technology.
The line has a unique set of ingredients, therefore offering lightening and brightening effects that only they can provide. Yllume is made with an exclusive patented ingredient called PhytoflORAL, an all-natural powder extract that are created from non-genetically modified tomatoes in their labs. This distinct breed of fruit is filled with colorless carotenoids specially cultivated for use in the supplement. So what if the PhytoflORAL contains colorless carotenoids? Well, they are only the ingredients responsible for making the products as effective as they can possibly be, that's why.
These carotenoids balance melanin production and also act as a natural sunscreen. Unlike whitening products where you will need to hide from Mr. Sun for fear of damaging your skin, Yllume's brightening offerings can be worn to the beach, for walking down the streets of Makati, or from going from one building to the next in school, all under the sun. Harmful UV rays will be the least of your worries.
The reduction of melanin doesn't always mean just whitening. Less melanin and more collagen fights skin aging, giving you that glowing feel from the inside and out by evening out your skin tone. Say goodbye to those annoying acne scars, freckles, dark underarms, and age spots.
It is clinically proven to work in 28 days! We are all for fast effects, but what sets the product range apart are its long term benefits. While other whitening products may seem like they act fast, the truth is, the overall effect is short term meaning your skin will darken once the sun hits you, just as fast. Yllume's lightening range is safe to use over a long period of time.
It comes in a complete line for maximum effect: a cream (that you can use on any part of your body!), a supplement that will double the speed of the effects, a cleanser that also moisturizes, a multi-action treatment mask, and a tonic mist that will hydrate and brighten your skin after long hours under the sun.
ADVERTISEMENT - CONTINUE READING BELOW
Yllume is available only through dermatologists and cosmetic surgeons' clinic or premium medi—spas. Contact hotlines 6723599 or 6557759 for list of stockists.
Hey, Preview readers! Follow us on Facebook, Instagram, YouTube, Tiktok, and Twitter to stay up to speed on all things trendy and creative. We'll curate the most stylish feed for you!