Money can't buy happiness, but it can buy lipstick. We don't know about you, but to us, that already comes pretty close. One should never underestimate the power of a good lippie. Whether it's a bold matte, a pastel satin, or a creamy nude, it demands attention. So much so that we could do with a simple face, so as long as we have a swipe of our favorite swatch.
If our colorful tubes have given us this much to love, then shouldn't we at least return the favor? We've compiled a list of the best tricks that are sure to give you what your lipstick has to offer and more.
1. Apply translucent powder on your lips.
Legs for days? More like lipstick for days. In order to allow your shade an extended stay, place one ply of tissue over your lips and use a kabuki to lightly brush it with some translucent powder to set the lipstick. Once you remove the tissue, your lippie becomes completely matte. But in case you're strictly here for longevity purposes, then swipe another coat of lipstick over the powder. It creates the perfect barrier for your messy tendencies.
ADVERTISEMENT - CONTINUE READING BELOW
CONTINUE READING BELOW
Recommended Videos
2. Map out the areas where you want to put your lipstick.
The beauty girl is a cartographer in her own right! In order to avoid the messy smudges and uneven curves, we suggest tracing certain areas of your lips carefully with either a lip liner or lip brush before filling it in. Start with an x-mark on your cupid's bow then work your way to the rest by outlining the edges part by part. See beauty blogger Tina Yong demonstrate it below. After all, we're adults now—we don't have an excuse to color outside the lines anymore.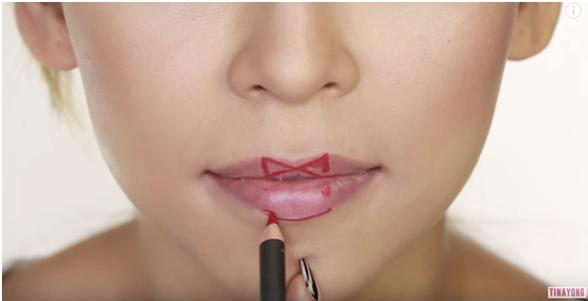 ADVERTISEMENT - CONTINUE READING BELOW
Screenshot courtesy of Tina Yong
3. Make your lips fuller with a little bronzer and highlighter.
Who says only the likes of Angelina Jolie and Kylie Jenner can cop a luscious pout? We've found a tip that will give you the same effect minus the Kylie Lip Kit (like we could get our hands on one anyway) or collagen. Millennial makeup artist Aleli Salac reveals that she cheats her way to big lips by adding a little highlighter on top of the cupid's bow and a little bronzer below the middle of the bottom lip for maximum accentuation.
4. Finish the entire lipstick—even what's at the bottom of the tube.
Our extensive lipstick collection boasts of a lot of department store goodies and drugstore purchases. But more than getting your money's worth, we want you want to get your lipstick's worth 'til the very last swipe. For those nearing the end of their lippie's cylinder, don't throw it away just yet. Scrape off the remaining lipstick with a makeup spatula or a clean nail buffer and put it on a spoon. Then, melt it on top of a lit candle and transfer it onto a small container. Let it cool for a few seconds and you've got yourself a new pop.
ADVERTISEMENT - CONTINUE READING BELOW
5. Refrigerate your lipstick.
We can't emphasize this life-hack enough with this heat. While summer connotes enjoying the great outdoors and catching up with friends, it also means having to face the unbearable heat. And if you think it's just you who's going to suffer, your lipstick might have it worse. To prevent your lipstick from melting in your bag, make sure to keep all your lippies inside the refrigerator. Storing it in cold temperature will keep the shape intact and your makeup on fleek.
Main image from Giphy.com
Hey, Preview readers! Follow us on Facebook, Instagram, YouTube, Tiktok, and Twitter to stay up to speed on all things trendy and creative. We'll curate the most stylish feed for you!