First it was the BB (Blemish Balm) cream that shook the beauty industry. Multi-taskers that act as a tinted moisturizer, serum, and sunscreen, it first gained ground in Europe and had its popularity spread like wildfire in East Asia. The buck didn't stop there of course: It was only a matter of time before marketing (and fine, R&D) found the next big thing in CC cream. Now the hottest item to keep in your purse, CC (Complexion Correcting or Color Correcting) cream shares its multi-tasking skills with its predecessor but purportedly offers more and better super powers. Meant to be used under or before your BB cream, they act as luminizing primers to even out skintone and provide a highlighted "base" from which BB cream can work off of. Most CC creams may not have that much of a foundation-like tint that BB cream has, but it gives more coverage in the sense that it melts on skin and acts as a thin veil that makes blemishes invisible by correcting and evening out skin's color.
ADVERTISEMENT - CONTINUE READING BELOW
For those who are still confused with all these letters, our (p)interesting table below explains everything in a nutshell.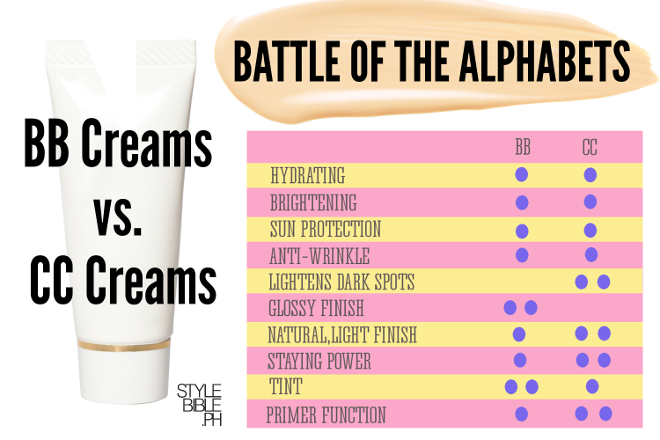 CONTINUE READING BELOW
Recommended Videos
There a handful of CC Creams available, each with their own strengths. View the gallery to see our picks!