I never used to be this conscious about what color my teeth were. I just didn't have the reason to be. For starters, my mother is an actual dentist, so you can bet I was raised to follow strict dental care habits that I've easily and naturally carried over into adulthood—ask anyone in the Preview office who's privy to my daily post-lunch excitement over a minty fresh toothbrushing sesh (it's so calming).
Still, all my squeaky clean history has proven to be absolutely no match for the dreadful effect of caffeine stains. I only started drinking coffee when I joined Preview five whole years ago—I blame it wholeheartedly on the desperate need to keep up with a fashion magazine's frenetic production pace—and half a decade of sucking soullessly on macchiatos and cappucinos every single morning has left my grin a lot less bright. In short, I was yellowing. Badly. And whether or not people noticed, I certainly did, and in defense adapted a demure, close-mouthed smile for photos that didn't always feel quite right. In fact, after a tedious comb through my entire phone gallery and Instagram, I've discovered a measly two (2) pictures of myself grinning with teeth: the first touristy and candid, and the other, a gag shot. Of course.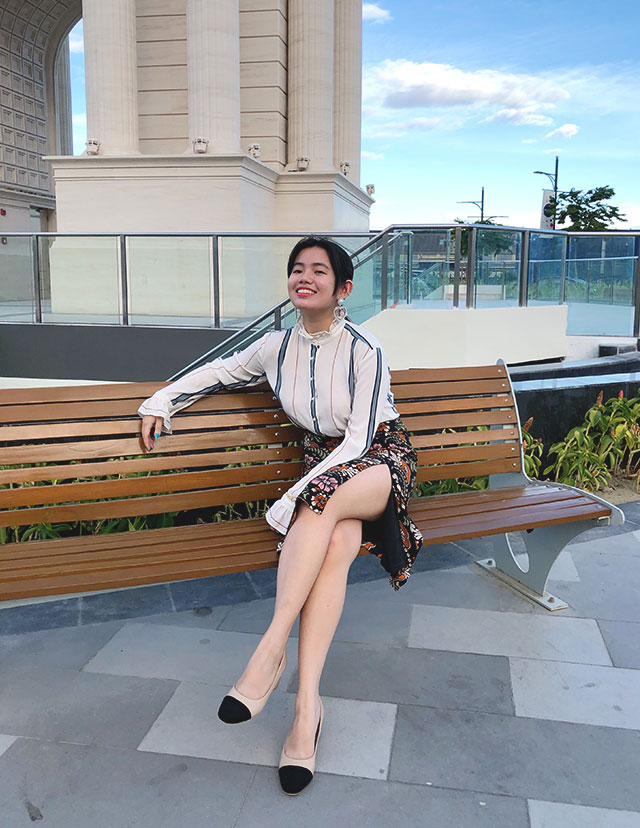 ADVERTISEMENT - CONTINUE READING BELOW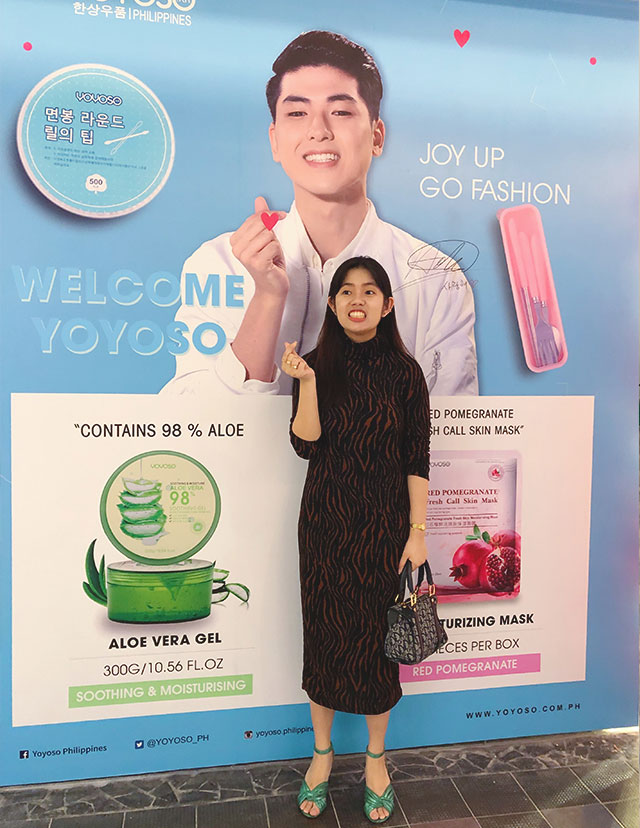 It was a private predicament not even the most flattering shade of red lippie could remedy. Even sadder was that I'd always been pretty proud of my teeth, my near-perfectly straight, rather large teeth, forced into precise obedience by mom-subscribed metal braces in my early teens (and still being corrected to this very day by cleverly hidden permanent retainers made of cement), then set free with great fanfare the day before my big 18th birthday party. No better gift to give a debutante, in my opinion. You can probably already tell how sentimental I'm waxing.
Right before I descended into a state of true panic, cue The Smile Bar's timely entry into the scene. A cosmetic teeth whitening salon boasting of the fastest and most effective system on the market today, I was boldly promised visible results in as little as 20 minutes. Sold.
How It Works
Using a patented, revolutionary technology developed in Sweden, The Smile Bar guarantees whiter and brighter smiles for all clients. Coming in as a clueless first-timer, I was prescribed the Triple Whitening Treatment (P7499), which is a trio of 20-minute sessions involving a specially-formulated whitening gel that, when combined with the UV-free LED Plasma Light technology, effectively dissolves stains to reveal your teeth's natural whiteness.
Starting off, I was asked to quickly rinse with a mouthwash designed to loosen layered stain buildup, then brush away with state-of-the art Swedish company Brilliant Smile's Whitening EVO Toothpaste (P849). Afterwards, I was whisked into a cool, surprisingly plush egg-shaped chair where I would spend the next hour and half or so sleepily incubating in bright blue beams (worry not, protective eye gear is provided). The place even offers the free use of iPads, chargers, and headphones to keep you amused throughout the procedure! Cozy and impressively considerate. To give you far more than a mental image: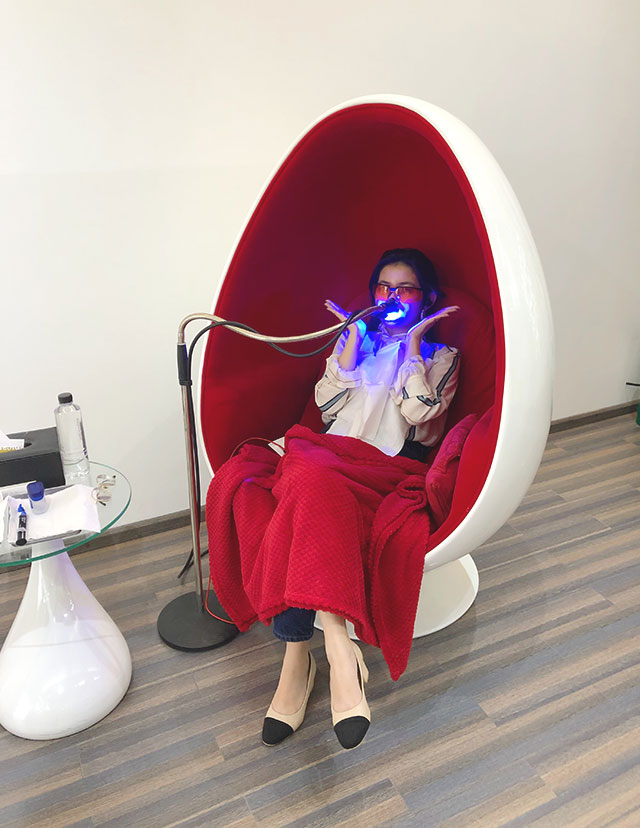 The Smile Bar's goal is to ultimately get you back to whichever natural shade of white you were born with. It differs per person, of course, but one of the attendants told me that a possible gauge are the whites of your eyeballs! You learn something new every day. Again, it's a rough estimate, but if your teeth won't get any paler even after a certain number of sessions, that's how you know you've returned to your original, childhood tooth color.
ADVERTISEMENT - CONTINUE READING BELOW
The entire process is completely painless, by the way! If anything took me aback at all, it was being informed that I'd have to wait three whole days to eat anything colored. Yep, it means what you think it means: a literally stainless, all-white diet involving the likes of plain white rice, pasta in white sauce, white fish, white bread...luckily, I also availed of the Nano Seal Total+ (P1299), which remineralizes and seals the enamel instantly, allowing me to blast patience and skip the recommended 72-hour absorption window. In fact, I ironically had a celebratory glass of red wine that night.
Conclusion
"Results, results!" you clamor. I hear you. As my title benevolently spoils, I swear that it's true: I went a whopping six shades lighter in one afternoon, going down from the initial P20 to a mindblowing P14 (yes, before your treatment, the friendly ladies at The Smile Bar help you officially determine your teeth's level of yellowness). Please focus on that sheer progress and not on how my lipstick was completely erased: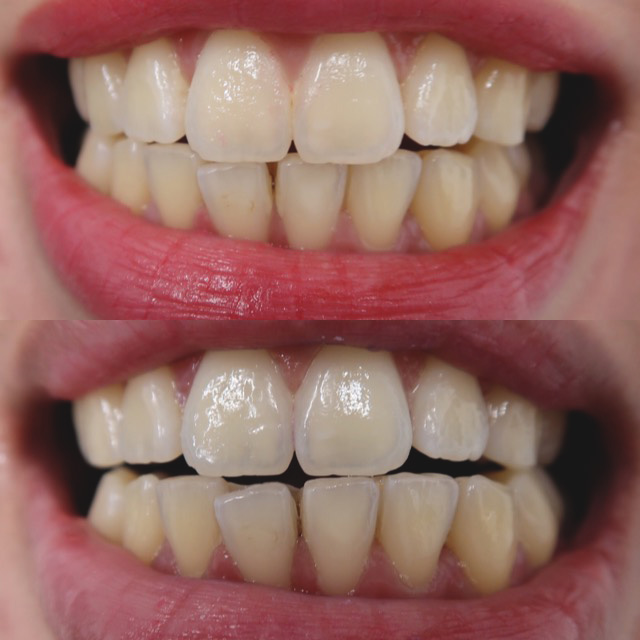 I'm so happy with the results that I literally can't stop smiling. That's the point, isn't it? Indulge me as I flash you my best, biggest, toothiest grin at every opportunity—a huge contrast from just last week, when my Mona Lisa face was still firmly in place. The final product is very natural, too, and almost imperceptible; definitely not the stark, optic kind of white that looks scarily porcelain. It's a subtle yet effective difference I'm perfectly content with.
If you're wondering about aftercare and maintenance, by the way, you can grab the Brilliant Smile Gift Pack (P1999), consisting of the aforementioned mouthwash and a special duo of toothpastes, at the counter as you leave. And should you really want that continous confidence boost, the Premium Smile Bundle (P28,499) is the deal of deals. Perfect for people with an active work, social, and gastronomic lifestyle, it'll give you 12 direct whitening sessions that you can schedule at your convenience or even share with a friend. Insider info: The Smile Bar is immensely popular with brides, so you may consider booking a chair and an appointment in time for any pre-nup shoots your planning. Just a tip!
Avail of the Triple Whitening (PH7499) treatment with Nano Seal Total+ (P1299) at The Smile Bar, Uptown Parade, BGC, tel. no. 541 2854.
Related Stories from Preview.ph
Hey, Preview readers! Follow us on Facebook, Instagram, YouTube, Tiktok, and Twitter to stay up to speed on all things trendy and creative. We'll curate the most stylish feed for you!