So, you've finally decided to get a tattoo. Now the more important question is: Where will you have it placed? Well, we're here to suggest you consider placing it on your shoulder. Whether you prefer it near your clavicle or on top of your collar bone, it's a spot that's easy to conceal and/or flaunt—whatever you're in the mood for.
Although the concept of shoulder tattoos could be daunting (especially if they're massive), a minimalist option that wouldn't take too much space should ease you into it. After all, with local celebrities like Nadine Lustre and international style stars like Kaia Gerber, Halsey, and Dua Lipa opting for small tatts, you already have an idea of just how dainty your chosen design would look like.
10 Pretty and Dainty Shoulder Tattoos to Consider:
1. Windblown flowers
Instead of a massive floral design, consider a creeping colored tattoo of flower stems and petals. They'll look like real blooms against your bare skin! This beautiful artwork looks great placed near your collarbone!
ADVERTISEMENT - CONTINUE READING BELOW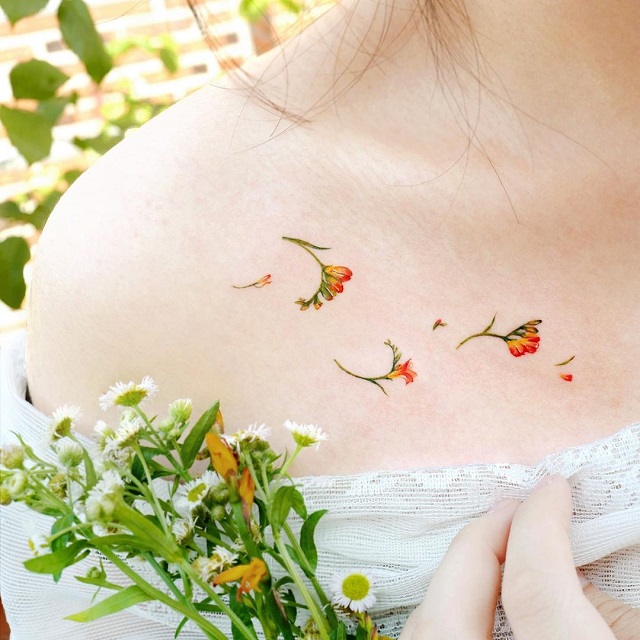 2. A galaxy or constellation
Remember, your shoulder has enough area for you to group more than one design together. A galaxy is a perfect concept to get, whether you choose to have it down in plain black ink or colored. If you love planets, consider placing more than one heavenly body on your skin.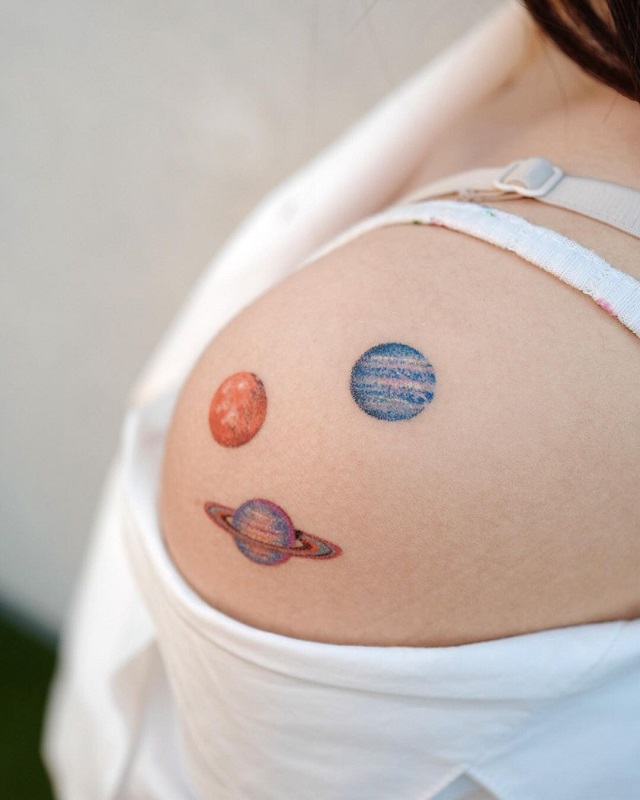 ADVERTISEMENT - CONTINUE READING BELOW
3. A rose outline
If you love roses and don't want to go with the typical design that's filled in with red ink, opt for one done in beautiful thin lines and with minimal shading.
4. A tiny heart
You can never go wrong with a heart tattoo, and that's why it remains a popular option among those who are getting inked for the first time. For a shoulder tatt, consider a small one done delicately like a beauty mark! Drawn on the side of your shoulder or by your collarbone, a tiny filled-in heart in red, black, or white ink would look chic no matter how you look at it.
ADVERTISEMENT - CONTINUE READING BELOW
5. Vine-like wildflowers
If you prefer a more obvious palm-sized tattoo, consider some vine-like wildflowers across your shoulder to your back. This design is beautiful when drawn and rendered in watercolor fashion, and it effortlessly exudes sophistication.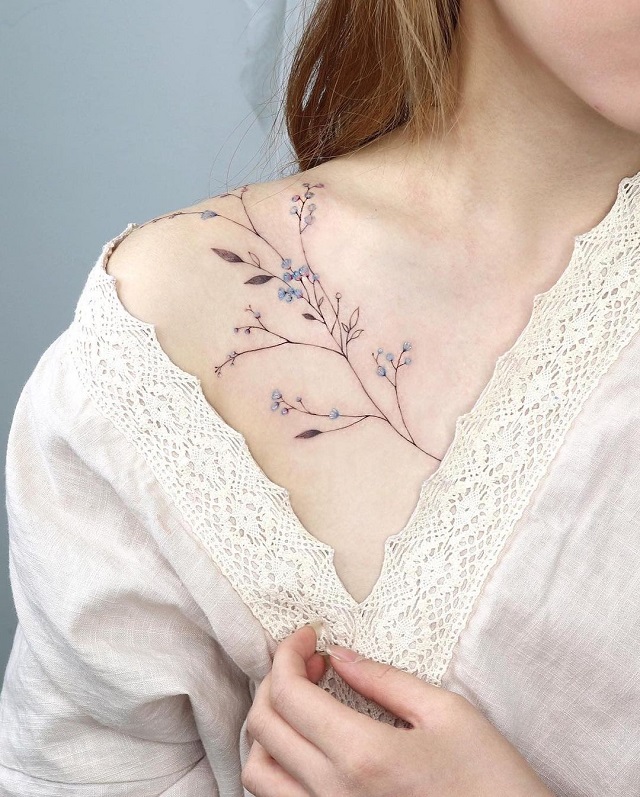 ADVERTISEMENT - CONTINUE READING BELOW
6. Leaves
Are you a nature lover? Leaves look great as a tattoo that's drawn in thin lines and whimsical strokes. Just make sure to not have them filled in so that they'll still have that minimalist effect on your skin.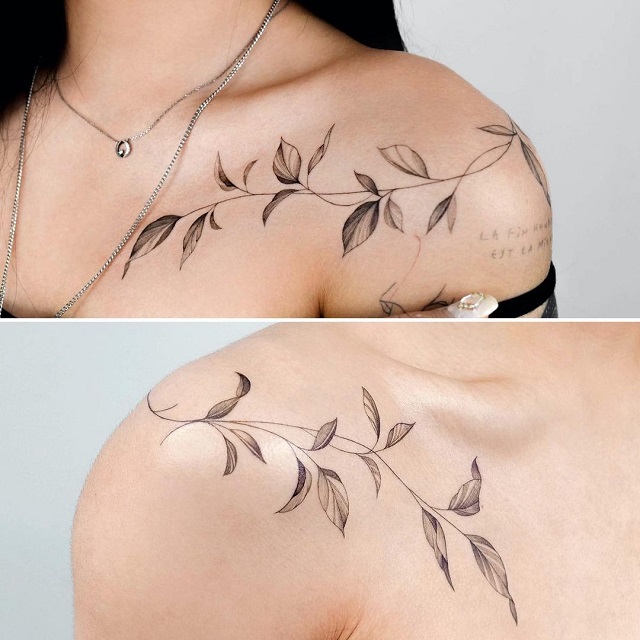 7. A silhouette
If you'd like to honor a significant other or want a stamp of your humanity imprinted on your skin, a silhouette of a face or body is quite pretty, too. The more abstract, the better!
ADVERTISEMENT - CONTINUE READING BELOW
8. A paper airplane
Whether you're a Taylor Swift fan or not, paper airplanes are always adorable when drawn as tattoos! The image could also symbolize your love for travel and adventures!
ADVERTISEMENT - CONTINUE READING BELOW
9. A butterfly
An insect widely popular back in the '90s and early '00s is back in style for more reasons than one. Other than it being a symbol of rebirth and mysticism, the patterns on a butterfly's wings make for an ethereal design that's hard to resist.
ADVERTISEMENT - CONTINUE READING BELOW
10. Something inspired by a fairytale
Think of it as sprinkling a bit of fairy dust across your skin! Whether it's a Peter Pan-inspired tattoo (as seen below) or a group of fairies seemingly flying around your shoulder, a fairytale-like design is perfect for someone who's in touch with their inner child!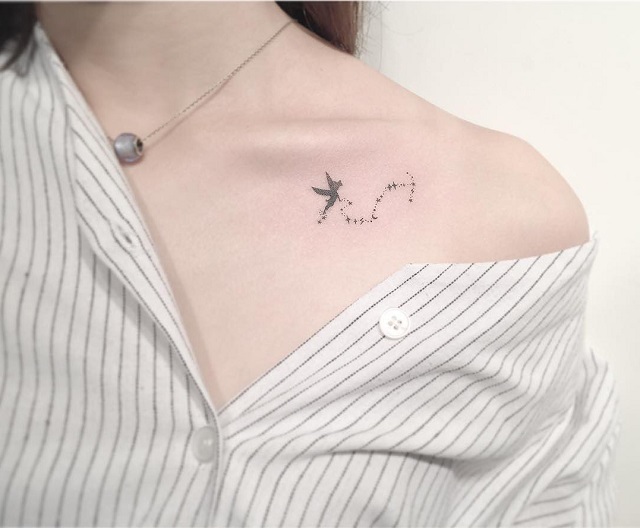 ADVERTISEMENT - CONTINUE READING BELOW
11. Words in cursive
Though minimalist lettering always looks good as a tattoo, consider a cursive font when getting a name, word, or phrase stamped on your shoulder. The fluid lines balance out the placement of your tattoo and make it look classy rather than contrived.
ADVERTISEMENT - CONTINUE READING BELOW
12. A white outline
There's something undeniably beautiful about a white ink tatt! When you want a rather big design on your shoulder, we suggest your artist convert it into an outline that's drawn in white! This way, the image is subtle and easy to conceal (even in broad daylight!) if you don't plan to really show it off.
ADVERTISEMENT - CONTINUE READING BELOW
Related Stories from Preview.ph
Hey, Preview readers! Follow us on Facebook, Instagram, YouTube, Tiktok, and Twitter to stay up to speed on all things trendy and creative. We'll curate the most stylish feed for you!