You might not think of Taiwan as a beauty destination, especially with Korean and Japanese brands dominating the Asian beauty scene. But we kid you not, they can easily compete with the quality and efficacy of both countries. After a trip to Taiwan with TAITRA (Taiwan External Trade Development Council), it was an eye-opening experience on just how big the country's beauty industry is and how much work and research goes into every product.
So the next time you're in Taipei soaking up the sights, don't forget to duck into their beauty stores and stock up on these rare beauty gems. Trust us, you won't regret it!
1. A hydrating face mist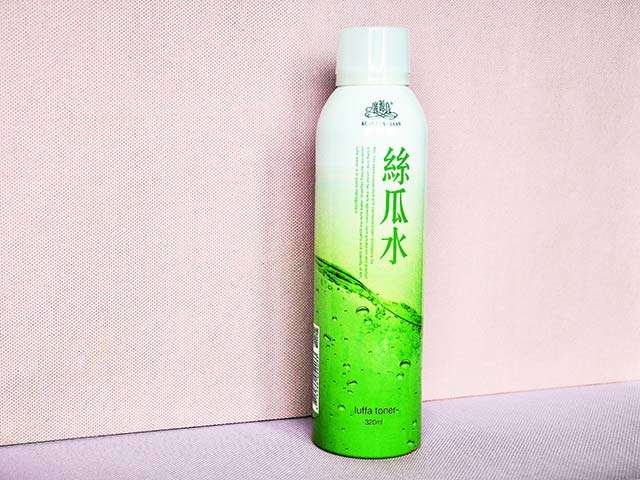 IMAGE Janinna Santos
Kuan Yuan Lian Luffa Water Spray

If you're a fan of face mists, you'll love this one. Safe to use on bare skin and over makeup, this spray uses the moisturizing abilities of the luffa plant to heal your skin.
ADVERTISEMENT - CONTINUE READING BELOW
2. Sheet masks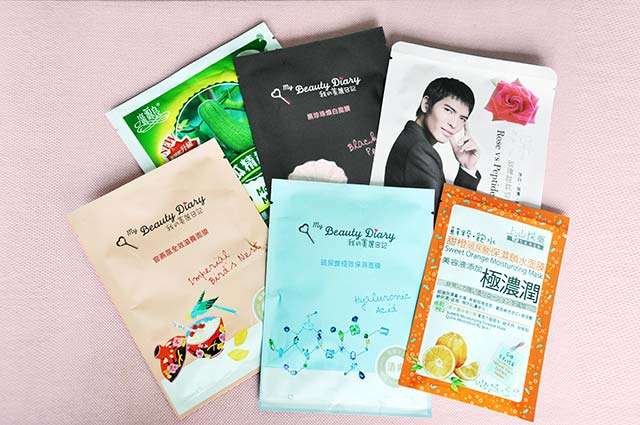 IMAGE Janinna Santos
Kuan Yuan Lian Luffa Moisturizing Mask, My Beauty Diary Black Pearl Sheet Mask, Biochem Rose vs Peptide Sheet Mask, My Beauty Diary Imperial Bird's Nest Sheet Mask, My Beauty Diary Hyaluronic Acid Sheet Mask, Tsiao Sweet Orange Moisturizing Mask
Yes, Taiwan does sheet masks, too! But unlike its Japanese and Korean counterparts, these masks make use of really, really thin sheets that hug your face's contours perfectly. That means once its on, it stays in place until you're treatment is complete.
3. Scalp care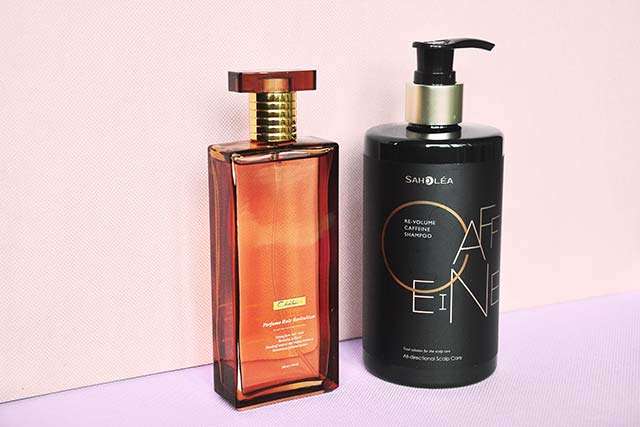 IMAGE Janinna Santos
Chihtsai Perfume Hair Revitaliser, Saholea Re-Volume Caffeine Shampoo,
Taiwanese hair products put emphasis on the health of the scalp rather than the individual strands. And you know what they say, right? Healthy scalp, healthy hair!
4. Gold products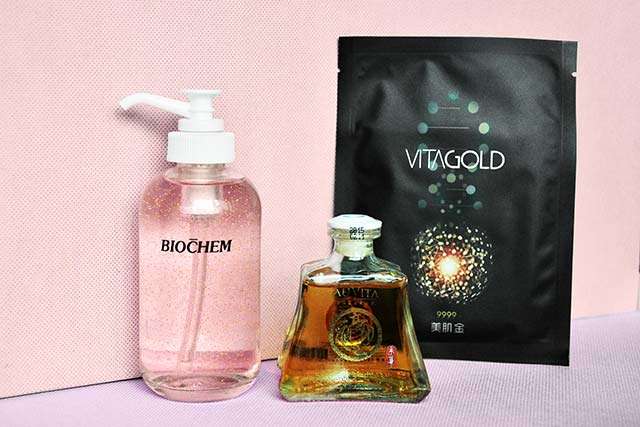 IMAGE Janinna Santos
Biochem Rose Rejuvenate Essence, AuVita Premium Golden Whisky, VitaGold 999 Sheet Mask
This is the ultimate in indulgent. Though gold-infused products have been around for a while, the Taiwanese take it to another level. How about some gold whisky to sip on while you're soaking in your gold-infused sheet mask?
5. Eyeliner and eyebrow products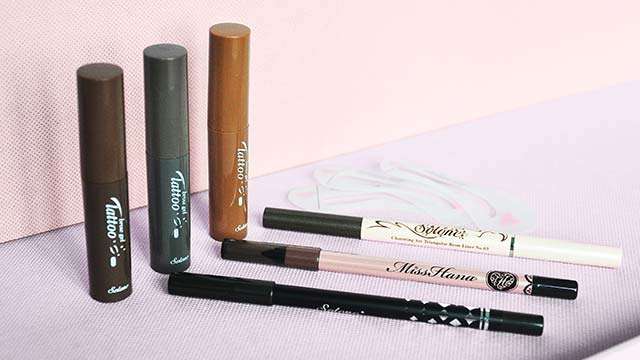 ADVERTISEMENT - CONTINUE READING BELOW
IMAGE Janinna Santos
Solone Light Brow Gel Tattoo, Solone Magic Waterproof Eye Pencil, Miss Hana Water Proof Gel Eyeliner, Solone Charming Arc Triangular Brow Liner No. 03
As with any country with hooded lids, they're obsessed with making eyes look bigger. And because of this their eyeliners and eyebrow products deliver amazing results! (The cheap price tag doesn't hurt, either. You can even find some of these at Family Mart!)
6. Cleansing brushes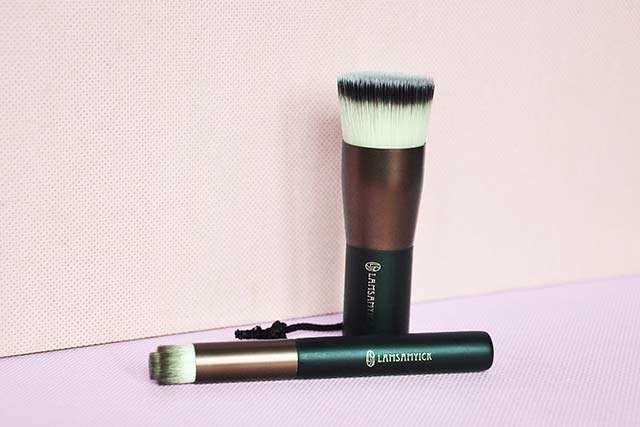 IMAGE Janinna Santos
Lamsamyick Beauty Brush Plus Pores Cleansing Brush, Lamsamyick Beauty Brush Series Clean Acne Brush
Sometimes, simply using your hands isn't enough to fully cleanse your skin. So what's a girl to do? Use a cleansing brush, of course! The ones above are SUPER soft, soft enough to use for everyday cleansing, but have the right amount of subtle exfoliation to keep your skin looking fresh.
7. This super affordable setting spray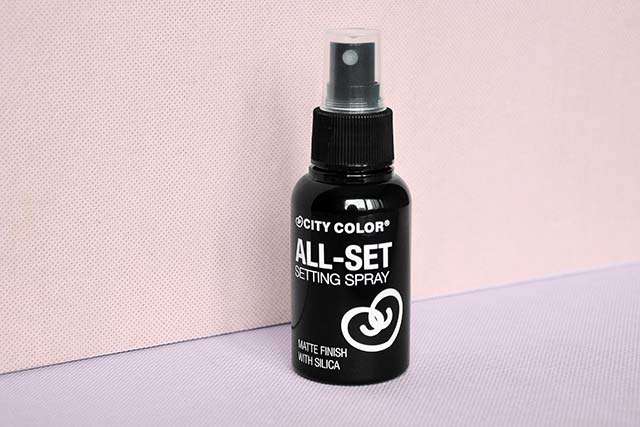 IMAGE Janinna Santos
City Color All-Set Setting Spray

Tired of getting shiny midday? This is the spray to end all oiliness! With silica to control oil (and a budget-friendly price tag to boot) your makeup lasts all day.
8. Natural products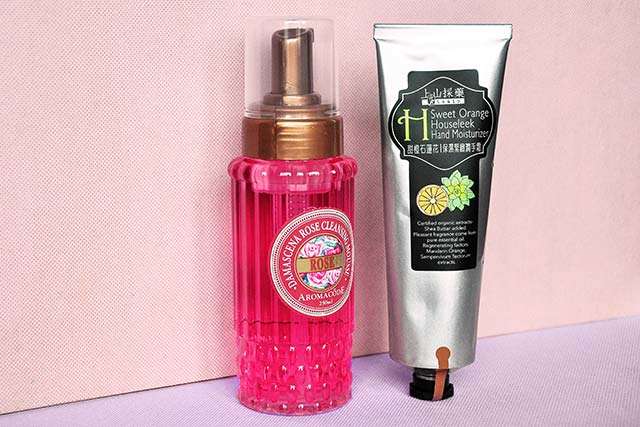 IMAGE Janinna Santos
Arwin Damascena Rose Cleansing Mousse, Tsiao Sweet Orange Houseleek Hand Moisturizer
If you're a fan of natural scents, you're in luck. The Taiwanese do naturally fragranced products right by adding just the right amount of scent without being too offensive.
ADVERTISEMENT - CONTINUE READING BELOW
9. A J.Lo-approved hair product
IMAGE Janinna Santos
SH-RD Protein Cream
Ever wonder why J.Lo's mane is always in tip top shape? She swears by this protein cream. Not only does this cream smooth away flyaways and frizz, it's totally weightless, too. Plus, aside from using this as a heat protectant, it smells good enough to help dissipate that amoy ulam smell you get when eating in cafeterias.
10. Hyaluronic acid products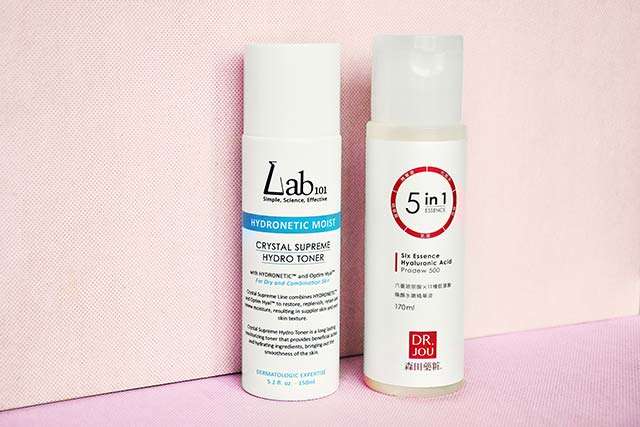 IMAGE Janinna Santos
Lab 101 Hydronetic Supreme Hydro Toner, Dr. Jou Six Essence Hyaluronic Acid
They're serious about hydration over there. The most popular skin care ingredient in Taiwanese beauty is hyaluronic acid, and that's because it helps your skin hold moisture. Remember, girls: Moist skin is less prone to wrinkles, more supple, youthful, and definitely more radiant, too!
Related Stories from Preview.ph
Hey, Preview readers! Follow us on Facebook, Instagram, YouTube, Tiktok, and Twitter to stay up to speed on all things trendy and creative. We'll curate the most stylish feed for you!