When thinking about a flower that protrudes overflowing warmth and positivity, the sunflower is definitely the first that comes to mind. Just by seeing its sunny head adorned with bright, abundant petals, you're instantly attracted to its inviting and uplifting ambiance. If you're the type who carries contagious happiness and constant optimism, the sunflower may the best flower to get inked.
What does a sunflower tattoo mean?
Aside from optimism, sunflowers also symbolize intelligence, prosperity, faithfulness, and long life. These are also aspects in life worth manifesting, and a sunflower tattoo can be something you can draw strength from. So, if you feel a strong connection to this blossom, we collated simple and quirky sunflower tattoo ideas to suit your taste below!
12 Sunflower Tattoo Ideas for Your Next Ink
1. Sunflower Doodle
If you want to veer away from the typical floral style, you might like the look of a doodle tattoo. It presents a raw and minimalistic effect that pairs well with sunflowers. You can also add minimal blotches of color to make your tatt look hip and fun.
PHOTO BY

Instagram/@gigi_tattooer

2. Small Sunflower
If you are looking for a dainty way to ink a sunflower, going for a small, delicate design is always the way to go. Like the person below, you can also place your tiny tatt on your collarbone so you can show it off or conceal it as you wish.
ADVERTISEMENT - CONTINUE READING BELOW
PHOTO BY

Instagram/@lekko9na1

3. Sunflower and Daisy Bouquet
Adding another flower element to your sunflower ink will give your tattoo a more personal touch. For example, the tattoo below is joined with daisies which bodes well together with the sunflower because it represents youth, happiness, and love. You can also try choosing another floral that you associate with to curate the perfect meaningful bouquet!
PHOTO BY

Instagram/@j.colorist

4. Colored Sunflower
A popular choice for flower tattoos will always be its exact image in color. Rendering the vibrant yellow petals of a sunflower as a tatt allows you to fully capture its essence effortlessly. For a less plain look, consider inking two sunflowers instead of just one!
ADVERTISEMENT - CONTINUE READING BELOW
PHOTO BY

Instagram/@eunyutattoo

5. Watercolor Sunflower
Another enticing way to create a colored tattoo is through a watercolor style. This technique uses dreamy strokes and hues to achieve an ethereal impression. However, keep in mind that this kind of ink requires frequent retouching because its edges are very soft. Once you see the beauty of the watercolor style, though, you'll definitely feel that it's worth preserving.
ADVERTISEMENT - CONTINUE READING BELOW
PHOTO BY

Instagram/@eunyutattoo

6. Sunflower Line Tattoo
Another doodling technique that will look great as a tattoo is the single line, in which a design is formed using just one continuous stroke. We highly suggest that you try sketching one yourself to give your sunflower tattoo a personalized touch.
PHOTO BY

Instagram/@gigi_tattooer

ADVERTISEMENT - CONTINUE READING BELOW

7. Sunflower Head
The image of a sunflower head is powerful enough to capture the flower's radiating beauty and joyfulness. It also provides a delicate touch which is perfect if you're aiming for a minimalist tatt.
PHOTO BY

Instagram/@polamtattoo

8. Cartoon-Style Sunflower
If you carry a youthful persona just like the sunflower, you can choose a tattoo with a cartoon style effect to match. If that's not quite not up your alley, having it in a plain black & white motif would be a classy option.
ADVERTISEMENT - CONTINUE READING BELOW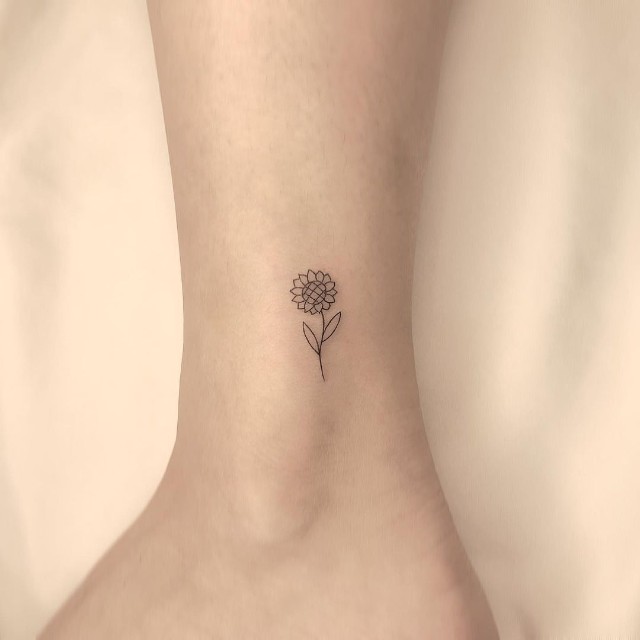 9. Sprinkled Sunflowers
Carrying enthusiasm is not just a blessing to your well-being but also to the people you encounter. This is a trait you should always be proud of, and tattooing sprinkled sunflowers greatly interprets how you naturally shower positivity wherever you go.
PHOTO BY

Instagram/@nicolka.ink

ADVERTISEMENT - CONTINUE READING BELOW

10. Sunflower Phases
Sunflowers grow quite fast, and they bloom before we even realize. A tattoo of the phases of their growth can lead you to look forward to brighter days ahead, especially on days when you don't feel your best. It can also be solid reminder that optimism can help you overcome any slump.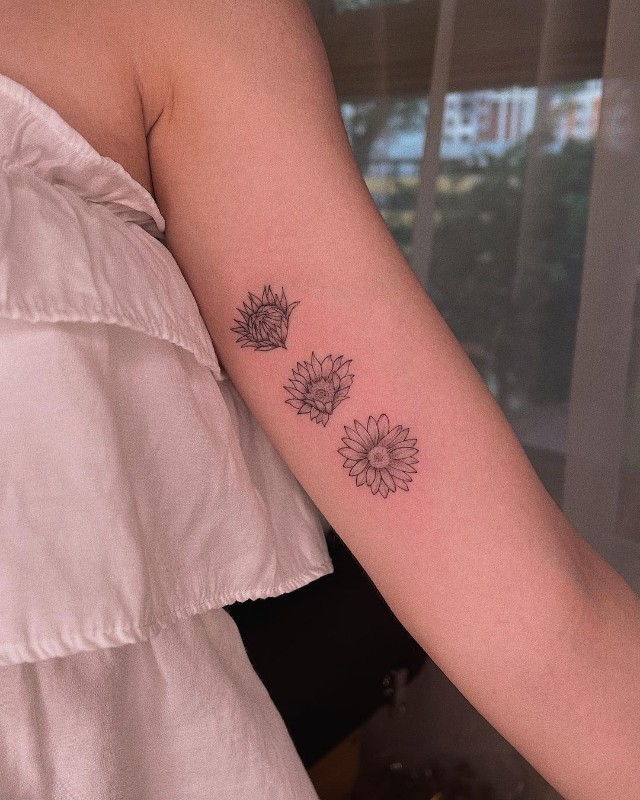 ADVERTISEMENT - CONTINUE READING BELOW
11. Embrace
Sunflowers represent contentment and loyalty. This makes it a great option for a self-love tattoo, just like the design below that depicts a self-embrace or two figures hugging one another. This will remind you to appreciate all that you have and all that you are.
PHOTO BY

Instagram/@gigi_tattooer

ADVERTISEMENT - CONTINUE READING BELOW

12. Monochrome Sunflower
No one can wrong with a simple black tattoo, and a sunflower design would look so elegant on anyone. Even without the bright petals, a sunflower's silhouette is distinct enough to still feel its cheerful character. Having it in simple black link will also save your ink from fading fast, and it will remain classic through time.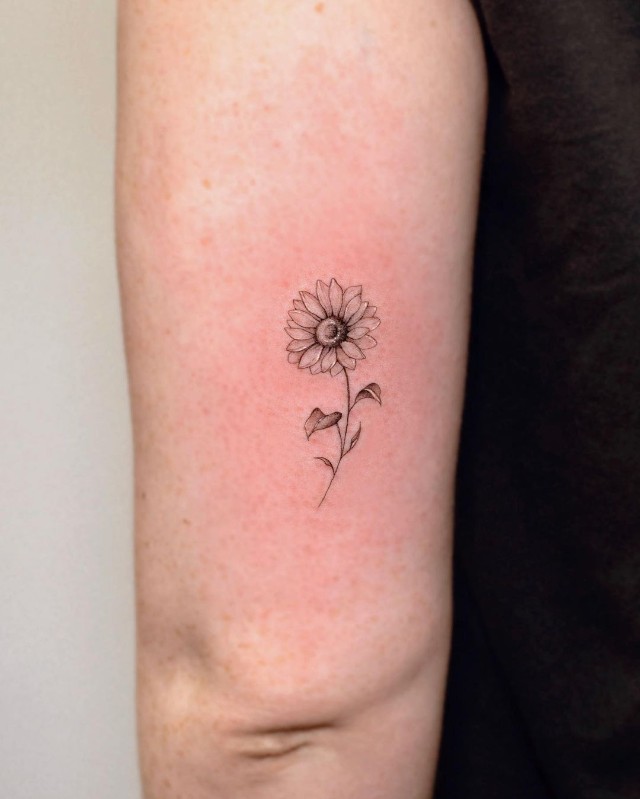 ADVERTISEMENT - CONTINUE READING BELOW
Related Stories from Preview.ph
Hey, Preview readers! Follow us on Facebook, Instagram, YouTube, Tiktok, and Twitter to stay up to speed on all things trendy and creative. We'll curate the most stylish feed for you!