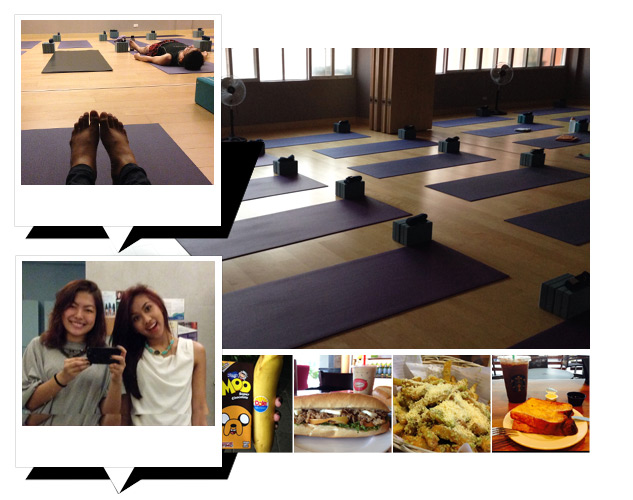 Jacque de Borja, Fashion Assistant
Fitness Challenge: Flexibility Not Required and Vinyasa Flow Yoga
What made you want to try Flexibility Not Required/FNR and Vinyasa Flow Yoga?
I hate to admit it, but I'm really a lazy person. I have always lived a sedentary lifestyle except for a couple of Physical Education classes back when I was still in school. I wanted to try something that is not too intense to help me ease into a new fitness routine. And also, the studio that I wanted to try was conveniently located near my house and my office.
ADVERTISEMENT - CONTINUE READING BELOW
What did you feel prior to attending your first class? Were you excited or nervous? How did you prepare yourself?
CONTINUE READING BELOW
Recommended Videos
I was actually nervous and a bit scared; I haven't done anything physical prior to this class except for one Plana Forma class I took months before. I attended my first class with my friend, Belle Rodolfo, and it helped ease me into trying something new. I didn't do any preparations; I just knew that we couldn't eat at least two hours before class.
Well, I was looking forward to it to since the first class I attended was called FNR (Flexibility Not Required) so I knew it would be a nice intro class.
How was the experience?
I was given the chance to try out yoga for a month; I had the unlimited card, which allowed me to take as many classes as I could. For the month of October, I was able to attend three to four classes per week. I felt really good and felt really accomplished every time I get out of class. And to say it in a subtle way, I was hooked!
ADVERTISEMENT - CONTINUE READING BELOW
I like how yoga helps you become more flexible. It teaches you how to listen to your body and that you don't have to be competitive when it comes to doing the poses. It lets you do it at your own pace at the same time giving you the challenge to be stronger.
Did you engage in any special diet to back up your fitness regimen?
I did not actually go through a diet, but I tried to watch what I ate and drank when I can, but when it comes to eating out, I did not limit myself.
What changes in your body did you observ while attending the classes?
I definitely felt lighter and stronger physically. I used to have no upper body strength and flexibility, but the classes I took help me slowly work on those issues. I noticed that I had better sleep and would wake up refreshed in the morning, which didn't happen when I wasn't doing any kind of workout.
ADVERTISEMENT - CONTINUE READING BELOW
Do you plan to continue it after the challenge?
Oh, definitely! I just have to include the regular yoga classes in my budget! But really, I would love to continue practicing yoga. It really helped me physically and I have also grown to love the studio and the teachers I have practiced with!
One Month Unlimited Yoga, P4700, Urban Ashram, Brixton St., Pasig City; (02) 661 YOGA
Find out how Ira literally got hot in Bikram Yoga after the jump!
>