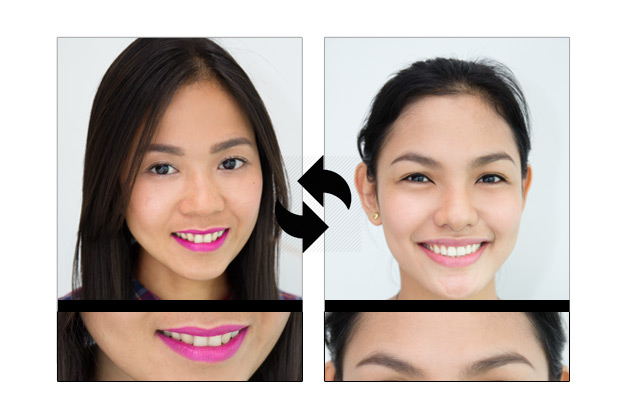 Nikki Santiago, Managing Editor
Challenge: To sport Bea's bright pink lip
The focus of my signature look is always on my eyes—strong brows, smudged upper and lower liner, and several coats of mascara. I add a dusting of blush and a swipe of plain lip balm for moisture, and that's it. Yes, I didn't mention lipstick because I hardly ever use it, especially anything brightly-colored. If I have to, I stick to my deep red and wine. So when Bea gave me no option but to wear Nyx's Shocking Pink, I was, well, quite shocked with doses of apprehension.
ADVERTISEMENT - CONTINUE READING BELOW
CONTINUE READING BELOW
Recommended Videos
After applying the lipstick, it felt strange. My confidence plummeted on first swipe. After a few peeks in the mirror, it finally grew on me and I ended up wearing the color the whole day. Friends from the office immediately noticed the new look and threw out compliments generously. But would I try it again? Let's just say I plan to get that lipstick for myself.
Bea Jocom, Editorial Assistant
Challenge: Groomed and lush brows like Nikki's
Both my day and night makeup revolve around a liquid liner and a bright matte lippie. I simply make the liner thicker, add a winged tip, and finish off with a swipe of an intense hue on my lips when I'm heading out. Other than that I never really cared about anything else, especially the whole eyebrow obsession and how some people can't leave the house without fixing them. That was until I tried Nikki's signature bold brows. It wasn't my first time to use brow products but for some reason, trying it the way Nikki did helped me change my view on it. It dawned on me that a well-groomed brow really does complete the face. I finally understand what Nikki meant when she said that she wishes all girls could experience brow bliss because now I honestly don't think I could ever go back to my old ways.
ADVERTISEMENT - CONTINUE READING BELOW
Up next, Associate Fashion Editor Kabbie Alipio and Social Media Editorial Assistant Maui Rodriguez switch up light and dark. Click on the next page to see which looks they swapped!
>