With tattoos becoming more socially accepted, there isn't an area of the body that is unfit for an ink. However, shoulders are becoming the most favored spot as they are highly visible. Getting a tatt on that area can look feminine, sweet, but also sensual—especially when you have gorgeous collarbones to frame it! That being said, some ink there excellently captures one's personality.
This area of the body is very versatile as you can show off your ink and make a bold statement or cover it up if you need to. The shoulder is associated with strength, so getting yourself an ink here is a great way to literally wear your heart on your sleeve! It also lends itself well to a variety of different designs, both big and small.
This is also convenient and longer lasting than any jewelry because ink on your shoulder can be an accessory you will never forget to put on before leaving home. Besides, who doesn't love a bare shoulder look, right? It's an effortless way to flaunt your tatt!
ADVERTISEMENT - CONTINUE READING BELOW
If you're looking for a design inspo for your first (or next) ink, keep reading 'cause here's a slew of ideas to choose from.
10 Small Shoulder Tattoo Design Ideas You Won't Regret Getting
1. A Cherry
If you're looking for something that's colorful but a little uncommon, this is the perfect one for you! Aside from how cute and chic it looks, having two cherries etched on your skin gives more meaning to it. ICYDK, it can represent everlasting immortality and rebirth. Sounds awesome, right?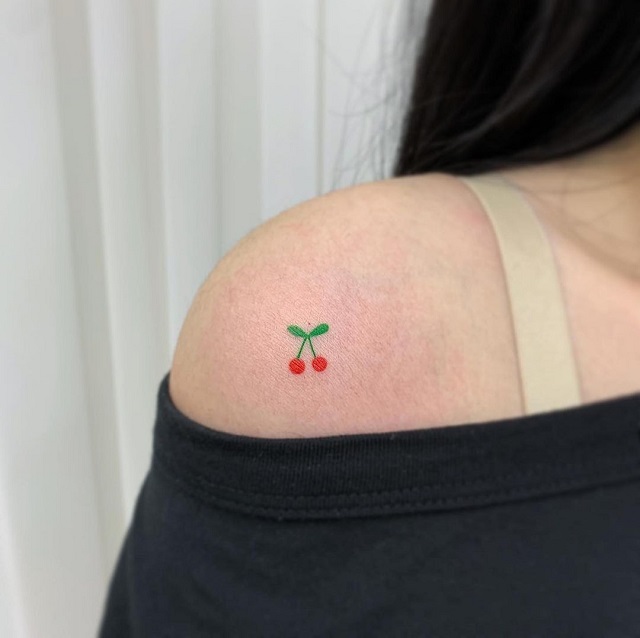 2. A Heart
Heart tattoos are quite the popular design especially for a first ink. They are one of the prettiest motifs that can fully show your passionate but emotional soft side. So if you're someone who is very sentimental and personal, this one's for you! You can opt for one heart drawn, or two hearts depending on the meaning that you want to convey.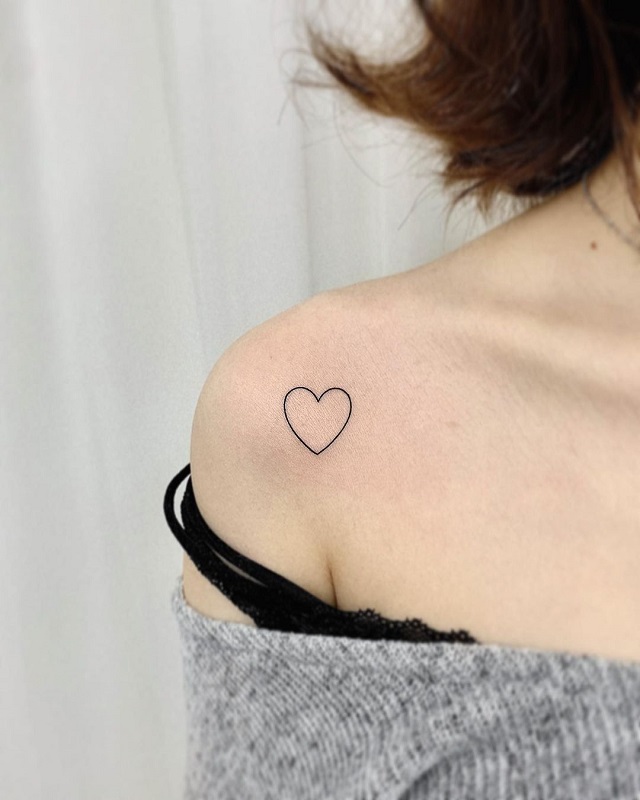 ADVERTISEMENT - CONTINUE READING BELOW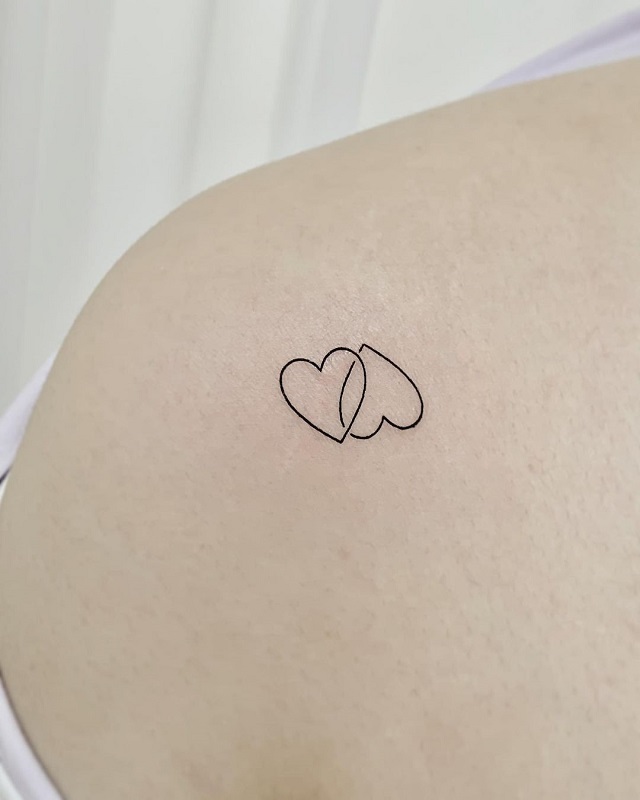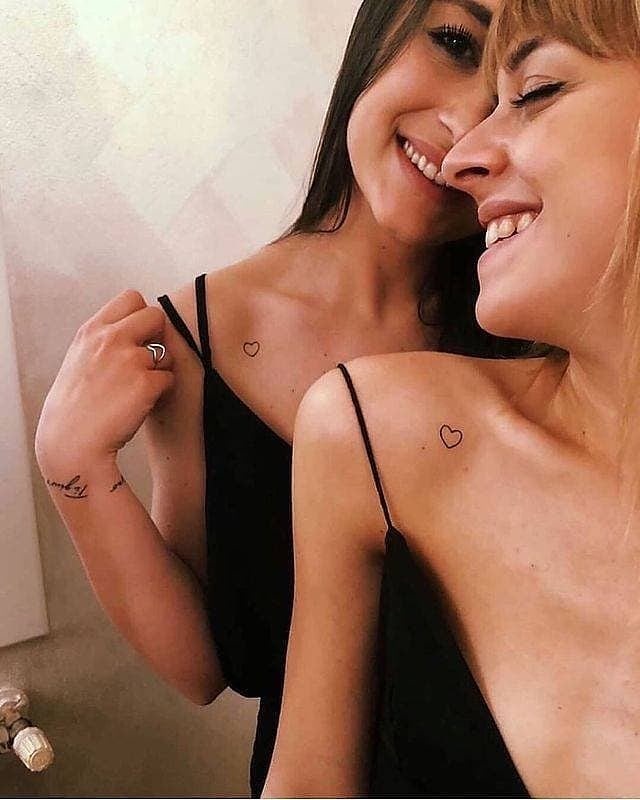 ADVERTISEMENT - CONTINUE READING BELOW
Plus, you can even get a matching tatt with your bestie! So cute!
3. A Butterfly
Another most favored tattoo design is the butterfly. Signifying transformation and change, this can be inked to represent a period of growth or as a way to symbolize focusing on the new and letting go of the past. It is also associated with freedom, femininity, and beauty. Butterflies come in various species and colors and make an eye-catching statement in both black and colored ink.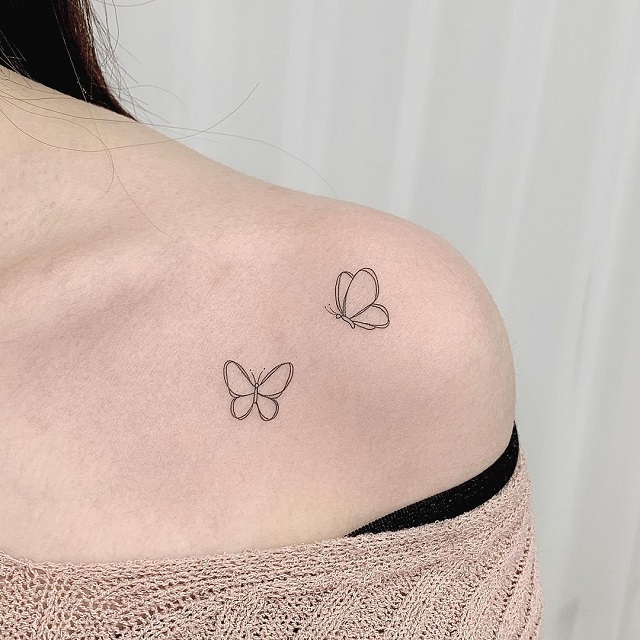 ADVERTISEMENT - CONTINUE READING BELOW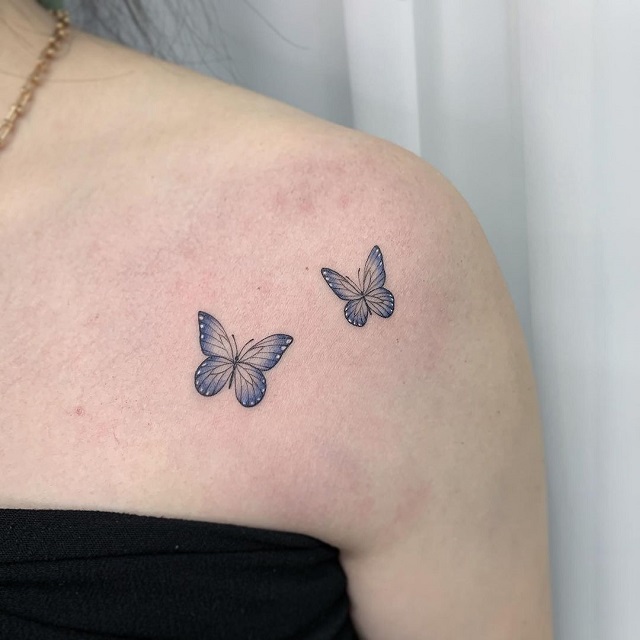 4. A Quote
What better way to express yourself than with words you live by! Each person has their own favorite quote and etching it on your skin can be a way to make it a part of your life. It's quite poignant , as well, to have an inspiring quote that can motivate you and be your constant reminder! You can have it written in script or your own handwriting to make it even more distinctive!
ADVERTISEMENT - CONTINUE READING BELOW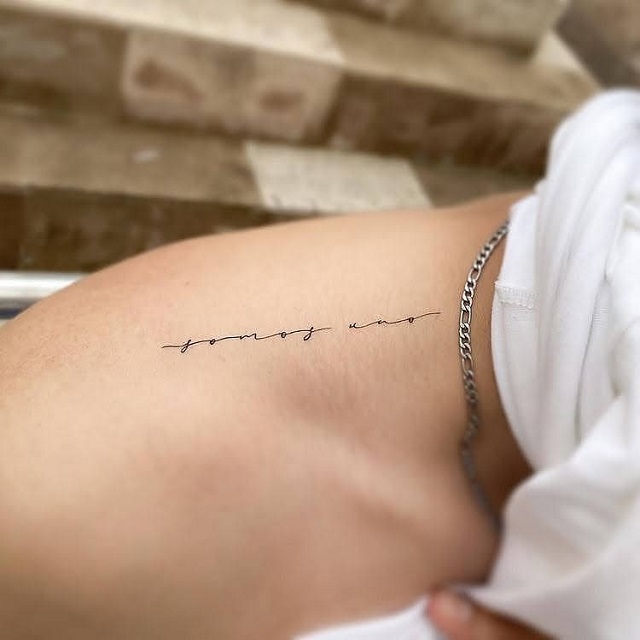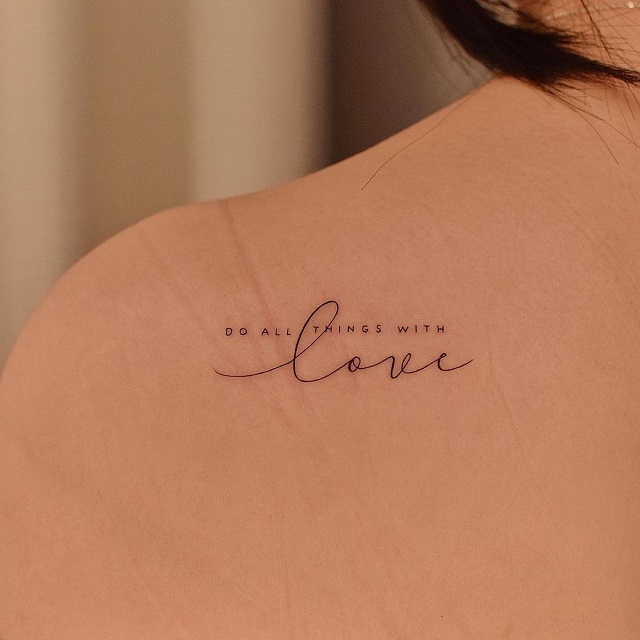 ADVERTISEMENT - CONTINUE READING BELOW
5. A Footprint
Another design that is uncommon is a sketch of a footprint. Having this as a tattoo symbolizes the right path of life that many good men and women have walked before us. However, this is also often used as a declaration of love for a child or a loved one. So for the moms (or moms-to-be), this is a perfect design choice for you!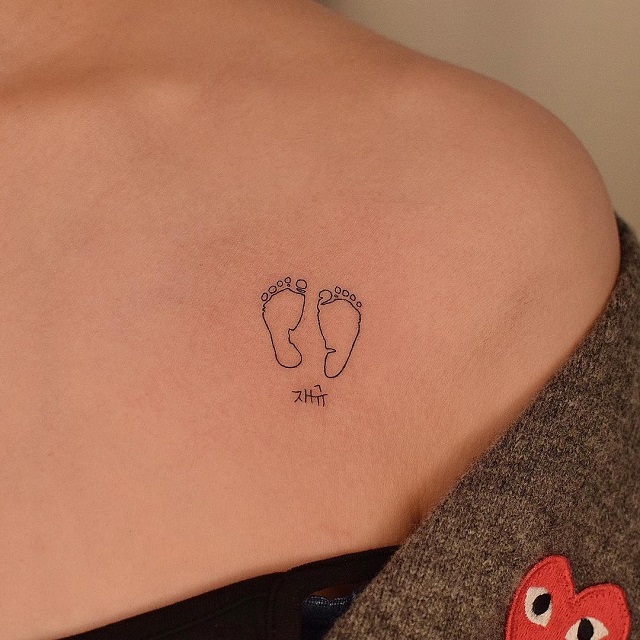 Of course, we won't forget the fur moms as well! Having your dog or cat's paw print is something that is equally pretty, too! You can even add a unique touch to it by incorporating hearts to the design just like this one!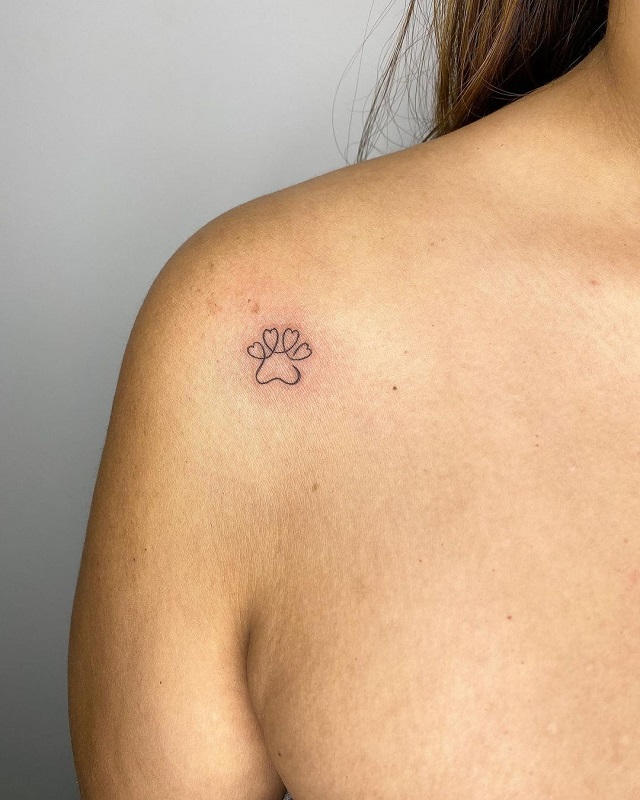 ADVERTISEMENT - CONTINUE READING BELOW
6. An Airplane
For people who love to travel, an airplane ink design is a no-brainer! Aside from its symbolic meaning for journeys, an airplane tattoo (just like the butterfly tatt) also represents freedom and adventure. It holds countless meanings, depending on the direction and other symbols you put in with it. But regardless of those, this is a stunning tattoo to get since they do the job of being eye-catching while also giving off a lot of meaning!
ADVERTISEMENT - CONTINUE READING BELOW
7. A Special Date or Number
Another distinctive design idea is stamping a special date or a significant number. Numbers are very flexible in meaning, which is why their significance differs with every individual making it more special. They're usually used to remember and embrace certain events in our lives that are greatly important to us, like anniversaries, birthdays, or the day a loved one had passed.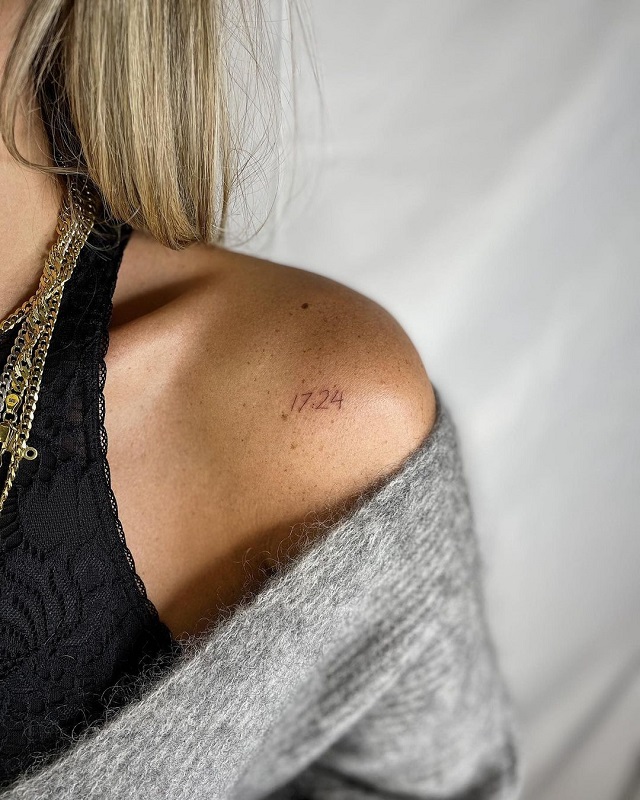 ADVERTISEMENT - CONTINUE READING BELOW
For those who are more in tune with the spiritual world, numbers can also be linked to numerology, Tarot, or superstition.
8. Line Tattoo
Something that became quite popular is the line tattoo. People opt for this design because of its simplicity, uniqueness, and interesting minimalist look. If you're someone who enjoys the simple things in life, this is a perfect choice for you! It's also a great way for you to express yourself without being too ostentatious.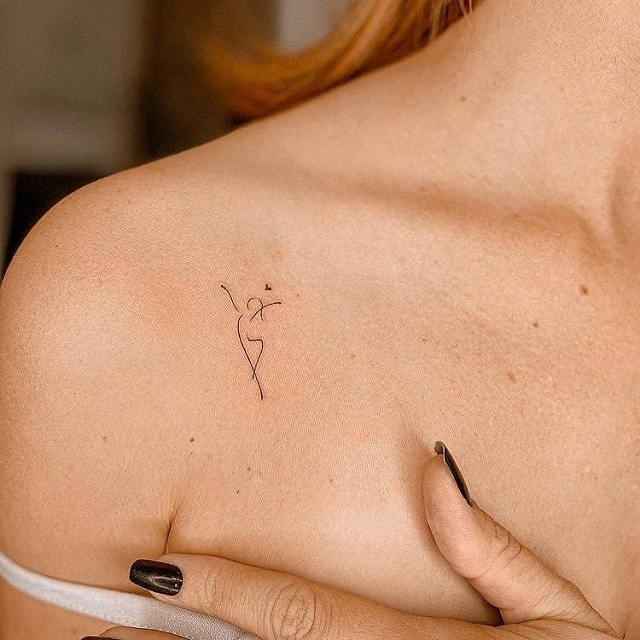 ADVERTISEMENT - CONTINUE READING BELOW
9. A Moon
If you're one who appreciates the vast night sky, then consider a heavenly design (pun intended.) The moon is a part of a roster of popular designs because of its simplicity and aesthetic look. It symbolizes growth, creativity, and manifestation, too. There are many silhouettes to choose from, be it a full moon or a crescent moon, all of which can be tailored to suit your style and mindset.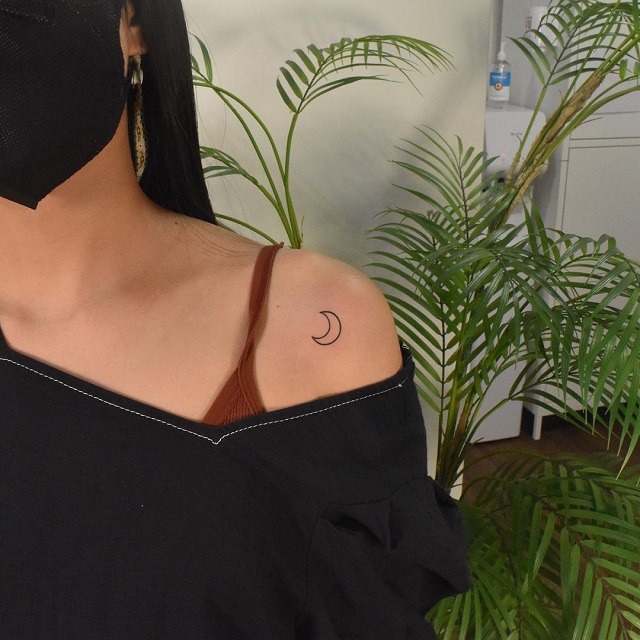 ADVERTISEMENT - CONTINUE READING BELOW
10. A Dandelion
Another extraordinary ink design is a dandelion. Having this as a tattoo represents resilience and rebirth. Because of its unique puff-ball seed head, it gives a strong association with hope, optimism, and wishes. It is also a great reminder to enjoy every moment that you are blessed to have.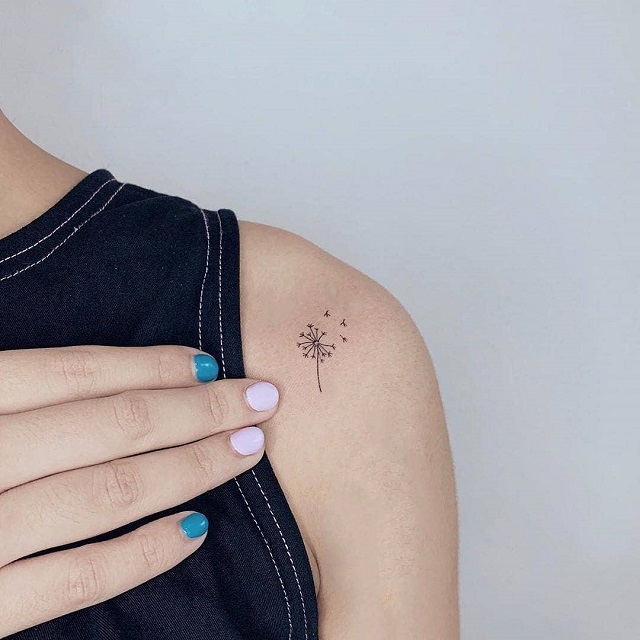 ADVERTISEMENT - CONTINUE READING BELOW
Related Stories from Preview.ph



Hey, Preview readers! Follow us on Facebook, Instagram, YouTube, Tiktok, and Twitter to stay up to speed on all things trendy and creative. We'll curate the most stylish feed for you!