If you love to accessorize, an ear tattoo may be something you would want to consider. It will look amazing when curated with jewelry, like an earring you can't take off! Ear tatts are also perfect for individuals who like to be "low-maintenance," because it already serves as an accessory itself. Just like earrings, it will add a cool detail to the face especially when you have your hair up. You can also just put your hair down when you want to hide it, epsecially if your work environment is strict about tatts.
But before having your ear inked, there are a few things you should know. The ears are a sensitive region so expect the pain level to be quite high. You should obviously brace yourself for a loud tattooing session, too. You might also experience jaw lock, headaches, migraines, and dizziness after your appointment, but these conditions are temporary—unlike your new tattoo.
Not only do ear tatts look eye-candy, they can hold interesting meanings, too. So if you are on the hunt of an ear tattoo, let this list help you out. Just scroll ahead!
10 Meaningful and Eye-Catching Ear Tattoos
1.
Snowflake

The intricate details of a snowflake makes each one look very different from one another– just people. That's why if you treasure your individuality, a snowflake tattoo is the one to get. We suggest that you design your own snowflake ink to make it one-of-a-kind!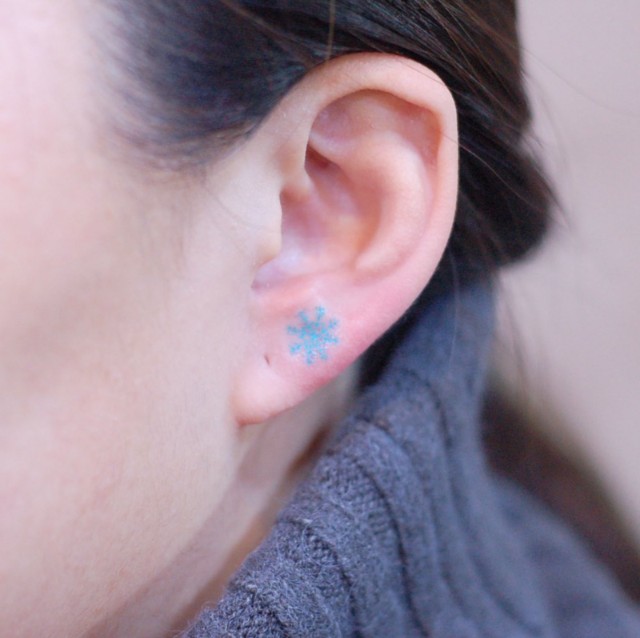 ADVERTISEMENT - CONTINUE READING BELOW
2.
Butterfly

Fluttering butterflies are known as a symbol of freedom and new chapters in life. It's even more meaningful for women, since we go through specific obstacles others usually do not. But once we rise above the hurdles, they are meant to be celebrated, and one way to do so is through a dainty butterfly tatt.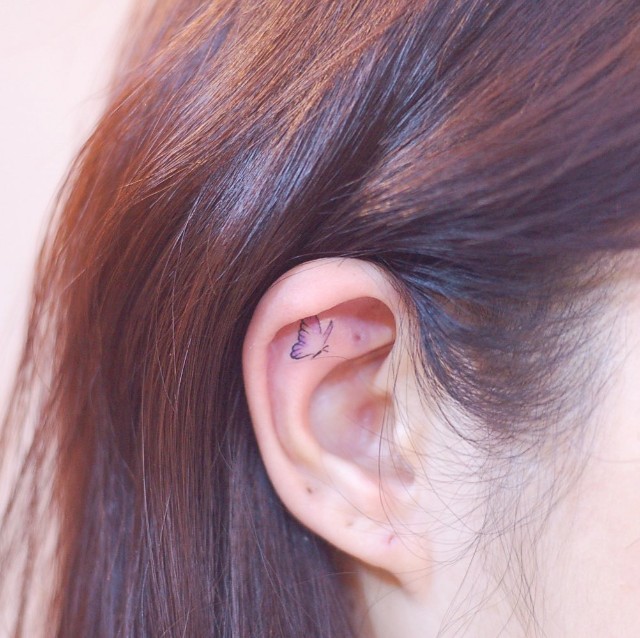 3.
Marigold

Whenever the sun is out, the way a marigold opens their majestic, bright, and full golden petals is simply swoon-worthy. It will look so dainty as an ear tattoo, just like this photo which gives an illusion of an ear cuff! Aside from being a pretty design, the flower represents passion and creativity, which is perfect for individuals who are dedicated in their craft.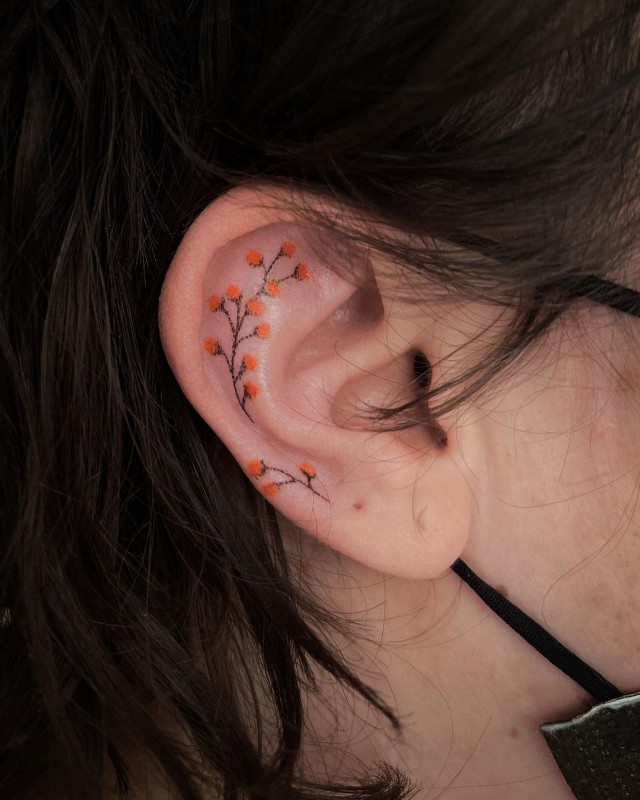 ADVERTISEMENT - CONTINUE READING BELOW
4.
Blue Rose

The color of blue roses may be artificially done, but they are no doubt very beautiful to look at. Unlike the typical red roses, blue petals signify imagination, fantasy, and mystery. A tattoo of this highly fits someone who is in the creative field because it will remind you to let your imagination run wild and keep mastering your craft.
PHOTO BY

Instagram/@wittybutton_tattoo

ADVERTISEMENT - CONTINUE READING BELOW

5.
Hummingbird

If you need more optimism in your life, let this hummingbird ear tattoo be with you in your journey. This bird is known for overcoming difficult situations with cheerfulness, positive thinking, and love. It will remind you to keep going and see everything with a silver lining. You'll surely feel lighter and happier every time you see it.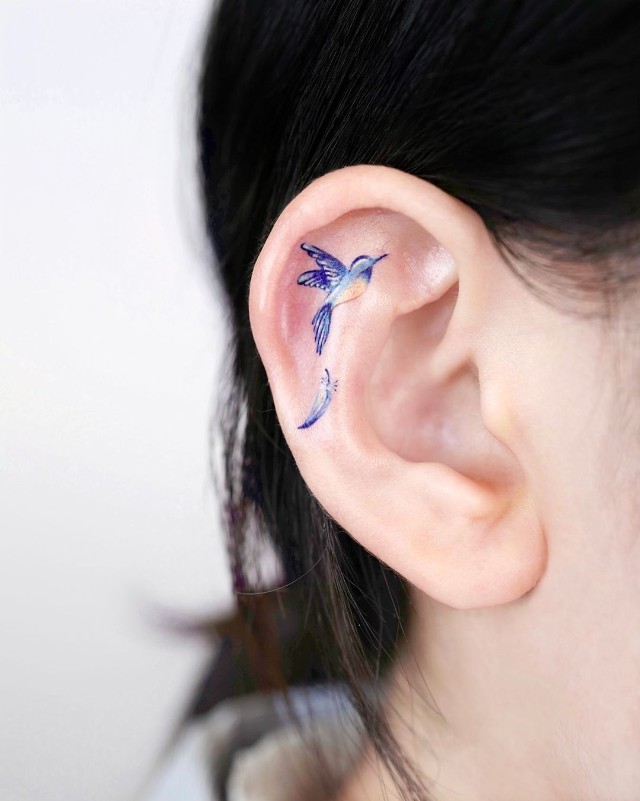 ADVERTISEMENT - CONTINUE READING BELOW
6.
Pisces

Your zodiac sign will always be a good choice for an ink because they represent your personality (if you believe in astrology, that is!). If you're a Pisces, for example, a simple fish ink will lay so charming on your ear. Fishes are also said to attract fortune and prosperity, and this tattoo is one great way to manifest it.
PHOTO BY

Instagram/@ tattooist_solar

ADVERTISEMENT - CONTINUE READING BELOW

7.
Pride

If you proudly belong in the LGBTQIA+ community, a colorful pride-themed ear cuff tattoo would be such a great addition to your look. It's a solid nudge to celebrate who you are every day, and a cool alternative to piercing your ears!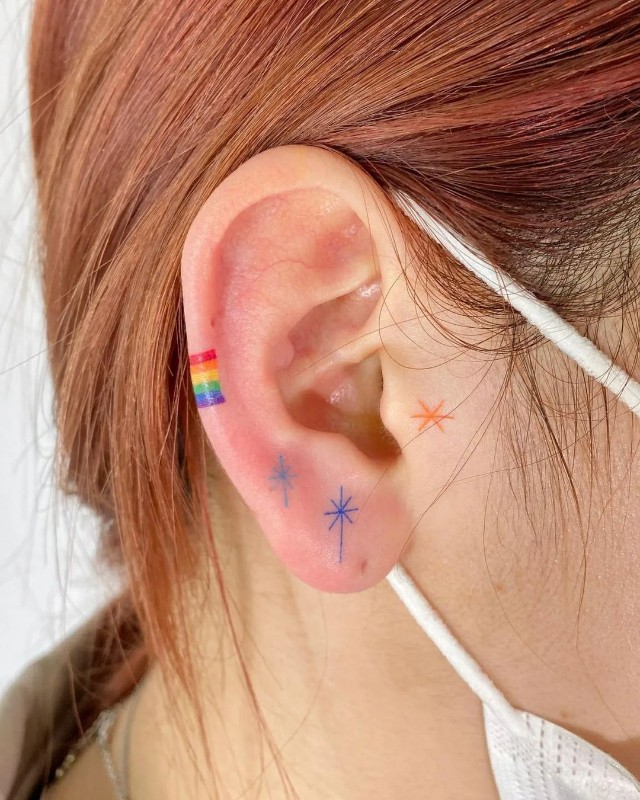 8.
Airplane

Love travel? An airplane tatt should be a no brainer. It could also represent the dreams you want to fulfill, and the turbulence you need to endure in the middle of the journey. It's a reminder that everything you set your mind to is possible!

ADVERTISEMENT - CONTINUE READING BELOW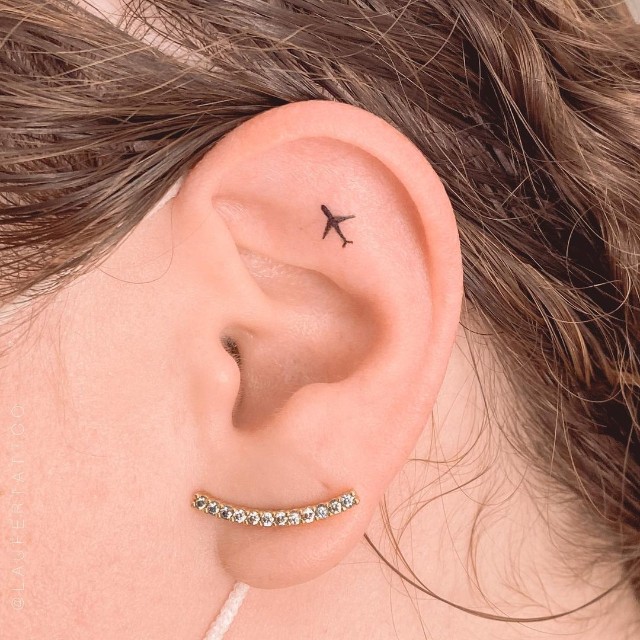 9.
Small Heart

Hearts are no doubt one of the most popular choices for an ink. Its simple and dainty feature makes it so attractive, and it will surely look great on your ear, too! Even if it's just a small design, it symbolizes weighty love, desire, and passion that can be dedicated to yourself or others.

ADVERTISEMENT - CONTINUE READING BELOW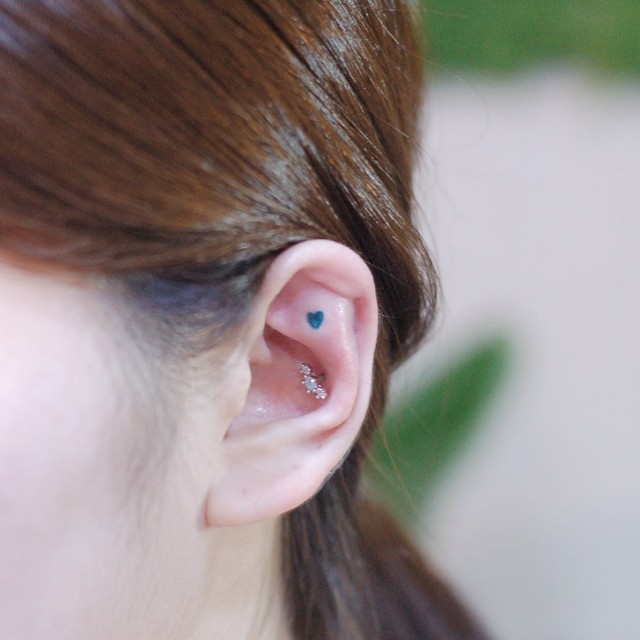 10.
Leaves

If you want to adorn the rim of your ear, go for a lively bunch of leaves that can bring an endearing warmth to your features. Leaves are a sign of rebirth because when a leaf falls, a new one grows back. So if you ever encounter a terrible experience, a leaf ink can remind you that there is always a way to start anew.

ADVERTISEMENT - CONTINUE READING BELOW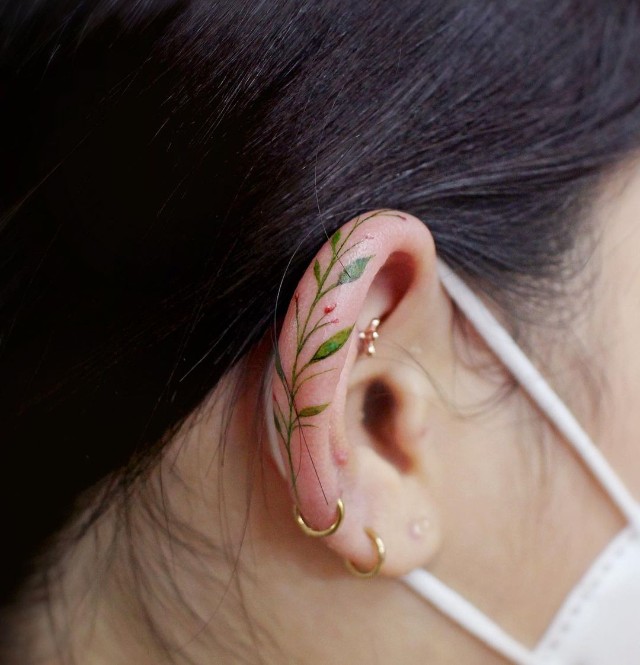 Related Stories from Preview.ph
Hey, Preview readers! Follow us on Facebook, Instagram, YouTube, Tiktok, and Twitter to stay up to speed on all things trendy and creative. We'll curate the most stylish feed for you!