Shiseido's Minimalist WhippedPowder Blush has been chosen by the Preview team as the Best Blush of 2019. This and 24 other products were reviewed by 25 real girls for this year's Preview Girls' Choice Awards to see if they truly deserved their title. Ahead, content producer Bianca Mascenon gives us her thoughts on the product:
I usually step out with just mascara and lip balm on, but when I want to look extra put-together I'd wear a light base to cover my broken capilliaries (Baby Glow by Guerlain), fill in my brows with a pencil (Precisely My Brow by Benefit), swipe on a matte lipstick (Sunnies Face's Fluffmatte in Vacay), and pat on liquid highlighter (Becca's Shimmering Skin Perfector in Opal). I don't usually use blush unless I'm going for a look, but I've been using Shiseido's for a week straight and I'm starting to think I should become a blush girl.
The Product: Shiseido Minimalist WhippedPowder Blush in Sonoya
What It Is
The Minimalist WhippedPowder Blush is a lightweight, mousse-like formula that sets to a silky, soft matte finish when applied on the cheeks. It claims to blend seamlessly with either just your fingertips or a brush, and adhere well enough to the skin to last for up to eight hours.
ADVERTISEMENT - CONTINUE READING BELOW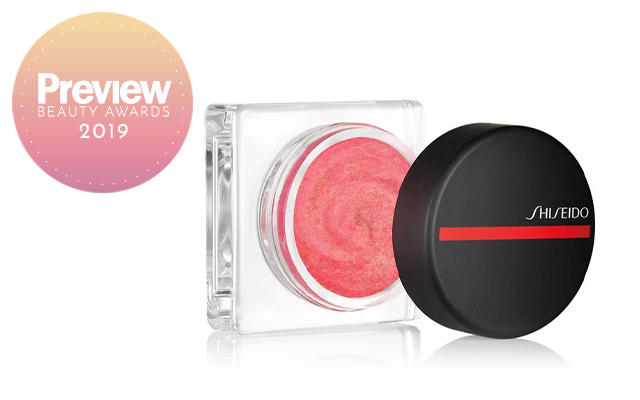 Current Condition
My skin is very, very dry and reactive. I prefer cream blushes over powder ones usually, and I like blushes that are easy-to-blend without erasing my base, smooth to the touch, and finishes in a way that kind of sinks into the skin so it looks natural.
CONTINUE READING BELOW
Recommended Videos
How I Used It
If I were to compare this blush to ones I've tried, I have a Burberry Beauty Lip and Cheek Bloom in Poppy that I absolutely love. It has a whipped, velvety texture that's nice on the lips too! Also, Sunnies Face Airblush because of the cream-to-powder finish. I was expecting Shiseido's to feel the same, and was kind of hoping this could work as a multi-way product for me, and that it'll blend without being patchy.
First impressions: The packaging is so cute and feels luxe. You can see the color through the glass base, and it's pretty easy to carry around. The texture is nice and whipped—it takes willpower to not want to play with it or swoosh it! The color is a muted pink that isn't too cheesy either—a muted, English-rosy pink, and it has a warm golden shimmer that isn't chunky at all.
ADVERTISEMENT - CONTINUE READING BELOW
I used it for a week—with a base on some days and without a base on some. I noticed it lasted a bit longer when I had a base on, but I liked how it looked without a base more! Without a base, it gets pretty translucent—more like second-skin. The finish of the blush is cream-to-powder, and without a base it glides on smoother and looks a tiny bit dewier, a personal preference of mine because of my dry skin. I feel like girls with oiler skin would like this over a base for longevity and a more powdery finish. I tried it on the lips too, but that didn't work out as well as I had hoped because it didn't adhere to lips well. Doesn't make it any less of a good blush, though!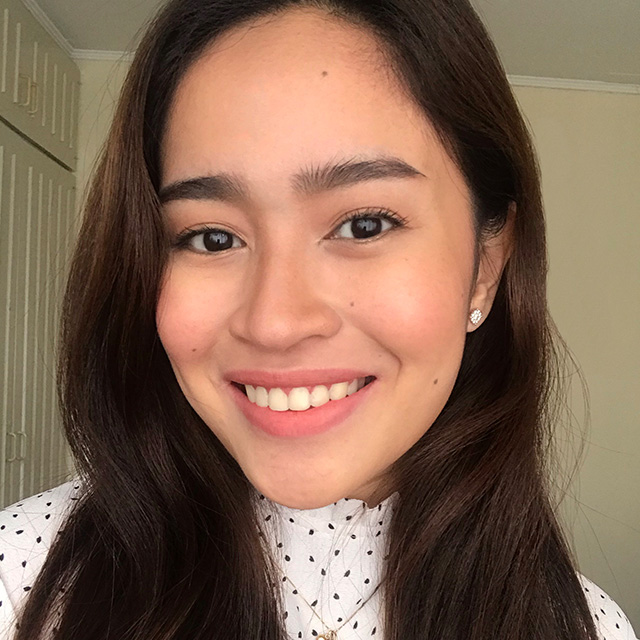 ADVERTISEMENT - CONTINUE READING BELOW
Overall, it's really easy to use! It's not a brush product, you'll have to use your fingertips to sort of melt it onto your skin. I'd just tap a little bit and blend it out, and it's buildable (it can get quite intense) so you'll want to start with a dab and take it from there. It sits comfortably on the skin and didn't cause any irritation—and it lasts, or at least, I could still see a hint of it after a long day. There's a bit of gold shimmer to it that eliminates the need for highlighter, but you can definitely tap a balm over it for a dewier look. As it is, the blush adds life to my face without making me look like a clown, and the golden shimmer catches the light subtly—giving my skin a nice warm glow.
Final Thoughts
I love the product because of the color—it's such a beautiful, my-cheeks-but-better type of shade that will always, always be flattering. The shimmer is such a nice bonus, because if I were going to use blush I might as well glow, too. The packaging is luxe and is a cute addition to any makeup kit. It's easy to take around, but it could get messy without the mirror, and the shimmer will stick to your fingers for a while. It lasts quite long, so unless you're going out after work, you should be just fine. It's not as convenient to retouch, but it definitely lasts longer than others I've tried. Pigment-wise, I'd say it's at par with the Burberry Lip and Cheek Bloom! On whether or not I'll be wearing it daily: Only time would tell, but I'd definitely keep it in my kit because it's cute, and it's great for days when I want to feel a little extra pretty.
ADVERTISEMENT - CONTINUE READING BELOW
*As told to Nicole Arcano
Related Stories from Preview.ph
Hey, Preview readers! Follow us on Facebook, Instagram, YouTube, Tiktok, and Twitter to stay up to speed on all things trendy and creative. We'll curate the most stylish feed for you!