BROOKLYN, NEW YORK - The ice cream sandwich as we Filipinos know it - peddled on the street, between hamburger buns - has finally caught on overseas. At Thai restaurant Pok Pok (I know, right), scoops of coconut-jackfruit ice cream are plopped on a sweet bun from a Chinese bakery, and topped with crushed peanuts, chocolate syrup and condensed milk. We called on food editor and stylist Idge Mendiola to make us a recipe for one with a pan de coco twist, along with two other elevated street foods to serve at your next Filipiniana-themed party. Those are always fun.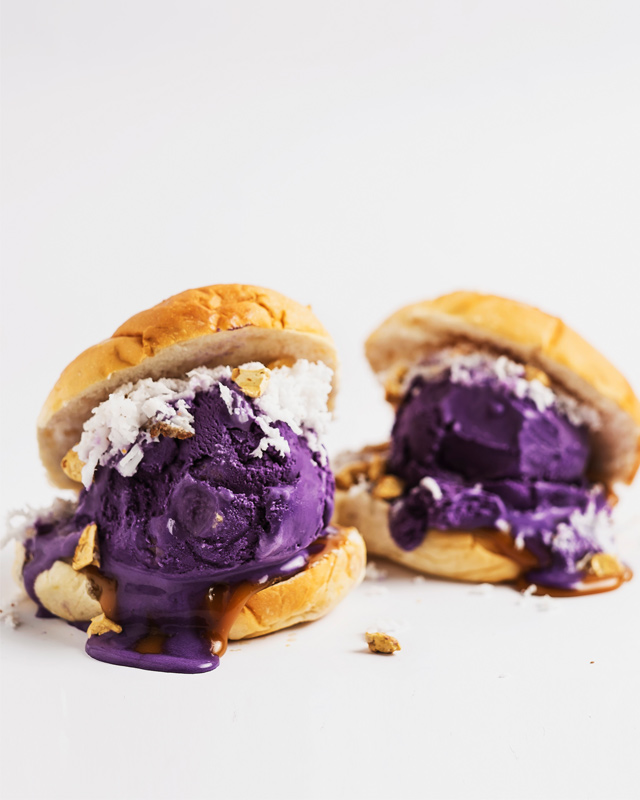 ADVERTISEMENT - CONTINUE READING BELOW
Coco-Ube Ice Cream Sandwich
Serves 1 | Prep Time 5 minutes
You'll need:
1 store-bought pan de coco
1½ tablespoons coco jam
1 scoop ube ice cream
2 teaspoons shredded young coconut (niyog)
1½ teaspoons chopped turrones de casoy
To make:
1 Slice pan de coco in half crosswise. Heat in a toaster oven until warmed and slightly toasted.
2 Spread coco jam on bottom half of the bread. Immediately top with ube ice cream.
3 Sprinkle with shredded young coconut and turrones de casoy. Cover with top half of the bread and serve immediately.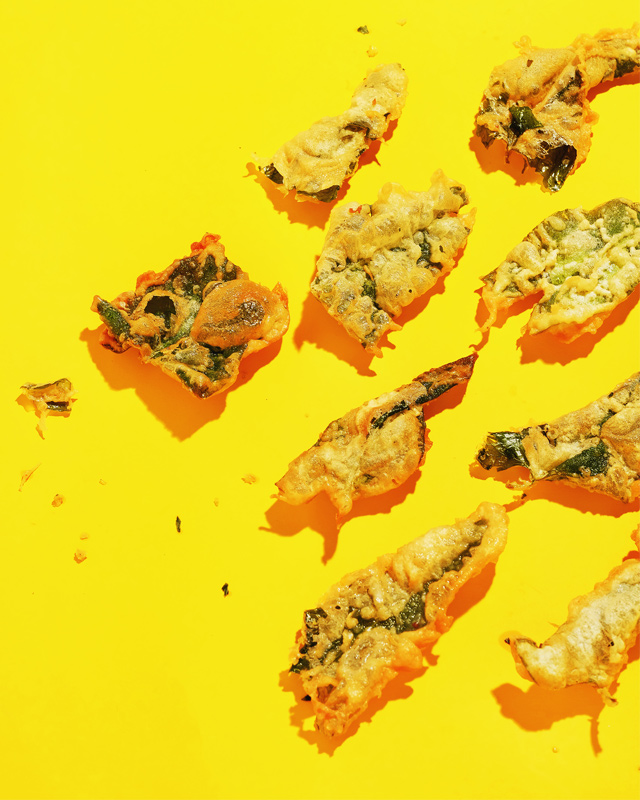 Beer-Battered Crispy Kangkong
(The original kale chips)
Serves 2 to 3 | Prep Time 5 minutes | Cooking Time 10 minutes
You'll need:
cooking oil for deep-frying
½ cup ice-cold beer (use your favorite variety)
¼ cup cornstarch
¼ cup all-purpose flour
½ teaspoon salt
½ teaspoon pepper
1 bunch kangkong, washed, dried, and leaves separated (use stems for another recipe)
Sriracha-mayo, to serve
To make:
1 Heat oil in a deep-fryer over medium heat.
2 Whisk together beer, cornstarch, flour, salt, and pepper in a bowl. Mix until well combined.
3 Dip a kangkong leaf in the mixture until lightly coated. Immediately deep-fry until golden and crisp. Drain on a paper towel-lined plate. Repeat with remaining kangkong leaves.
4 Serve kangkong hot with Sriracha-mayo if desired.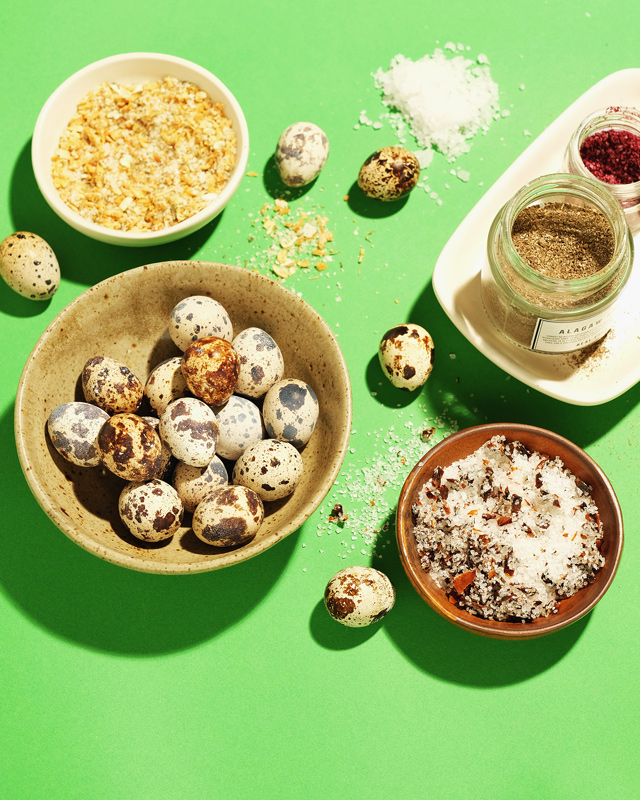 ADVERTISEMENT - CONTINUE READING BELOW
Quail Eggs with Artisanal Salt
Serves 2 to 3 | Prep Time 2 minutes | Cooking Time 2½ to 4 minutes
You'll need:
12 quail eggs
To make:
1 Place quail eggs in a saucepan. Fill with water until eggs are completely submerged.
2 Boil over high heat for 2½ minutes (soft), 3 minutes (medium), or 4 minutes (hard).
3 Remove from heat and let cool under cold running water.
4 Serve with artisanal salt.
We suggest:
Lemon and thyme sea salt from Santis Delicatessen; deep, earthy with a refreshing zing
Sale marino pomodoro (tomato salt) from Rustan's Supermarket; savory, tart
Alagaw salt from Ritual; pungent, briny like nori
Hibiscus sea salt by The Fruit Garden; flowery, light
Sale di Cervia from Bacchus Epicerie; classic sea salt with coarse finish
Photographs by Gabby Cantero
Food styling and recipes by Idge Mendiola
Hey, Preview readers! Follow us on Facebook, Instagram, YouTube, Tiktok, and Twitter to stay up to speed on all things trendy and creative. We'll curate the most stylish feed for you!