BROOKLYN, NEW YORK - The ice cream sandwich as we Filipinos know it - peddled on the street, between hamburger buns - has finally caught on overseas. At Thai restaurant Pok Pok (I know, right), scoops of coconut-jackfruit ice cream are plopped on a sweet bun from a Chinese bakery, and topped with crushed peanuts, chocolate syrup and condensed milk. We called on food editor and stylist Idge Mendiola to make us a recipe for one with a pan de coco twist, along with two other elevated street foods to serve at your next Filipiniana-themed party. Those are always fun.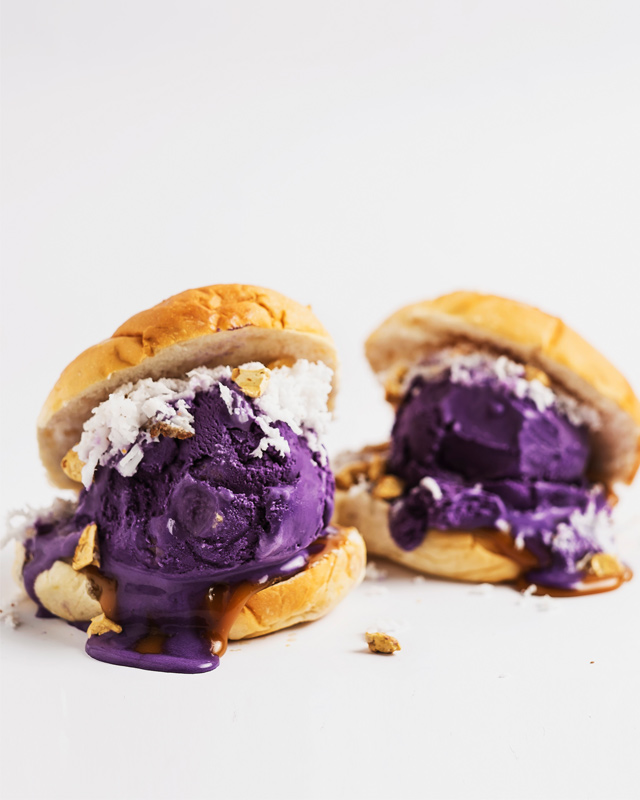 Coco-Ube Ice Cream Sandwich
Serves 1 | Prep Time 5 minutes
You'll need:
1 store-bought pan de coco
1½ tablespoons coco jam
1 scoop ube ice cream
2 teaspoons shredded young coconut (niyog)
1½ teaspoons chopped turrones de casoy
To make:
1 Slice pan de coco in half crosswise. Heat in a toaster oven until warmed and slightly toasted.
2 Spread coco jam on bottom half of the bread. Immediately top with ube ice cream.
3 Sprinkle with shredded young coconut and turrones de casoy. Cover with top half of the bread and serve immediately.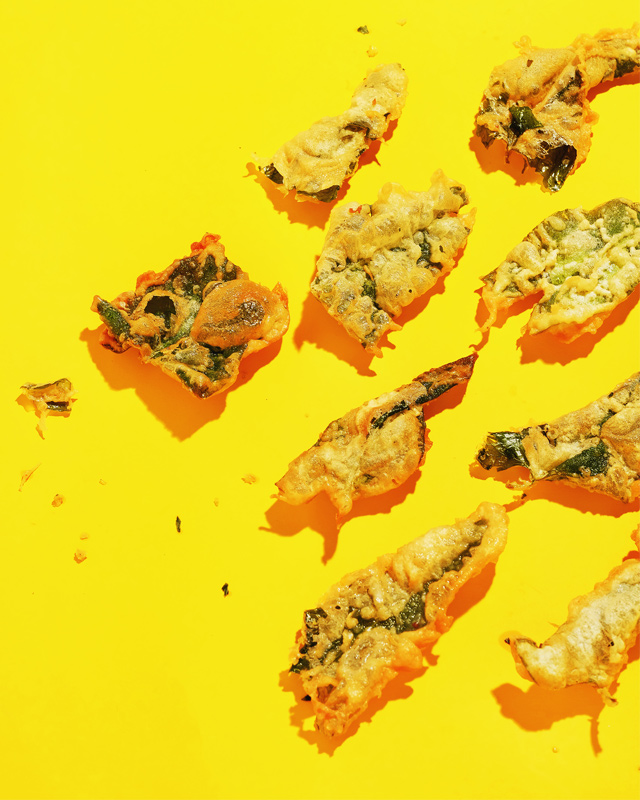 ADVERTISEMENT - CONTINUE READING BELOW
Beer-Battered Crispy Kangkong
(The original kale chips)
Serves 2 to 3 | Prep Time 5 minutes | Cooking Time 10 minutes
You'll need:
cooking oil for deep-frying
½ cup ice-cold beer (use your favorite variety)
¼ cup cornstarch
¼ cup all-purpose flour
½ teaspoon salt
½ teaspoon pepper
1 bunch kangkong, washed, dried, and leaves separated (use stems for another recipe)
Sriracha-mayo, to serve
To make:
1 Heat oil in a deep-fryer over medium heat.
2 Whisk together beer, cornstarch, flour, salt, and pepper in a bowl. Mix until well combined.
3 Dip a kangkong leaf in the mixture until lightly coated. Immediately deep-fry until golden and crisp. Drain on a paper towel-lined plate. Repeat with remaining kangkong leaves.
4 Serve kangkong hot with Sriracha-mayo if desired.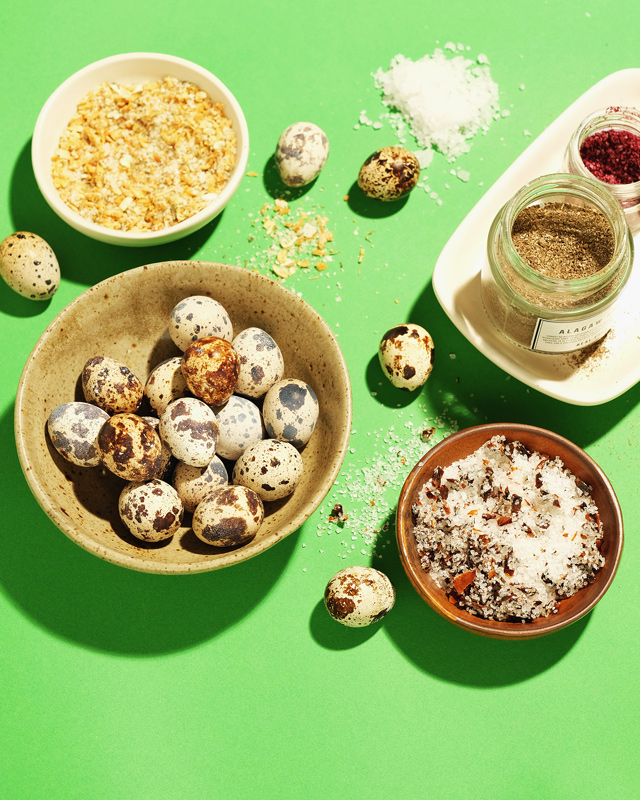 Quail Eggs with Artisanal Salt
Serves 2 to 3 | Prep Time 2 minutes | Cooking Time 2½ to 4 minutes
You'll need:
12 quail eggs
To make:
1 Place quail eggs in a saucepan. Fill with water until eggs are completely submerged.
2 Boil over high heat for 2½ minutes (soft), 3 minutes (medium), or 4 minutes (hard).
3 Remove from heat and let cool under cold running water.
4 Serve with artisanal salt.
We suggest:
Lemon and thyme sea salt from Santis Delicatessen; deep, earthy with a refreshing zing
Sale marino pomodoro (tomato salt) from Rustan's Supermarket; savory, tart
Alagaw salt from Ritual; pungent, briny like nori
ADVERTISEMENT - CONTINUE READING BELOW
Hibiscus sea salt by The Fruit Garden; flowery, light
Sale di Cervia from Bacchus Epicerie; classic sea salt with coarse finish
Photographs by Gabby Cantero
Food styling and recipes by Idge Mendiola