I've always wanted to have blue hair since I entered college in 2006. It wasn't frowned upon in art school, so I thought, why not? However, that was more than 10 years ago; it was before rainbow-colored hair dyes were readily available to purchase in stores or online. Back then, I had to put my hair dreams on hold. But fast forward to the past couple of years, those have been a different prismatic story.
With more people who are willing to experiment with their hair color (and I don't mean the typical browns and blondes), salons now offer a wider selection of options, from fiery orange to pastel blue. Dye jobs, however, usually cost a lot, ranging from P5000 to P10,000 depending on your hair length—definitely not easy on the budget! So it was a pleasant surprise to discover a beauty lounge that could get me my dream color, for almost half the price most salons tend to give.
ADVERTISEMENT - CONTINUE READING BELOW
What: Katch Beauty Lounge, 2F Northeast Square, Connecticut St., Greenhills, San Juan
CONTINUE READING BELOW
Recommended Videos
Katch Beauty Lounge is an all-around beauty salon owned and managed by hairstylist Katchie Mejias. They specialize in hair color and keratin treatments and mainly use Lakme, an all-around haircare brand from Spain. They even offer iPlex, a hair treatment that restores the broken bonds of severely damaged tresses.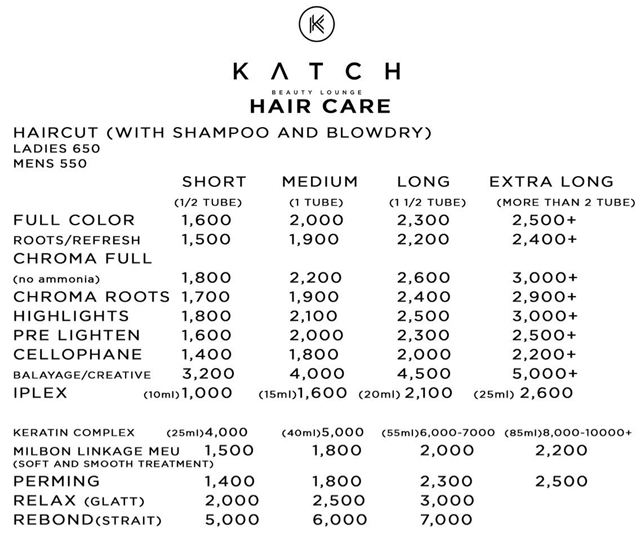 IMAGE Katch Beauty Lounge
ADVERTISEMENT - CONTINUE READING BELOW
Their price list of services.
Current Condition:
IMAGE Katch Beauty Lounge
I have medium-length hair that rests right below my shoulders. Prior to my visit, I've self-bleached the ends of my hair twice at home. Before that, I've had my hair colored ash gray, platinum blonde, and red orange in recent years. You can say that my scalp has grown sensitive to chemical treatments because of chronic dye jobs. I also experience hair loss at times, which is why I'm very particular about my hair products.
ADVERTISEMENT - CONTINUE READING BELOW
How the Treatment Went:
As I've previously mentioned, I'm currently obsessed with blue hair. Still, I wanted to try something a little more complex that can't be achieved through DIY toning at home. That said, I went for a periwinkle-tinted silver balayage that I've never really tried before. I think it's one of the more difficult color requests you can ask your stylist because the expected result is a soft, highlighted ombre color.
ADVERTISEMENT - CONTINUE READING BELOW
My hair color peg.
I arrived at the beauty lounge around 10 a.m. and Katchie herself decided to work on my hair color. Her staff offered me a glass of iced tea and water, and then proceeded to showing me a folder of sample hair colors so I could better visualize the outcome. This is great if you haven't decided on what color you want yet and just want to be adventurous about your 'do. It's also reassuring to have the salon owner herself do your hair. Katchie mentioned that it's an advantage for her to know the lowdown on hair coloring as well in order for her to be more particular with her stylists and to understand her customers' concerns firsthand.
I told Katchie that I needed to leave around 3 p.m. for another appointment, which means she only had five hours to bleach and tone. Just to put things in perspective, the other times I had to get my hair colored in a crazy hue took almost eight hours in the salon. Initially, I was surprised when I booked my appointment and she said she could do it in only five hours. What she did to speed up the bleaching process, which still had to be done twice despite how my hair lightens pretty quickly, was to wrap my hair in foil. It's a technique, Katchie says, which comes in handy when they are working on clients who are in a rush but don't want to sacrifice the quality of the color.
ADVERTISEMENT - CONTINUE READING BELOW
A peek into the bleaching process during a balayage color session.
The bleach she used was from Lakme, a personal fave because of the brand's ammonia-free lightening and toning products. This particular bleach also leaves your hair looking healthy, soft, and moisturized after processing, and it doesn't turn brassy right away. Katchie used Lakme toning products for the silver and periwinkle color, too. This is better than semi-permanent hair dyes like Manic Panic or Lunar Tides, both of which fade almost immediately after you wash your hair again. I also appreciated that they did the iPlex treatment before my last shampoo to prevent further damage and make my hair stronger to offset all the bleaching.
ADVERTISEMENT - CONTINUE READING BELOW
After my final wash, they did a cold blowdry of my finished 'do—which is probably one of the most commonly overlooked but important decisions after a dye job. A cold blowdry does take longer but is actually so much healthier for your colored hair. After being bleached twice and colored bluish silver, it's what your hair and scalp need to cool down and recover from all the chemical treatments. (I cringe every time a stylist blow-dries my hair with intense heat; it makes me want to douse my tresses in oil the moment I get home to give it back some of its loss moisture after the intense blow-drying.) Simply put, it was a huge relief that they knew how to blowdry my hair the right way. Also, Katchie offered to style it with loose curls, which was something I appreciated because I was going to a beauty event right after.
ADVERTISEMENT - CONTINUE READING BELOW
Conclusion: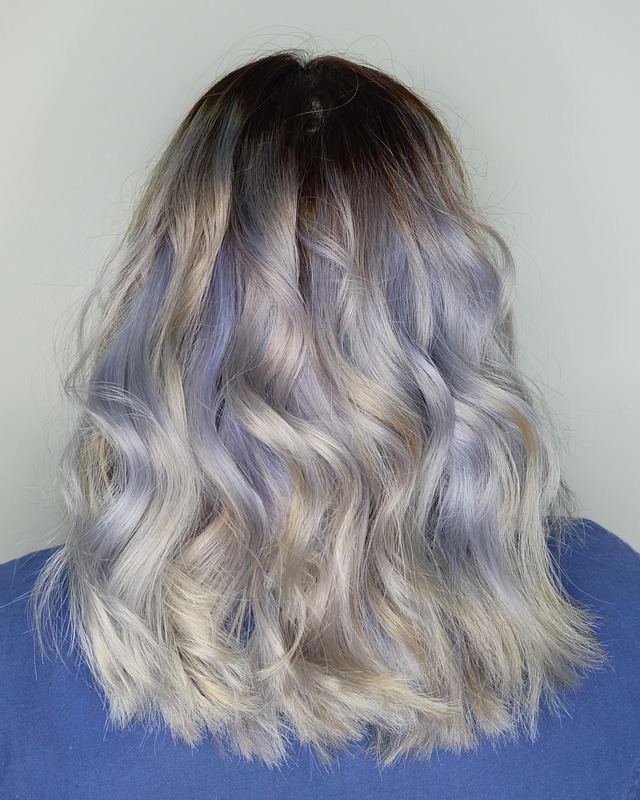 IMAGE Katch Beauty Lounge
My hair after color, treatment, and styling.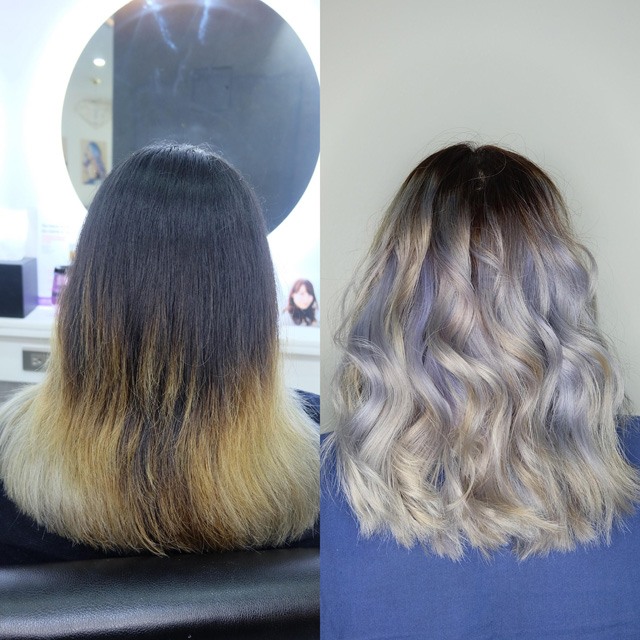 ADVERTISEMENT - CONTINUE READING BELOW
IMAGE Katch Beauty Lounge
Before and after pics! My hair transformed into a soft gradient color with highlights of bluish purple.
I'll definitely come back and have my hair done here again! I really love the result and how fast it took for them to achieve the color I wanted. It was a cool silver hue, which was easier to dye-over with semi-permanent dyes that I have at home. It also felt soft and looked surprisingly healthy and not dry even after the bleaching. And as the weeks passed, my hair still looked shiny, strong, and smooth. The entire process was uncomplicated, quick, and painless. When I asked for my bill, it amounted to P7000 including the iPlex treatment. It's a really reasonable price to pay for the bleaching (which needed to be done twice), duo-toning, and the additional hair repair solution. I have a feeling I'd be willing to try rainbow locks on my next visit!
ADVERTISEMENT - CONTINUE READING BELOW
Related Stories from Preview.ph
Hey, Preview readers! Follow us on Facebook, Instagram, YouTube, Tiktok, and Twitter to stay up to speed on all things trendy and creative. We'll curate the most stylish feed for you!