If you're a beauty girl and haven't already heard of the brand Dyson, that's fine, you're ok. That's because they've been known longer for their vacuum cleaning innovations (which are truly a thing of the future!). But now, they're reversing airflow with a hairdryer called the Dyson Supersonic and you better get in the know about it. Now, take a look at the regular hair dryer a girl has on her dresser. It's mid-size, often travel-friendly or comes with a foldable handle, does its job. You don't really think about it. Truth be told, I never bothered about mine either—because it is a bit of a fuss to use on yourself unless you have a personal hairstylist or you know, extra joints that let your arm do the back of your hair a.k.a. the trickiest and achiest part of it all. But the folks at Dyson did, and set out to erase everything you've been tolerating about your blow dryer all these years. Time to find out if it'll live up to its hype…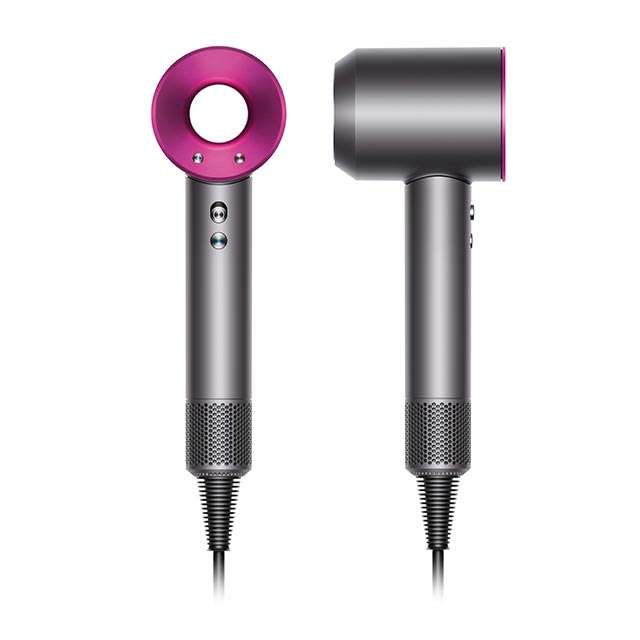 IMAGE Courtesy of Dyson
What it is: The Dyson Supersonic promises to stamp out the arm ache after 5 minutes, the noise you can't talk over, the heat that burns your scalp (and consequently, that burnt hair reek), the fan that hair gets stuck in if you make a wrong maneuver, the overheating if you take too long, and on that note, the speed—or lack thereof!—it takes to finish styling.
ADVERTISEMENT - CONTINUE READING BELOW
Current Condition: First things first, it's important to know what hair we're working with—mine is a straight lob of above average thickness which you think may work to the dryer's advantage, but my hair's also colored, a.k.a. chemically damaged. This kind of hair tends to retain water longer because it's more porous. With a three-fan-setting portable dryer, my average drying time is 15-20 minutes, complete with product pauses and brushing/combing.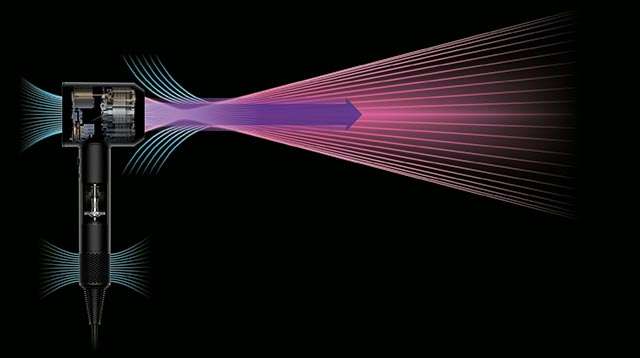 IMAGE Courtesy of Dyson
How I Used It: The Dyson Supersonic has three heat settings and three airflow settings, with a button for a cold shot of air. I know what you're saying: yeah, ok, the usual setting you will find on a professional tool. But before you pass it off for just another dryer, check this—it has a nifty little mechanism inside it that measures temperature 20 times per second and keeps the heat setting that you've chosen constant the entire time you're using it. I used it with everything on max, shooting cool air once in a while (the button is a very shallow click), and experienced no overheating (nor burnt hair or scalp) here, pretty intelligent to me.
Instead of the lock-on type of attachment, it attaches with a magnet—no struggles to remove or clip it on between styling, but it still does get hot. The weight isn't life-changingly lighter, although it is WAY more balanced as the weight is in the handle—this puts way less pressure on the wrist and the arms. The mere fact that the motor is embedded inside the machine changes things as girls who try to style their hair like a pro know (Have you ever tried to slide an inch of your hair onto the brush with the body of the dryer but it ends up caught in the motor?). The supersonic has no exposed motor, even. The tool has three attachments—one slim, focused for concentrated styling, a wider-mouthed version of it for regular blow dries, and a diffuser. I can't vouch for the diffuser, because it's made for frizzy and curly hair types, but I can say that it does not impede the airflow AT ALL unlike in regular dryers.
ADVERTISEMENT - CONTINUE READING BELOW
The Supersonic wins in the speed arena. Like, go home, all you ancient hairdryers, because Dyson has won. At the event I kept asking how long it takes to dry on average, but they couldn't answer directly because everybody has different hair and it'd be hard to generalize—so I tested it myself. Given my hair profile (above), I usually take about 10-15 minutes, depending on how alive my dead-inside hair wants to look on that day. With the Dyson, it clocked in completely dry in a whopping 6:55 minutes!! I don't know about you but that saved extra five minutes to do eyeliner for me.
Conclusion: It's hard to compare with other hair dryers because the Supersonic is a league all on its own. That said, can we all just applaud Dyson for innovating something we all were just settling with like a bad relationship? While the differences in weight and sound weren't life changing for me, it was really the speed and strength of the machine that, um, blew me away (pun intended, sorry). Functions we want to see the Supersonic do when it evolves, though, are: a wireless charging and operating option (as we know they have cordless vacuums!), heat settings that you can set to a specific temperature, and an even icier cold-shot (as the current one can go from room temp to whatever your airconditioner's temp is set in). For now, let's just say we're thankful that the future of hair has finally arrived.
ADVERTISEMENT - CONTINUE READING BELOW
Video by Erika Dupali
Related Stories from Preview.ph
Hey, Preview readers! Follow us on Facebook, Instagram, YouTube, Tiktok, and Twitter to stay up to speed on all things trendy and creative. We'll curate the most stylish feed for you!