With summer on its way, our search for the ultimate humid weather foundation officially begins. And to start this scavenger hunt, we road-tested three cushion foundations from The Face Shop on oily-skinned Preview.ph girls for two weeks. Read on to find out how they performed!
CUSHION #1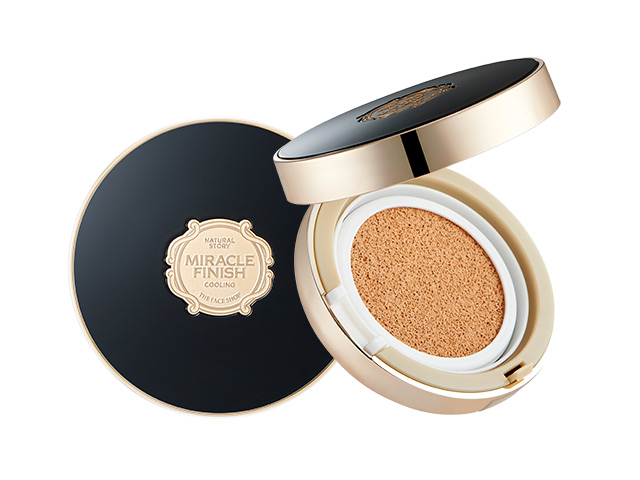 IMAGE The Face Shop
What: The Face Shop CC Cooling Cushion SPF42/PA+++ in V203 Natural Beige, P1095, SM Mall of Asia
What it is: The CC Cooling Cushion is a soothing and moisturizing formula that creates moist and glossy skin. It contains an ice-melting technology that promises to lower skin temperature for a subtle cooling effect.
Tested by: Steph
Current Condition: I have a combination skin type, which means my T-zone is quite oily while the rest of my face can feel a bit dry. In the summer, I look for a foundation that doesn't feel sticky or melt under the sun.
How I used it: I chose not to set the cushion with powder despite my oily T-zone. Though it sets a little longer than usual, it doesn't melt off. Thus the need to reapply was unnecessary.
Conclusion:
Shade: Natural Beige is perfect for fair-skinned girls like me.
Coverage: I'd say medium coverage because I still had to go over some dark circles and zit spots with a concealer.
ADVERTISEMENT - CONTINUE READING BELOW
Finish: It's dewy!
Lasting Power: It lasted the whole day at work and I only had to blot my nose once. The product also doesn't melt off after spending the day outside!
Other impressions of the product: One to two presses is enough for daily usage. It's also easy to apply and leaves little to no residue on the cushion puff once applied.
Overall thoughts: I was expecting for it to have a cooling effect but I guess that just meant it won't feel sticky as the day goes on. The formula is lightweight too; it feels like you have no makeup on once it sets! It's everything you'd want in a summer foundation if you like the dewy look.
CUSHION #2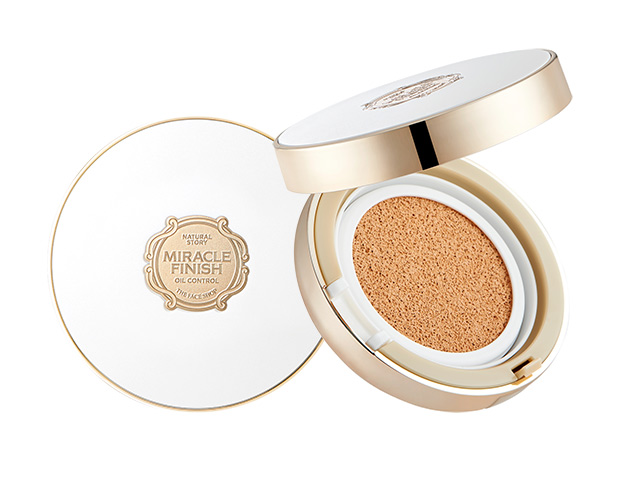 IMAGE The Face Shop
What: The Face Shop CC Oil Control Water Cushions SPF50+/PA+++ in V203 Natural Beige, P1095, Powerplant Mall
What it is: The CC Oil Control Water Cushion claims to refresh the skin, control sebum, and replicate the finish of a liquid foundation. It promises a moisturizing, matte, and flawless finish that feels weightless.
Tested by: Yanna
Current Condition: My skin is oily through and through, all while being prone to blinding shine and occasional acne spotting. Therefore I could really use a foundation that doesn't require me to do constant retouches. Also, I prefer one that doesn't cake when I build the product up on certain problem areas.
How I Used It: I didn't use a primer with this, but I always set it with a light veil of blotting powder. I had to use a bit of concealer on leftover acne scars, too, since it wasn't full coverage.
ADVERTISEMENT - CONTINUE READING BELOW
Conclusion:
Shade: I got mine in Natural Beige, which I felt was a tad too orange for me (I have fair, yellow-toned skin). It still turned out pretty okay though, especially since the color blended into my skin as the hours wore on.
Coverage: This is surprisingly opaque for a water cushion! The very first time I patted it on, I pressed the puff a little harder into the foundation-soaked sponge, thinking that I might need to use a bit more for fuller coverage. Turns out that I didn't have to—just a little was all it took to blur my freckles and my lighter acne spots.
Finish: The cushion claims to have a matte finish, but it looked pretty dewy on me.
Lasting Power: I went about three hours before having to blot my t-zone again, which, to be honest, is pretty normal for me. That said, the supposed oil control factor wasn't all that effective. It also felt a little cakey after a few hours even with setting powder.
ADVERTISEMENT - CONTINUE READING BELOW
Other impressions of the product: Though I wouldn't exactly say that this product is great for oil control concerns, I have to say that it applied really, really evenly onto my skin. Right after patting it on, my complexion looked smooth, balanced, and impressively glowy.
Overall thoughts: IMHO, this isn't as ideal for oil control as it's marketed to be, but I actually really like the dewiness it gives me. Still, it's branded as having a matte finish, so there's the catch. I wouldn't recommend it for oily skin in the summer, but if you're going for that Korean glow, I say try it out!
CUSHION #3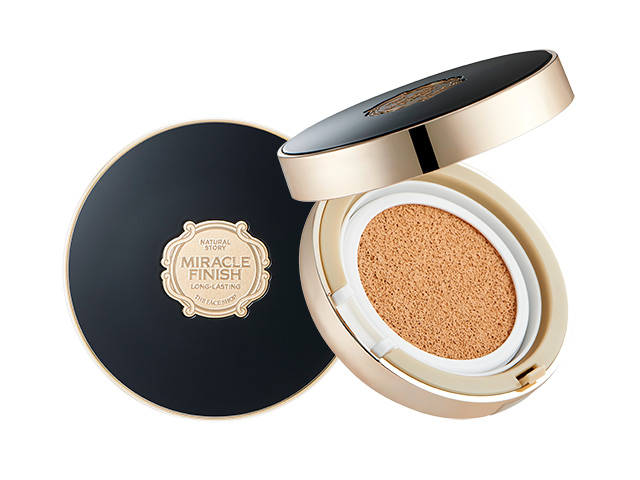 ADVERTISEMENT - CONTINUE READING BELOW
IMAGE The Face Shop
What: The Face Shop CC Long-Lasting Cushion SPF50+/PA+++ in V203 Natural Beige, P1095, SM Megamall
What it is: One of The Face Shop's most popular formulas, the CC Long-Lasting Cushion is a medium coverage cushion with a satin finish. It claims to be a "triple function cosmetic" with UV protection, anti-wrinkle properties, and a skin brightening effect.
Tested by: Nicole
Current Condition: I have oily, dehydrated, and acne-prone skin with quite a lot of acne scars. I prefer foundations with at least medium coverage and a semi-matte finish that isn't tacky. For the summer, I always go for a base that's lightweight and long-lasting.
How I Used It: After applying moisturizer and sunscreen, I color-correct my scars with a green concealer first. Then, I tap an even layer of the cushion all over the skin, making sure to blend the product down my neck. The coverage of this cushion isn't full, so I still spot conceal any acne scars that peek through. Also, I never used a primer with this, however I did set it with powder to tone down the satin finish a little.
ADVERTISEMENT - CONTINUE READING BELOW
Conclusion:
Shade: It was a shade lighter than I would typically go for, but when blended down my neck, it was workable for my light-medium skin tone.
Coverage: It was medium coverage, which is surprisingly good for a cushion. My lighter acne scars and undereye circles were well-concealed with one layer.
Finish: I expected it to be dewy, but it was more of a satin finish. This didn't matter though because I set it with powder, anyway. The product didn't feel too tacky without powder though, which is a rare thing for cushion foundations.
Lasting power: Very good for what it is. I was always surprised to have even-looking coverage at the end of the day. I do have to blot every four hours or so, but that didn't move the product or make it look splotchy.
Other impressions of the product: With my acne-scarring, I noticed that the cushion doesn't settle into pitted scars. It doesn't enhance them or make them look terrible, the product somehow just skips them, so you'll have to tap product into the scars with your fingers or a brush. But on another note, The Face Shop's cushion puff is great—it deposits product evenly on the skin in a few taps.
ADVERTISEMENT - CONTINUE READING BELOW
Overall thoughts: This cushion does what it promises, and it's perhaps one of the best formulas out there. Long-lasting, medium coverage, and with a natural finish! I definitely recommend this for oily skin in the summer. Just make sure to set it with some powder if you'll be having a long day.
Which cushion are you buying?
Related Stories from Preview.ph
Hey, Preview readers! Follow us on Facebook, Instagram, YouTube, Tiktok, and Twitter to stay up to speed on all things trendy and creative. We'll curate the most stylish feed for you!