I first "met" Suyen Salazar working as Preview's then-beauty editor—"met" because it was on a messaging app, and it was a grand total of 22 texts in which I failed as an editor to book one of the hottest new hairstylists for an editorial. Obviously, it was a creative blue balls situation—I really wanted to work with this talent.
Two years later, I see her work again on my feed. Either it was that creepy social media algorithm where they lowkey read your chats for info to feed ads, or just plain coincidence, but just a day before, I was actually talking to my friend Andrea Beldua (the photographer—she gets her hair cut by Suyen, too!) and since we also go to the same colorist, I valued her hair opinion which was to have the cut done. Ah, the combination of months-long overthinking and peer pressure—obviously, I gave in, sent the message, and after giving her a couple of my free days (more chances of winning!), lucky me: I get an hour in her salon chair. Here's how it went.
ADVERTISEMENT - CONTINUE READING BELOW
What: Dry Haircut by Suyen Salazar
What It Is:
First off, I want to make it clear: big beauty decisions such as going to someone who isn't your "usual" is a huge thing, especially for beauty girls. But Suyen and her work can't be missed—she's an It Girl favorite because she does beach babe waves so well and so effortlessly. Suyen calls it a "flat wave." It's a style everyone wants to wear, but even to someone who's seen a lot of hairstylists' work, is not something easily achieved.
CONTINUE READING BELOW
Recommended Videos
STYLEDBYSUYEN Dry Haircut, starts at P5500, THE BLOC by Junie Sierra & Co. BGC
A lot of people know her for this chic, textured look she creates on your favorite celebs, but she's also well known for her cuts. Here's the thing: she cuts dry. That alone was a lowkey impressive fact, because for one thing, you rarely ever find that service around here. Second, before I even did some research on the technique, I figured out myself that getting your hair cut dry lets you see the whole situation as it is from start to finish, which is perfect for very particular people, because you get no surprises from the wet cut to the blow dry stage. Third, my bit of googling says dry cuts don't split and fray your hair as much as when it's cut wet—a state where your locks are a lot more elastic. Everything else I learned about the New York-trained stylist's technique, I asked while in her styling chair, the editor that I am (ha!), and will be sharing with you in a minute below.
ADVERTISEMENT - CONTINUE READING BELOW
Before the Haircut:
Typically, I had a go-to cut, which is a plain blunt bob. Fashion girls know—a bob is the easiest hairstyle to wear with clothes, as you can see your whole outfit, plus no need to style it, really. Also, I routinely dye my hair so having to bother with lengths and styling is a bit too much, even for me! And just being real, I hate how I look in a ponytail. I went to Suyen just to try something new. With beauty, some are creatures of habit and some are experimental. I'm the second kind, clearly. I also have pretty flat, straight hair even if it has some good thickness to it, so I was looking for a wash and wear cut that'd give plenty of texture.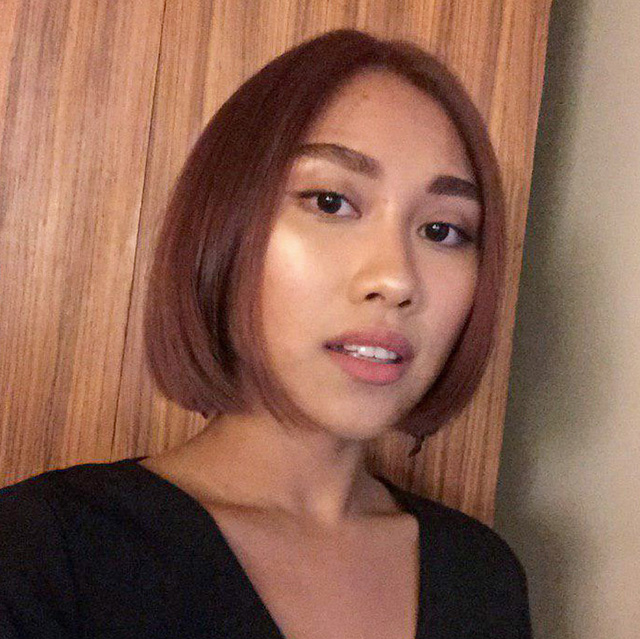 ADVERTISEMENT - CONTINUE READING BELOW
How It Happened:
Ah, the day of the cut. I don't know about the rest of the world but whenever I have a salon appointment I make it a point to dress well and do my face beat extra flawlessly. I mean, the towel hair wrap isn't the most glamorous nor the most flattering looks out there, TBH. Dress up for your salon appointments, that's a pro tip for you!
In any case, I make it on time to my 6PM at The Bloc by Junie Sierra at BGC, about a block from my workplace. I'm ushered into the salon's VIP room, a cozy but bright mirrored space from which Suyen cuts and styles her clients six days a week. The moment you sit for your haircut, let me tell you: that comfy feeling isn't just that cushy VIP room swivel chair, it's also the fact that your hairstylist values your vision for your hair.
ADVERTISEMENT - CONTINUE READING BELOW
When she asked me, "What are we doing with your hair today?" she really listened to what I had to say (I mean, well, she had to, too, since I didn't bring a photo for a peg) and gave her expert opinion on how we could achieve that realistically. Because of that, there's instant connection and trust. And the tea is, you don't get that a lot in Manila especially with chain businesses—most times getting a haircut is almost a gamble. A lot of us grew up with the experience: You get in the salon chair, and even with an exact peg you sit through a haircut that you may or may not like, just hoping for the best especially when 70% of the time another person basically decides what looks good on you or not. With Suyen, one would say it's almost collaborative.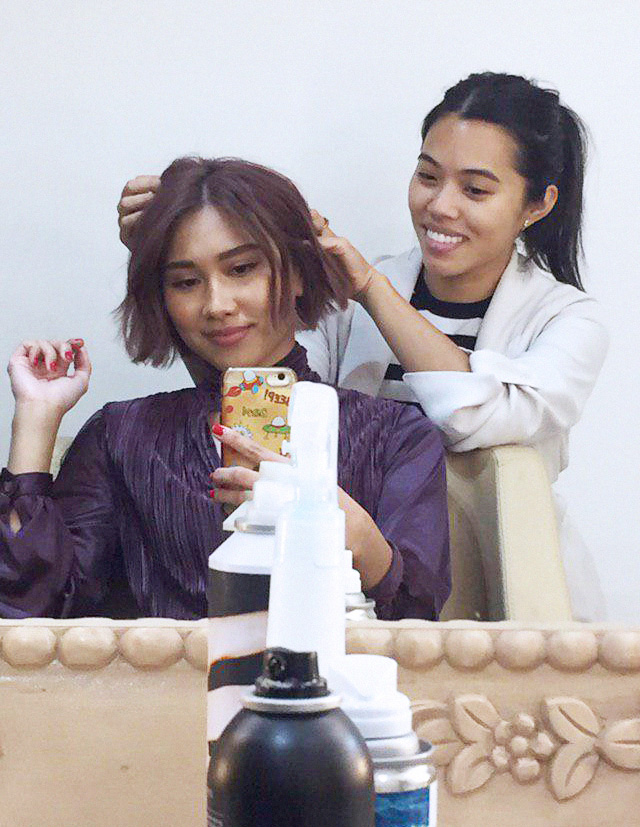 ADVERTISEMENT - CONTINUE READING BELOW
Now, let's go through how the dry cut happens. When you've confirmed your appointment, Suyen sends you a little info sheet on how to prep for your cut. The most important part was to wash your hair, and have it air dry naturally with no product or styling tools involved. This made sense: the more apparent your natural shape is when a stylist approaches your hair for a dry cut, the better you and your stylist both see what direction the cut is going. It's fair to point out, however, that not everybody has beauty foresight. Luckily, another part of The Suyen Experience I appreciated was she walked me through every step of the way to my new haircut. Couple of things I learned was one, if you want to give body to a blunt bob, you don't layer it but you texturize it. Second, since she cuts dry, you really see what happens from start to finish.
ADVERTISEMENT - CONTINUE READING BELOW
After about an hour, she had successfully sheared off about three inches off my already short hair! And before she started getting into my locks to give me that signature flat wave, she showed me how the cut will appear with the way my hair naturally falls and dries—a feature I think every haircut service should provide. But because I did want that effortless wave, I went ahead and let her style it for me.
Suyen is very minimalist when it comes to product: she used 1) a volume boosting spray at the root and 2) a texturizer to hold the wave and the little details of the new cut. Creating the flat wave, she used a curling iron through inch-wide sections but just sort of twirled it through each section instead of the traditional way of keeping a strip of your hair clipped into the iron for 30 seconds or so. After curling the whole head, she blow dries at the root to give you that lift and easy kind of lived-in texture she's made her signature. I've noticed something the way she styles her waves at the root, too: she gives you a sort of ambiguous part. I guess so you can play around with how your hair falls especially if the style is new to you, but if you prefer a particular part you may just specify it. And so there I was—officially #StyledbySuyen!
ADVERTISEMENT - CONTINUE READING BELOW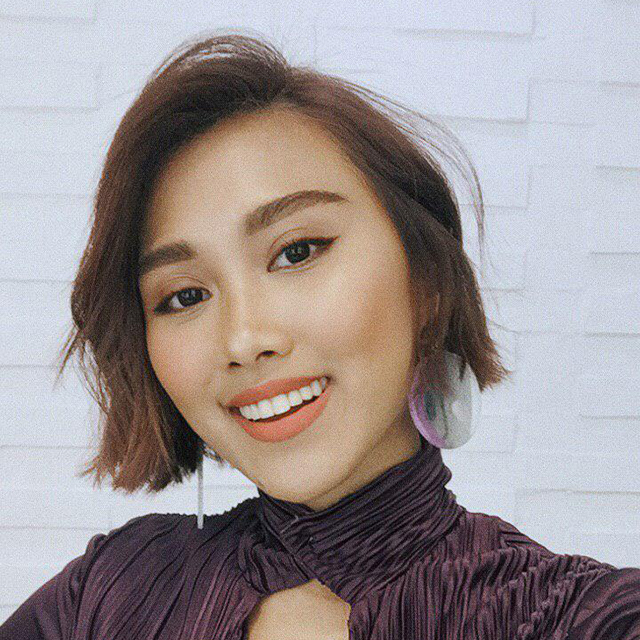 Conclusion:
While there are plenty many places for a haircut in Manila, the boutique price for this haircut affords you a whole different experience. As mentioned, it's almost collaborative especially with the fact that your opinion as a customer is really valued—there's trust going on in there. I mean, you want to trust the person whom you entrust your look to, right? Suyen is also known for a particular look, and if you prefer to cut the chase instead of experimenting with your own (for styling) or having to go through trial-and-error, it's easier to go to someone who you can be sure of. At the end of the day, hair isn't really "just hair," to many men and women and a haircut you're happy with doesn't just take technique but also rapport and trust with your hair girl (or guy).
ADVERTISEMENT - CONTINUE READING BELOW
Verdict: It's a yes from us. And if the rates may intimidate you, we think it's an experience you should try at least once in your hair's history.
StyledbySuyen is located at THE BLOC by Junie Sierra & Co., BGC. Rates start at P5,500. Book an appointment through StyledbySuyenManila@gmail.com.
Related Stories from Preview.ph
Hey, Preview readers! Follow us on Facebook, Instagram, YouTube, Tiktok, and Twitter to stay up to speed on all things trendy and creative. We'll curate the most stylish feed for you!