I have always believed in Asian products given that I find them the most compatible to me. So when I was given this assignment, I was really excited because I've always envied the silky hair of the Japanese folks; maybe my hair can look as good if I use the products that they specially formulated. And so, with high expectations, I tried this shampoo and conditioner combo for a week, and it changed my hair routine forever.
What: Kracie Ichikami Revitalizing Hair Series
What is it:
Kracie Ichikami Revitalizing Hair Care Series guarantees to repair hair damage and prevent hair thinning caused by stress and lifestyle habits. The Japanese shampoo and conditioner brand is packaged in baby pink (for the shampoo) and magenta (for the conditioner) bottles. There's a bunch of fruit and floral drawings at the back, which visually explain its formula as the writing is mostly in Japanese. The line has botanical extracts from fermented black rice, cherry blossom, mountain bark, red bead, rice, blueberry lilly, camellia extract, walnut oil, soapberry, pomegranate, soybean, red rice, apricot oil, tea blossom, peomy, yuzu citrus, and black soybean.
ADVERTISEMENT - CONTINUE READING BELOW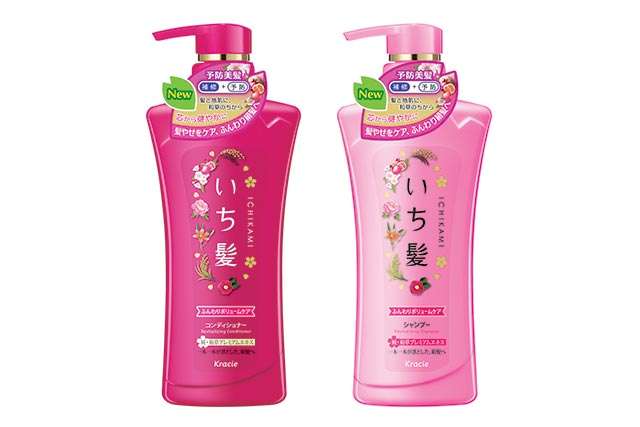 IMAGE Kracie
Kracie Ichikami Revitalizing Hair Series, Beauty Bar boutiques
Current condition:
My hair was recently colored and I use heat styling tools almost every single day. Suffice to say, my naturally wavy hair is brittle, prone to breakage, split ends, and it's dull and dry. Apart from the usual shampoo and conditioner routine, I soak my hair in argan oil occasionally. The oil mask effectively brings back the shine, but I don't always enjoy the luxury of time to care for my tresses, so I often cheat and settle with applying an oil-based leave-in conditioner before and after styling to make it seem healthier, and less frizzy.
CONTINUE READING BELOW
Recommended Videos
With this dilemma, I'm always on the lookout for hair products that won't dry out my hair despite my everyday heat styling routine.
How I used it:
The shampoo has a silky texture and is highly fragrant. I couldn't decide whether it smelled fruity or floral. But as I used it again the next day, I realized that it's the cherry blossom scent that hits you first, and then it develops into a fresher, fruitier scent, but leaves your hair smelling like flowers. A small amount goes a long way as it quickly lathers up. It's also easy to rinse. When I washed it off, my hair instantly felt squeaky clean.
I applied the conditioner next, which is less fragrant and is formulated to have a thicker texture than the shampoo. It washes off almost instantly, and leaves your hair smooth and smelling good.
On the first day, I didn't use a hair dryer to see how it affected my hair. To my surprise, my tresses weren't frizzy at all. My hair was incredibly smooth to touch, and had no tangles or visible split ends. The results that the series promised was evident even after just one use. I let it dry naturally and my hair was even easier to manage. I like to define my curls so I use a hair iron every day. With the shampoo and conditioner combo, I spent less time straightening some parts and the hair iron glided through my hair with ease.
ADVERTISEMENT - CONTINUE READING BELOW
Conclusion:
I may have found the right shampoo and conditioner for me. With its sulfate and silicone-free formulation, I can sleep better knowing my hair does not have chemicals that aid in further drying my crowning glory. The series also visibly brought back the shine and softness of my hair, which means I don't have to apply leave-in conditioners that I worry will look like a gross, greasy mess if I put too much. I'm also happy that it cut back the time I would usually spend styling my hair. I don't need to blow-dry it anymore as it gets naturally dried out without the frizz. My hair had that bounce and doesn't look limp when I leave it as it is or straightened out completely. I also liked how it left my hair smelling like flowers even after a long day in the polluted metro. I'm just careful now with how much conditioner I lather on my hair. My strands became too silky at one point that it had trouble holding my curls.
ADVERTISEMENT - CONTINUE READING BELOW
In essence, if you're like me whose hair is always styled with heat and has trouble with dryness and frizziness, this shampoo and conditioner will save your tresses.
Related Stories from Preview.ph
Hey, Preview readers! Follow us on Facebook, Instagram, YouTube, Tiktok, and Twitter to stay up to speed on all things trendy and creative. We'll curate the most stylish feed for you!